Esta é a palestra especial que ensinamos aos investigadores pretos na Missão do Brasil, Porto Alegre (1976-1978). Se chamava Palestra Oitava ou Palestra K, o Desafio Batismal que era a curta Palestra H, não contava na sistema numérica. Esta não era palestra official da Igreja e eu entendia assim naquela época. Nós a compartilhamos pela missão numa maneira informal. Não me lembro de qualquer directiva do Presidente da Missão a respeito dela.
A palestra contem doutrinas falsas incluindo as interpretições de Abraão 1 e 3:22-23, e Moises 7:22 a respeito de Caim, o sacerdócio, a negrez, etc., Estas escrituras podem se intrepretar de várias maneiras. A interpretação que os negros foram malditos a respeito do sacerdócio por causa da linhagem de Caim ou qualquer coisa que aconteceu na prê-existência é doutrina falsa. Leia a Declaração Official 2 na Doutrina e Convênios.
Meu propósito em apresentar esta palestra antiga e falsa é de enfrentar a história difícil com honestidade e fé. Também quero fazer um pouco de restituição por ensinar esta palestra uma vez só a uma família preta e bem humilde e espiritual antes de ser batizada. Queria que eles entendessem bem as proibações daquela época. Eu nunca pensei muito nessas coisas mas sabia das inspirações do Presidente da Missão que uma mundança chegava. E fiquei tão feliz quando a revelação chegou no último mês da minha missão, em Junho de 1978!
A doutrina certa se acha na Declaração Official 2, e testifico disso.
.


.
.


.
.


.
.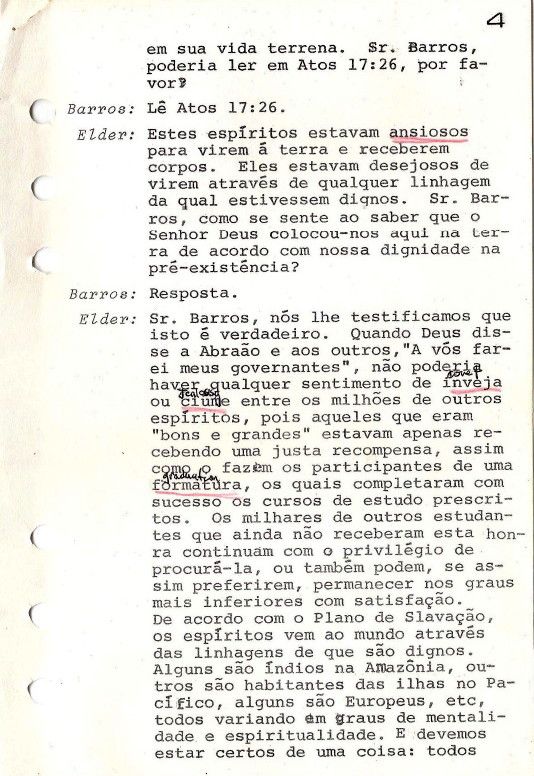 .
.


.
.


.
.


.
.


.
.


.
.


.

See the English version of this post here.