You may want to read the old post "Junior Council": The Church Steps before the Television Camera, in connection with this morning's post. Below, you'll see a still image from one of the "Junior Council" television shows each month in 1957, along with a paragraph written by Olive Milner, the show's producer and chief writer, telling something about that program.
January
Father Time and Little Miss New Year
Have you ever met Father Time and Little Miss New Year?
If you watch Junior Council, the Children's Friend television show over Station KTVT channel 4, you'll meet both Father Time and Little Miss New Year.
Just before the end of each year Father Time pays Jun ior Council a visit. of course, he knows what the boys and girls have done during the old year, but he also finds out, by way of resolutions, just how they plan to improve themselves during the New Year.
Then, too, there is always a lot of fine entertainment just for Father Time's benefit. Be sure you're watching for this big New Year's show!
Remember: It's Junior council time over KTVT channel 4 every Saturday. Don't miss a single week because your school, your teachers, your friends, or even yourself may be on during 1957!
.

February
"Whoooooooooo'd believe all those safety messages came from such a small owl as you, Witty?" says Ralph Taylor as he chats with Witty the Junior Council safety owl.
Have you heard Witty? If you haven't then you'd better tune in each Saturday morning to the Junior Council television program.
On this program Witty, who by now is everybody's friend, gives a special safety message. Some of them he gets directly from the Salt Lake Safety Council.
If you listen to Witty and do what he says you'll be safety-wise and will obey all the safety laws in crossing the streets, at home, and everywhere.
One of Witty's messages to everybody is: "boys and girls, remember this: blaming someone else for an accident won't help make you well again. Please remember that you, yourself can avoid accidents and help others to be safe by being sharp-eyed and careful. Be Safety-Smart – Don't take chances!"
Please join Witty and watch for him every Saturday on Junior Council, the Children's Friend television show seen over Station KTVT channel 4.
.

March
Children and mothers appearing on the Junior Council Television show seen on KTVT channel 4.
It was certainly kindness to animals day recently on Junior Council seen on KTVT channel 4 every Saturday.
Mrs. Lynn Larsen brought down her "Little Rascals." They performed beautifully for the cameras with their helpers, Jerry and Dawyne Schoenfeld, Tonya, Randy, and Timmie King.
These tiny Pomeranian dogs are very well trained by Mrs. Larsen, and with the help of the neighborhood children perform very well. It's always fun to have them.
Other very interesting and unusual animals were Princess, a sloth bear owned by the Edison W. Ricord family. Princess is a honey or sloth bear from India and all the children fell in love with her. Mrs. Ricord, Kent, Curtis, and Clayton appeared with her.
Mrs. Frank Goodman, Kathy and Michael Halliday brought down Pete, their alligator pet. Yes, he's a real live one and very well behaved. Everyone enjoyed seeing a real live alligator.
Winners of the kindness to animals questions, Linda Gailey, John, Allan and Barbara Jean Neel also appeared on the program and enjoyed it very much.
If you haven't joined the Kindness to Animals Club please do so at once. turn to "Our Animal Friends" page and learn how. Then be sure you are tuned to KTVT channel 4 each Saturday morning for Junior Council, the Chidlren's Friend television show!
.

April
THE PRIMARY CHILDREN'S HOSPITAL ON TELEVISION
Hospital representatives and the blind nursery school appeared on Junior Council on behalf of the Annual Penny Parade.
It was a very happy occasion recently on Junior Council when children (outpatients) of the Primary Hospital nursery school for blind children took over the Council for the day.
These tiny children had fun and enjoyed being led by Irene Jones, their supervisor, in singing and playing instruments in their rhythm band. Mrs. Catherine A. Rich, vice-president of the board of trustees, assisted.
Present also were Mrs. LaVern W. Parmley, general president of the Primary Association and president of the board of trustees, who told about what the pennies you give do for the hospital and the children; Mr. Harry E. Roby, hospital administrator; and Dr. Paul R. Milligan, president of the medical staff. Mrs. Elva Cowley, Mrs. Helen Okelberry, and Mrs. Martha Inch represented the ladies of the volunteer service.
.

May
Karen Bybee with her pet deer, Bamby.
How would you like a real live deer for a pet? It would be fun and certainly different, wouldn't it?
Karen Bybee has a deer for a pet and it is loved by the whole family. Karen's father found it when it was only a few days old. he took it home where everyone cared for it and now Bamby is one of the family.
Recently Karen's father put Bamby in the car with the family and came to Salt Lake and to the KTVT television station to be on Junior Council. Bamby made friends with everyone and posed like an expert for his picture with Karen.
Be sure you watch Junior Council every Saturday on Station KTVT channel No. 4. Make this your favorite program!
.

June
Cub Scouts on Junior Council
Junior Council members and everyone watching recently learned a lot about Indian dances from a group of cub Scouts from the Holladay Seventh Ward pack 526, dens 5 and 3.
Mel Turner, pack master, Mrs. Lou Jensen and Mrs. Nancy Grua, den mothers, accompanied them and had fun teaching the boys the Indian dance. They were assisted by LeRoy Condie, who is a master at this art.
Thirty Cub Scouts, with leaders from pack 87 from Bryan and Marlborough Wards watched the program and later toured the KTVT station under the direction of Edith Crandall, den mother, and Vere Campbell.
It's always fun and you always learn something by watching Junior Council, seen every Saturday over KTVT channel 4. Don't miss a Saturday!
.

July
Young Swedish Chorus
You don't have to take a trip to Sweden to learn about its customs and folk songs. all you have to do is watch Junior Council, the Children's Friend television show seen every Saturday over Station KTVT channel 4.
Recently Inga Melin brought to the studio a group of boys and girls from her native land. The youngest were her own two-year-old twins, Jill and Janet.
the children sang "Sovdu Lilla Videung," "Sleep Little Pussy-willow," and "Be Happy." Carol Ann Hall announced the numbers. Leif Carlson played his accordion. No Swedish program would be complete without folk dancing, and this was done by Kerstin and Lennard Lansfeldt, Margaret Hansen, and Yngve Lovegren. Everyone wore Swedish costumes, each being authentic and representing different counties in Sweden.
Remember: It's Junior Council every Saturday on KTVT channel 4.
.

August
Representing the Spirit of '76 are Robert Steele, Blair Morris, John Muir and Charles English
Boys and girls, just how much do you know about our American Flag?
Recently the Junior Council had a quiz about the flag and they proudly told that the flag was born June 14, 1777. the color red stands for courage, white for liberty, and blue for loyalty. No more stripes will be added because they are lasting emblems; more stars may be added. Utah was admitted as a state and gained a star on January 4, 1896, being the 45th state to be admitted. You should always stand proudly when the flag passes by, with your right hand over your heart. A flag is burned when worn out. Be sure you never let your country's flag be thrown carelessly down somewhere!
After the quiz the members of Junior Council had a Fourth of July parade. The boys in the picture were dressed up to represent the Spirit of '76. They led and the others followed with their decorated wagons and bikes. In the picture hangs a real "Old glory" with only thirteen stars. This flag was hand woven more than 165 years ago. Mrs. Frank Nevins, who is 84 years old, brought it down and said it has been in her family ever since she can remember.
Wouldn't it be fun to have a family flag to display on your front porch on Flag Day, Decoration Day, and other holidays.
Be sure you watch Junior Council every Saturday and learn a lot about flags and other things. Junior Council is seen over KTVT channel 4 every Saturday.
.

September
Junior Council Birthday Party
Junior Council, The Children's Friend television show, is nine years old. Just one month after television started in Salt Lake City the Junior Council was telecast and is still being seen over Station KTVT every Saturday.
For the ninth birthday anniversary, Junior Council had an hour-long telecast and a review of "This Is Junior Council." Included in the review were the Virginia Tanner dancers, former members of the Council, Witty the Safety Owl, and Kindness to Animals winners. Special guests included Mrs. LaVern W. Parmley, general president of the Primary Association and editor of The Children's Friend; and Mr. G. Bennett Larson, president and general manager of KDYL and KTVT.
.

October
A Junior Council Halloween
It's time for Halloween fun and if you try what the members of Junior Council did you'll not only have a fun time, but an exciting time as well. About two weeks before the show members of Junior Council were told to make a Halloween mask and keep it a secret, not show it to anyone. This they did, and when on television the signal came, "Don your masks," the boys and girls were surprised and couldn't recognize each other.
It's loads of fun to make your own masks for Halloween. All you have to do is, first, use your imagination. Next, get a large paper sack, big enough to fit your head and to come down to your shoulders. Then, go to work with balloons, water colors, wool for hair, crayons, everything you can think of that you might need to finish what you've decided your mask will be. Then, when it's finished, keep it a secret until Halloween. You'll be surprised at what you can make and so will your friends when they see you and, one thing sure, they'll never know who you are!
Be sure that you watch the Junior Council television show every Saturday. Right soon there will be instructions on how to make your Christmas gifts. Set your dial on KTVT channel No. 4 for Junior Council, the Children's Friend television show!
.

November
Bountiful Elementary School First Graders
KTVT, channel 4's television studio, at 130 Social Hall Avenue, was recently turned into a circus ring.
Students of the first grade of the Bountiful Elementary School arrived with their teacher, Elaine Charvoz, and teacher's aid, Dawn Eggett. They had animal pictures (their own work) for the back drops, and the children represented elephants, lions, clowns, strong men, wild west cowboys, bareback riders and tight-rope walkers. The circus was, of course, in charge of a head ringmaster.
It's really fun to play circus, and these children didn't tire of the idea even after it had been presented at school.
Yes, it's fun to play circus and it's fun to watch Junior Council every Saturday over KTVT channel 4. There is always something new and different on this show!
.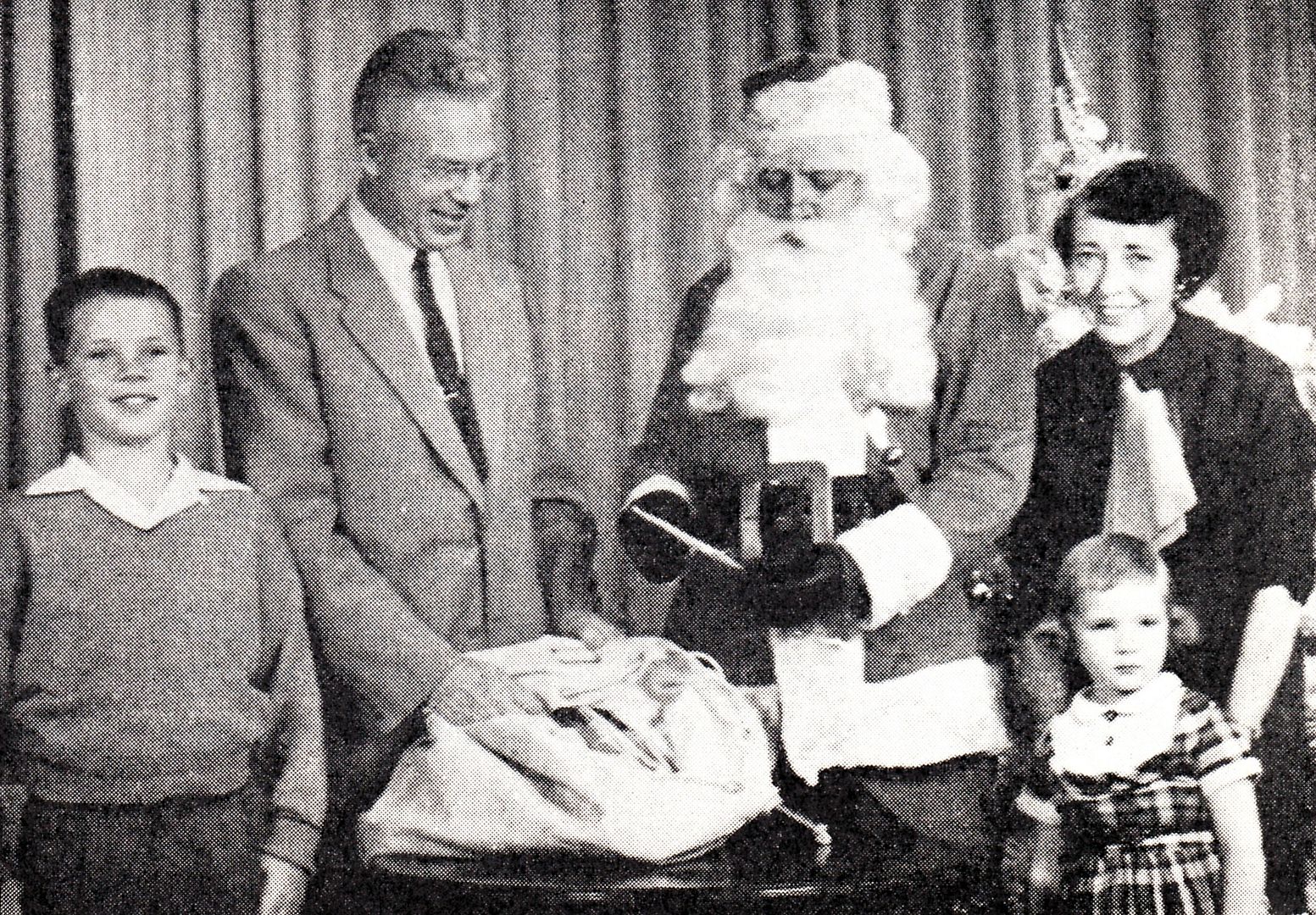 December

Happy to greet Santa on Junior Council are Postmaster David R. Trevithick, his son Richard, and his daughter Lynn, along with Olive Milner.

Have you ever stopped to think when you write a letter and drop it in the mail what happens to it?

If you watch Junior Council, the Primary television show, you will learn many things.

For instance, during December you'll meet our Salt Lake Postmaster, Mr. David R. Trevithick, who, even though he's busy as can be with the Christmas mail, finds time to drop into KTVT's station and appear on Junior Council. He always brings along a big sack of mail, especially at this time of year.

Mr. Trevithick is especially pleased when he can deliver the letters personally to Santa.

Remember to have your TV set tuned to KTVT channel 4 each Saturday so you won't miss a single bit of Junior Council, the Children's Friend television show!