Last week I posted a photo of the Lion House, circa 1910, and mentioned that I didn't know what was just west of that building, or what were the buildings we could barely see to the left of the Lion House. Well, I didn't know, but some of you did. I'm posting that information as a separate post rather than as comments to the photo, to give everybody a better chance of benefitting from the knowledge of readers.
First, Steve R. pulled up the Sanborn Fire Insurance maps of 1911. These maps show the footprints of significant buildings as well as indicating the materials of which they were built. This first map shows the buildings in a four-block area, including the block with the Lion House in the upper right quadrant:
.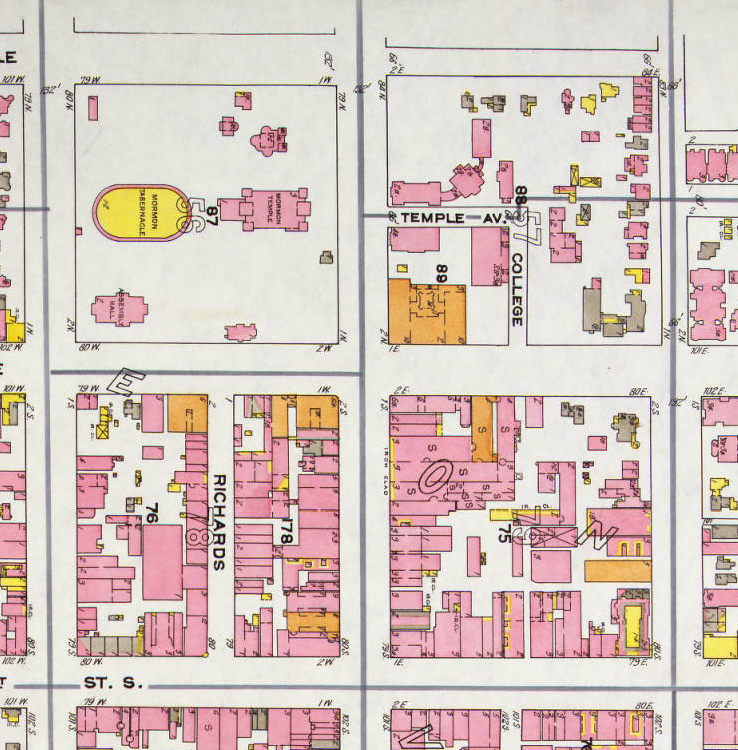 .
This second map is an enlargement of the relevant area. You can see the Lion and Beehive Houses (with the Church offices between), and the edge of the brand-new Hotel Utah. There appears to be nothing in the area immediately west of the Lion House.
.


.
Also, a reader whose knowledge of these matters is beyond question wrote privately to tell me, "The property next to the Lion House was the Young family orchard. Part of the orchard was turned into a driveway for access to the center of the block as the tithing yards grew. That driveway and the remnants of the family orchard were demolished to build the Administration Building. … The buildings you can see in the edge of the photo were part of the tithing yards. … I think those buildings were designated for meat."
You can see the driveway our expert mentions ("College" or "Temple" Ave.) on the Sanborn map. Before the Hotel Utah was built, beginning in 1909, that corner was occupied by a building that at one time housed the Deseret News and for many years housed the General Tithing Office. The Tithing Office was obviously more than an office; it needed storerooms for the merchandise that was brought in – hence, apparently, the buildings we can see in the edge of the ca. 1910 photo.
So why doesn't that building appear on the Sanborn map? My guess is that the building had been torn down in the months between taking our Lion House photo and the drawing of the map (or, perhaps less likely, the building was a temporary one, or not insurable, or otherwise beneath the notice of the fire insurance company).
Thanks, Steve R. and our other friend.
UPDATE: Steve R. also sent this, the Sanborn map of the same area in 1898 — you can see the extent of the Tithing Office yards and outbuildings:
.


.