I've tried for months to write a post that shares with you some artwork that I just love. Every time I try to blog about it, I realize how little training or skill I have for critiquing visual art – I either draft something pretentious, or I blubber like a fool. Rather than subject you to that, I'm just going to post two pieces here – with permission of the artist – and hope that you will enjoy these as much as I do, and can perhaps even comment coherently about them.
The artist is David Habben, a Salt Lake City-based artist who goes by HabbenINK on Facebook and in his online gallery. Most of his art is fantasy – and he brings the fantastic to a few pieces of Mormon-themed art.
Two prints that I own are these:
.
Yesterday, Today and Forever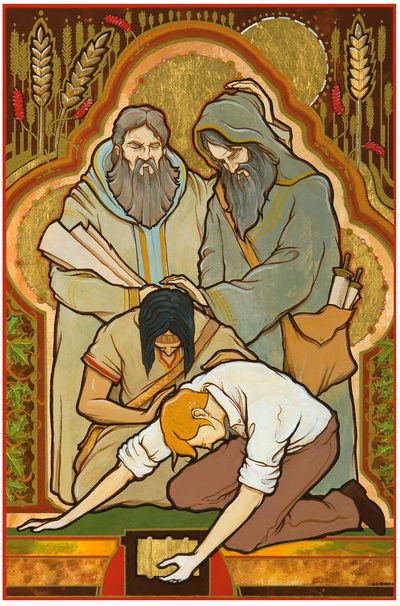 .
.
The Seer

.

I like them because he makes visible ideas that would not have been visible to the eye in real time and space. I've looked at them for hours, identifying the men with Joseph Smith in the first image, and thinking about what it might mean that their hands are almost-but-not-quite laid on each others' heads, and about the passage of time represented there. I've looked at the second image, debating the meaning of various elements and marveling how the artist has captured intangible concepts in a visual medium.

How can an artist depict reality in an unreal way, and say more about historical and religious truth than if he had followed Joseph Smith around with an iPhone? I don't know, but he's done it.