These sisters are the officers of the YLMIA of the Kansas City, Missouri branch, in 1920:
.
.
(front row, left to right:) Ruby Earl, first counselor; florence McCartney, president; Marie Winfrey, second counselor.
(back row, left to right:) Irene Watters, secretary/treasurerer; Lillian Peterson, assistant class leader; Juanita Black, class leader; Olive Kallstrom, agent for Young Woman's Journal
In 1920, their branch YLMIA collaborated on an ambitious project:
.
.
This is not the first time an LDS auxiliary assembled a cookbook – two or three years earlier, the Relief Society of one of the Provo wards had raised quite a bit of money selling their compilation of recipes especially suited to World War I's eggless-, meatless-, and wheatless-day menus, for instance – but still, 1920 was well before the day when practically every ward's women's auxiliary collected and published recipes.
The Kansas City branch sisters explained their project this way:
It might seem in this day of commercialism, when every manufacturer of canned goods, baking powder, flour, shortening, yeast, etc., etc., is flooding the country with cook books that another from any source would be superfluous. We have not chosen to regard it in this light. The Divine plan calling for mutual endeavor and co-operation means effort here and now, for to the Latter-day Saints Divine law is spiritual law, and as oour pre-existent life determined our station in life here, so shall our accomplishments here establish our standing in the eons that are to come.

Viewed in this light, then, it is a worthy object to have the young ladies co-operate and try to excel in that most important factor of the mortal life, maintenance of the home, with the proper preparation of nutritious, palatable foods for entertainment of our brethren and friends in a most pleasing and scientific manner.
That's a lot of eternal baggage to pile into one hard-bound cookbook!
The sisters had a significant advantage over many organizations that might have enjoyed doing the same thing: They had access to Zion's Printing and Publishing Company, a mission organization that rivaled Deseret Book in the volume of printing and binding that was produced locally and sold to missions throughout the world. I don't know a thing about what business arrangement the MIA group had with the printer, but assume they got more favorable rates than if they had had to go to an unrelated commercial press.
The cookbook featured hints beyond the kitchen which, to me, are as revealing of another time and place as the recipes are:
Housekeeper's Alphabet
Apples should be kept in a dry well ventilated place, as cool as possible without freezing.
Brooms will last longer if dipped for a minute or two in boiling suds once a week.
Cranberries should be kept under water in cellar. Change water monthly.
Doughnuts to be heated should be sprinkled with a few drops of water, placed in a whole paper bag, end twisted and put in a very hot oven.
Every trace of pitch tar may be removed by saturating the spot and rubbing it with turpentine.
Fruit stains need boiling water poured through them for their removal.
Gasoline applied freely to the carpet by means of a sponge or brush will protect it from moths.
hairbrushes may be washed in a basin of warm water to which has been added a tablespoonful of household ammonia. rinse.
Ivory may be bleached by simply moistening and being exposed to direct sunshine.
Jars (glass) are excellent receptacles to keep any food with strong odor in the ice-box.
Kerosene evaporating from uncorked vial in the clock will lubricate bearings.
Linoleums washed in tepid water and wiped with cloth dampened in equal parts cold milk and water, allowed to dry and given a coat of floor varnish occasionally, will wear indefinitely.
Mildew may be removed by soaking the article in sour milk and salt and laying it in the sun. Repeat until all mildew has vanished.
New milk will curdle in preparing milk porridge, gravies, etc., if salt is added before the dish is prepared.
Oranges keep best wrapped in paper and laid in a drawer. Lemons may be kept in cold water which should be changed twice a week.
Pumpkin seeds are better than cheese for baiting a mouse trap.
Quick-silver and white of an egg destroy bedbugs.
Rusty screws can be removed by applying a red hot iron to the head. Remove while hot.
Too much salt – when used, add one tablespoonful of vinegar and one teaspoonful sugar.
Use lemon juice and salt to remove ordinary iron rust. Lay in the sun.
Vases may be washed by putting a teaspoonful of dry rice into the vase, partially filling it with water and shaking vigorously.
White spots on furniture caused by heat or water may be removed by holding a hot iron near them. Wipe dry, use good furniture oil and polish.
Xantippe was a scold – Don't imitate her.
You may help to keep your silver bright by adding a little milk to the water in which it is washed.
Zinc oxide with one per cent picric acid made into ointment is best for burns.
& regulate your clock by your husband's watch.
-oOo-
The bulk of the book, of course, was filled with recipes. A sample:
Apple Custard Pie
Stewed apples
2 egg yolks
1 cup sugar
1/2 cup butter
1/4 teaspoonful nutmeg
Line pie tin with crust and bake; add cooked filling. Make a meringue of well beaten whites and 1 tablespoonful sugar. Brown in the oven. (Mrs. Charlotte T. Bennion)
Cabbage Tamale
Mix equal parts cooked rice and ground raw beef, season with salt and pepper. Pour boiling water over cabbage leaves, and remove leaves from water. Place a small quantity of meat and rice mixture on each leaf, roll up, and fasten with a tooth pick. Drop in boiling liquid in which leaves have been wilted and cook for 45 minutes. (Ingeborg Peterson)
Breakfast Puffs
1/2 cup flour
1 teaspoonful baking powder
Milk sufficient to moisten
Salt
Mix. Take a piece the size of a walnut and fry in hot fat. Serve with syrup.
Creamed Cabbage
Chop fine as much cabbage as is needed, boil in salt water until tender. Drain, add milk, butter, pepper and enough flour to make it creamy. Return to the fire and cook for a few minutes. (Mrs. Mildred Steveson)
Cheese Dreams
2 teaspoonfuls baking powder
1/2 teaspoonful salt
1 tablespoonful butter
1/3 cup milk or water
1/2 cup cheese
Mix and sift the dry ingredients. Work in the butter lightly with the tips of the fingers. Add liquid gradually and then sprinkle in the cheese which has been grated. toss on a floured board and roll out one-fourth inch in thickness and cut with small cutter. Bake in hot oven ten minutes and serve hot with salad course.
Grape Soup
Cook 2 quarters of Concord grapes picked from the stems in water enough to cover well, about thirty minutes. Strain. Add 1/2 cup sago and sugar to taste. Let cook until sago is clear. If necessary add water to make 2 quarts. Serve with squares of buttered toast.
Noodles
Break 2 large eggs into 1 cup sifted flour, add a pinch of salt. Beat eggs with a fork, gradually working in the flour. When all the flour has been taken up, turn on board and knead until as smooth as glass. Do not work too much flour into the dough.
Pinch off piece the size of an egg, roll as thin as paper. Let stand about one hour, cut ins trips, stack, and with a sharp knife cut into 1/8 inch strips or finer if desired. Drop in well-seasoned boiling broth.
Noodles may be served as a vegetable. Drain noodles when cooked and mix with 1/2 cup coarse bread crumbs fried in butter, reserving part of the crumbs to put over the top. this is an excellent dish to serve with fried chicken.
Mince Meat
1 pound nicely cooked lean beef, without fat or sinew
1 pound beef suet cut fine
1 teaspoonful salt sprinkled over the suet
1 pound raisins
1 pound currants
1 pound sugar
2 pounds apples, fresh
1 pound citron and lemon candied peel
1 tablespoonful cloves
1 tablespoonful allspice
1 tablespoonful nutmeg
2 tablespoonfuls cinnamon
1 tablespoonful each lemon and vanilla extract
Mix all together. When ready to make the pies add a little fresh apple cider. (Mrs. Sarah A. Towle)
Mock Mince Meat
1 peck green tomatoes put through chopper
Boil 10 minutes and drain
4 pounds sugar
1 pound suet
2 pounds seeded raisins
1 tablespoonful cinnamon
1 tablespoonful nutmeg
1 tablespoonful allspice
Cook all together slowly for 2 hours and can. Will keep all winter. (Mrs. Henrietta Collier)
Fried Mutton Chops
Trim off all extra fat and skin. Season with salt and pepper and dip each chop in beaten egg, then in cracker crumbs; dip again in egg and crumbs and fry brown in fat hot enough to fry crullers. Serve hot and dry on a warm platter.
Chicken Salad
Meat of 1 chicken
8 eggs (hard boiled)
Cabbage and celery, equal parts
2 tablespoonfuls sugar
2 5tablespoonfuls butter
1 teaspoonful mustard
1/2 cup vinegar
salt and pepper
Boil the chicken until it is tender, cut in small pieces; chop the whites of the eggs; add the chopped cabbage and celery. Mash the yolks fine and add sugar, butter, mustard, with salt and pepper to taste. Add vinegar and mix well.
Poinsetta Salad
Wash well shaped, uniform tomatoes. Divide the tomatoes into six or eight petals, cutting just through the skin and nearly to the bottom (stem end). Place on lettuce leaf, bend loosened petals down on to plate. Put a couple of teaspoonfuls of mayonnaise dressing on top.
-oOo-
As every cook knows, when you pick up a used cookbook, you flip through the pages to find the stickiest, messiest, most stained page – the one that the previous owner turned to time and time again for favorite recipes. In this 1920 cookbook, that page is this one. Parts of it are crusty with antique sugar.
.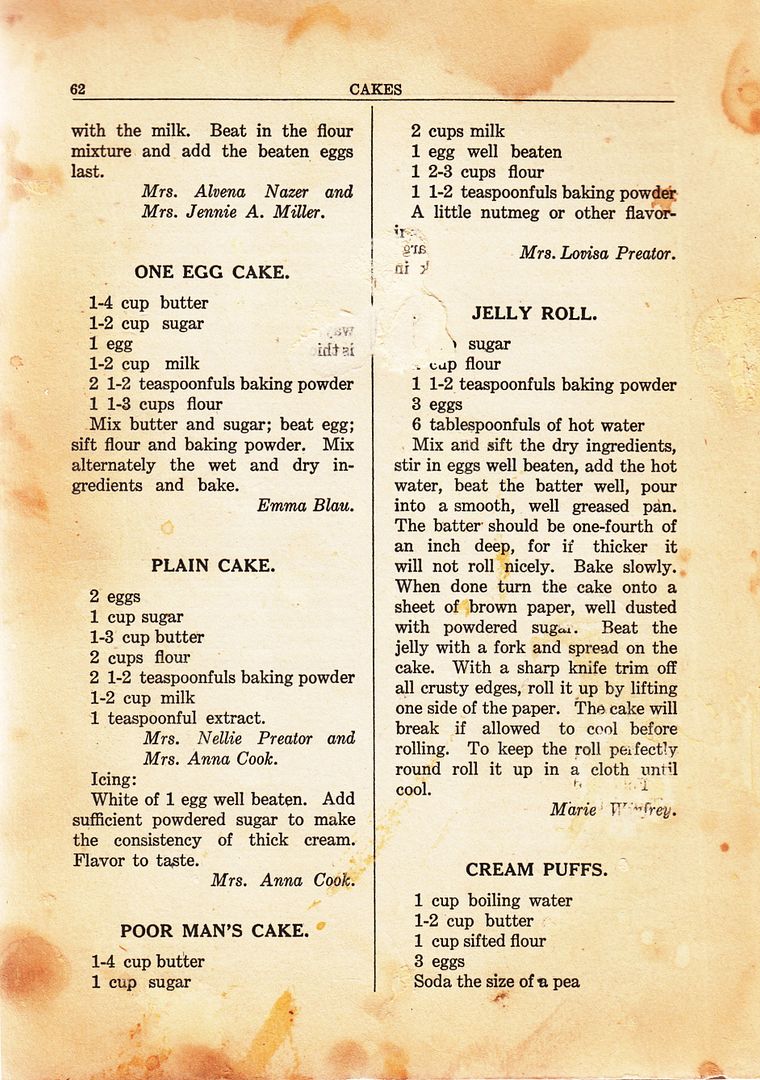 .

This is really quite a wonderful cookbook, of more than a hundred pages. It is a little unfair of me to pick the title I did, but that line in the noodles recipe was so good I didn't want you to miss it! (Don't you think they probably meant "side dish," as most vegetables would be?)

Do you have a favorite ward cookbook? Had any experience in putting one together?