From the Improvement Era, December 1930 –
The Daughter of a Fool
By Blanche Kendall McKey
Illustrated by Paul C. Clowes
On Christmas Eve, the night before Eileen turned eighteen, she laid her hand timidly upon the handle of her mother's dressing-room door. A high-pitched voice within gave a command, and the maid's low monosyllable answered it. Eileen withdrew her hand quickly and stood a moment undecided. She fingered nervously a letter which she carried, then slipping it into a pocket in her dress, she rapped timorously upon the door.
Her mother, who was seated before a triple-mirrored dressing-table, turned as she entered. Even in the flare of the strong lights surrounding her the woman's luxuriant, marcelled hair betrayed artificial bleaching. Upon one cheek there was a daub of unblended rouge.
"This is no time to interrupt me," she said irritably.
"I know," replied the girl in a low voice. "I'll only stay a moment. May I – may I go to New York on the early morning train?"
"Why so early?"
Grandfather is ill," the girl replied. "I just received this special delivery letter. That's why I'm troubling you at such an inconvenient time. May I go?"
"Where is the letter?" her mother asked.
Eileen dug into her pocket and laid the envelope in the be-ringed outstretched hand. The woman read aloud:
'Dear Eileen: My neuralgia is acting up again. Can't you come early and cheer the old man?

'Grandfather.'
He always writes about the same."
"Yes," answered Eileen simply.
"And when you get there he is well enough to take you to the theatre," her mother commented contemptuously.
Eileen wanted to defend her grandfather. If only she weren't such a coward! She lifted her drooping shoulders a little, but her mother, now daubing the unpainted cheek, spoke suddenly:
"And the letters come very often."
Eileen's shoulders went down again.
"I know, mother," she said softly. "They come often now, but some day they won't come at all and then –" the words ended in a throaty inarticulate sound. She looked at her mother appealingly.
"Please let me go," she said, he eyes welling with sudden tears. Her mother saw the tears. She gave a short laugh that broke off discordantly.
"You are almost a woman and spineless," she said icily. "Your father's child!"
Eileen came forward a pace or two. her pale face had flushed pink.
"Just what was wrong with my father? If I am almost a woman I ought to know."
"You have always known. There is nothing new to tell. He was a fool." She called abruptly to her maid, who was taking from the adjoining closet a shimmering yellow gown:
"Come powder my shoulders, Anne, and bring my pearls; quick!"
Eileen was dismissed. Her question was unanswered, but she left the room silently, unprotestingly, as became a fool's daughter.
Slinking into the music room, the girl clung to the handle of the door as she closed it, her tall figure bent, her head bowed upon her chest she was tired of being a worm of the dust. She couldn't help what her father had been. She herself had tried to be more than a fool, and she had failed. She did not feel resentment for her mother; she felt pity. She recalled with horror her coming out party a month or two before – her mother's anticipation, her enthusiasm, her lavish expenditure of money, time and effort – and her cold, spiritless "Good-night" when at last Eileen had departed dismally for bed.
As Eileen recalled her first few appearances as a society bud, unconsciously she stretched one hand out a little, then drew it back quickly, fearfully. She had had a feeling for a long time that in some unsteady moment she would stretch out her hand in an attempt to cling to something – and there would be nothing there; and she would fall, fall slowly, through shadowy mists, endlessly down, as one falls in a dream.
She crossed to the grand piano, and ran her hand lovingly across its shining top. Its immobility steadied her. There was something majestic about its silence, in the fact of its having so much music shut up inside. How admirable to wait silently – in majesty! All her life she had waited to free the music in her heart, waited silently often, but never majestically. Majesty was not for her. She belonged with the turbulent, the impatient, the fearful, the unseen. Her birthright was the cap and bells.
She heard the voice of her mother's fiancé speaking in the lower hall and after a time her mother's high-pitched, gay greeting floated upward to the silent room. Then came the sound of the limousine, which grew gradually less individual, and was finally lost in the general noise of the boulevard.
Eileen felt secure and warm. She seated herself at the piano and began to play – airy, gay music, as if the laughter she had missed had been locked in her heart and was suddenly set free. Her mood changing, she began to play tender melodies, the kind Grandfather asked for. In the dim corner she could almost see him reclining in the big chair as he did at home, smiling at her – queerly, as he had a way of doing when she sat at her father's piano and played in the twilight. She could never forget one evening. Grandfather was bending over her. "You play just as your father used to," he had said. She looked up into the thin face with its tightly drawn skin and into the keen, clear blue eyes. "Was father a fool?" she had asked. And he had stared at her a long time, his face ghastly as he struggled to control trembling lips and fingers. Then he had turned away abruptly. "At one time I thought he was," the old man had said. "But we loved him." The fading light from the window had fallen full upon the shaking frail frame and the bowed head, and the terror his anguish had inspired even now bore in upon Eileen's shrinking spirit. Though mountains moved, and oceans ceased to roll, she would never again mention the name "father" to the old man she loved. It caused too much suffering.
Rummaging through an old music box an hour later, Eileen found something which changed the whole current of her thoughts: for on the morrow when she would turn eighteen, had her father been living she would have been facing an issue – a choice between her parents, in accordance with the edict of the divorce law. Until tonight, within her mind had rested the foregone conclusion that she would have remained with her mother, for who would choose to follow a fool? But what Eileen found set her to wondering. It was a small typewritten manuscript of short poems arranged in book-form, ready for the press. The verses were exquisite and dedicated to "Father," and had been copy-righted by Edward T. Hayes, Jr.
While the girl was turning the pages wonderingly, a soft ball of snow struck the large window pane near which she was sitting. She looked out. No snow was falling; stars were gleaming in a clear sky. Another soft ball struck and frozen to the icy pane. She looked down. A young man stood on the garden path, knocking fingers into opposite palms for warmth. He flashed her a smile. The moonlight fell upon gleaming teeth and dancing eyes. "Merry Xmas!" he called.
She opened the French door a crack.
"Come in, Jimmie."
"Oh, no!" He looked fearfully into the great windows of the lower floor.
"There's nobody home but me," called the girl, her nose almost frozen in the thin current of icy air.
"Oh, all right!" came the joyous answer.
"Wait a minute; I'll let you in myself."
In a moment or two he was thawing out in the library.
"It seems ages since I saw you, Eileen. It was wonderful to see you sitting up there by the piano under that big lamp. I wish we had never graduated from high school."
"Don't you like college?"
"Not without you. Why don't you go?"
"Mother didn't want me to this year. She says I'm such a bookworm that I'm dull. She's trying to get me interested in real life."
"Succeeding?"
"Not at all. I'm a total failure, Jimmie."
There was a tremolo in Eileen's soft voice that stirred Jimmie's heart strings.
"Say, Eileen," he cried, "there's a good celebration at the College Inn tonight. I saw the holly and candles as I went by. There are special singers and every lady is going to be presented with a souvenir box of chocolates. Let's go!"
"You and I?"
"Yes. Why not? It's better than sitting here alone on Christmas Eve."
"Oh, I'm afraid!" But she went.
It was like the good old high school hops come to life again. Eileen's cheeks flushed red, every nerve of her body living. As she swayed to the music, an absurd line kept running through her head: "I have gazed on the pale face of sorrow, but tonight I laugh! I laugh!"
Christmas chimes were softly peeling midnight when they reached Eileen's door.
"May I wish you 'Merry Christmas' tomorrow, Eileen?"
"We are going to New York to spend Christmas evening with Grandfather. I am going early in the morning, I hope." She looked at the still street, sparkling under the arc light like a fancy Christmas card, at the frozen trees, the large solemn stars, summoning courage to look into his face and say: "There's a young man in New York whom mother wants me to marry."
"Do you like him?"
"Not at all. But he has scads of money – and what goes with it."
"Sometimes what goes with it isn't so good. Would you like to marry him?"
"Goodness, no!"
"Then square your shoulders and fight."
"You won't understand, Jimmie," said the girl solemnly. "A person can grapple with living men and women, but it's hard to fight dead people."
"Dead people!" he gasped. He certainly didn't understand. But he understood the look in Eileen's troubled eyes, raised to his face with the moonlight falling full upon them and did something that both of them, two hours before, thought utterly impossible. He leaned down and kissed her.
"Oh, Jimmie, you mustn't do that."
"Keep a stiff upper lip," he whispered rather breathlessly. "I'm with you, and I'm not a dead one."
That night when Eileen's mother re-entered her dressing room, she found her daughter waiting in the firelight. The mother's jewels, her yellow gown and hair seemed to bring light into the shadows. Eileen thought she had never seen her look so beautiful. There was something warm about her, glowing, living. She thought of her mother's promised husband – of Jimmie's kiss.
"I waited to see if I could go to New York early in the morning," said Eileen timidly.
"Yes, you may go," her mother replied.
The girl felt an impulse to touch her. "I hope you'll be very happy in your marriage, mother," she said eagerly.
"Thanks, dear. I ought to be. The Grayson fortune is as secure as your own; the Grayson name as solid in business as E.T. Hayes. 'Grayson' is open sesame to the best houses in the East."
Eileen had risen, and had gone impulsively towards her mother; but as the woman spoke she stopped, rigid. A sort of pity arose within her for the man who had been tender enough to write the manuscript she was crushing in her hands.
"Mother," she said, abruptly, in a throaty tone, "did father write these verses?"
The woman's eyes fell upon the book-like manuscript. She stood immovable. Eileen's two hands clung to the papers. She was dreadfully afraid that she would stretch one of them out and then would fall into the shadowy mist.
The woman drew herself up to the full height of her striking figure. The pearls moved slowly upon her breast.
"What verses?" she queried in staccato accents.
"These," breathlessly.
She took the manuscript. She turned a page.
The star that shines above,
O spirit turbulent,
That shines above the cloud,
Unbound, serene –
She closed the book and slowly rounded it into a loose roll. Holding it tightly in both hands, she stared at the drab figure in the shadow. After a time the woman spoke. One word fell upon another heavily.
"I thought I had destroyed every disagreeable reminder," she said slowly. "Swept them from my life, and from my memory. These are distasteful!"
She turned quickly towards the glowing hearth.
"No, no! No, no!" Eileen had swung in front of the fire.
"You shall not!" she cried.
She struggled; she wrenched the manuscript out of the strong hands.
"They're not yours. They are grandfather's. They are dedicated to him," she cried hysterically.
The woman took a step towards her, her chin thrust out. The girl backed quickly to the doorway, her eyes riveted upon her mother's face.
"They are not yours," she wailed. "They are grandfather's. They can't be destroyed. I don't believe a fool could write such verse." She fled, sobbing, down the long hall, and reaching her chamber, slammed the door, turning the key in terror – in terror at her own daring.
It was a pale Eileen whom Edward T. Hayes greeted.
"Ill?" he asked tenderly.
"No. Up too late. How's the neuralgia, Grandfather?"
"Better." The lines of his distinguished face broke suddenly into a boyish grin. "Tonight if we can manage it we'll go to the opera."
"Just you and I?" she queried, eagerly.
"If your mother hasn't made other plans."
"She probably has," the girl said grimly. "But I'm so glad to be here anyway," she continued softly, her eyes sweeping the small snow-covered area which separated the mansion from the avenue. Something in her look made grandfather think of the things he had wanted as a boy, and that had never come.
"How's the music?" he asked.
"It's coming." Her face became adorably alive. "And I've written another song. I'll play it tonight before the lights come on."
"But right now, the first thing on the program is a sleep," Mr. Hayes prescribed, decidedly. Eileen knew revolt was useless. In the quiet of her room she sank into untroubled slumber.
That evening it was grandfather's fate to take a dose of his own medicine.
"And you just getting over a bad spell," Eileen argued. "It was bad – I can see by your face. No nap this afternoon, no opera tonight," the young tyrant finished. E.T. Hayes surrendered. He fell into sleep as suddenly as does a tired child. Eileen gazed tenderly upon the waxen whiteness of his skin, upon his frail, almost transparent hands – kindly hands. She drank in exultantly his look of nobility, of which slumber did not rob him. She was thinking of the verses his son had written – his son, who had been a fool. Settling herself in a large chair near her grandfather she once more opened the small collection of poems, and as she calmly read, the butler entered the room.
"Hush!" warned Eileen. "Grandfather's sleeping. What is it?"
"There's a woman at the door, Miss, who insists upon seeing Mr. Hayes," the man said in low tones.
"Who is she?" Eileen asked.
"She refused to give her name."
"What kind of woman?"
"A poor woman I should judge, Miss. She's rather excited. She says it's a case of life and death."
For her mother, Eileen had interviewed a good many "poor women."
"Show her into the small reception-room," the girl said. "I will see her myself."
When Eileen opened the door a woman was standing by the piano, the piano that had been the property of Edward T. Hayes, Jr. She was clinging to its edge by the finger-tips of one hand. This woman was small of stature, and her plain suit was well-cut. She turned nervously as the girl entered, visibly steadying herself by her fingers. Eileen was accustomed to looking upon women with artificially tinted cheeks and lips. This woman's face was like the snow that had drifted upon the casement at her side. All her life Eileen had been afraid of running unexpectedly upon a ghost. Now the stranger fixed her with her blue eyes, and the girl noticed their singular, penetrating beauty. They reminded her of a picture which hung in her room in Washington, a copy from one of the masters who painted in Italian churches, long ago, the face of the Mother of Christ.
"Mr. Hayes has been ill," explained Eileen. "He is sleeping; I dare not disturb him. I am one of his granddaughters. Can I be of service to you?"
"Yes," the woman replied, hastily. She was working her hands nervously.
"Won't you sit down?" said Eileen.
The pale woman sat down rigidly upon a rose-colored chair.
"My boy is very ill," she said, tremulously. "Seriously ill with an acute attack of appendicitis. They have taken him to the hospital – to the free clinic. I have been ill myself, which was very bad luck for us, as I earned good money when well. They are going to operate in the morning. But the free clinic isn't the place for my son. He must have the surest skill in New York. He can't die. He's a wonderful boy. He''ll make his mark, as his father would have done if he had lived. His father died before he had a chance to show what he could do. But his son must live – he can't die. That's why I came here. He shan't die!"
"How much money do you want?" timidly asked Eileen.
"A great deal. Enough to restore him to complete health."
This woman wasn't at all like the people who came to the door of their big house in Washington. She had said "a great deal" with quiet dignity, as though she had a right to it.
"Does my grandfather know you?" Eileen asked.
"He used to," came the low reply. "I stood here, fifteen years ago, by that piano and saw my husband, whose father had cut off his allowance, fall –"
Eileen thought of the misty shadows.
"Was he ill?" she asked.
"He was dead," said the woman, quietly. "He had a weak heart. And he was very angry. Mr. Hayes has not forgotten. He must help my boy."
Before Eileen's mental eye floated the face of her grandfather with its transparent frailty.
"Grandfather has been ill," she said defensively. "He can't be disturbed."
"But my boy may die!" cried the woman passionately.
"I will help your boy," replied Eileen. "How did your husband come to die – here?"
"Your grandfather loved him," said the woman quietly. Then she added quickly, "But he didn't understand him. People in general thought him queer. He had been wretchedly unhappy in his marriage. A separation was inevitable. Then he married a girl, a poor girl, who had been teaching music in your grandfather's home – in this home. She was I."
"You!" exclaimed Eileen, gazing into the steady, luminous blue eyes. "You!"
"Yes, I. His father was furious, but no sacrifice was too great for me to make for him. He would have been great, but for that quarrel with your grandfather. We had a hard struggle and then came here to make peace. Your grandfather didn't know there was a little baby at home. He doesn't know it now, for after the funeral I hid from them. He hated me. Heaven knows I hated him, for he started the quarrel. Such a quarrel! Fire flashing against fire."
"Fire!" gasped Eileen.
"Fire of clashing wills," said the woman. "And then in a moment his son was gone. Gone! But his grandson must live!"
"Son?" Eileen's voice was scarcely audible. "Grandson?" she breathed.
"Yes," the woman answered softly, "his grandson." Then her voice swelled, vibrative with the pride and joy of motherhood. "He's a wonderful boy. He's like his father – gifted. I've saved all his father's writings for him."
"Writings?" exclaimed the girl. "Did he write verses – delicate verses?"
"Beautiful verses," the woman answered. "And stories. And songs. We were going to have them published. But we came here that night – and we never went out again together. I went alone – back to a little sleeping child. I worked for him. He was worth working for. He's precious. He's his father's child."
Eileen had risen, for the air seemed light, so light that she could scarcely draw it in. She moved towards the window, unsteadily. The snow had blotches moving about upon it, rose-colored blotches, like the chair upon which the strange woman sat. The girl was struggling for a connected line of thought. Her father! His verses. The writings this woman had saved. Her mother's acid bitterness. the other child – this woman's child, who must live, not only because his mother loved him, but because he was his father's son.
A shadowy mist was rising up from the floor. it was descending also from the ceiling, which she could scarcely see. She must hold tight to her hands. She mustn't let go of her hands.
"My father –" her voice sounded a long way off. The woman's form was a distant, indistinct outline. "My father –" In spite of herself Eileen thrust out her hand. But she did not fall. The hand was caught in a strong, steady claps, and tender arms were wrapped about her. A voice said gently: "Poor little girl! Poor little Eileen! Forgive me, dear. I didn't know you; I haven't seen you for thirteen years. I thought you would be with your mother on Christmas day."
The blue eyes were shining with tears. She placed the girl tenderly in a big chair, and rang for the butler to bring some chocolate. Eileen clung to the firm hand.
"You are good," she said. "You are kind. You understand. You may have all the money you need. All you want – my money. I have such an awful lot of the stuff."
The drink arrived. Eileen sipped it. The mists began to clear. Even the dark cloud in the farthest corner kicked up its heels and began to roll away, taking with it something whose jangling and color had always bothered her – the flaming cap and the tinkling bells of a fool.
When the unrouged woman had departed, Eileen went back to her grandfather, to find him still asleep. The telephone rang.
"Is that you, Eileen? What luck!"
"Jimmie! Why, Jimmie, where did you come from?"
"I haven't come yet. I'm still in Washington. But I'd love to come and take you to a glorious dance tonight. Will you go?"
"Yes, Jimmie, I'll go."
"Thanks, Eileen; I'll call at eight. Merry Christmas!"
She hung up. But the deep joyous young voice rang like a chorus in the room: "Merry Christmas! Merry Christmas! Merry Christmas!"
It was nearly eight in the evening when Eileen's mother arrived.
"There are so many things doing on Christmas," she said gayly. "We couldn't seem to get here."
"Hungry?" asked grandfather.
"No, we dined with Mr. Grayson's people. Charming dinner. Mr. Grayson will be back in less than an hour. I must dress hurriedly. So glad you are all ready, Eileen. You look really pretty. Mr. Grayson is bringing his young cousin with him again to be your escort.
"But, mother, I already have a date. I broke one with grandfather to accept that one. I couldn't break that to go with you."
"A date with whom?" queried the mother in icy tones.
"With Jimmie Gaynor."
"Jimmie Gaynor? Jimmie Gaynor? Why – "
"Jimmie's a nice boy, mother, and his father is the editor of the 'Times'."
"As poor as church mice! Why, Mr. Grayson's cousin – "
"I'm sorry, mother, but I'm going to the dance with Jimmie."
The tall, defiant young figure was drawn up tense; the defiant young eyes flashed fire. The older woman crumpled.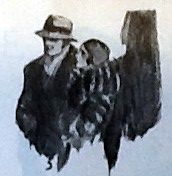 "Good heavens!" she cried, tears choking her voice. "It wasn't enough for her father to be –"

"Don't say it," cried the girl. "Don't say it, mother. I know what my father was. he had eyes to see and ears to hear. He was an artist. He listened to the music of life. If he was one, I am proud to be a fool. I accept his heritage –"

A sound turned the girl and brought her to her knees before the large chair into which her grandfather had dropped, his face hidden in his frail shaking hands. "My son – my son – my son –" he wailed.

"Forgive me, grandfather," cried Eileen, pressing her cheek to his. "Forgive me, dear. I love you grandfather; don't cry!"

And there was another sound, which brought all their eyes to the door, and lifted Eileen to her feet. It was a deep voice, which said gently:

"I beg pardon. The butler told me to wait in the next room. I couldn't help hearing. And I couldn't bear to hear Eileen cry – all alone here, with no one on her side, I mean. I think she needs me. My father told me a lot about Eileen last night. He was her father's friend; he loved him. My father really is a gentleman – and very smart. I hope you will like me. I am Jimmie Gaynor. I have come to take Eileen to the dance."