Wed. Nov 8, 1916
Tried to get up but swooned away, so I had to turn my class over into the charge of Elders Orton & Touse. Stayed in bed all day, had a terrible pain in my heart, and my arms & feet felt as though they were dead, and my lips were swollen & cold. Kuraingo brought me a large juicy pine apple.
Thurs & Fri Nov 9 & 10, 1916
Heart bad, stayed in bed all day.
Sat. Nov 11, 1916
Pres Rossiter crossed over the lagoon to the city to arrange for boat passage for the Takaroa women & children to return to Takaroa. The native sisters called in off and on all day to see how I was getting along. And oh such a lot of sympathy I got. They sat and rubbed my feet & head & hands, & told me how badly I looked, & that I better return home because I would surely die down in this country. Felt much better towards evening.
Sun. Nov. 12, 1916
Went to morning meeting but felt so badly that I had to go home and lie down.
Mon. Nov. 13, 1916
In the early morning were called down to see Toaes baby, and when we reached there it was apparently dead. Its body was stiff and its eyes & teeth set but Pres. Rossiter administered and it revived and its little body commenced getting warmer, and breathing a little. I and Elder Davis remained with it most of the day, excepting when I had to go home and lie down for a little while, as President Rossiter had to go over to the village to attend to some business. Every hour we gave it medicine for the cholera, & fed it two teaspoons full of milk and by evening it seemed to have gained considerable strength.
Tues. Nov. 14, 1916
The St. Francois arrived at Hikueru and as it was going directly to Tahiti and would make the trip in two days, my husband decided that I should return to headquarters and so that I could be under the doctors care. The saints gave me many presents when I left of fruit shells, pekos & pearls, and Ern & Elder Orten &Kuraingo crossed over to the village with me. At noon Kuraingo and Taukura prepared a nice dinner for us in the pretty little home. She just clung on to me when I left and wanted to go with me.
Wed. Nov. 15, 1916
Spent a very pleasant day on board, talking with Madame Levythal [?] wife of the wealthiest man in Tahiti. Did not feel at all sea sick.
Thurs. Nov. 16, 1916
Arrived in Papeete at 9: am. Came into headquarters and gave the folks a big surprise. Besides Elder & Sister Comptan & baby, I found Elders Stocks and Burbidge who were waiting to take passage to America & the Tuamotus respectfully [respectively].
.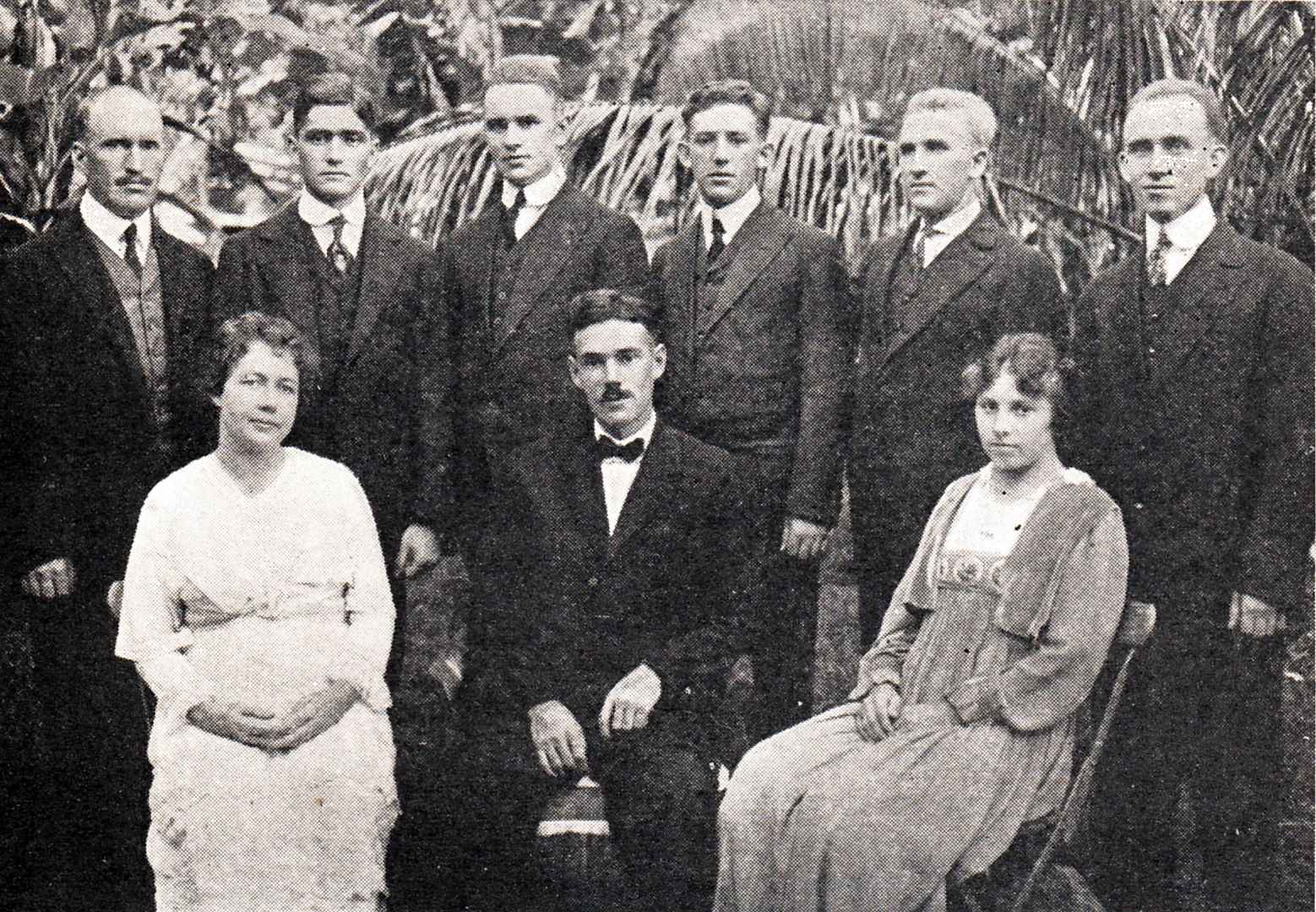 (back row, left to right:) Otha Stephens, Ogden, Utah; Alma G. Burton, Salt Lake; George W. Burbidge, Salt Lake; Albert Touse, Salt Lake; William Orton, North Ogden, Utah; Alfred Compton, Ogden. (front row, left to right:) Venus R. Rossiter, Mission President Ernest C. Rossiter, Margaret Compton.
.

Fri. Nov. 17, 1916

I spent arranging my boxes & room. Terai and Tecopu came up and we spent the evening talking and singing.

Sat. Nov. 18, 1916

The Maitai came in from New Zealand and we were also busy getting Elder Stocks ready. Pani and his wife came over from Moorea to bring him some bundles of vanilla & shells and also a lot of crabs for us.

Sun. Nov. 19

Waited all day for the steam[er] to leave & went down to the wharf several times in the pouring rain but as the ship couldn't get its drunken crew together they decided to remain over until day light next morning. We all sat up until mid-night with Elder Stocks, eating nuts and candy, then he went down to the ship to sleep. Pani and family came up and slept on the dining room floor, because it was raining too hard for them to sleep down to the market place as they usually did when they came to Papeete.

Mon. Nov 20, 1916

Called to see Huahia a Toae who had given birth to a 14 lb. baby boy the night before. Elder Burbidge and I went out to a photographers to get some Hikueru pictures. Commenced taking charge of the kitchen for a week. In the afternoon Sister and I called to see Terai in her new house.

Tues. Nov 21, 1916

Washed & Ironed. Dr. La Stratte called to see me. The princess sent one of her servants over with two large baskets of avotas.

Papeete, Tahiti. Nov. 22, 1916

"S.S. Moana" arrived from America, bringing Elder Wm. W. Larson from Ogden to labor in this mission. There was also on board a Bro & Sister George who were returning from Utah to New Zealand on account of Mrs. Georges health. She had had a misscairage at sea and was in a very weak condition. We tried to persuade them to stop over a month until she had suficiantly regained her strength but she felt that she must hurry home to meet her people. Bro Geo. came up to the house for dinner and we kept their beautiful baby Lillas with us most of the day. Sister and I had a great time reading and crying over our letters to-gether. Marie Statt, our beautiful half caste friend gave us a blow, when she called to the house to tell us she was leaving the next day with her father & brothers for France where they expected to make their home.

Thurs. Nov. 23, 1916

We all went down to the wharf at 6: am to say good-bye the [to] Marie and family and Bro George, who left on the Moana. In the afternoon Sister and I went down to the Mayors wife Madame Gardello, to get some clothes to sew for the families whose husbands and fathers are at [the] front in France. Bro. Larson brought an immense Xmas box to all the Elders from the folks at home, so we can well imagine what an exciting and happy time we had opening it up and receiving our presents. Ern & I each received a lovely pair of shoes from father, two negligée shirts, a dresden petticoat and a corset cover from Mother and a pretty waist for me and some linen handkerchiefs for Ern, from Sadie. also a five pound box of chocolates & 6 pairs of garments. Bro. & Sister David Evans, cousins of sister Compton, sent me a large box of candy & a nice house dress, father and Sadie sent a dresden petticoat like mine, two pairs of baby shoes two pairs of silk baby stockings, and some linen handkerchiefs and 2 pairs of hose each to Bro & Sister Compton & baby. Mother also sent some curtains for the mission house that I had written for.

Fri. Nov. 24, 1916

Were all kept busy getting Elders Burbidge and Larson ready to leave for the islands. Sister gave me a pretty house dress that was too large for her

Sat. Nov. 25, 1916.

Elders Burbidge and Larson left on the St. Francois for Hikueru.

Sun. Nov. 26, 1916.

Rained most of day and only Terai and Taheahu came to S.S. & meeting so we held them at the house.

Papeete, Mon. Nov. 27, 1916

Cleaned my drawers, boxes, and clothes closet.

Tues & Wed. Nov. 28 & 29

Made and embroidered a little dress for Marama.

Thurs. Nov. 30

Made some children dresses for the destitute families of the Tahitian soldiers and later took them down to the Mayors wife Mrs Gardello, who has charge of the work. Also called to make an appointment with the dentist and called to see Terai, who gave me a pretty native fan.

Fri. Dec. 1, 1916

Made new curtains for the parlor and two pairs of portiers for the hall doors. Sister and I went to the dentist and called on Terai. Tuko came over & spent all evening.

Sat. Dec. 2, 1916

Finished making the curtains & cleaned house. Took some fish and a large picture down to Terai. Martha Krausser came in from around the island she & Tuko & the baby called to see us.

Sun. Dec 3, 1916

Attended S.S. and Fast meeting. Elder Compton blessed Robert Harvey Mervin, the baby of Mahia & Tetua Mervin. Terai stayed to dinner after church.

Mon. Dec 4, 1916

Got up at 5: am to get the water ready for washing. Sister and I went to the dentist again, and called in to see Mrs Lund, the wife of a San Francisco cocoanut buyer, on the way home.

Tues. Dec. 5, 1916

Got up at 5: am to do the ironing. Went to the dentist in the afternoon and called on Princess Etwater, who offered us the use of her horse when ever we wanted it. In the evening took a walk down town to buy a new bed spread, and called in to see Terai for a few minutes.

Wed. Dec. 6 1916

Made two petticoats for the soldiers children. Martha Krausser & Stella came over & spent the afternoon.

Thurs. Dec. 7, 1916

Commenced sewing Red Cross clothes and went into sort of a faint at the machine. Sister rubbed my hands & arms, and kept cold water clothes on my head, and I soon felt better, but lay down the greater part of the day. Sister finished my clothes & took them down to the Mayors.

Fri. Dec 8, 1916

Felt much better. Wrote letters in the morning and in the afternoon called to see Tufae, one of our Protestant friends and Tahuhu maa & Moupha maa two families of negligent saints.

Sat. Dec. 9, 1916

Cleaned house, wrote letters & sewed.

(To be continued)