Missionaries Returning from South Africa
(first row, left to right:) Carlyle B. Eyre, Gail C. Meier, King S. Udall, L. Wayne Redd, Francis G. Tate
(second row:) Walter M. Lewis, Richard A. Seare, Jay S. Broadbent, William W. Heal, Robert Q. Shupe, Quinten E. Crockett
(third row:) Newell S. Black, Phil C. Dana, J. Keith Hansen, Norman S. Howells, Jay L. Chatterley, Leslie W.J. Beer
(fourth row): O. Ned Kirkham, Grant B. Shaw, Richard F. Thorley, Sidney V. Badger, Robert B. Douglass, Scott M. Whitaker, H. Max Bergeson
(fifth row:) Max W. Simkins, Harold S. Barnes, Jr., John N. Eldredge, Terrell R. Woodmansee, Preston T. Marchant, Richard G. Sharp, John G. Knudsen
(also aboard, not pictured:) Donald B. Garrick
.

.

Bakersfield, California
M Men and Gleaner Banquet
.
Garvanza, California
Chapel Groundbreaking, Bishop Harold Gunn
.
Missionary "Basketeers" of Detroit
(front, left to right: Leland Hiltbrand, LeRoy Taylor, Donald Poulton, Reed P. Larson.
(back, left to right: Clarence Buehner, Russell Hansen, Max McKinnon, Clark Hillam
.
Sister Smurthwaite, Sister Paul, at Mesa Temple
.
Primary Children of
Homestead Ward, Sacramento (California) Stake
.
Sisters Missionaries at Santa Barbara, California, Train Station, 19 July 1940
(Ardis Wilson, Ida Jensen, Pres. Erickson, LaRae Nuffer, Lucy Ann Vaughn
.
Natchitoches, Louisiana
Chapel Dedicated 1 January 1940
.
Manitoba, Canada
Converts Baptized 1 August 1940
.
Manti, Utah, North Ward
Sunday School Officers and Teachers
.
Porterville, California
Elders Milton Rasmussen and Garden Barney
.
Logan Square (Chicago)
Sunday School Officers and Teachers
.
First Presidency
David O. McKay, Heber J. Grant, J. Reuben Clark, Jr.
.
Japanese Mission, Hawaii
(front row:) Ekins, Bills, Margetts, Newman (second row:) Murphy, Wenns, Alldredge, Christensen (third row:) Sorenson, Kearns, Pay, Nelson,
Biddouph, Matthews, Kingsford, Lynn, Dickman, Johnson
.
Missionaries Visiting Temple Lot
Independence, Missouri
.
RLDS Auditorium Under Construction
Independence, Missouri
(visited by missionaries in previous photo)
.
Minneapolis, Minnesota
Cast of Sunday School Play, "Don't Tell Mother"
.
Detroit, Michigan
Elders Papa, Bartlett, and Pond
.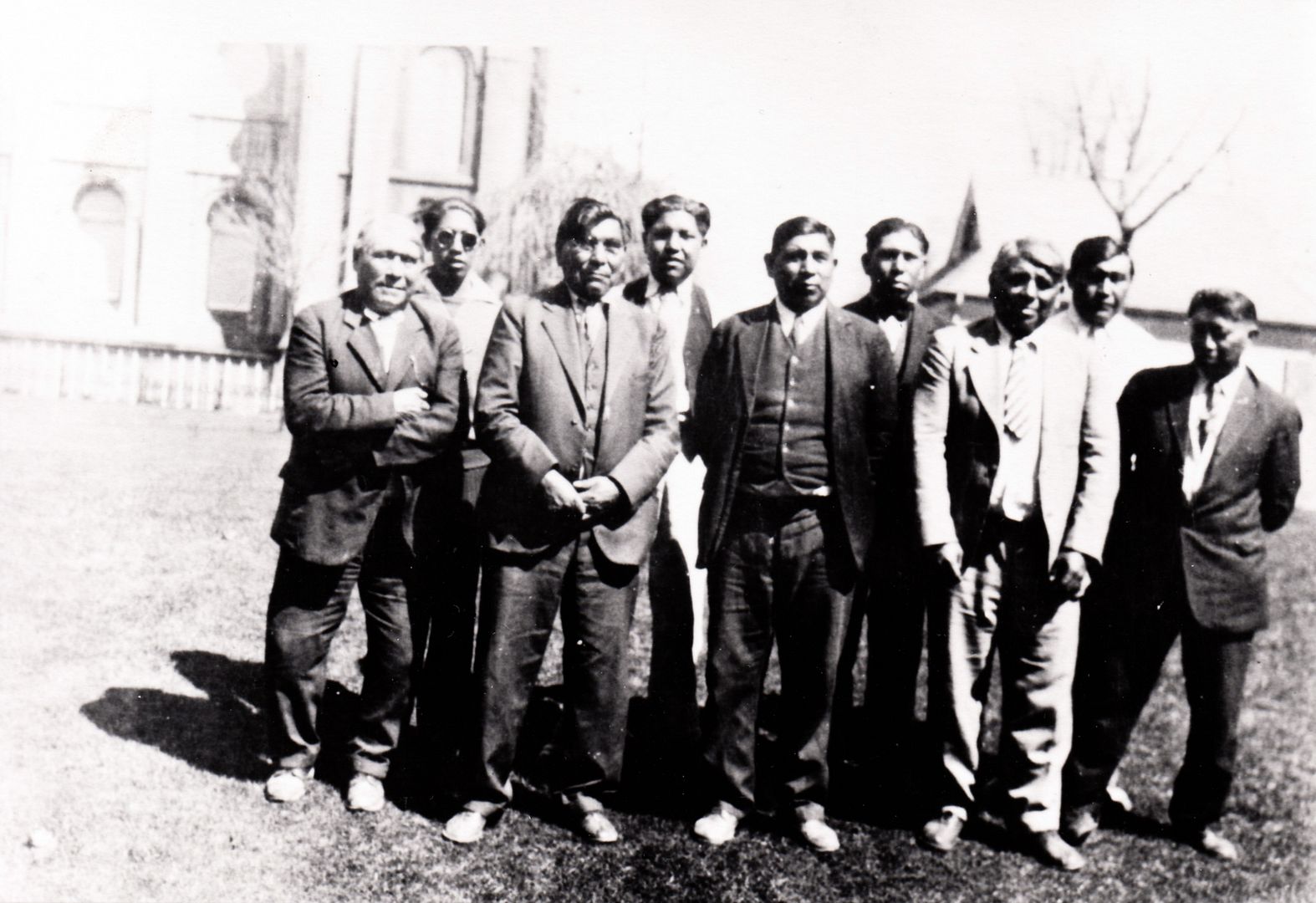 Shoshone Men Attending Conference
(year is approximate)
.
Sunday School
Charleston, West Virginia
.
Oneida and Franklin Stakes, Idaho
Reunion of Returned Missionaries
.
Troop 558
1st Eagle Scout Troop in Chicago Stake
.
Tour Guides, KSL Studios, Salt Lake City

.