To fully appreciate the revolution reported in this post, take a look at this page from the February 1956 magazine, The Instructor. The Instructor was the magazine of the Sunday School; it carried articles for teachers on new teaching techniques, for musical directors on hymn practice, for ward librarians on collecting and preserving teaching aids. The covers of the magazines were designed to be mounted and used in classroom lessons, and those covers were the only color illustrations. Illustrations inside the magazine were black and white photographs and line drawings, like the flannelboard story pieces shown here.
Something happened between the February issue of the magazine, with its black and white line drawings, and the March issue of the magazine: The Church printing plant installed new equipment, with the technology to print vibrant color. At first, color was used only for the magazine centerfold, with each issue carrying two pictures, or occasionally a double-page spread, designed to be removed from the magazine, mounted on cardboard, and stored in the ward library ready for use. Each illustration was accompanied by an article with information on the artist and the story it represented. These articles (not reproduced in this post) were to be cut out and pasted on the back of the mounted picture.
When all our magazines are filled with color today, it's easy to overlook the power of color when it first appeared. I wonder if teachers in 1956 didn't feel just a little bit like Dorothy, swept from black-and-white Kansas to full-color Oz?
.
.
.
March
Peter's Denial
Painting by Ferdinand von Harrach
"And the Lord turned, and looked upon Peter. And Peter remembered the word of the Lord, how he had said unto him, Before the cock crow, thou shalt deny me thrice."
–Luke 22:61
..
.
April
Christ's Entry into Jerusalem
Painting by Bernhardt Plockhorst
"Blessed is he that cometh in the name of the Lord."
– Matthew 21:9
.
.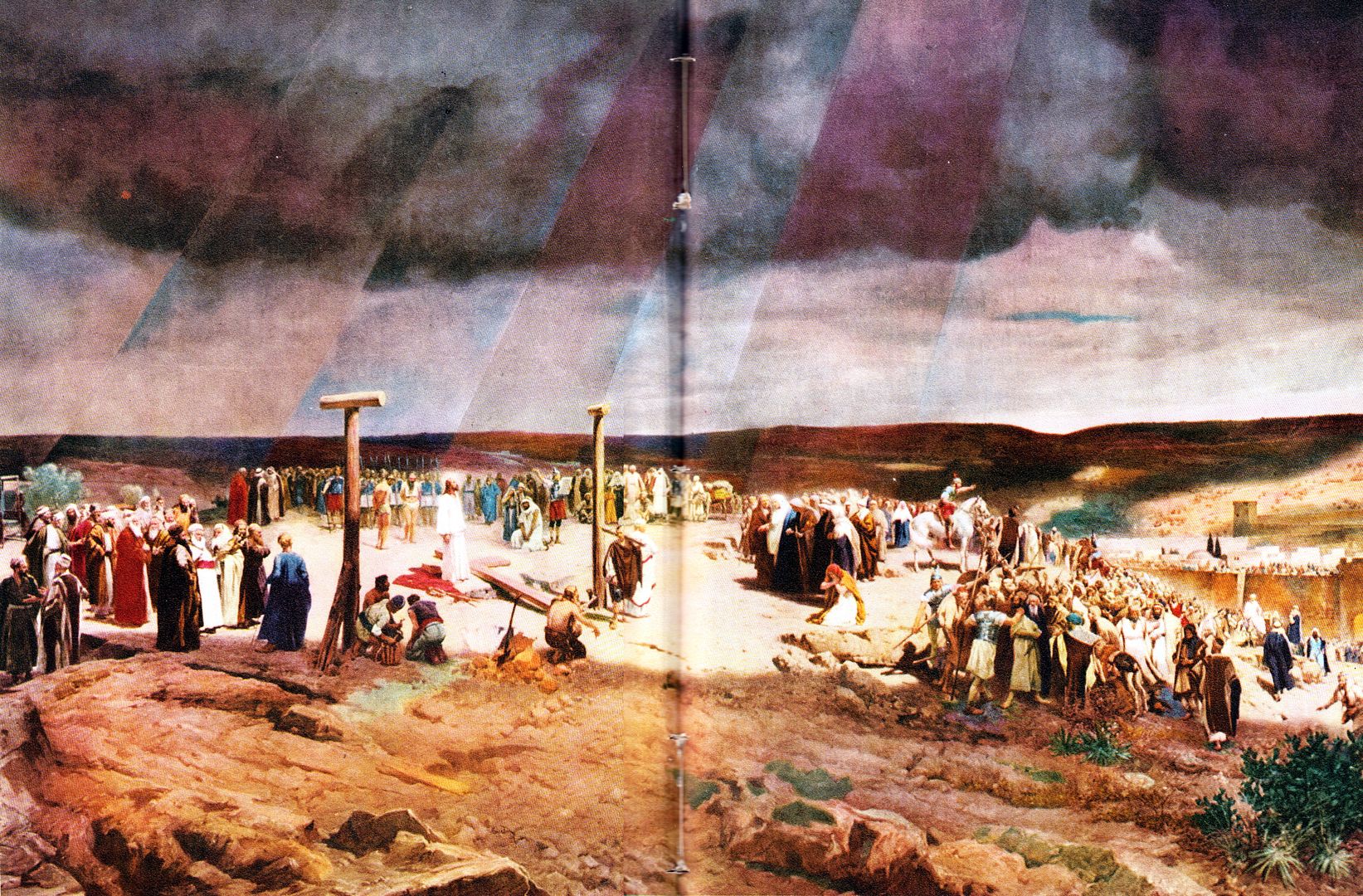 The Crucifixion
Painting by Jan Styka
Hall of the Crucifixion, Forest Lawn Memorial Park (Glendale, California)
..
.
May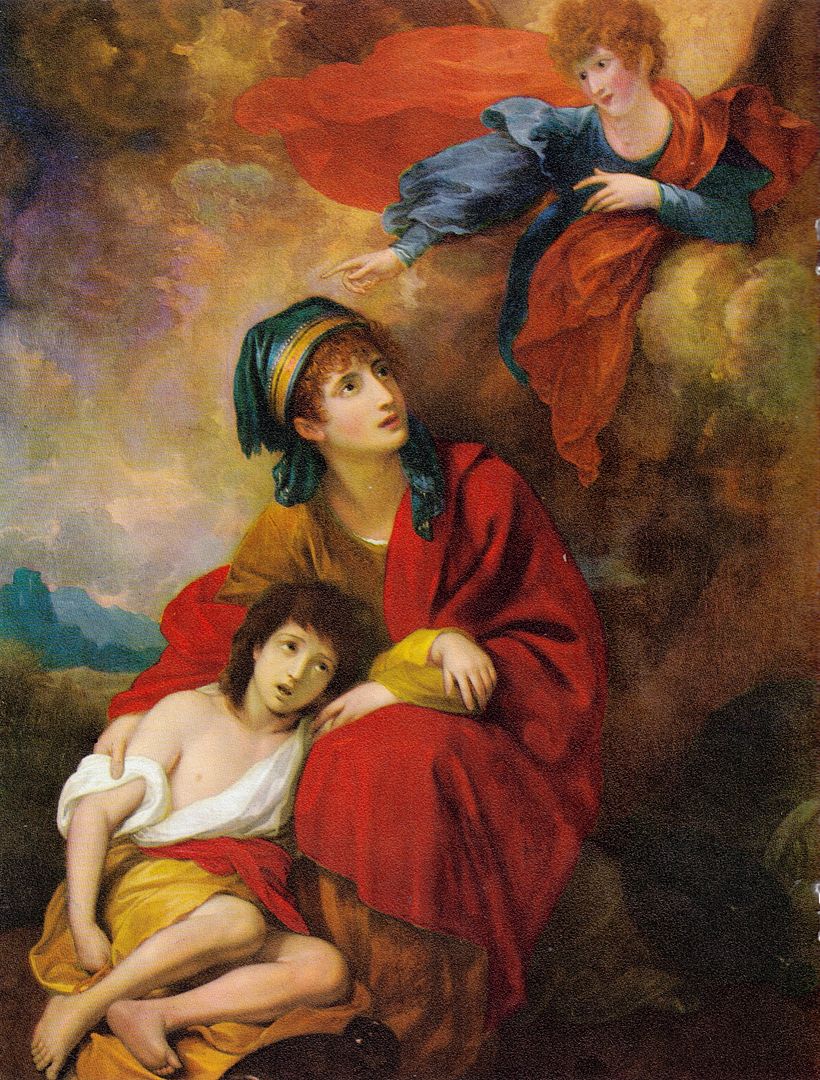 Hagar in the Wilderness
Painting by Benjamin West
Metropolitan Museum of Art (New York City)
The angel said, "… Lift up the lad, … for I will make him a great nation."
– Genesis 21:18
.
.
Madonna and Child
Painting by Bartolome Esteban Murillo
Metropolitan Museum of Art (New York City)
"And the child grew, … and the grace of God was upon him."
– Luke 2:40
..
.
June
The Apostle Paul
Painting by Rembrandt
National Gallery of Art (Washington, D.C.)
"The Lord said … he is a chosen vessel unto me, to bear my name before the Gentiles, …"
– Acts 9:15
..
.
July
Christ Healing the Blind
Painting from Bolognese School
John and Mable Ringling Museum of Art (Sarasota, Florida)
Jesus "… made him look up: and he was restored and saw every man clearly."
– Mark 8:25
..
.

David Before Saul
Painting by Ernest Norman
Bettmann Archives (New York City)
"… David took an harp, and played with his hand: so Saul was refreshed, and was well."
– I Samuel 16:23
..
.
August
The Return of the Prodigal Son
Painting by Bartholome Esteban Murillo
National Gallery of Art (Washington, D.C.)
"For this my son was dead, and is alive again; he was lost, and is found."
–Luke 15:24
..
.
September
.

The Danish Mormon Missionary
Painting by Christian Dalsgaard
State Museum of Art (Copenhagen, Denmark)
The Gospel should be preached to "every nation, and kindred, and tongue, and people."
– Revelation 14:6
..
.
October
Joseph Sold by His Brothers
Painting by Domenico Maggiotto
Metropolitan Museum of Art (New York City)
"… And they drew and lifted up Joseph out of the pit, and sold Joseph to the Ishmaelites for twenty pieces of silver …"
– Genesis 37:28
.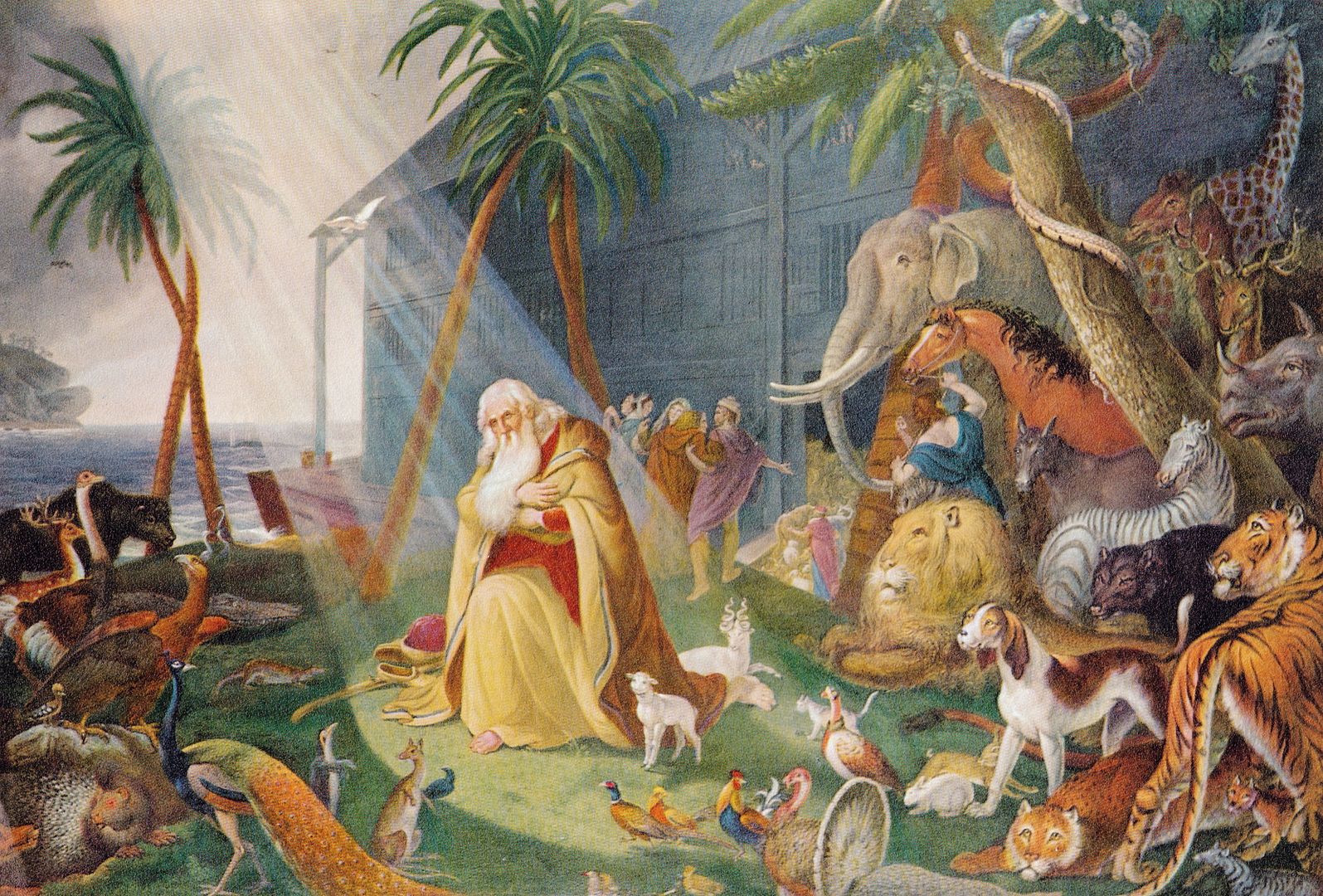 Noah and the Ark
Painting by Charles Willson Peale
Pennsylvania Academy of Fine Arts (Philadelphia, Pennsylvania)
"And of every living thing of all flesh, two of every sort shalt thou bring into the ark, to keep them alive with thee, …"
– Genesis 6:19
..
.
November
Saint John as a Boy
Painting by Bartolome Esteban Murillo
Prado Museum (Madrid, Spain)
"… He shall be filled with the Holy Ghost, … And many … shall he turn to the Lord their God."
– Luke 1:15, 16
.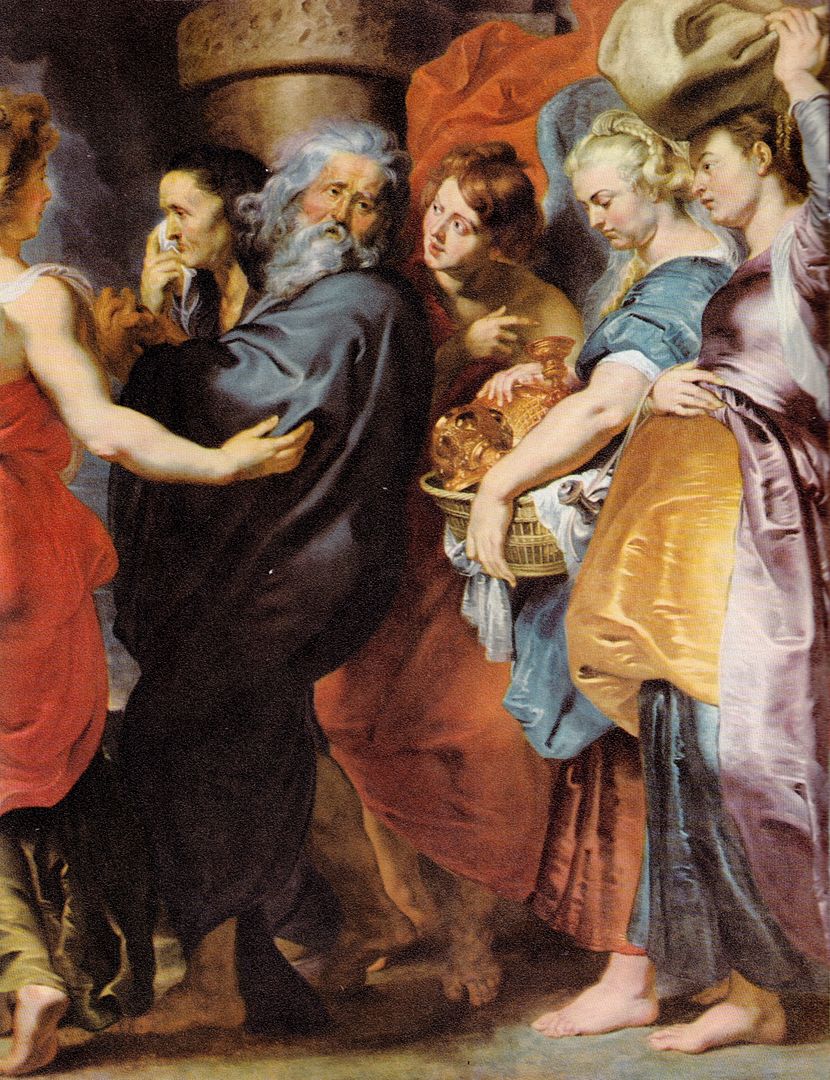 The Departure of Lot and His Family from Sodom
Painting by Peter Paul Rubens
John and Mable Ringling Museum of Art (Sarasota, Florida)
"… The angels hastened Lot, saying, … take thy wife, and thy two daughters, … look not behind thee. …"
– Genesis 19:15, 17
..
.
December
Arrival of the Shepherds
Painting by Henri Lerolle
Museum of Carcassonne (Carcassonne, Aude, France)

And it came to pass, as the angels were gone away from them into heaven, the shepherds said one to another, Let us now go even unto Bethlehem, and see this thing which is come to pass, which the Lord hath made known unto us.

"And they came with haste, and found Mary and Joseph, and the babe lying in a manger."

– Luke 2:15, 16