Willard W. Bean, the missionary and amateur boxer who was called by the Church to farm the old Joseph Smith farm in Palmyra, New York, took his family there in 1914 and faced a very harsh reception from local residents. By 1928, though, attitudes had changed, as he tells us in this narrative:
Change of Sentiment
By Willard W. Bean
Caretaker of Cumorah
When I arrived in Palmyra, with my family, in 1914, to take over the Joseph Smith farm and act as caretaker, we found the sentiment toward Joseph Smith not unlike that which prevailed at Nazareth toward the Master when he began his earthly ministry. I realized more than ever before the full significance of Jesus' saying: "No prophet is accepted in his own country." Joseph Smith was commonly referred to as a tow-headed, illiterate dreamer and fortune teller, an idle jack-knife swapper, a musk-rat and wood-chuck trapper, a chicken thief, sheep thief, smoke purloiner, visionary gold digger, etc.
And they could prove it to their entire satisfaction from the accepted history of Wayne county, which has a wilfully and contemptibly written chapter on the Smith family and Mormonism. This was read by each generation as it grew up, and the junior and senior high school students seemed to pride themselves in basing one of their oratoricals each year on this particular chapter. It was a popular theme, as the history was taken at face value. It also mentions, among other things, that an attempt was made in 1830 to proselyte the people of Palmyra to "Joe Smith's delusions," and Oliver Cowdery gave a talk in the"Young Men's Club" hall, but met with so cold a reception that he never made a second attempt and "Palmyra is well rid of a bad lot."
.


Farm on State Highway
On the west side of the hill Cumorah
.
So, naturally, when the good people of Palmyra learned that a Mormon family had settled on the old Smith homestead near Palmyra, they were a little curious to see us, but didn't seem to warm up much toward their new neighbors. But that was quite natural and rather to be expected, especially after I had familiarized myself with local history and listened to the old stories that had been handed down from one generation to another. We were pointed out and discussed in all assemblies. Another thing that possibly gave occasion for some of the more fertile imaginations to work overtime on gossip, was that my [second] wife happens to be some years younger than myself, and we brought two children, 12 and 14 years of age, from a former marriage. This, of course, was the latest addition to my harem, and that it was customary to live with each new one for seven years, etc. To help keep this gospel alive, five different anti-Mormon lecturers were booked to lecture in the churches on the four corners. Resolutions were passed by various auxiliary organizations of the churches, farmers' grange association, etc., pledging themselves to discourage any attempt at Mormon propaganda and to show their disapproval by non-attendance.
But they soon learned to tolerate us and, in time, to respect us; and, finally, decided that we were good citizens and an asset to the community. About five years ago [abt. 1923] we purchased the J.H. Inglis farm, consisting of 97 acres, situated on the state highway and taking in part of the hill Cumorah. About three years ago [abt. 1925] we negotiated a deal whereby we came into possession of the Peter Whitmer farm in Fayette, Seneca county. This farm consists of 100 acres, and is historic by reason of its being the birth place of the Church, where part of the Book of Mormon was translated, where a number of the early revelations recorded in the Doctrine and Covenants were received, and where the three special witnesses saw the angel Moroni and the gold plates.
While Pliny T. Sexton was alive, he phoned me to call at his office as he had a matter of interest to our people to talk over with me. He said that our people had entertained a desire to get possession of the property known locally as "Mormon Hill." He said that he had been thinking the matter over, and, as he was having a little trouble getting suitable tenants for his many farms, he thought the time opportune to let us have it at the "modest" price of one hundred thousand dollars. He seemed to be under the impression that we would be glad to get the hill at any price and appeared somewhat annoyed when he was informed that he had set his price too high.
.


Buildings on Cumorah Farm
Taken from the side of the hill Cumorah
.
Subsequently, he died, leaving his vast property accumulations to one hundred two heirs, the nearest of kin being two nieces. When the question of disposing of the hill Cumorah property came up, certain of the principal heirs, influenced, more or less, by prejudice, were opposed to selling it to the Mormons at any price and were even willing to lose their share, if need be, to keep it from falling into our hands. death removed some of those opposed and, early in the present year [1928], it seemed that the coast was about clear of obstacles. I had a talk with the attorney who represented some of the more obstreperous ones and during the next meeting of the executors and heirs, or their representatives, there was no protest registered. The attorney for the estate called me by phone and wanted to see me at once. He seemed ready and eager to talk business; was in a very pleasant mood. After examining a number of propositions, one came up that I thought we might accept. I told him to put it in writing, sign it and get the other executor (one had previously died) to sign it, and I would make a deposit if necessary, and start negotiations. The agreement was written and signed. I went home and immediately wrote to the authorities, enclosing the proposition with signed agreement, asking them to consider it if they felt that the right time had arrived for us to acquire the hill Cumorah. This was on February 2, and, in a few days, I received the following letter, dated also February 2:
Dear Brother Bean: Please secure a definite offer, in writing if you can possibly do so, from the executors of Mr. Sexton's estate, for the hill farm of 170 acres. If they will not sell it alone, get a definite offer on the other pieces of property with the hill. But to make it binding, it would be best to have this offer in writing. If you have to pay ten or twenty dollars to secure a thirty-day option, this would be the safest way to hold it. An early reply will oblige,

Sincerely your brethren,

Heber J. Grant,
A.W. Ivins,
C.W. Nibley,
First Presidency.
Rather a peculiar coincidence that they should be writing me the same day and possibly the same hour to do something which I was telling them I had already carried into effect to the very last detail. The same day I received a telegram saying that the deal was satisfactory and to proceed to get out abstracts, titles, etc.
.


Bennett Farm
Consisting of 220 acres which include the south end of the hill Cumorah
.
This deal included the north end of the hill Cumorah, once owned by Admiral William T. Sampson, consisting of 170 acres; the Bennett farm consisting of 220 acres, taking in the south end of the hill; the Tripp farm joining on the east, consisting of 92 acres, and the Grange Hall, in the village of Palmyra, a beautiful pressed-brick building, just off Main Street, near the busiest corners.
.


Grange Home
In the city of Palmyra, New York, included in the recent purchase by the Church
.
This gives us a total acreage of 818 acres of land where Mormonism had its beginning. The sentiment has so far changed that there is scarcely more than a faint echo of the former prejudice. Certain ones of the super-pious sort felt a little shocked when they read an account of the recent deal and expressed themselves as being fearful that we might establish a colony here, and our people reach a majority and run the whole community. But there is always somebody present who volunteers to defend us, by saying: "It would be a good thing if they do get possession. Those people run things right. If the people they have here now and the ones we have seen visiting here are fair samples, we can't get too many of them."
Hundreds of our young missionaries have been here, and, during our celebrations, a great many have had to stop at hotels and private residences in the village, and invariably leave a good impression which is far reaching. Land ladies go out of their way to tell me of their splendid deportment. It seems to be common knowledge now that we have the cleanest group of young people in the world. People also travel more now-a-days. A number from our village who have been west, and stopped off at Salt Lake City, are very warm in their praise of the city and the treatment they received while there. Personally, we have plenty of friends, and are now trying to make friends for Joseph Smith and the revealed gospel that made him what he was. The change is most noticeable. It is no longer "Joe Smith's old home," but the Joseph Smith farm. It is no longer "Mormon hill where Joe Smith dug up the Golden (or Mormon) Bible," but Cumorah Hill or Mt. Cumorah. A former tenant of the hill Cumorah farm, who used to drive our people off the hill, is now working for us and is glad of it. It would be a hard matter now for anybody to abuse the Mormons, or say slighting things about us and get away with it. There is always somebody ready to defend us.
.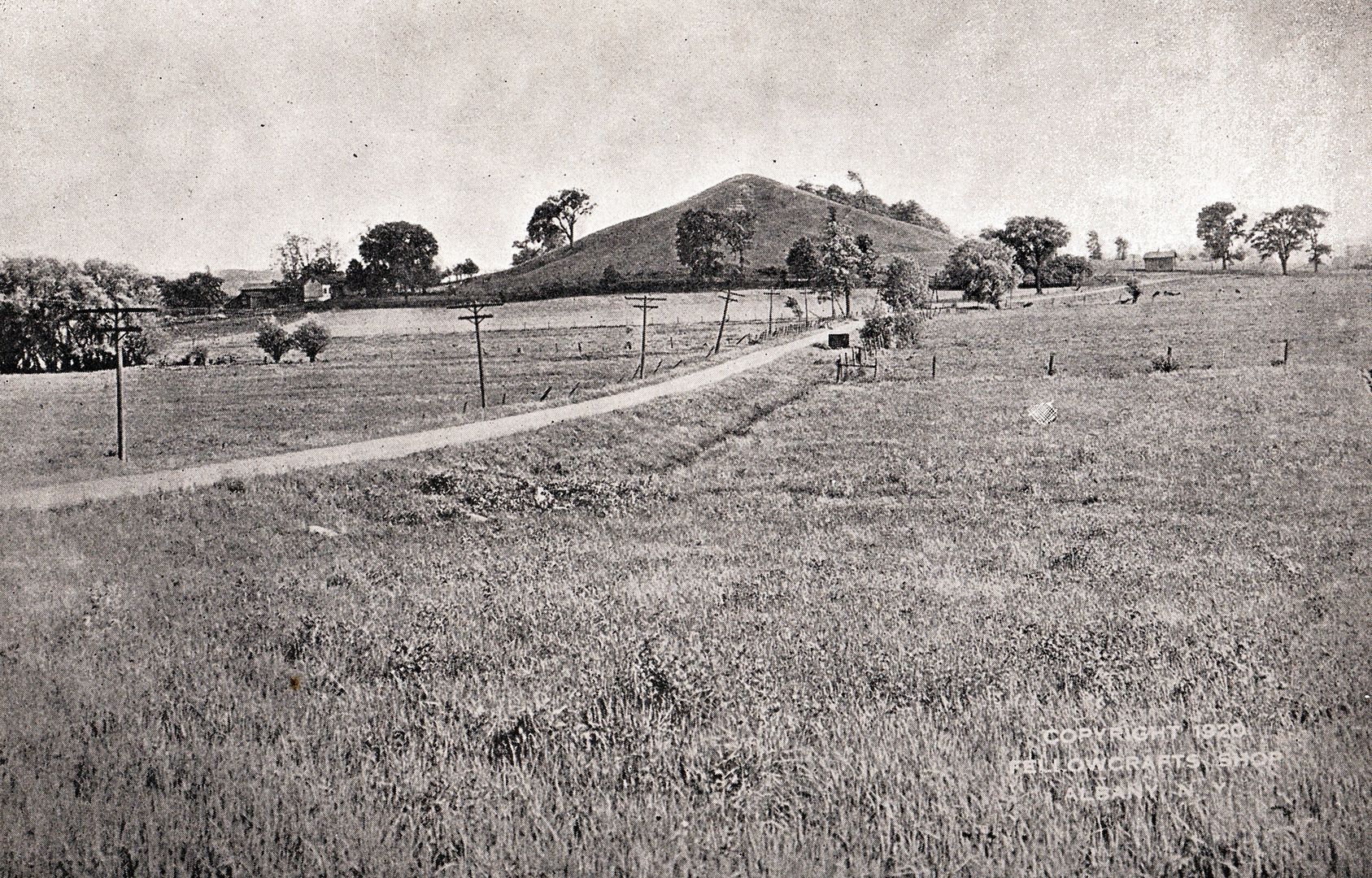 Hill Ramah – Hill Cumorah
Recently purchased by the Church of Jesus Christ of Latter-day Saints
.