I've known for about a week now that my Toby – my beloved little white cat with the amazing blue eyes – was going to die soon. As I write this, he is still here, lying on my desk next to the computer, calmly and patiently waiting. Me, I alternate between weepy, grieving wreck and all-wrung-out-of-tears grieving wreck. In some ways this is harder for me than losing my parents was.
Each night I have hoped – and lately prayed – that Toby would die during the night, with me there to stroke his shoulder and speak softly to him, calling him by all the silly and loving names I have for him, as if that might ease his passing. But he hangs on, and on, and every time through the nights when I reach to check on the rising and falling of his ever more emaciated ribs, he breathes. He does not seem to be in any pain; he stretches alongside me rather than hunching in the pose that has betrayed pain in the past, so I think he is resting easy. He purred as recently as Tuesday; when I lay my arm along his body he tucks his head into my hand in his old familiar caress. It seems that life is a hard thing to let go of.
I can't stay home with him during the day, so each morning I hold him and say goodbye. At 5:00 when I walk from the bus stop toward my door, I don't know whether to dread a stillness that means I'll have to find him in whatever hiding place he chooses at the end, or to be grateful for another few hours to hold him in my arms, knowing that I face another sleepless night, and probably another goodbye in the morning.
Toby is special. I've had pets all my life – loved them and cared for them and lost them and mourned for them – but Toby is special. We have been together for nine years, and hours of loving time with him has been a feature of virtually every day. I work at my computer many hours every day, and for all these nine years, he has spent most of those hours with me. In the summer he lounges on the desk, usually in the space to my right kept bare for him, but sometimes in the circle made by my arms as I type. When it is cool enough – and sometimes when it is not – I have had to wear a big shirt or a sweater so that Toby could curl up inside, content to hang out in his pouch and purr next to my heart, while I went on typing endless hours. Long stretches of the past nine years have been very difficult for me, emotionally and physically, and it's no exaggeration to give Toby the credit for pulling me through them with his constant presence and quietness and affection. I love him.
Toby has taught me things that I have been slow to learn, things that perhaps people with families learn much earlier and easier:
First, he has taught me responsibility for another life. Oh, I've always provided the food and other things my pets have needed for life, but Toby is different. From the time he was a tiny kitten, from his first foray away from his mother's nest under my bed, he has wanted to be near me. He has been more dependant – in a good, affectionate way, not a clingy, needy way – than any other cat I've known. Because I accepted responsibility for caring for him, that has meant I've had to plan for him, give him the affection he craves, not to leave him alone too long. Parents learn that kind of devotion to their children, I think. And I'm not saying that a cat is the equivalent of a child in any way, only that this is the only opportunity I've had to develop that duty toward another being. It doesn't come from occasional hours of babysitting someone else's kids. It comes only with constant, ongoing responsibility for another life. If I didn't come home at night, Toby would notice, Toby would care, Toby would go without. For someone who wonders how long she might lie dead before anyone notices that she's isn't around, this is a big deal. I had to become someone Toby could count on. He taught me that.
Second, Toby has given me reason to learn to be calm and still. He has always liked routines, and quietness. When I am agitated, he is, too – he tears around the apartment, and claws the furniture and knocks things off the desk. If I scold him for that, he added biting to his crimes. The only way to calm him is to calm myself, to be still, to be quiet, to speak softly, to move smoothly. Then Toby relaxes and is calm, too. I've lived alone all my adult life, and worked alone for much of it, so had always felt free to vent my emotions loudly and physically and privately. Toby taught me that "blowing off steam" generally doesn't relieve the pressure but only feeds it, and that deep breaths and taking control of my voice and movements are the real keys to personal peace. "Normal" people who have families must, I think, learn that self-control from feedback of other people. Toby taught me that.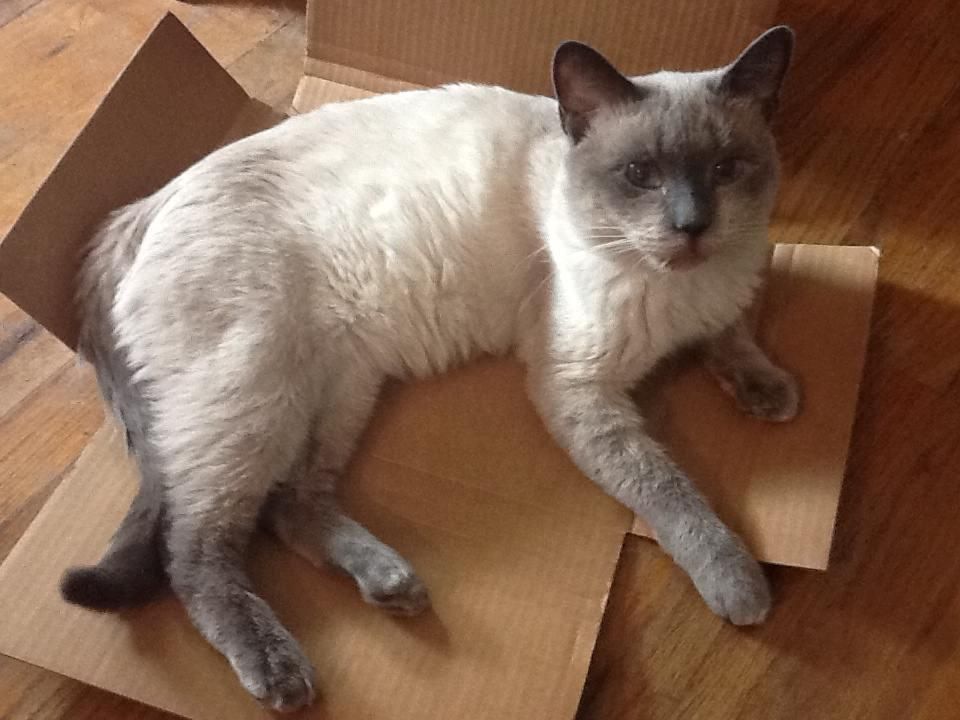 Third, Toby has taught me to be – or to try to be – more patient and tolerant with people. There are some places at home, like my bedroom dresser, that I have not let Toby make his own. Sometimes he jumps there anyway, and sometimes he looks directly at me before he jumps, defying me in a way that almost makes me wonder whether animals are capable of choosing between good and evil despite what the theologians say. If I holler at him, or swat him, or even gently lift him down, my normally sweet-tempered Toby has a fit. He hisses and swats back and wants to chew my hand. That temper tantrum can last for quite a while, or I can stop it immediately by letting him bite my hand once. That's all it takes to restore his dignity. After I noticed that about Toby, I noticed that some people are much the same: When you check their words or behavior, they sometimes need to reassert their dignity. Overlooking that, letting Bloggernaclers make personal remarks without responding, letting them reassert themselves even in ways that are as pointless and unproductive as Toby's bites, often helps the tempests pass. Maybe I should have realized that decades ago, but Toby taught me that.
Finally, I have to trust God more than I ever have before. While we don't know much about the next life, we know that our sociality with other human beings goes on. I have lived too long barely a quarter-step away from the veil not to have sufficient reason to know that life goes on, that personality goes on, that those who have passed on continue to care for us, and even that those I have come to care about through historical research are friends who will greet me when it is my turn to go. I know this. I know it with my head and my heart and my experience.
But I don't know the role of animals like my Toby. I know they have souls. I know that God created them, and that as much as I love Toby, God must love him more because he made him and sent Toby's soul to this once strong and graceful, now wasted, mortal body. I believe that the Atonement covers animals, too – not that they need redemption from spiritual death, because they are incapable of sinning. But Toby's death will come because all life in this fallen world is subject to physical death. The Atonement that conquers death for humanity, that will "renew" this planet itself, must also extend to all life that belongs to this world. I believe that Toby will live again just as I will. But I do not know what claim I might have to his companionship then. I resist making up folk doctrine simply because I want it so much to be true – but I've heard apostles say, in explaining the purpose of temples, that "heaven won't be heaven if my wife and children are not with me there." From my mortal perspective, I cannot imagine a heaven that would be heaven if the loving bond I have formed with Toby is not continued there. But I do not know that to be true. I have to trust God. Toby is teaching me that.

And so I care for Toby in his last hours, loving him, trying not to upset him with my tears or with panic in my voice, reminding myself with each caress that while this will soon be a memory, right now it is now. I am petting him now; he is looking at me with trust in those blue, blue eyes now. In a few minutes I will have to say goodbye again, not knowing whether it is the last time or whether we'll go through this wrenching parting again tomorrow. I hope not. I pray that he will go very soon. But if he is here when I come home tonight, I will hold him, and speak softly to him, and treasure another few minutes of having him in my hug as well as in my heart. And I will trust that this is not really the end.

-oooOooo-

I wrote the above early on Thursday morning. It's Friday afternoon, and Toby still can't let go, although he is so weak and tired. A vet is coming to the house in a few minutes to help ease Toby through. It's time.

-oooOooo-

 2:00.  It's over. Toby is at rest.

Oh, Toby!