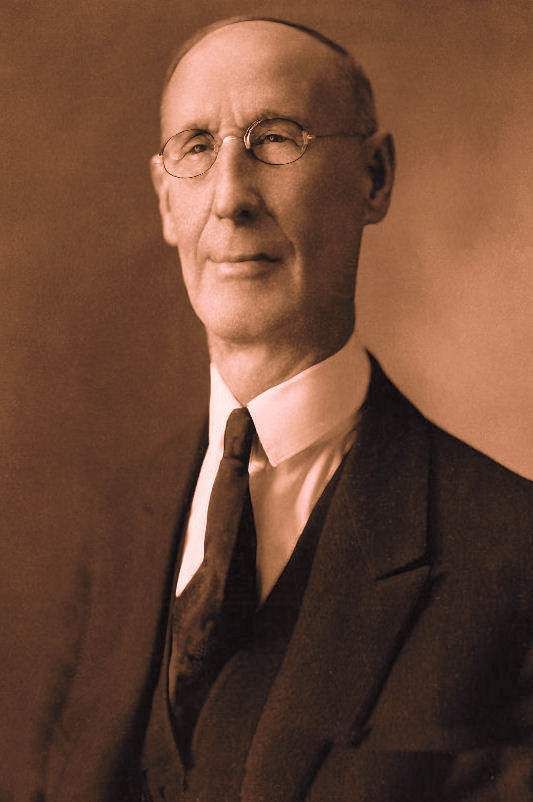 Jonathan Golden Kimball (1853-1938) – son of Heber C. Kimball, missionary/mission president in the Southern States, member of the First Council of the Seventy – is remembered mostly for his legendary "salty" tongue in scores, if not hundreds, of mostly apocryphal stories. Even without the very occasional swear word which is the punchline for most of the surviving stories, his humor and storytelling in General Conference and other venues made him a favorite speaker.
I've recently read through a volume of his letters from 1900 and discovered (well, for me it was a discovery) that his writing style was as engaging as his speaking style. There is little that reveals a person's intimate self like his correspondence with friends.
J. Golden didn't pull punches when he called a young man to repentance for neglecting his calling in the Church:
I am very much interested in the young people of this church and especially when they are the sons and daughters of the old stalwart pioneers. As a reward for their hardships they are at least entitled to sons who will stand in the front ranks as defenders of Zion. … I have been pained in hearing reports that were against you … I do not question for one moment that you are still a L.D.S., but you will not be one very long if you allow yourself to step down and out of honored positions in the Church because of your carelessness. Young man, you cannot afford to do this. Life is too uncertain. …We have reason to expect a good deal from you, on account of your missionary labors. Come and see me and let's talk these matters over and anything I can do to encourage you, it will afford me great pleasure.
Then J. Golden went on to try to sell the young man a horse and buggy that the Kimballs could no longer afford to keep!
A high Church official asked him for the names and financial condition of Heber C. Kimball's surviving widows. There were four living widows. J. Golden's mother Christine Gheen Kimball, had died a few years earlier, but J. Golden efficiently and candidly assessed the needs of those remaining. He knew which of his half-siblings (or, in one case, two nieces of the widow) were contributing to the care of their mothers and which were not.
The widows of Heber C. Kimball only received $300.00 in chattels [personal property], which was largely made up of old-style furniture. They received no money, neither did they receive a home, but were made guardians over the property of their children. … I know of no persons that would appreciate a helping hand more than the four widows who are now living.
To a close friend in a distant mission, he related an incident of historical significance:
To lose Pres. Snow was a great loss. Such men are not accidents and are not found among men, only once in a great many years.

Pres. Snow's death was so very sudden and [we] hardly thought he would pass away. I stood at the foot of his bed and witnessed his death. It was the first person I ever saw pass from this stage of action. He seemed to suffer but very little and just went off to sleep.
He offered counsel to a sister (his own sister) who was losing her eyesight.
After having seen the sunlight, to then lose so great a blessing is a most terrible thing. I would suggest to you that you commence to work in the Temple at Logan. First be anointed and blessed for your sight [then go to] work for the dead. … Even if you do not receive your full sight, it will help you and the good spirit that will rest upon you will assist you in bearing up under any trials and troubles that may come upon you.
He respected the specific callings of individual Priesthood quorums. Writing to an apostle, he said:
I was impressed very strongly when speaking during the first day of conference to talk along the line that you did … I terraced up to this subject by speaking of the faith and testimony of our fathers and the tried and tested Latter-day Saints, and on reaching the very important subject I wished to burn into the souls of some of these leaders, I went blank, digressed, and went off on a tangent. I couldn't quite understand why it was that I was so very stupid, until you arose and under the influence of the spirit of the Lord and in a clear and cut manner you said just what I desired to say and very much better than I could possibly have said it. … There is authority and power goes with the apostleship that I fully recognize. It is really not my prerogative and is none of my business to meddle with presidents of stakes or bishops … My labors is as a witness of the Lord to the nations of the earth.
Advising a missionary who was struggling to learn a difficult language, he noted:
There must be a great and wonderful work to be done in that country and you brethren are just the ones to do it, under the direction and inspiration of the Holy Ghost. … What's the use of the Lord troubling himself about matters that almost any kind of a scrub can accomplish? Has the Lord ever come to the rescue of His people, or individuals, at any time or place when it was possible for man, in his strength or wisdom, to accomplish it? … When every human avenue was closed, then and not until then did the Lord show forth His power.

It may be so in your cases, but you must swallow crowbars, stiffen up your back bones, gird up your loins like men of God, and never let up working, working, working.
After counseling one correspondent to exercise faith, he acknowledged his own weaknesses:
I have exceeding great faith that the sick can be healed. I have wonderful faith relative to others, but fall down when it comes to being healed, or to performing anything very wonderful, myself.
Reporting some gossip about a man called on a mission who was filled with self-importance, J. Golden wrote:
This Church and Kingdom doesn't depend on any one man, or set of men. The Prophet Joseph was martyred. Pres Young, Taylor, Woodruff, Snow, Cannon, Bro. Maeser and hundreds of others have died and yet the work goes on. Apostles Lyman and Grant went on missions, but there wasn't a ripple. Men fancy they amount to something. It's all a mistake.
Writing of the self-important missionary's claim that Joseph F. Smith had said, "How can we get along without you?" the classic J. Golden story finally emerges:
Inwardly I exclaimed, in the language of the poet, OH HELL, OH S___T, OH D___N.
"This concludes my wise sayings," he wrote.

Indeed.