Fri Feb. 18, 1916.
Arose at 5.30 am and had a good bath. After breakfast the natives commenced coming to the house bringing uto, pape haares (figs). The Relief Society president also came and took away our dirty cloth[e]s. In the evening we were serenaded by the young people who sang for us several hours out on the front porch. When they were shaking hands to go, one oft he young men slipped a beautiful shell hei from his arm onto mine without saying a single word.
Sat. Feb 19.
The saints began to come in from the interior ready for Sunday and the house was filled with them all day. One man brought us a large duck & a dozen eggs, another several loaves of bread, & others pape haares, sipos & shell heis. The young people of the branch brought twelve cans of jam, twelve of milk and six of butter. In the afternoon Sister Compton and I called to see about ten families. At each house they offered us haares & shells & wanted to get food for us. We were each given a pretty basket, carved from a cocoanut shell. While we were at Toaes house one of the native boys while running, tripped and fell, stunning himself and scratching & bruising his leg quite badly. His body was right cold and I thought something serious must have happened so I had the natives rub his arms & feet while I bathed his head in cold water. He soon came to however and I bathed his leg in hot water and bound it up with ointment and bandages & left him quite comfortable.
Sun. Feb 20.
The meeting house at Takaroa is a large white stone building with the high bellfry and roof painted red. It can be seen up above the tall cocoanut trees far out into the sea. The windows are of colored art glass & the pulpit is quite elaborate, being inlaid with pearl. The floor is of cement which makes the interior very cool. We attended morning meeting, Sunday School, Sacrament Meeting & Mutual during the day. The Sunday School was certainly a surprise. Everything was conducted just the same as it is in Utah in perfect order. 102 people were present. Memory Gem, song practice, and marching in order to and from the classes, which were ably conducted by the native brethern & sisters. The Mutual meeting for the young people at night was indeed an inspiration. The life of Jos. Smith was given by six young ladies who had each learned their part by heart, showing wonderful memory work. Between each part an appropriate hymne was sung, and pictures on the same subject, that had been drawn by Mapuhi were shown & described by Rungivaro. The evening closed by me teaching them "We Thank Thee Oh God For A Prophet." During the programn they asked us to sing An Angel From On High in Tahitian. It came as a surprise and we hadn't sung the song before in the native language, but we managed to get through with it alright.
After Sunday School we were sent for to come and see a sick baby, that was broken out with a tooth rash and a little feverish. After fixing some medicine for it we hurried home and Mapuhi had a fine hot dinner waiting for us, which consisted of roast duck, dressing, beans, egg omelet, bread & butter & jam. Mapuhi certainly can cook and certainly doesnt forget to do all that he possible cane for us.
Mon. Feb 21.
I washed my hair and a woollen skirt that I didn't care to send out to the natives. Most of the day we spent making heis from all sorts of tiny shells that had been given to us. Ruita showed us how & we got not a little pleasure out of the new learned art. The Relief Society sisters brought us a large box of food, consisting of 14 cans of beef, 4 of jam, 4 of salmon, 2 of cabbage, 3 of milk, 2 of pineapple & 6 of sardines. The captain of the "Papeete"which was a[t] Takaroa, gave Mapuhi a sheep he had brought from the Marquise Islands, which he roasted for us. And the young peoples association gave us ten dollars to keep us during our stay here. It seems that they will never stop giving us things, it certainly isn't hard to travel without purse & script in this country. During the afternoon, Mimia the boy who fell and hurt his leg on Saturday, came to the house to have me dress and rebind his leg. Mapuhi & Elder Rossiter went to a "land trouble" meeting at night & Ruita Sister Compton and I sat out on the front steps and sang and talked. The house is on the sea front and we watched the great waves rolling in and break in a fine white spray about six feet high as they dashed against the coral reef. It certainly was a beautiful night under the glow of the full tropical moon.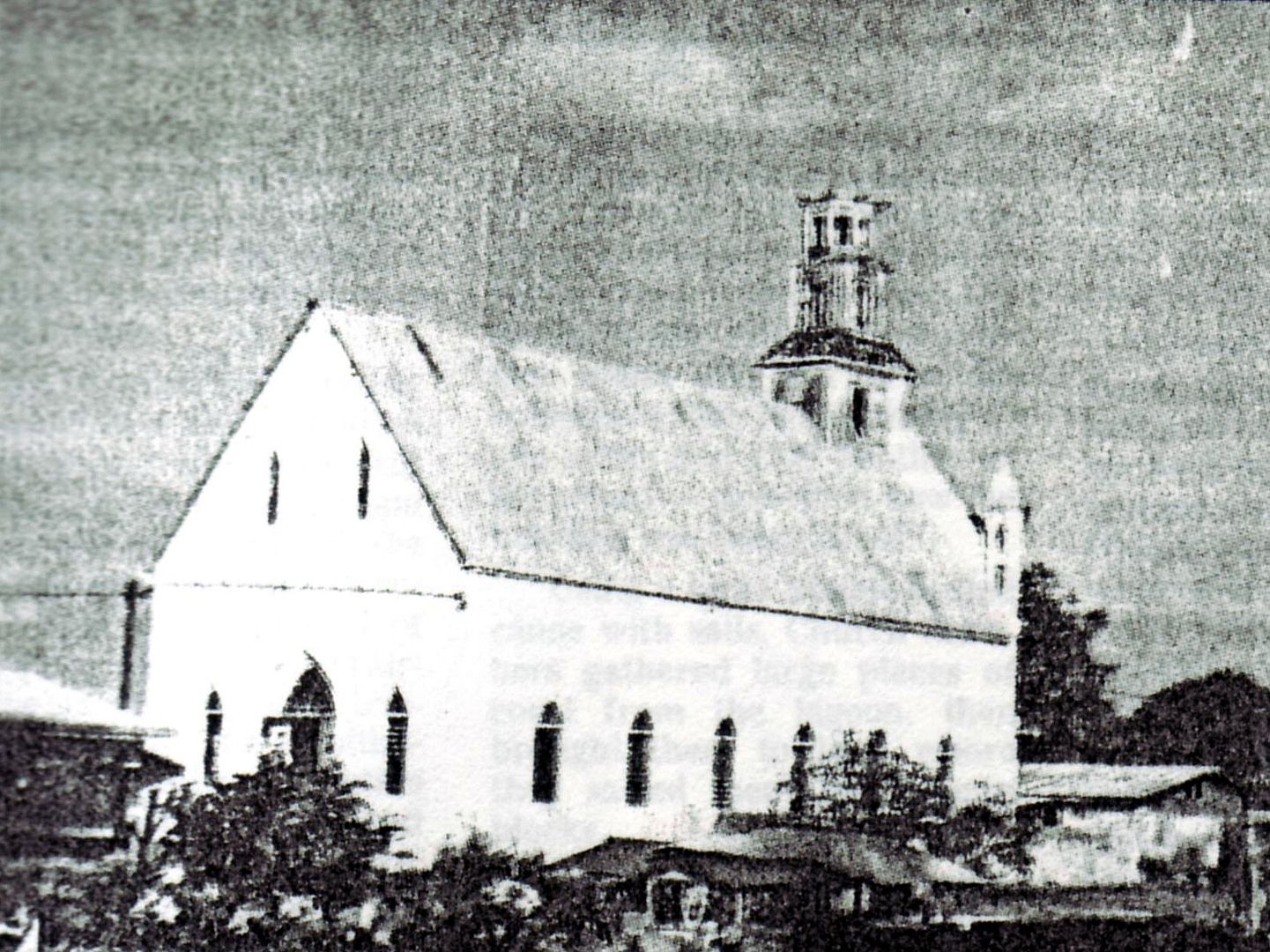 When we were tired of singing Ruita told us about the cyclones that had swept over the islands and made them such barren wastes. The very house in which we live is built from the remains of the beautiful fourteen room house which they had before the cyclone. An immense boulder weighing several tons was washed up out of the sea before their house, and they have left it there as a reminiscence, a trailing flower is growing in the deep crevices of it now and it looks beautiful as it stand there all covered with moss. The white stone Mormon Church is the only building that was left standing on the island and the only people who were saved were those who sought refuge in it. Ruita says the water from the sea came rolling in as high as the cocoanut trees, on all other parts of the island, but where our church is standing the water never once got over two or three feet deep, which seems perfectly wonderful because the land is no higher there than in any other part of the island. The only way that it can be accounted for is that it was protected by the power of God. Not a single trace was left of the Catholic church.

Takaroa Tues Feb 22, 1916.

Still the saints are giving. Tepori a young girl gave Sister Compton and I each a panama hat that her mother had woven. Tepaihu brought us two large iitas and a basket of pape haares. Perekue a big fat native woman with such a sweet face and her four little black eyed girls brought me two hand made basket[s], four large shells, two small bags of beads & five cans of preserved meats.

Wed. Feb 23.

I commenced teaching new songs for the Conference, among them "The Marse" to be sung in French. In the morning I held a class with the children & in the afternoon one with the young people. Anio a young Chinese boy who comes to our meetings, brought us two cans of Chinese fruit & had Elder Rossiter put medicine on his teeth. During the day Elder Rossiter, Sister Compton and I took a swim in the ocean. The bathing pool is some distance away so three young native girls rowed us to the place in a native vaa. The girls handle a boat with as much ease as the men, and they took us skimming over the water. At 7: pm we held a gospel class at the church.

Takaroa Thurs. Feb 24, 1916.

Held singing class with the children in the morning after which Sister Compton and I called on several families. One old lady was weaving a native mat or peue as the natives call them. These mats are made from the long pliable leaves of the palm. To complete a mat of ordinary size it requires 400 leaves, which are left to dry and bleach in the hot sun until they are almost white. Then they are scraped with a piece of shell until they are soft and pliable. The old lady said that it usually took her about two months to complete a mat if she worked steadily every day. When we left she gave me a pearl shell with a large brown sponge growing on it.At3: pm we attended relief society meeting and at 7: pm conducted a song practice.

Fri. Feb 25, 1916.

Spent the day sewing and reading. Runivaro sent us a basket of pape haares and some eggs.

Sat Feb. 26.

S[p]ent the morning visiting among the natives. One woman gave Sister and I each a seko and a beautiful pearl. In one family we found two hutchback and one blind child, all the results of accidents when they were babies. In one little dark tumble down thatched hut, where five large fat women were sitting making copra. We felt so creepy and the smell was so bad that we didn't even dare sit down and just stood up and talked to them. It was the first really dirty place that I have seen since coming to these islands which I think speaks very well for an unenlightened people. As a rule they are very clean. We were given a nice roast of pork by a non member for our Sunday din[n]er.

Sun. Feb 27.

Long before day break we were awakened by the call "sails" and the natives were all quite upset at sight of the steamer for they expected it had come to take the young men to Tahiti for the army. We were surprised and were so much more happy to get a large box of mail. I received a perfectly beautiful picture of my dear mother, also some of my sister Sadie & my cousin Edith Dickens and her lovely new baby. Attended Sunday School, Mutual and two other meetings during the day. The young men had charge of the Mutual programn and gave sort of a drama representing a council of heavenly beings, Mormon missions & the unenlightened people of the world. The heavenly beings were dressed in white suits, the unenlightened people in black suits, & the missionary in white coats & black trousers. It was original and very well given, showing a great deal of careful preparation. After the meeting we gathered on the steps of the church and the young people sang.

Mon. Feb 28, 1916.

Spent the day reading our mail, the Eras, the News. At 7: pm we held a gospel meeting.

(To be continued)