Mattel's Barbie doll made her first public appearance at a New York toy fair on March 9, 1959. I made my own debut a day later, somewhat west of New York and with a considerably less elaborate wardrobe and hairdo. My near-twin and I did not meet until Christmas morning of 1969, when a Talking Barbie ("Let's go shopping!") greeted me under the Christmas tree.
That Talking Barbie, with her sisters Living Barbie (whom I called "Babs") and Growin' Pretty Hair Barbie (anyone that glamorous could go by nothing less than "Barbara"), became the last dolls of my childhood, helping me transition from child to teenager in an era when 12 or 13 was not too sophisticated to play with dolls.
.
.
.
.
.
.
I still have all three dolls, and you can see from pictures on this page that I took pretty good care of them, and their accessories, whether purchased comb and brush or homemade books and necklaces. I loved the clothes, and coveted the perfect miniatures of ball gowns and stewardess uniforms and business suits and tennis outfits on display at the store. But I couldn't buy them – I saved up my quarters and dimes, and regretfully passed up my monthly purchase of a Nancy Drew mystery, in order to buy the two most beautiful outfits ever – the soft pink peignoir set with fuzzy slippers (modeled here by Barbara; her joints no longer want to work, though, so I couldn't put her arms through the robe's sleeves), and the vivid, exciting yellow raincoat with its leopard fur trim.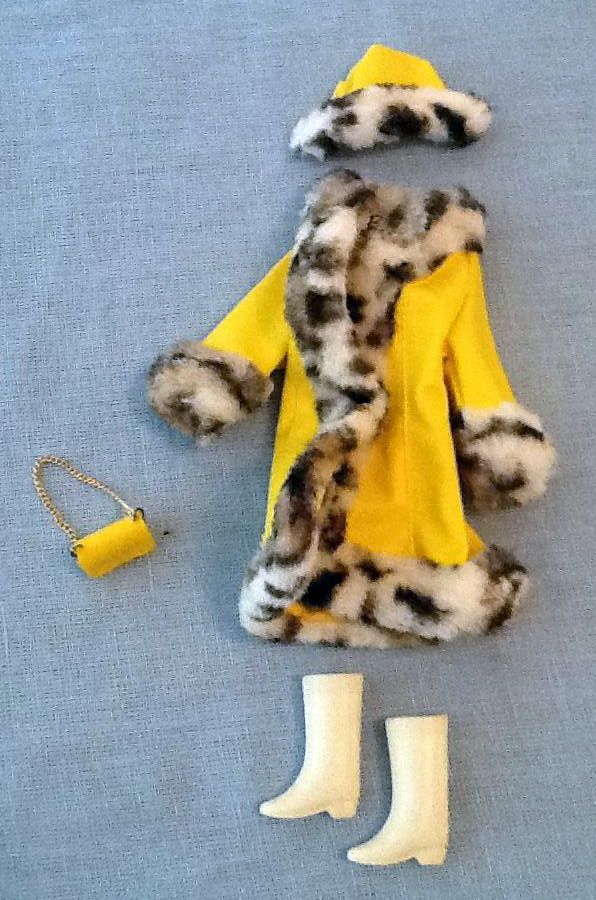 With those exceptions, plus the purchase of a few cards of shoes and hangers, my Barbie days were strictly a homemade world – and what a ticket to personal creativity that proved, at just the right age!
My very first stitches with my mother's sewing machine are captured in a pair of bell-bottom pants – it was 1970, after all! – and a rust-colored button-front jacket. They may be tiny, but they were more complex than many women's casual clothes today. Darts! Facings! Mandarin collar! They were followed first by a growing wardrobe of Barbie dresses, shirts, skirts, suits, jumpsuits, and pants … and followed a little later by a wardrobe for me. By the time I was out of high school, I was sewing all my own dresses for school, work, and eventually mission. Those were well-made clothes, great fabrics, good construction, better than anything I could have afforded to buy at the mall. (One anomaly, perhaps, is that while I always insisted my own skirts reach my knees, I don't seem to have hesitated to clothe my dolls in miniskirts and sleeveless dresses.)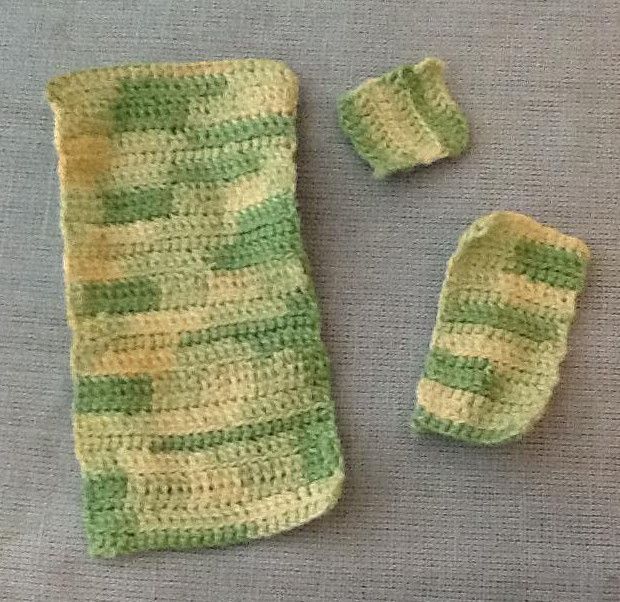 In Primary in those days, girls learned to cross-stitch the summer we were 9, knit the summer we were 10, and crochet the summer we were 11. That is, most girls did. But most girls didn't have my mother, who taught me to embroider (and not just cross stitch, either – I learned French knots and satin stitch and lazy daisy stitch) at 6, to crochet with fine thread at 7, and to knit at 9. By the time Barbie came along, I could knock out a pineapple lace doily in a couple of evenings, and my Barbie wardrobe benefitted by that skill. I designed and crocheted an ice skating outfit with attached shorts and fur trim, worn mostly by Babs, whose plastic body had far more joints than the others, so she could be posed in more realistic ice skating stances than her prim sisters.
Crocheted vests were popular with girls my age, and my mother made me one – so I made one for my dolls. Crocheted ponchos became popular the next year, and my mother made me one – so I made one for my dolls. I crocheted doll-size doilies and rugs and bath mats (a Kleenex box made the perfect bathtub) and this set of bath towel, face towel, and washcloth.
.
.
.
.
.
.
.
.
.
.
.
I made bedding and tablecloths and aprons and bandanas. Mom was very generous with her ragbag and scrapbag and sewing notions, and only once complained when I cut out a green dress from the long edge of a length of fabric instead of from the corner.
.

.

.

.

.

.

.

.

My days with Barbie were also the last days of the Relief Society bazaars. In my first year of Barbiedom, my mother took my nonmember aunt to a bazaar in the Reno Third Ward. Near the end of the bazaar, Mom discovered a large box of home-sewn Barbie clothes that hadn't been put on display. When she asked about them, the woman in charge looked down her nose and said she hadn't put them out because she knew nobody would be interested in them when the stores had such beautiful doll clothes for sale. My mother started a mini-riot by exclaiming how beautiful they were, and holding them up. Other women were just as excited to see them as Mom was – those store-bought clothes were danged expensive, after all – and I benefitted by having both my mother and my aunt there to buy me handfuls of clothes. (Only later, and after an adult conversation with Mom, did I understand why she had made such a fuss. The woman who had put so much time and effort into making those clothes was there, and must have felt humiliated that her offering was judged "not good enough." By being as demonstrative as Mom had been, and stirring up an enthusiastic reaction among other buyers, Mom showed the woman who made them how much better than "good enough" her work was.)

So … what? Other than Relief Society bazaars and girls learning needle crafts in Primary in the '60s, what justification is there for showing a Barbie collection on a Mormon history blog? I wasn't thinking about that yesterday (I'm writing this on Sunday), when I opened my old Barbie case for the first time in at least 24 years. I spent a nostalgic couple of hours looking through the bits and pieces, and remembering when I had sewed this, and how I found the parts to make that. The vest and poncho sent me to a drawer to find the things Mom made for me 40 years ago (and while you might wonder just how much junk I have to be able to match up my Barbie clothes to my own wardrobe this way, there isn't much, really. Outside of books and furniture, all the relics I have from my childhood up to age 35 or later would fit in a 3-foot cube. It's just that these two pieces of clothing happen to be among those relics.)

But this morning I read a snarky little remark on another blog's post about LDS canneries: "Seems to [m]e that it is a huge waste of our tithing dollars to be running canneries at all. There are lots of private enterprises that do this much more efficiently." And I suddenly realized that my old doll collection was very Mormony.

"Efficiency" is very seldom the only, or even any, goal in Mormon practice. It isn't "efficient" to have a lay clergy, one without formal training and that constantly revolves so that new leaders have to be brought up to speed every few years. Home teaching is not an "efficient" way to find out if anybody needs help changing a light bulb or painting their house. Missionary work is not the most "efficient" use of those tens of thousands of man- and woman-hours invested every day.

But we do it because there is value in our doing it, not staffing it out, not purchasing it.

We could buy canned goods from a private enterprise to fill welfare orders; we could pay somebody else to put together hygiene kits for our purchase; we could even pay a professional agency to evaluate the needs of the poor in our wards and deliver goods from the back of a delivery van. After all, we do hire professionals to build our buildings, manage our public relations, and fly our missionaries to and from their missions. It's not like we have to do everything with our own two hands.

But there is value in our doing many things ourselves. I loved the professionally-made clothes I bought for my dolls; I'm much prouder of the ones I made myself. I remember the closeness to my mother as she taught me to read patterns. I remember the sense of achievement each time a tiny garment was finished. I remember the power in designing my own clothes for which no pattern was available. I learned to do, not just to have; I learned to produce, not just to consume. I became a creative agent.

When we come together to do work with our own hands – whether that's picking apples or canning applesauce or carrying cans of dried apples from the Bishop's Storehouse to the home of a hungry family – we establish and reinforce personal bonds of brotherhood and sisterhood. We're producing, rather than consuming. We're giving of ourselves, not the substitute of ourselves that is our wallets. We're creating and cooperating and giving in a way that may not be as "efficient" as paying somebody else to do the work, but we maintain the fragile ties of community that are so easily broken in the world of modern independence. A person without money to give can join in producing goods to relieve suffering on exactly the same footing as the richest ward member who works at his side. A person who receives welfare support can donate her time to support others, becoming a giver as well as a beneficiary. When we sew clothing and make quilts and assemble hygiene kits for Humanitarian Services, we can't help but have in mind the people who will benefit by our work – it's a person-to-person gift. The person who will be warmed by this quilt is my sister, even though I will never know her name or see her face; from my hand to yours, this quilt is my gift to you, because we are sisters, daughters of the same Father.

Doing, rather than buying, makes us creative agents.