A year ago we talked about disruptions in church services and bringing the spirit back to meetings after such an event. I illustrated that post with the story of a mentally ill man named A.J. Miller, who appeared in the Salt Lake Tabernacle carrying a banner and dressed in fantastic robes, because an angel had instructed him to do so. He was arrested, but not prosecuted, for disturbing a religious meeting.
Today I would like to revisit that story, this time looking at the life of the man beyond that single day in the Tabernacle.
Anders Julius Möller – his name later anglicized to Andrew Julius Miller – was born at Hindby, near Malmö, at the southern tip of Sweden, at 6 p.m. on the 4th of July 1837. He was christened a week later. Other than the names of his parents and four siblings, I know little of his early life. Later, in the days of his delusion, he would claim that an angel appeared to his mother before his birth, telling her that the son she carried would become a great prophet; he also related how "millions" of people visited the family's home to gaze on the newborn prophet.
He grew up as a Lutheran, and, when he was a teenager, he apparently fell in love with the priest's daughter (if we can trust his own story); she died when they were both 19.
Andrew was baptized as a Latter-day Saint on 24 September 1860, when he was 23 years old. I have no information on how he met the missionaries, or who baptized him, or whether any of his family were converted along with him. The diary of a Swedish missionary gives us this glimpse of Andrew's early church life:
On the 19th of July [1861] I received a letter from A.J. Möller of Simrishamn dated the 19th which informed me that he was sick. He asked that I and Nels Eliassen might come and administer to him. I did as I was asked altho I didn't receive the letter until evening. I got ready and went with Brother Eliassen to Simrishamn. We arrived early in the morning, the 20th and found him on his sick bed. He arose and we administered to him and he was healed by the power of God. Then we ate and drank coffee and after dinner left Simrishamn. Brother Möller accompanied us a long way. When we arrived at Jarestad I left my brother and went to Ystad and arrived there quite late that evening.
This and other entries in that diary indicate that Andrew enjoyed the company of the missionaries and was willing to walk long distances with them (and back, after parting from them) in order to extend his time and conversations.
Andrew's connection to the Church caused him to emigrate with a Mormon company: On 12 July 1870 he left Copenhagen for Liverpool; on 20 July he sailed aboard the S.S. Minnesota; on 1 August he arrived in New York, and  he then crossed the plains aboard the transcontinental railroad that had been completed the year before. The Minnesota's manifest lists several other Möllers aboard, but apparently they were unrelated to our 33-year-old traveler. The same record indicates that Andrew was a "smith" but does not tell us what kind of metalworking he did. Ten years later, the 1880 census would indicate his profession as "toy maker"; perhaps he was a tinsmith or a blacksmith, with his toys reflecting the trade he had learned in Sweden.
Although his mental disorder would eventually take a religious turn, it seems very likely that no sign of that trouble was manifest in his first years in Salt Lake. A report after his illness began describes him as "once a thrifty workman, an ardent churchman." On 20 July 1874, two years after his arrival, he received his endowment in the Endowment House. I am not certain how common it was for a single man to be endowed at that period … but in one sense, he was not a single man. Three deceased women, all with Scandinavian names, were sealed to him on the same date. I know nothing of these women beyond their names – had he known them in Sweden? was one of them the Lutheran priest's daughter?
Nor do I know just when Andrew began showing signs of mental illness (in one interview he said he had begun receiving visions eight years after coming to Utah, or 1880), nor what type of illness it was. None of the accounts I have found mention any physical injury. The accounts are unanimous in asserting that Andrew never showed the slightest inclination toward violence, and that while he described night visions and visits from angels, and made extravagant claims about his own divinity, he otherwise was personally functional and very social.
In 1880 Andrew was living in the home of a young couple, William and Charlotte Atwell. By 1890 he was living on his own, in a tiny home (one reporter described it as "no larger than a common-size chicken coop") on the corner of 300 South and 800 East, with his mental health seriously impaired. That impairment was of long enough standing that those who saw him in January 1890 understood who he was and that this behavior was "normal" for Andrew.
Andrew's explanation for his appearance in the Tabernacle that day in 1890 was that he had received three visits from an angel, instructing him on the design of his costume and sceptre and directing him to parade through the meeting that day. He had not intended to disturb the meeting, he said, but "believed it would please the people to have him appear" in that manner. By this date he had also come to believe that his mother, sister, and the girl he had loved as a teenager had been reincarnated. He believed that he had met the girl on the streets of Salt Lake, she having forgotten her former life, and that she was then living in American Fork.
This belief concerning his lost love may be the source of a distorted tale of romance that appears in various versions multiple times in the Utah newspapers. Those accounts are consistent in stating that Andrew had raised the money for the emigration of a girl in Sweden, that he had sent for her to join him, and that she had died en route. But one account says she died and was buried at sea, while another claims that the ship went down with all hands. One says that Andrew received the news by telegraph in Salt Lake City; another describes Andrew standing on the New York dock and receiving the bad news from the captain of the ship. One source claims to know the name of the young lady (but misstates Andrew's middle name); most accounts do not name her, but do provide highly colored details of her life and appearance. I don't believe any of these stories are valid, despite the sober tone of the reporters; I think they are all part of a romance that grew up around Andrew and was freely embroidered by everyone who told the tale.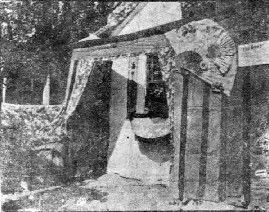 But whether or not there was any girl – living in American Fork, or perished at sea – there is no question about certain others of Andrew's eccentricities. His home, for instance, that "no larger than a common-size chicken coop," for one. One reporter says it "can be readily recognized from the distance by gay bunting and decorations. When near the abode, one has a queer study to inspect the many ornaments and designs composed of evergreens, colored rays, curious pebbles, banners, etc., which adorn the dwelling. … It is a wonder well worth a visit." Another describes his house as "gayly decorated [with] bunting and fans, gorgeously striped, and paper paintings … When the wind and rain blew his fans and painted papers down, he would put them back more securely. And when they fell to pieces, Miller replaced them." The house was decorated inside, as well. A lamp was kept always burning, the table always spread for a feast. Evidence of his eccentric home decor survives in the photograph below of his house in 1890, and of the similarly decorated home (left) at 300 South and 1100 East, where he moved prior to 1904.
.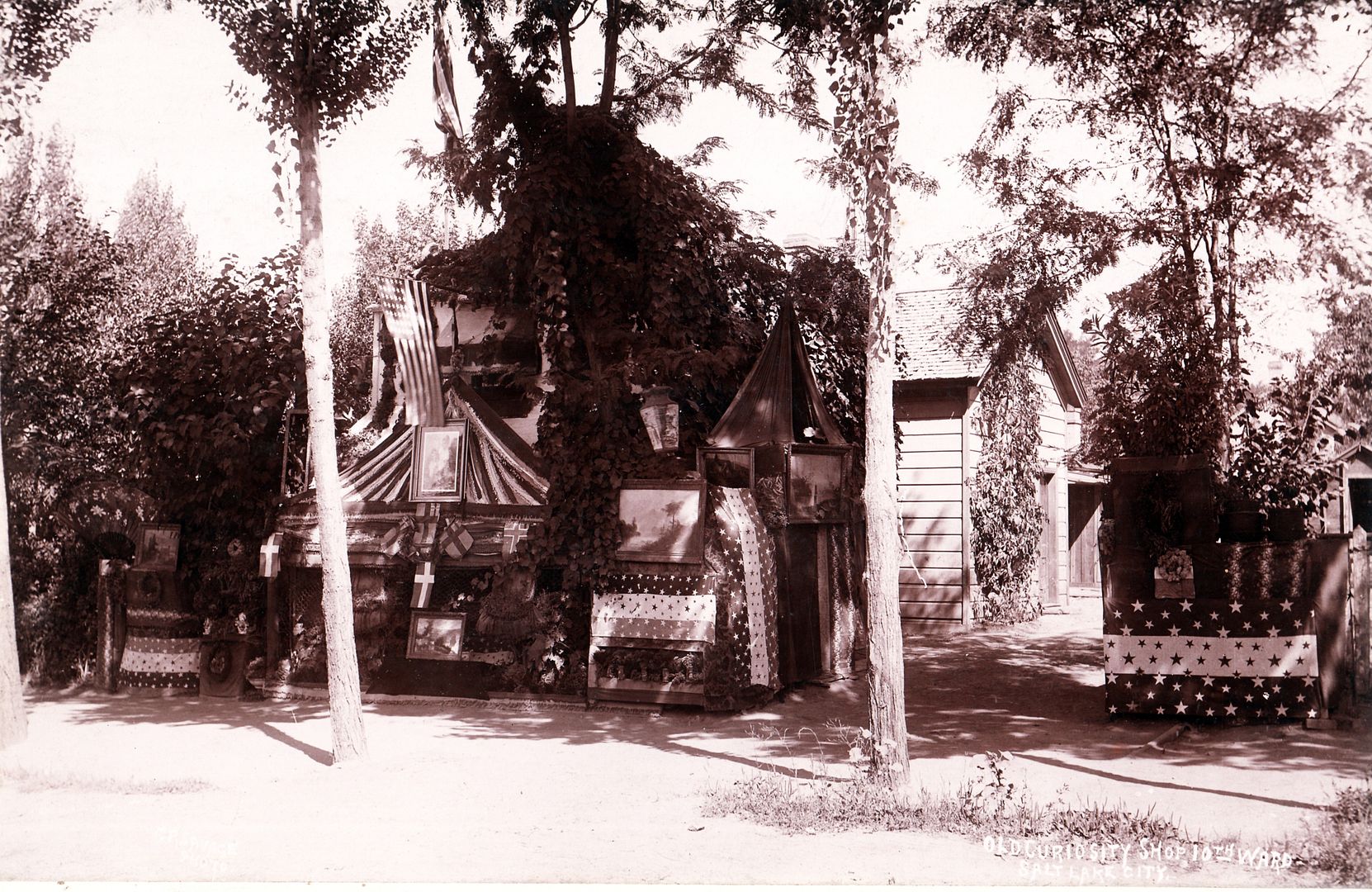 .
1904 … the year of Andrew's misfortune. While there may have been incidents between Andrew's 1890 appearance in the Tabernacle and 1904, I have found no trace of any unpleasantness in the newspapers or court files. The aftermath of the 1904 incident suggests that Andrew had lived his eccentric life without inconvenience or harm to anyone. He even worked to support himself, as a "calciminer," a workman who painted and refreshed the plastered interiors of homes.
But in July 1904, one of his neighbors filed a petition to have the 67-year-old man committed to the state asylum in Provo. The case was heard in the district court. The assistant county physician "pronounced the defendant insane, suffering with chronic religious mania." His delusions were enumerated – his account of his birth, his belief that loved ones had been reborn and lived in Utah, his wearing of novel religious garb, his fantastically decorated house. One neighbor said he was afraid Miller would "corrupt the minds" of neighborhood children, who, apparently, enjoyed visiting Andrew. Andrew would recite the Swedish alphabet very rapidly, for the amusement of the boys who thought he was talking gibberish. "He wouldn't harm a young chicken," one boy told the court. "He used to like all of us and never tried to hurt us. He used to tell me that he kept the house decorated because they did that way in Sweden. He'd rattle off a lot of stuff that he said were Swedish letters. He'd say them fast and all at a time."
Andrew was committed to the Provo asylum. The court appointed Deputy Sheriff Axel Steele as guardian of Andrew's personal effects. Although those effects were valued at only $10, Steele ordered that no one remove a single item from the home.
And with that order to protect Andrew's belongings, something unexpected began. One neighbor had made the charge that brought Andrew's commitment, but others of his neighbors – including county officials who lent their prestige, and Andrew's landlord who did not mind in the least what Andrew had done to his property – demanded that Andrew be released. Twenty of them – twenty! – contributed toward a civil bond to guarantee that Andrew would behave peaceably and pose no danger to the community. Other neighbors were disappointed that the full bond had been raised before they had a chance to contribute. One newspaper reported:
There was no happier man in the state of Utah yesterday than Andrew J. Miller, who was last Wednesday committed to the state mental hospital at Provo, no longer under duress of a "mental hospital" guard.

Miller's release was accomplished through the efforts of neighborhood friends who have been working since his commitment to raise a bond of $250, a guaranty of his sane behaviors in the future. Yesterday the sum was raised and placed in the hands of Attorney August B. Edler.

When intelligence of his neighbors' action was brought to Miller and he was told that he was to be released, he was overjoyed. He clapped his hands in delight and his gratitude was outspoken. John Meyerhoofer, Mr. Miller's landlord, 343 Eleventh East street, is to act as his guardian.
Andrew came home to a "cordial welcome" from his neighbors. "He has been at work during the last few days," one newspaper reported, "placing all his decorations back in their proper place. … Nothing was taken away from the fantastic cottage at 343 East Eleventh street, but many of the things had been disarranged."

Unexpected aftermath of this incident was a charge to the bishop's court, that the man who had instigated the commitment had acted with "grossly unchristian conduct." The outcome of the bishop's investigation was a promise by the once-hostile neighbor to "cease all persecution or other action directed against Mr. Miller, and … prevent any member of his family from doing anything to annoy or embarrass the old man in any way."

And so Andrew lived on, in his decorated home, dreaming his dreams and receiving his visions, at peace with the world. Until 17 January 1913. That night an oil lamp broke in his home. Tiny as it was, and filled with curtains and paper decorations, the interior was immediately engulfed in flame. Andrew staggered out into the street, severely burned.

But his eccentric adventures had not quite reached their end. Taken to Holy Cross Hospital, he responded to treatment and was moved in a few days to the county infirmary to convalesce. His room on the second floor of the infirmary did not appeal to him … so he left. Out the window. Dressed in nightclothes, wrapped in a bed sheet, on a winter night near the end of January. Some railroad switchmen found him seated on their equipment and returned him to the hospital.

His burns, coupled with his age, and perhaps complicated by the exposure of that night, proved too much for him to recover from. Andrew died at 3:10 p.m. on 1 February 1913, and was buried on 6 February, in the Salt Lake City Cemetery. Bishop Edwin E. Sheets, who provided the information to complete Andrew's death certificate, officiated at the funeral.

Andrew Julius Miller had friends, or at least tolerant well-wishers, but no near family, no descendants, nobody to care today who he was, or to be glad that his mind has been healed and that he is back on course in the next life. For today, let's be his family and claim him as a brother.