A reader asked me a week or two ago for some book recommendations. That's an intimidating request, something more typical of Juvenile Instructor, or of Jared T.'s new blog Mormon Church History. But I think my friend was not asking for anything comprehensive, nor for the latest scholarship – just some recommendations for good reading.
So I've looked over my shelves and picked out some books – some new, some standing the test of time – that I think many Keepa readers would enjoy. These are all reliable in their history without being riddled with the specialized vocabulary of some of the best recent academic books. They're self-contained: You can read any of them without having read anything on the topic as a prerequisite. They're well written and accessible
If you've read them, tell us what you liked, or whether you disagree with my recommendations (as if!
). Suggest others that you find interesting and readable by the non-specialist. (That's key: A lot of really good Mormon history has been published. But please offer recommendations for the general reader, not the graduate student, this time.)
Richard E.Turley Jr. and Brittany A. Chapman, Women of Faith in the Latter Days, vol. 2. (Salt Lake City: Deseret Book, 2102). 491 p., index.
This volume deserves a review as simply one of the finest of current books for Latter-day Saint readers … yet every time I try to review, all I can come up with is "See my review of Volume 1. Everything I said about that applies here." The quality of the chapters is just as high, the women are just as likeable and as inspiring… they're only born a decade or two later than the sisters whose writings made up the first volume. Some are probably somewhat familiar – Patience Loader, Jane Manning James, Romania Pratt – others you'll meet for the first time. There's even a chapter written by Keepa'ninny Amy Tanner Thiriot, on Ann Prior Jarvis. This is a book you want to buy, not borrow.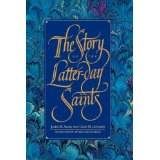 James B. Allen and Glen M.Leonard, The Story of the Latter-day Saints. 2nd ed., rev, enl., and updated. (Salt Lake City: Deseret Book, 1992). 802 p., index.
The 1976 original was dated so the 1992 revisions were definitely called for … and now 20 some odd years later, even the 1992 enlargement is a generation out of date. Even so, this remains the best one-volume history of the Church currently available. The authors emphasize social history (how Latter-day Saints really believed and lived) over institutional history (the development of programs and policies), If you want to sort all the bits and pieces of half-remembered Church history into one coherent narrative, this is a narrative that will do that.
W. Paul Reeve and Michael Scott Van Wagenen, Between Pulpit and Pew: The Supernatural World in Mormon History and Folklore. (Logan, Utah: Utah State University, 2011). 243 p., index.
Ancient robber bands, Bigfoot, UFOs – what's not to love about a volume of essays exploring the connections between Mormonism and pop culture manias, between the physical world of 19th century Mormons and the worlds of scripture? These chapters are enjoyable if only for the guilty thrill you'll feel at the juxtaposition of religious faith and things you'd never expect to be discussed in Sunday School – but there's solid folklore study and history behind each of the essays. You'll not only learn about the specific cases under study, but you'll come away with some ideas that may help you evaluate modern Mormon urban legends.
Reed L. Neilson and Riley M. Moffat, Tales from the World Tour: The 1895-1897 Travel Writings of Mormon Historian Andrew Jenson (Provo, Utah: BYU, in cooperation with Deseret Book, 2012). 446 p., index.
The title pretty well tells you what to expect from the content. It can't tell you how charming the narrative can be, though. Andrew Jenson traveled the world gathering the history of the Church from everywhere he could reach, and you'll enjoy the history he tells. But the book is more than that – it's an account of a traveler, and how he got from here to there, and what he saw, and who he met, and what he ate, and how the locals dressed and housed themselves. These writings were letters published in the Deseret News, so they were geared toward people just like us, full of anecdote and color and life. The book is oversize, not something you'll carry to the beach with you, but leave it open on your desk if you can, and read it in installments as they appeared in the newspaper.
Kathryn M. Daynes, More Wives Than One: Transformation of the Mormon Marriage System 1840-1910. (Urbana and Chicago: University of Illinois Press, 2001). 305 p., index.
One of the more scholarly books on this list, it is almost as accessible as any of the rest. Kathy Daynes studies Mormon plural marriage – its rise and decline, who the women were who became plural wives, their religious devotion, why they married, the nature of their married lives, the economics of polygamy, their divorces and remarriages – by focusing on one community, Manti, Utah. Manti was large enough to encompass the full polygamous experience, yet small enough to be comprehensively studied. The study of polygamy becomes the story of polygamy in this book – the theory and the practice is fully illustrated by the lives of those involved. Get away from the "ick"and the "ugh" that usually accompanies bloggernacle discussion of plural marriage, and learn from a genuine scholar.
"Dallin H.Oaks and Marvin S.Hill, Carthage Conspiracy: The Trial of the Accused Assassins of Joseph Smith. (Urbana and Chicago: University of Illinois Press, 1975). 248 p., index.
Another of the scholarly books on the list, this study of the trial of those accused of Joseph Smith's murder was written while Elder Oaks was a lawyer, long before he was called as an apostle. The vast majority of Mormon history books have been written for Mormons entirely within the Mormon world – Carthage Conspiracy was one of the first to examine a Mormon event by stepping outside Mormonism and placing the event in a wider context: that of American law and history. Part history, part Law&Order, you don't have to be a lawyer to follow the legal arguments and understand the principles. The generic "mob" of most Mormon martyrdom accounts comes into sharp focus as you see the individuals involved and the townsmen who supported and protected them.
Ronald W. Walker, Richard E. Turley Jr., and Glen M. Leonard, Massacre at Mountain Meadows. (Oxford: Oxford University Press, 2008). 430 p., index.
You may think you're burned out on Mountain Meadows after so many years of its being at the center of Mormon/non-Mormon debate. If so, you've probably heard too many conflicting and mutually exclusive theories for this and that aspects, too many arguments to trust that the truth can ever be known. If so – and because you're a Keepa'ninny who doesn't automatically assume the worst about your people – this is the book to read for better understanding of who did what, when and where and why. Rather than re-arguing the arguments, the authors give a straightforward narrative of their best understanding of what happened, letting alternate theories and conflicting conclusions drop out of view. It isn't pleasant reading, but it is accessible, at times passionate, and always tries to face the truth without excuse or rationalization.
W. Paul Reeve and Ardis E. Parshall, Mormonism: A Historical Encyclopedia. (Santa Barbara, Calif.: ABC-Clio, 2010). 449 p., index.
Yes, I'm going to plug a book I co-edited. Don't buy it – it's too obscenely expensive for individual purchase. Instead, look at it in your local library, or encourage your library to buy a copy. That was the publisher's intended market. I recommend the series of six 5000-word essays at the beginning of the volume, as forming a short (short-ish) account of the whole sweep of Mormon history; also, the collection of 3000-word "issues" essays later in the book. These essays focus on individual aspects of the Mormon past: polygamy, Mormonism and blacks, Mormonism and Native Americans, Mormonism and Women (also, Mormonism and Men, which is not as obvious a topic as you might think). There are essays on the history of the missionary experience (Mormon Missiology), on the history of the genealogical program, on other branches of the Restoration, on science and violence and education and government and scripture.
Richard E. Turley Jr. and William W. Slaughter, How We Got the Book of Mormon. (Salt Lake City: Deseret Book, 2011). 154 p., index.
Richard E. Turley Jr. and William W. Slaughter, How We Got the Doctrine and Covenants. (Salt Lake City: Deseret Book, 2012). 146 p., index.
I've been meaning for more than a year to do a formal review of the Book of Mormon volume, and now it has a twin volume on the Doctrine and Covenants. These are two of the most intriguing books in recent memory – and unexpectedly so. Rather than discussing the content or meaning or reception of scripture, these are books about the books themselves. Think of them as biographies: Where was the book born, and where did it travel, and what new clothes did it appear in from time to time? There is a surprising amount of story and anecdote available about why new editions were printed, and who paid for them and why they look the way they do. The photos are amazing, too, largely pictures I'd never seen before. The physical volumes are lovely, too – embossed jackets, marbled endpaper, heavy coated paper, exquisite color photography.
Nephi Anderson, Added Upon (Salt Lake City: Deseret News Press, 1898. 228 p. [my 16th edition, 1939]

The oldest book on the list, and the only fiction. Added Upon was incredibly popular for an incredibly long time – I'm not sure it has ever gone out of print (it may have), and since it has long been in the public domain you can find all kinds of cheap reprints out there, as well as many copies of old editions. This story follows a group of souls from the premortal existence, through mortality, and on into the next life – long before Saturday's Warrior repeated the idea. The writing is a bit stiff and stilted, but you'll soon adapt. It's fun to see where so many non-scriptural folk notions of pre- and post-mortality came from.