Two Spaniards went up in a balloon. The balloon burst. What nationality were they while coming down?
One came down a Russian (a-rushin'), the other caught on a telegraph wire and came down a Pole.
-oOo-
"Are you homesick?" asked Aunt Clara of Dorothy who was away from home for the first time.
"No," replied Dorothy, "I'm here sick."
-oOo-
John: "Congratulations, Dad, you're a lucky man."
Dad: "How's that?"
John: "I won't need new books this term. I'm taking the same courses over again."
-oOo-
"I wish I had enough money to buy an elephant."
"What would you do with an elephant?"
"Nothing. I just want the money."
-oOo-
Dan: "The driver of that car ahead of us must be one of my school teachers."
Earl: "Why do you say that?"
Dan: "Because he's so stubborn about letting us pass."
-oOo-
.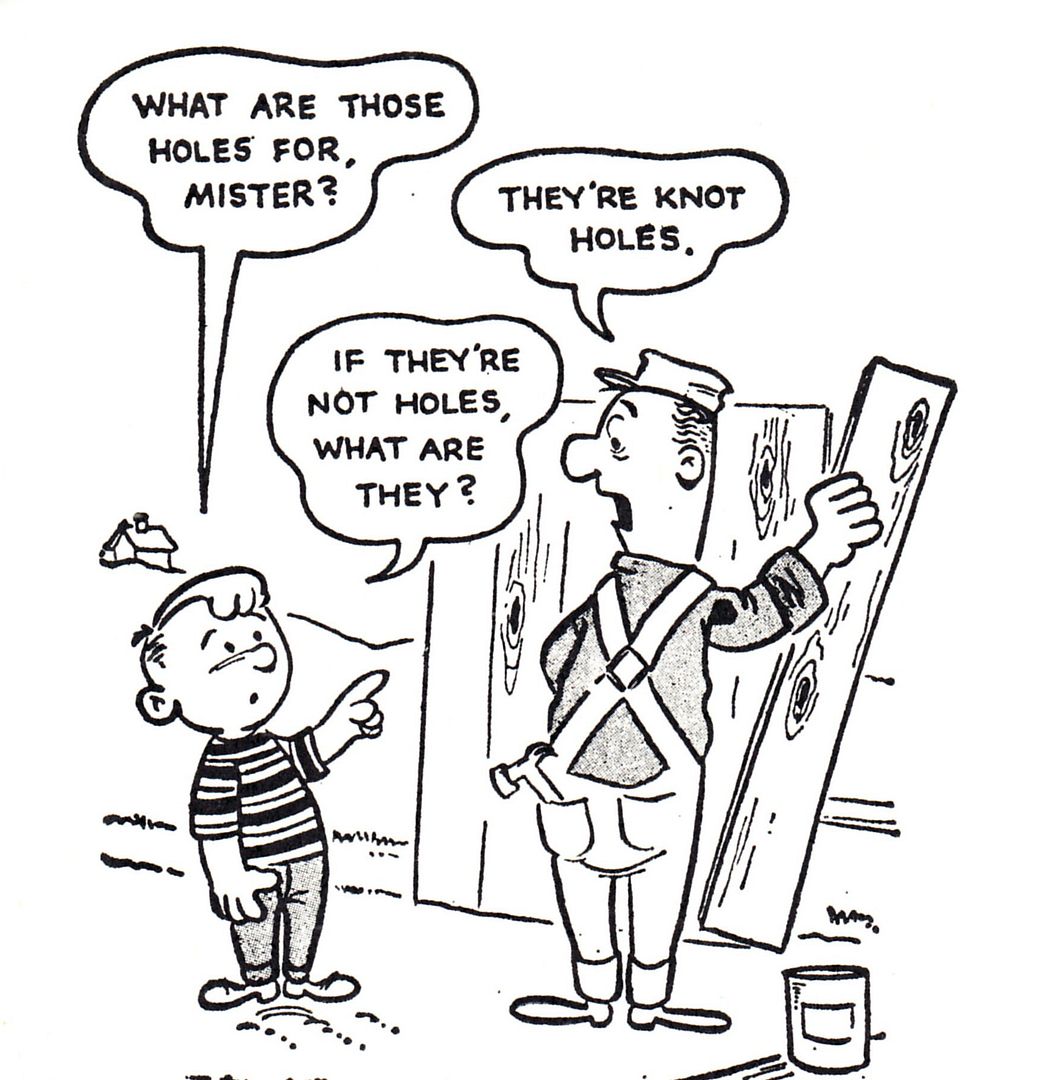 .

-oOo-

Speaker: "Thank you, sir, for staying to listen to me when everybody else walked out."

Listener: "Don't thank me. I'm the next speaker."

-oOo-

He who laughs last – didn't get the joke.

-oOo-

The world's best after-dinner speech: "Waiter, I'll take both checks."

-oOo-

Two women were preparing to board an airliner. One of them turned to the pilot and said: "Please don't fly faster than sound; we want to talk."

-oOo-

A four-year-old singing "God Bless America" gave us this version: "Stand beside her, and guide her, through the night with a light from a bulb."

-oOo-

To be absolutely honest about it, what we want most in a new car is us.

-oOo-

Teacher: "This essay on 'Our Dog' is word-for-word the same as your brother's."

Small Boy: "Yes, ma'am; it's the same dog."

-oOo-

If Moses had formed a committee, the Israelites would still be in Egypt.

-oOo-

"Were you trying to catch that taxicab?"

"No, I was just chasing it off this corner."

-oOo-

Customer: "Where is the steak on your menu?"

Waiter: "There, sir, sirloin steak a la carte."

Customer: "Good, wheel it in."

-oOo-

Early to bed and early to rise is a sure sign you're fed up with television.

-oOo-

A freshman was puzzled about the proper way to address his English professor. "Should I call you Dr.," he asked, "or Mrs.?"

"Mrs.," she answered. "I worked harder for it."

-oOo-

Father: "Tommy, you must not say 'I ain't goin'.' You must say, 'I am not going; he is not going; we are not going, they are not going.'"

Tommy: "Ain't nobody goin'?"

-oOo-

Mrs. Z.: "So you fired that wonderful maid of yours?"

Mrs. Z: "Yes, with my automatic kitchen and laundry, I had to let her go and hire a mechanic."

-oOo-

"My hair is falling out," admitted the timid man to the chemist. "Can you suggest something to keep it in?"

"Certainly," replied the chemist. "Here's a cardboard box."

-oOo-

A New York psychiatrist received a postcard from a vacationing patient. "Dear Doctor," it said. "Having a wonderful time. Wish you were here to tell me why."

-oOo-

"I have discontinued long talks," the speaker remarked. "It's on account of my throat. Several people have threatened to cut it."