This really isn't that big of a deal, but it does involve some 20th century LDS history, an LDS church president, and a previous Keepa post I did. It ended up being a big deal for me. Edward Arthur Smith was the adopted son of Joseph F. and Julina Lambson Smith, and the oldest child in the Smith households. He is also my wife Katie's great-grandfather, which is the only reason I took notice of him in the first place. He would never have considered himself "lost", and I certainly can't claim to have "found" him in any real sense, but there is a search involved, and a couple of stories connected to church history. This, then, is all about my search for Edward Arthur Smith, who turned out to be pretty remarkable in the end.
My wife's family has long told the story about how Edward Arthur Smith was adopted by Joseph F. Smith while on a mission to England, and how he married a daughter of Thomas Sasson Smith, colonization efforts at Fort Lemhi in Idaho, and the Muddy River in Nevada. Edward and his wife, Cytha Ellen, moved from Farmington, Utah, shortly after they married, to the St. Anthony area of Idaho, and then later to Raymond, Alberta, Canada. Edward farmed, did carpentry work, and then died of an unexplained illness or injury in 1911. Within a couple of years, his widow and family had moved back to the United States, and settled in Burley, Idaho.
What caught my interest at family gatherings had to do with a story from one of my wife's aunts, who had gone to visit Edward Arthur's widow, and found her burning paper in a backyard bonfire. Some of the papers turned out to be letters on First Presidency stationary from Joseph F. Smith to Edward. About 24 of these letters were saved from the fire, and divided up amongst various family members. I had heard about the letters, and seen a copy of one or two, but I still wasn't thinking of Edward Arthur Smith as lost.
In the fall of 2011, I saw a call for papers about the life and times of Joseph F. Smith for a symposium sponsored by the BYU Religious Studies Center and the Church History department. I thought of the letters, and did some quick checking in the existing biographies of Joseph F. Smith, only to discover Edward Arthur Smith had gone missing. Joseph Fielding Smith's biography of his father only mentions Edward in an appendix with a list of all the children of Joseph F. and his wives, with an asterisk to indicate adoption. Francis Gibbons biography of JFS mentions him once, only because a letter or journal entry had been quoted, and he needed to explain why this unknown young man's name appeared there.
As I had recently finished my article about the 1873 Arizona colonization effort, I was casting about for another project to work on, and the thought of "finding" Edward through the letters of his father struck me as a worthy topic for the BYU/Church History symposium. I submitted a proposal, and to my great surprise, found my project accepted to present at the conference. Deadlines followed, and I jumped in with both feet, trying to find out more about Edward Arthur and his relationship with his adopted father.
My wife's father has one of the original letters, actually from Julina to Edward, but copies of about 20 others. I began to read and categorize the letters, and found them to be fascinating. They showed in every respect a concerned and loving father, giving advice and sharing family news about crops, finances, and who had what illness. Joseph advised Edward to read good books, and sent him a few. He encouraged him to stay out of debt, and to stay active in the church. As my article began to take shape, I found myself asking more questions. The family stories talked about Edward being adopted as an eleven year old in 1871. Edward was born in 1859, but Joseph F. Smith was not serving a mission in England at the time that these stories suggested. The dates did not match up, and I figured that a story about Edward's adoption had to be in his father's journals somewhere. I spent time at the Church History Library, looking at Joseph F. Smith's letters and journals, and while I found one or two references to "Edward is sick" or "bought a hat for Edward," I could find no reference to the adoption. My wife and I went through all sorts of wild speculation about the whole episode, and could come up with nothing that made sense with the family stories. I kept reading and rereading the letters, and putting together a rough draft of my article, carefully noting the discrepancies, and admitting I didn't have the answers.
I also found out that my wife's brother, Paul, lived across the street in Burley, Idaho, from a grandson of Edward Arthur Smith This grandson, now retired himself, is no longer active in the church, but in possession of Edward's personal journal and record book. I began bombarding Paul with requests to see if we couldn't get our hands on the journal, and seemed to be getting nowhere. My brother-in-law is busy with his own business, and the neighbor seemed a little reluctant at first. However, a few weeks before I was due to travel to Utah for the conference, Paul sent me an electronic copy of the journal. Paul and a business partner publish a local advertising paper in Southern Idaho, and he had photographed the entire journal with a high quality document camera. The journal, much beat up and now over 100 years old, looks beautiful in those pictures. I didn't get any of the big questions answered about how Edward had died, or when he had come to the States, but I did find a lot of clues about what kind of man he was, how he felt about his family, and also about his work as a carpenter and the careful records he kept of expenditures and his church work over the years.
I moved on, and got my article in shape for the conference, to be held in Utah last March. I had never presented at a conference like that, and I admit to feeling a little intimidated. Along the way, I got some encouragement from Ardis, and also from Jonathan Stapley, both of them (to me at least) giants in Mormon History. I prepared some pictures for a PowerPoint presentation, and studied my text. The night before I was to present, I did a dry run with my wife and father in law at his house in Ogden, Utah. I could tell both from their reaction, and my own gut feeling, that I was failing miserably. As kindly as she could, my wife told me that I had recently given the best talk of my life in a meeting in our ward, and that I could do much better on this presentation, but I had better figure it out quick, as we had about 12 hours until I was to present my paper.
Chagrined but determined, I stayed up late, made a few topical notes on paper, and thought about the Edward Arthur Smith I had met and become closely acquainted with through his letters and journals. About 1AM, I finally collapsed for a few hours sleep, as we had to get up and drive from Ogden to Provo to be there in time for the conference Saturday morning.
My presentation was not by any means a show stopper, but I felt very comfortable with it, and the audience seemed to be comfortable with it as well. I was sandwiched between two BYU professors who also were talking about Joseph F. Smith's family, and our presentations meshed together nicely. I showed my pictures, told my story about Edward, and admitted the problems I had with reconciling some of the dates from Joseph's letters and journals.
Nate Ricks, who has also established a reputation with some of his work on Joseph F. Smith, came up to me after the presentation, and said "I know when Edward was adopted!" That stopped me in my tracks. I excused myself from the other folks I was talking with, and Nate and I compared some notes. Edward's mother had died, and the father was out of the picture, all things I already knew. However, these events took place in 1863, years earlier than the family all thought was the case, including a number of Joseph F. Smith's natural children. Armed with Nate's notes, I eventually found a few more journal entries, and began to fill out a bit more of the story.
In 1863, Joseph was still married to Levira, his first wife, with whom he had no children. Julina did not marry Joseph until 1869, but she is the one that Edward and Joseph both refer to as "Mother." We've established that Edward spent some of his childhood years living with the Knowlton family in Farmington, but when, and how, is still not known. What relationship Levira had with Edward, if any, is still unknown. Worth a separate post is Joseph's letter to Levira announcing his adoption of Edward, so I will save that for a later post, except to say that it is somewhat along the line of "People have been giving me the most interesting gifts…"
I had found a lot more about Edward, and in the months that followed, I was invited to submit my paper for the publication of the proceedings of the seminar. I immersed myself in the letters and journals again, getting better acquainted with Edward and his family as I finished my article. This also brought me closer to an understanding of the mercurial and complex man that Joseph F. Smith had been. I read a lot of his letters and journals, several articles about him, and found what I considered to be my favorite picture of Joseph F. Smith.
.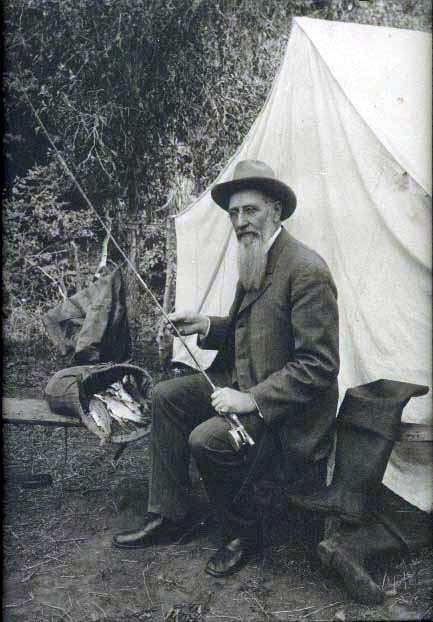 .
My wife and I had been planning a trip for our 40th anniversary, and had decided on taking a road trip up into Canada and the national parks around Banff in August. Our route took us directly through Cardston, so we decided we would take an extra day, and visit Magrath and Raymond, two of the nearby towns where Edward and his family lived. Apart from the temple, I found that Cardston was not so impressive, probably influenced by the bad motel we were forced to stay in. We wanted to try and find Edward's grave in Raymond, so after checking into the motel, we still had a few hours of daylight and headed off towards Raymond.
.


.


.
Raymond is actually a beautiful little town, primarily LDS, with wide streets laid out in a typical Mormon grid pattern. It was some kind of Canadian holiday the day we were there, and we had no idea where the cemetery was. We found a large LDS church, where some young men and women, along with some adult leaders, were putting back into storage Canadian flags that had been displayed all over town that day. We told them we were looking for the cemetery, and one of the young men pointed us to "Temple Hill," a mile or two north of town. The name is intriguing, as the temple is actually in Cardston, so we can only assume there was some good natured competition for locating the temple, and Ora Card won.
.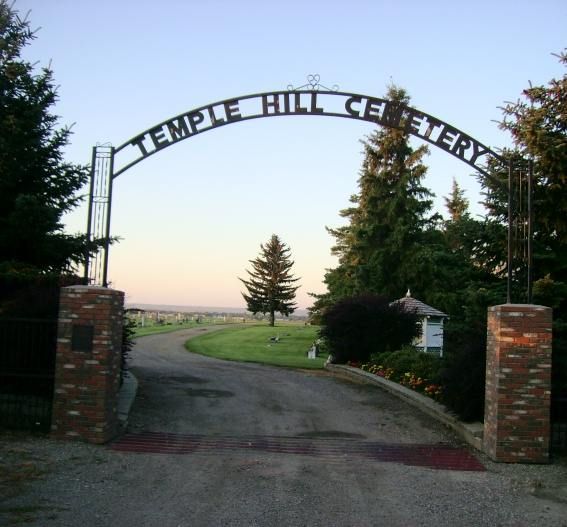 .
Temple hill is not a large hill, and part of it is dedicated to an RV park for motorcycles and ATVs. There is also a water tower on the hill. But behind a couple of rows of trees sits a quiet and green, well maintained cemetery. It is a small town, so no sexton was on duty, and I feared that on a national holiday, there would be no chance of finding anyone who could locate a grave. Looking at probably a thousand or more headstones, I figured that finding Edward's grave could be problematic. I don't spend a lot of time around cemeteries, but my wife pointed out a nearby gazebo, and told me to go look to see if there was a map or something. Indeed, there was a well maintained map and index book for the cemetery, and after a little looking, I found the spot on the map where Edward was buried. We hustled down the third row in the cemetery, and after a minute of looking, found Edward.
.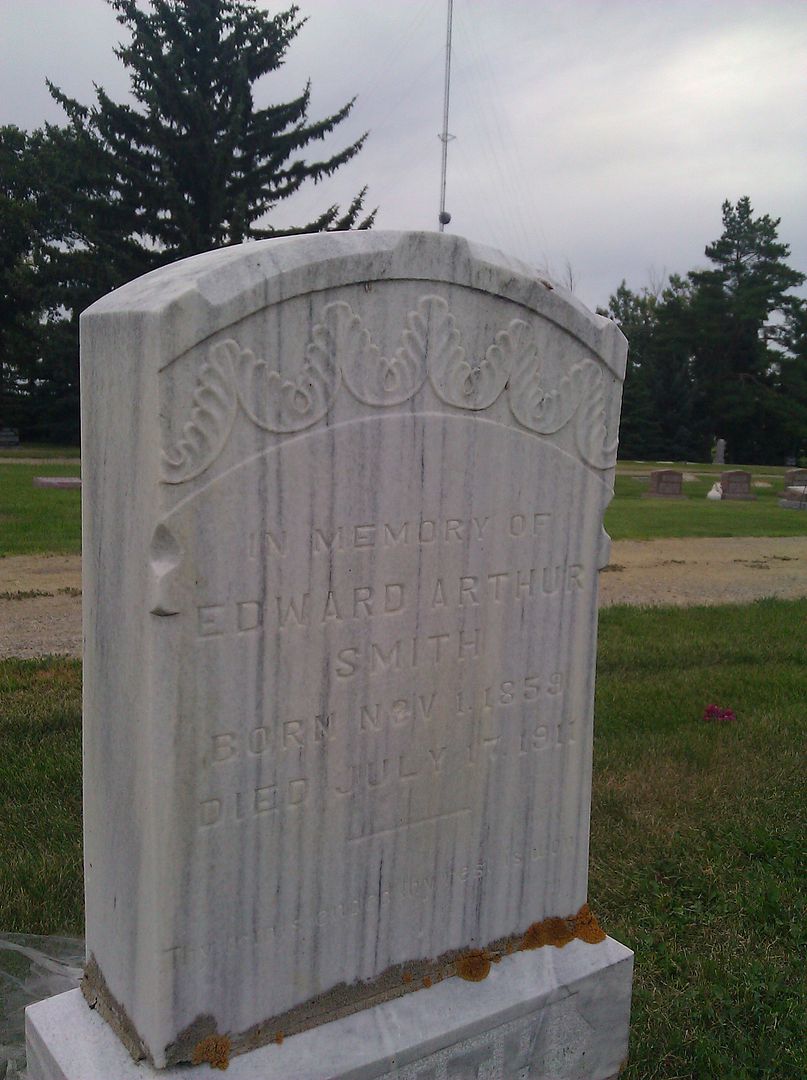 .

I'm not one to think that the spirits of our dead ancestors hang around cemeteries, waiting for someone to come by and visit. Nor do I claim that I had any such revelation. But after a year of living with Joseph F. Smith's letters to Edward, I really felt like I knew him. I hugged my wife, and thought to myself, "Edward, I married your great granddaughter. I am glad I got to know you." Edward was lost no more.