A long post about a trivial subject. What do I think this is, anyway? The Bloggernacle?
Little White Lab Rat has returned! I, your intrepid guide to Mormon cookery of the past, have recovered from a series of rather unfortunate recipes, and am here to bring you most welcome news.
Postum is back!
This Word of Wisdom-friendly hot drink, a 20th century Mormon staple, marketed as "The Truly Soothing Hot Beverage. Ease into your day with POSTUM – made from a special blend of roasted grains, POSTUM is a delicious, naturally caffeine-free alternative to coffee or tea," disappeared from grocery shelves six years ago, leaving fans bidding atrocious amounts for leftover half-bottles on eBay, and unhappily testing and rejecting the available alternatives. But it is back!
Or … is it?
When I saw the recent Deseret News article, I scurried down the icy sidewalks to my grocery store, at great risk to my graceful pink tail and my elegantly pointed and bewhiskered nose, anticipating the all but forgotten pleasures of a cup of Postum and a piece of toast for a late supper. Alas! My local store, the only one within walking distance, carried approximately 17,318 varieties of coffee, tea, and cocoa, but no Postum.
I took my disappointment to the airwaves (well, to the pixels of Facebook). Friend Arleigh sought to assuage my grief by bringing me a sample of Roma, an alternative, and quite tasty, but not the familiar drink shared so many mornings or evenings with my mother. But then Friend Diana found the real thing – or what claimed to be the real thing – in another store, and rushed to bring me a bottle on Wednesday. I paused long enough in my haste to sample this new Postum to take a photo of my first cup:
.


.
That first cup of Postum took me by surprise. It did not taste the way I expected it to. It was … sweet … very sweet … for one thing, and the flavor seemed to be drowned to nothing after I added the milk that had been a standard part of my well-remembered Postum ritual. But maybe I was so out of practice that I had misjudged the proportions of Postum, sugar, and milk.
I tried again on Thursday morning. And again on Thursday evening. And finally I had a cup that seemed almost – but not quite – right: Three times the recommended amount of Postum, no sugar, and a very little bit of milk for the smooth mouth feel.
But I was puzzled. Despite the claim on the bottle's label that this was "original," it is most definitely, certainly, absolutely, NOT the same drink as my old beloved Postum. Not only was it sweeter than I remembered, it was a more reddish color, and its dry texture was different, less granular, more, well, "fluffy."
This morning, between 1:00 and 2:00 a.m. when I could not sleep – but not for fretting over the Postum question, I assure you – I decided to stage a showdown between this new Postum and … cue music … my last, hoarded, partial bottle of Postum stashed in my cupboard since 2007. Yes, I was one of those, hanging on to this bottle as a relic. I hadn't made a single cup since learning that Kraft had ceased to make Postum, at first because I wanted to ration it, and later because, well, because I feared it would be too stale or rancid to drink safely.
But in my role as the fearless Little White Lab Rat, I would, at last, make and drink a cup of the really truly authentic Postum to compare to the new stuff.
An aside:
When I shared my glee on FB, BCC's John C mocked me – mocked me, I say! – with the comment, "That tea set strikes me as way too fancy for Postum" to which I responded, "I'm not so fancy that I can have multiple sets of china to suit the formality of my beverages."
That, dear readers, was a lie, now about to be exposed to my shame. As will be seen below, I am so fancy as to possess more than one set of china. In my defense, how could I not have assembled the set of china used below, when every piece of this set – a pattern issued only for ten years, with my birth year smack in the middle of that time – has this mark on the bottom? I ask you, how could I not have hunted out such a set for my very own?
Back to the important matters at hand –
Here are the two bottles, new Postum on the left, historic Postum on the right. Oddly, both claim to contain 8 oz. (227g for the new, 226g for the old), yet the new bottle is both shorter and of smaller circumference than the old. You'll note that both claim to be "Original" – the classic product was offered in two varieties, its original formula and coffee flavor, explaining the "original" on that bottle. Since the new Postum is available in only one variety, I have to think that its "original" is a claim to being the restoration of the classic product.
.


.
The ingredient list on both bottles is identical: "Wheat Bran, Wheat, Molasses, Maltodextrin (from Corn)." Same instructions for making. The old product has 3g of carbs per serving, the new stuff 2g.
Here's a side-by-side sample of the dry product (in this post, the new is always on the left, the old on the right). The color and texture differences are visible.
.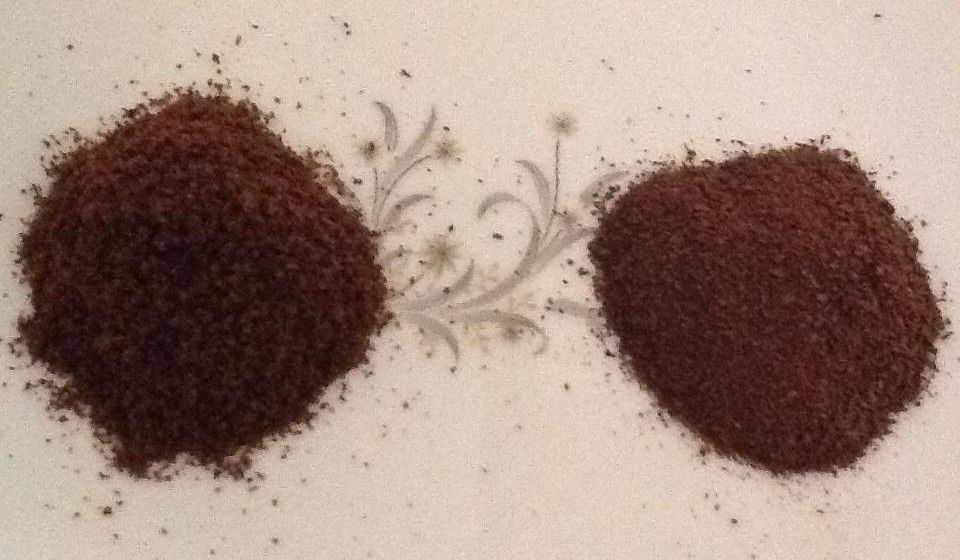 .
I made each sample according to the bottle directions, with one teaspoon (rounded) of Postum – as nearly identical as I could measure.
.


.


.
And I added 8 oz. of hot water to each cup, and stirred. I did not add sugar or milk to either sample.
.


.
You'll notice a color difference. The old Postum had more foam – just as I remembered it – but the color of the liquid beneath the foam was virtually the same. The new Postum did not dissolve as readily as the old variety. Even after the cup was emptied, undissolved residue clung to the cup.
.


.

Then I sipped alternately from each cup.

Verdict? The new stuff is definitely sweeter – loads sweeter. I think there is much more molasses, proportionally, in the new formula than the old. Aside from sweetness, the flavor of the new stuff was different, weaker. I tried to discount a certain off-flavor in the old stuff, due, I'm sure, to its being years beyond its expiration date, but the difference in flavor was not due solely to that. The older stuff still tasted like grain, the newer stuff like molasses.

I won't be drinking any more of the old stuff. It's definitely stale, and I don't think milk and sugar would correct for that.

The new stuff isn't bad. Even apart from the staleness of the old, I suspect most samplers would prefer the new to the old, simply because it is sweeter. But I'm also sure that preference would be exactly the same as samplers' preference for Pepsi over Coke: when you have only a small taste, people prefer sweet. But over the course of drinking a full bottle of soft drink, or a full mug of Postum, the preference for sweet passes and your tongue starts hunting for other, subtler flavors.

I'm disappointed. I really am. New Postum is drinkable, and I'll probably keep drinking it – triple strength, and with milk. But new Postum is not old Postum – the new manufacturer, Eliza's Quest Foods, has not been able to duplicate either the recipe or the process. They're marketing nostalgia, and a caffeine-free hot beverage, but not Postum.