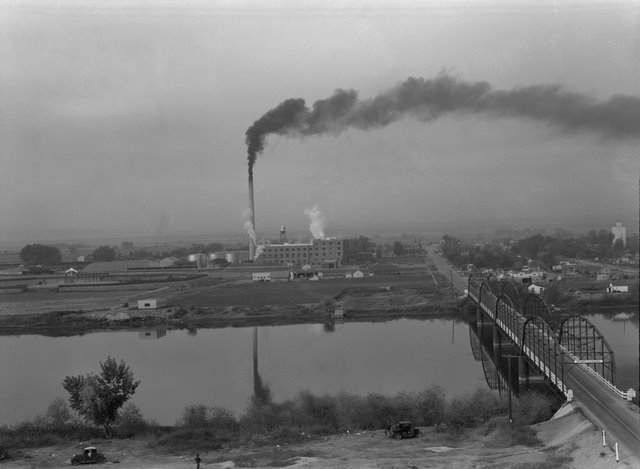 I was born in Nyssa, Oregon on the Snake River. My dad had just graduated from BYU and was preparing to leave for the National Boy Scouts of America Training Center in New Jersey before taking his first job as a Scout District Executive in Idaho Falls. So it made sense for me to be born in Nyssa where my Mom's parents lived a few miles out of town on a dairy farm.
The most prominent feature of Nyssa is the large sugar factory near the river and the bridge that crosses to Idaho. After the harvest, through the fall and winter sugar processing, the factory put out a huge plume of smoke with a sickeningly sweet, burnt, acrid smell – not very pleasant. My Grandparents' farm was up the hill far enough you usually could not smell it from there. But anytime you were in town – plug your nose!
As I was growing up I heard stories about my dad, mom and others working summers hoeing beets in the fields. My mom even thinned new beets. Dad lived in town and was not a farm boy. It was not pleasant work. My maternal Grandpa raised dairy cows and grew beets as a cash crop. My uncles (my Mom's brothers) did as they set up their own farm endeavors in the area. And my mom would occasionally remind us of her preference for buying White Satin Sugar over U&I and certainly C&H because White Satin came from the Sugar Factory in Nyssa. After all, she had worked the beet fields.
I do recall chewing on some sugar cane at my maternal grandparents' house which I understood had come from the Sugar Factory. Maybe it was some sort of promotional deal to compare and contrast or to established the scientific principle that processed white sugar is fungible – the same whether it comes from cane or beets. But I would much rather chew on sugar cane than a sugar beet. Chewing on ugly sugar beets just isn't done.
Over time, I figured out that the Sugar Factory had to be the major economic engine of Nyssa. Most of the retail was in Ontario, 10 miles down the river near where I-84 crosses the Snake. And I learned that the Sugar Factory was owned by Amalgamated Sugar Company and a competitor to U&I Sugar Company owned by the LDS Church.
I found one reference to sugar beets in an old family letter. This is from my paternal grandmother to my dad when he was at college at BYU. At this time, my dad's family no longer lived in Nyssa but on the other side of the river in Fruitland, Idaho, where my grandfather ran a bowling alley. The sugar beet culture seemed prominent even to a non-farming family.
March 3? 1954

. . . We are having the first spring rain. It isn't cold at all. Most of the spring plowing is done + the fellows have been getting their beets etc. planted the last few weeks . . .
That's what I knew before Ardis started posting ads from Church magazines about U&I and White Satin sugar. I've had to do a bit of research since.
There is a historical outline of the Amalgamated Sugar Company on Wikipedia which is pretty good. Most of the cited sources are from a book by J.R. Bachman, Story of the Amalgamated Sugar Company, 1897-1961 (Caxton Printers, Caldwell, Idaho, 1961). Not wanting to cite to Wikipedia, I had to get that book! Google told me the Harold B. Lee Library at BYU had a copy so I asked my freshman son to check it out. He brought it home for me one weekend.
The Wikipedia references to the book seem to be accurate and I learned a few more things. The Ogden Sugar Company was founded in 1897 with a Board of Directors that included George Q. Cannon and David Eccles (whose son Mariner S. Eccles helped FDR establish the New Deal). One of their first actions was to lobby the Utah delegation to Congress trying to prevent the annexation of Hawaii – not a bad idea if you want to make money off sugar beets. In 1901, the Logan Sugar Company was founded by the same David Eccles. In 1902, Eccles's Logan plant was merged with the Ogden Sugar Company, hence, the "Amalgamated" of the Amalgamated Sugar Company. In 1915, a sugar plant in Lewiston, Utah, built in 1905 by Charles W. Nibley and Rudger Clawson (among others) was also "amalgamated." They also merged with the Oregon Sugar Company in La Grande, Oregon. Founders included David Eccles and Charles W. Nibley.
These sugar companies were run by prominent Utah businessmen and LDS Church leaders (sometimes the same people). Presiding Bishop Charles W. Nibley was a partner of Eccles and then Eccles's heirs after he died in 1913. Nibley eventually had a falling out with the Eccleses and he went to the Utah-Idaho Sugar Company. Joseph F. Smith was on the Board for a short time in this period. Amalgamated Sugar was in varying forms of cooperation and competition over the years with the Utah Sugar Company established in 1888 by other members of the leadership of the LDS Church (Wilford Woodruff, Heber J. Grant, James E. Talmage, George Q. Cannon (again), and apparently financial contributions of the Church itself — along with official recommendations to other General Authorities to contribute). They built its first plant in Lehi, Utah (1891). That company became the Utah-Idaho Sugar Company when it expanded into the state to the north.
The corporate history is rather hard to follow, in part, because there was a lot of crossover among the managers, owners, and even factories of Amalgamated, headquartered in Ogden, Utah, and the Utah-Idaho Company producing U&I Sugar. The LDS Church owned interests in both companies, generally having more involvement in Utah-Idaho. And there was even the threat of an antitrust lawsuit against Amalgamated that was resolved without litigation. The LDS Church sold all its interests in Amalgamated by 1941, terminating the directorships of Stephen L. Richards and Sylvester Q. Cannon who represented the Church's interest. The Church divested itself of U&I during the 1970s, the period in which it was ridding itself of most commercial activities that had seemed necessary in an earlier time to help establish the Great Basin economy.
The Nyssa Sugar Factory was the first built by Amalgamated rather than obtained by acquisition. It was Amalgamated's crown jewel. It came on-line in 1938 with the Owyhee Project of the U.S. Bureau of Reclamation that opened up farmland to grow sugar beets. There was an unofficial Mormon migration of Utah families to eastern Oregon in the 1940s that included both sets of my grandparents. As a teenager in Nyssa, my dad found a wonderful artifact of that migration that I latched onto as part of my license plate collection:
.


.
I shouldn't have to explain the irony of this particular centennial plate discarded in a vacant lot in Nyssa, Oregon, the new "This-is-the-place" for some Mormons.
There is also a bit of irony in that all the conservative beet farmers up there were and are heavily subsidized by the federal government with Reclamation water projects, price supports, tariffs, inexpensive loan programs, etc., etc. This was equally true for U&I Sugar producers over the years. If the federal government had given up on these projects, eastern Oregon and the entire Snake River Valley would have dried up and blown away. I do know some Indian tribes that would like it all back even under those conditions.
It is also interesting to note that during the war years with the shortage of labor, there was a German POW Camp from Rommel's Afrika Corps at Nyssa. My Mom remembers POWs coming to work on her dad's farm. Her parents told her that one of them had been a famous violinist in Germany. There was also a Japanese-American contingent working the fields as some from the West Coast took the opportunity to live in old New Deal migrant camps to work in the beet fields rather than go to the internment camps in the desert. Many of them stayed and became prosperous farmers. And, the Bracero Program of FDR's Good Neighbor Policy with Latin America brought in Mexican nationals (legally) to work the fields – many stayed.
Eventually, the cost of environmental compliance for the aging Nyssa plant (that smell included poisonous sulfur dioxide), a fatal industrial accident, along with the constant economic challenges of the sugar beet industry propped up by federal protection and subsidies, all led to the closing of the Nyssa plant in 2005 leaving a thousand or so workers jobless. The farmers could still truck to the remaining Amalgamated factory in Nampa, Idaho, where my parents now live (and it still stinks during production season).
There was something else of interest in Nyssa with regard to Amalgamated. Because corporate headquarters were in Ogden, occasionally corporate people would come up to check out things at the Nyssa plant. The company built a guest house in Nyssa known as "the Sugar Beet House." It was the largest house in town and a mystery to most of the locals, especially the farm families who lived out of town and only grew the beets (or the cows).
.


.
In 1995, my parents rented the Sugar Beet House for a family reunion. It was one of the highlights of our family adventures over the years – mainly, because we were able to have possession of the mystery house and it was fascinating. My parents stayed in the downstairs suite that must have been set up for a housekeeper. The rest of us took upstairs rooms that had private baths (I only have two siblings with spouses so it worked out). The kids stayed in a bunkhouse kind of room and there was an odd bathroom with side-by-side toilets which our young boys didn't have any problem using. The girl cousins weren't so enthused. There was a long living room across the front of the house to the right of the front door. And to the left was a huge dining room and kitchen. It was perfect for a family reunion connected to some degree to the culture of beet production and the Amalgamated Sugar Company maker of White Satin Sugar.
Amalgamated put up a sign in Portland, Oregon, one of its distribution centers, in 1940. It is quite a landmark in Portland, although it has been bought out and changed several times over the years.
.


.

Amalgamated still has sugar factories in Paul, Twin Falls, and Nampa, Idaho, the latter being corporate headquarters. I still try to find White Satin when sent to the store for sugar (even if my wife is a C&H Sugar snob – she told me to say that).

U&I? Apparently the name now belongs to a British company marketing Brazilian cane sugar. How's that for a strange turn of events?