I've debated for days now whether to blog about this. On the one hand, it's the kind of thing that should be anonymous – "let not your left hand know what your right hand is doing," etc., etc. On the other hand, this is the kind of story I would race to share had it happened a generation ago, and if I don't record it now, how will anyone a generation from now be able to benefit by it? I'm trusting you to understand that I'm sharing it here for the right reasons.
Ten days before Christmas this email was distributed through the ward's Relief Society network:
A former member of our ward is currently in a Women's Retreat in [another city]. It is a place of miracles and successes for women who have been addicted to alcohol and drugs. The thing they long for is a good toothbrush, a real tube of good toothpaste-regular size, a nice bar of soap (like Dove-regular size) and hand lotion. … If there is anything else "girly" that you would like to contribute for Christmas, it would be great.
I collect old linen, including linen handkerchiefs, some with lovely hand embroidery and tatted or crocheted edgings, and others with bright designer prints. For the most part, these are hankies that have never been used, the kind of thing women a generation or two ago received as gifts, then put away in a drawer as "too good to use." I only keep the best of what I find – if there's any sign that a hanky has been used, I toss it. And I usually carry one with me on Sunday – somehow it makes me feel good to have something in my hand or pocket as fine and lovely as one of these hankies. I own an obscene number of these exquisite things.
The thought occurred to me that I could donate some of these handkerchiefs to this project – even though most women probably prefer paper tissues, maybe there would be one or two who would be inspired by their beauty the way I am. But I was unsure enough – was it too dorky? – that I asked my Facebook friends what they thought. Several friends responded with encouragement, one of them mentioning that even if someone didn't herself want a hanky, she might be glad of having it to give as a gift to someone else.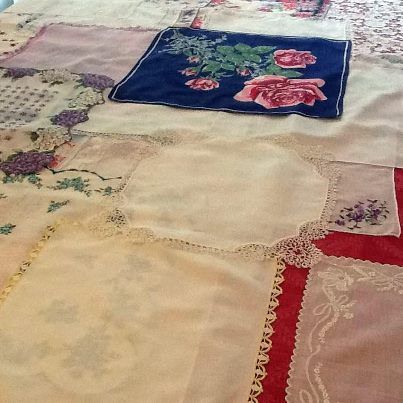 So I spent Saturday washing and carefully ironing 50 handkerchiefs so they would be fresh and as beautiful as possible. About half featured handwork and half were bright prints – here's a picture I snapped part way through, with the ironed handkerchiefs laid flat to dry completely before folding. On Sunday, I folded them and tied them in a ribbon, then set them in the donation box before Relief Society.
And that's the last I expected to see or hear of them, of course.
* * * *
But about a week ago, I got a note from the sister organizing the project:
I had requested donations of good soap, toothbrushes, toothpaste to take up to [Retreat]. In the box, someone deposited a stack of hankies. Did you offer the stack of hankies? If you did, I will have to tell you a story about them. I know that [you] collect linen.
I replied:
Yeah, I put the hankies in the box … I was afraid they would be seen as dorky since people don't use hankies any more, but I wondered if there weren't one or two women there like me, who would appreciate having something beautiful even if it was impractical. So I sent 'em.
And back came this story:
Well, let me tell you the "rest of the story." I put everything in pretty gold bags. … I added the hankie and wondered how the women would receive the items. They pulled everything out as a treasure. When they pulled the hankies out, "Oh – I've never owned one," "Oh so pretty," etc.

One older woman pulled hers out and yelled out "oh – it's a miracle. I've been looking for a handkerchief all over town." Her husband had died a few days before and she wanted one for his funeral. She had been there for four months and was doing so well – Christmas was difficult. … All the women from the retreat took their hankies and attended her husband's funeral. All shared and showed their hankies as support. She was thrilled and so touched.
The Lord knew days before this sister was widowed what she would need for comfort. He found a way to give her that – and he let me be a part of it.