[Part of a week-long series about Cyrus Hubbard Wheelock and the poetry of Hannah Last Cornaby. See index here.]
The artist Solomon Carvalho called her "a lady of great worth, and polished manners," and thought she was a better actress than the famous Julia Dean Hayne. One of the first plays produced at the Social Hall in Salt Lake City, Bulwer-Lytton's Lady of Lyons, starred Mary Ann Broomhead Wheelock in the role of Pauline, the role in which Carvalho painted her portrait.
Mary Ann Broomhead came from the town of West Bromwich in Staffordshire, England. The area was known for its coal mines and potteries. Mary's father or step-father, William Broomhead, was a carpenter by trade, but there are hints in the family history that in previous centuries the family had belonged to the minor gentry.
The Broomheads joined the Church of Jesus Christ of Latter-day Saints. In those early exciting days of missionary work in England, the family was in close contact with missionary Cyrus Hubbard Wheelock, and after his wife died in America, he and Mary Broomhead went to the parish church in West Bromwich and were married.
Cyrus and Mary traveled to America in 1848 but almost immediately turned around and returned to England where their daughter Kate Ethlinda was born in 1850. A cousin described Kate as a beautiful baby, and he noted that Mary:
was a Latter-day Saint and the first time that I ever saw one. Cyrus H. Wheelock was a president over 3 conferences in England. He came and preached in the open air that was the first sermon we heard in that part of the country. Mrs. Wheelock stopped with us for about two months conversing with different ones on the scriptures when she would show up the Bible all right and the Gospel and could down any that came to talk with her.
About this time Cyrus became the subject of a minor scandal when an anti-Mormon preacher published a book full of allegations about Mormon doctrine, temple worship, and the practices of the Mormons including polygamy. Included in the book was the allegation that Cyrus had two wives in America, and that when Mary returned to America "she would have to live with the American wives," but one of the wives had died and the other seems to have left or divorced Cyrus.
Shortly after these and other allegations were repudiated in the Millennial Star, the Church began preaching polygamy. Cyrus was living in the Samuel Hawthornthwaite home in Lancashire and his alleged attentions to young convert Marion Dallin were used as ammunition in a disagreement that arose between Hawthornthwaite and the Church.
Whatever the facts of the matter, Mary Wheelock and Marion Dallin and their families were on one of the next ships to America, the 1852 sailing of the Ellen Maria. The ship pulled out of the harbor as the Saints on board sang:
Yes, my native land, I love thee,
All thy scenes I love them well—
Friends, connections, happy country,
Can I bid you all farewell?
Can I leave thee,
Far in distant lands to dwell?
The Saints arrived in New Orleans and travelled through St. Louis, and while they were in St. Louis little Kate Ethlinda Wheelock died. Back in England, Mary's cousin noted,
… Cyrus H. Wheelock was with us and as we sat down to tea he opened a letter and read of the death of his little girl. Elder Wheelock was much affected in losing his little girl, however, he had to speak in the evening meeting on Celestial marriage.
When Mary arrived in the Salt Lake Valley she threw herself into social life. The Social Hall opened with an elaborate program on New Year's Day 1853, and Mary recited something for the occasion. A few weeks later, she played the role of Pauline in The Lady of Lyons. Later she played Elvira in a production of Pizarro. Both plays began with Mary reclining on a couch as her current character; she must have been an attractive woman and a natural actress to be chosen for the leading part.
Cyrus ended his mission, led a wagon train across the plains, and arrived in Utah in October 1853. A few months later he and Mary and Marion Dallin went to the Endowment House and he was sealed to Mary and to his deceased wife Jemima and he was married to Marion.
The next year he married Elizabeth Neslen and then almost immediately left on another mission. Solomon Carvalho noted that Elizabeth went to live with her parents. Perhaps Marion moved in with her parents as well, since she was expecting her first child.
It's not known what Mary Broomhead Wheelock did when Cyrus left and what the circumstances of her life were for those two years.
Cyrus returned to Utah in early October 1856 and spoke in the Tabernacle at General Conference that Sunday to help gather aid for the emigrants stranded on the Plains and then he set back across the plains with Mary's brother William Broomhead to rescue the emigrants.
But by this time, Mary was living in Sacramento with Englishman William Henry Rattenbury, later a lawyer, and had already given birth to their first son, William. Mary's mother, Catharine Broomhead, had also moved to California and she lived with Mary's family until her death in 1860.
Mary and William Rattenberry had four more children including twins who died shortly after birth.
.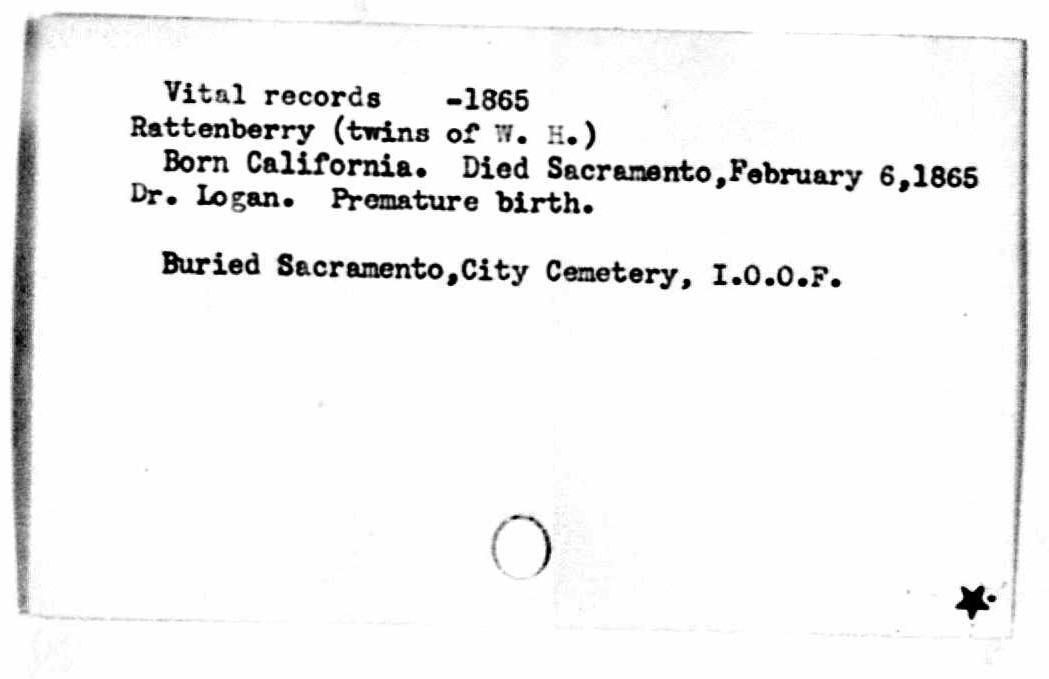 .
After William Rattenberry died in 1889, Mary moved to Philadelphia where one of her sons was working in opera productions. Henry "Harry" Rattenberry inherited his mother's love of acting and went straight from his career in opera to a career in early motion pictures. He acted in 129 early films with titles like Lucille Love: The Girl of Mystery and The Weak-End Party.
.



.
Mary Ann Broomhead Wheelock Rattenberry died in California in 1909. I have not been able to find any descendants. Her memory lingered in Utah, although she left in the 1850s. In 1899, the Deseret News noted:
C. C. Christensen, a graduate of the Art Academy, of Copenhagen, and an Italian [American of Sephardic Jewish descent] named Cavallach [Carvalho] were amongst the pioneer artists of the "fifties,"…the latter devoting himself exclusively to portrait painting. Representations of Cavallach's work still remain in portraits of President Brigham Young, Daniel H. Wells and Mrs. Mary Wheelock, Utah's "star" actress of the period, the portrait representing her in the character of the "Lady of Lions" [sic]. The picture is said to be a notable one, and would be a valuable acquisition to the State Historical society were it possible to obtain it. It is at present in the possession of the Broomhead family, of Bear Lake, Idaho.
In 1919, the Broomhead family realized that Mary's little daughter Kate Ethlinda had not been sealed to her parents, so they had her sealed to Mary's brother and his wife.