The Kawkab America – "The Star of America" – was a title that would fit quite comfortably into the constellation of LDS mission publications. And although it was not LDS, it does deserve a place in Mormon history as having published the first extracts of the Book of Mormon in Arabic … all the way back in 1893.
The Joseph Arbeely family of Damascus, Syria, were a prominent and highly educated Orthodox Christian family. Joseph, a Doctor of Divinity in the Greek Church and a medical doctor, was the father of six sons. The entire family – Joseph, his wife Mary, all six sons, and a niece – emigrated to the United States in 1878 and settled in Maryville, Texas Tennessee. Son Abraham gave an interview in St. Louis in 1880 and reported:
The family had always been Christian, that is, as far back as we have any record. My ancestors, as Christians, ante-dated the invasion of the Turks. My father, prior to coming here, was employed for many years in teaching the Syrian language to the missionaries from America. He had incurred the displeasure and hostility of the Turkish authorities. We were in the massacre of Christians in Damascus in 1860 — I was only 10 years old then — but my father, although hunted like a wild beast, succeeded in making his escape. The murderous Turks made several other attempts upon his life, but a kind Providence protected him so that not a hair of his head was harmed. The Mohammedan persecution finally became so great that my father resolved to leave the land of our nativity, and upon consultation with the American missionaries he concluded to emigrate to America. In the summer of 1878, during the Paris Exposition, a passport was obtained for the entire family to visit the Exposition, and they started, but stayed only a few days in Paris, and then came to the United States, landing in New York in September. They spent a month in that city, but concluding that the weather would be too severe for them they went to Maryville, East Tennessee, and settled. Thus the first Syrian family that ever emigrated to this country came and took up their residence under the aegis of the stars and stripes.
The Sultan and the Turkish Pasha (Governor) at Damascus look with great disfavor upon emigration of Syrians, and so many obstacles have to be overcome by emigrants that very few leave indeed, and thus it happens that we are the only Syrians in America. Passports are withheld, and as no one is allowed to leave there without these documents, the disfavor amounts to really a prohibition. That's the reason no other family of that nationality has ever come to this country before. Our friends are very anxious to come, and thus establish a Syrian colony here in America, but such a scheme was then impracticable. We promised to look the country over, however, and if possible find a suitable locality.

We went to Texas in 1878, and it was hard getting along at first, as we could not speak English very well, as you observe I can now. When we arrived at Austin, Texas, I concluded to stop there for a time and see how the country agreed with me. My father went on and visited different parts of the State, but found nothing that suited him, so he returned to his home in Tennessee, where he has resided since. I practiced medicine at Austin for the past eighteen months, when I was called home suddenly by my mother's death, and coming by the way of Kansas City, where I stopped for a few days, I arrived in St. Louis yesterday, as stated.
Abraham, as he indicated in this interview, was a physician (an allopath) like his father; at least one brother was likewise a doctor; another was a lawyer, and all the brothers were apparently university-trained in the U.S.
One younger brother, Nageeb, was a highly talented linguist. He taught French at the university level, and reportedly understood and spoke some 14 languages, many of them Middle Eastern. When he was only in his mid-20s, he was appointed by President Grover Cleveland to serve as the U.S. Consul in Jerusalem. Upon his return from that post, he became an inspector in the Bureau of Immigration at the Port of New York, being chiefly concerned with immigrants from the Middle East.
In 1892, brothers Abraham (he went by "A.J.") and Nageeb imported type from Turkey and founded the first Arabic press in the New World, on Pearl Street in New York City. [1] An announcement in the American press read:
Last Good Friday was notable this year in New York for the nativity of the only newspaper ever printed in the Arabic language in North or South America or Europe. The editor in chief, a very intelligent wrestler with polyglot, and his brother, who is to manage this unique journalistic enterprise, claims to have a constituency of 7,000 in the American metropolis, for that is about the aggregate number of cultured Persians, Arabs and Syrians now resident here. In addition to these prospective readers and supporters of the new journal it is estimated that on both of the continents, north and south of the Caribbean Sea, there are 150,000 persons who are conversant with Arabic. "Kawkab America," which is the title chosen for the paper, signifies "Star of America." "Kawkab America" is to be printed partly in English and partly in the language of its projectors, which latter vocabulary contains 1,335 characters. On account of the immense difficulty of mastering the art, the compositor who can set these arbitrary signs is regarded very highly among his people. Five cases or frames are necessary for a single font of type. Four of these are placed directly in front of the compositor, and the remaining case behind him. He evidently has all he can do to pick up a living and punctuate his wages. The editorial rooms of "Kawkab" are to be redolent with Orientalism, but an American latch string will nevertheless always hang out.
Although he lived principally in the East, Abraham Arbeely was licensed and practiced medicine in California as well as on the East Coast. It may have been while traveling to or from California that he stopped in Salt Lake City and listened to a sermon, probably in the Tabernacle. He hunted up some missionaries in New York soon after his return there, and learned more about the Church, including something about the Book of Mormon. Perhaps because of the Jerusalem setting of the early chapters of the Book of Mormon, and with a definite eye toward the business of interesting their readers and earning income for his newspaper, the Arbeely brothers began translating the Book of Mormon, along with a brief outline of Church history, in weekly installments in the Kawkab America in early 1893.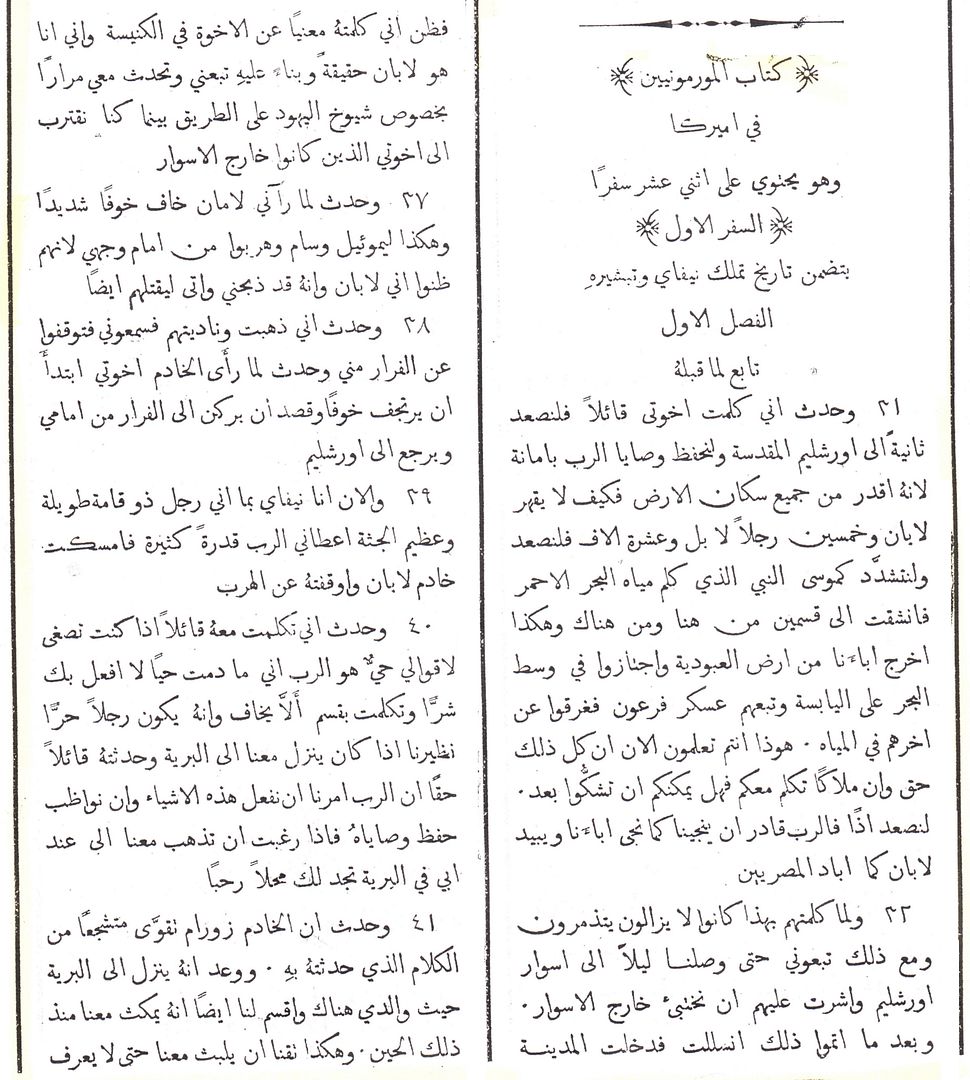 In May, 1893, Abraham Arbeely sent copies of recent issues along with a letter of introduction to Church leaders in Salt Lake City. He sent reports, too, of the numbers of potential readers in North and South America, to say nothing of the Middle East. He asked if he had the approval of the LDS Church to continue his translation and publication.
Church leaders were interested enough to pursue the matter through the First Presidency's secretary, George Reynolds. Arbeely's reply to that letter revealed his own business intentions: He could afford to continue the translation, he said, only if the Church would guarantee to buy 5,000 copies of the newspaper every week, at 5 cents a copy, until the work was completed. Some quick calculations show that if the Kawkab translated and published one chapter a week – and to that day, their columns had contained somewhat less than one chapter per issue – the Church would have been committing approximately $100,000 to the project.
But it would be worth it, Arbeely assured – there were 200,000 Arabic-speaking residents of North and South America, to say nothing of introduction of the Book of Mormon throughout the Middle East. "We aim to issue a Columbian Edition for the 'World's Fair' … Copies will be taken home by visitors to their homes throughout the new & old Worlds. Such edition will be over 40 pages and in English, Arabic, French, Sweedish, and Spanish. We may arrange with you for something on Mormonism."
And Arbeely promised that the Kawkab would electrotype the text as it was set, allowing them to publish an edition of the Book of Mormon without the expense of setting it in type again.
But without the heavy financial support of the Church, Arbeely confided sadly, "We would be obliged to give up the work entirely."
The Church considered the matter enough to have someone – I do not know who – translate the Kawkab's text back into English. The Arabic translation was literal, not horrible, but likely would not have met the needs of the Church. 1 Nephi 1:1, for instance, came back as:
I, Nephi, was born of parents fearing God and had learned all the knowledge of my fathers and was tried in my days with many difficulties and sorrows, yet I found in the eyes of the Lord in all my days my life very beautiful and I know with true knowledge the goodness of the Lord to me and His great wonders.
I do not know how far the Arbeelys went with their translation, but probably not past the first ten chapters of 1 Nephi, and probably not beyond June 1893. The Church History Library apparently has copies of a few issues, but not all. Here is another opportunity for somebody with initiative and access to fill in this gap in Church history and documentation by tracking down the Kawkab America for April-June 1893, obtaining copies of the relevant pages, and depositing them where historians and scriptural scholars can be more fully informed about this quirky bit of our past.

Illustrations: Masthead of the Kawkab America; a portion of the translation of 1 Nephi 4.

[1] I am aware of some controversy over whether the Arbeely brothers were in fact the founding editors of the Kawkab America. Everything I have from 1892 and 1893 refers to them as the paper's editors, so I proceed as if their claim were unchallenged. Likewise, I use their spellings of names, although I am aware that present usage would transliterate names differently.

[Added: I apologize for the extraordinary collection of typos when this was first posted — I was running late and you got my first draft. I'm correcting them as fast as I can find them.]