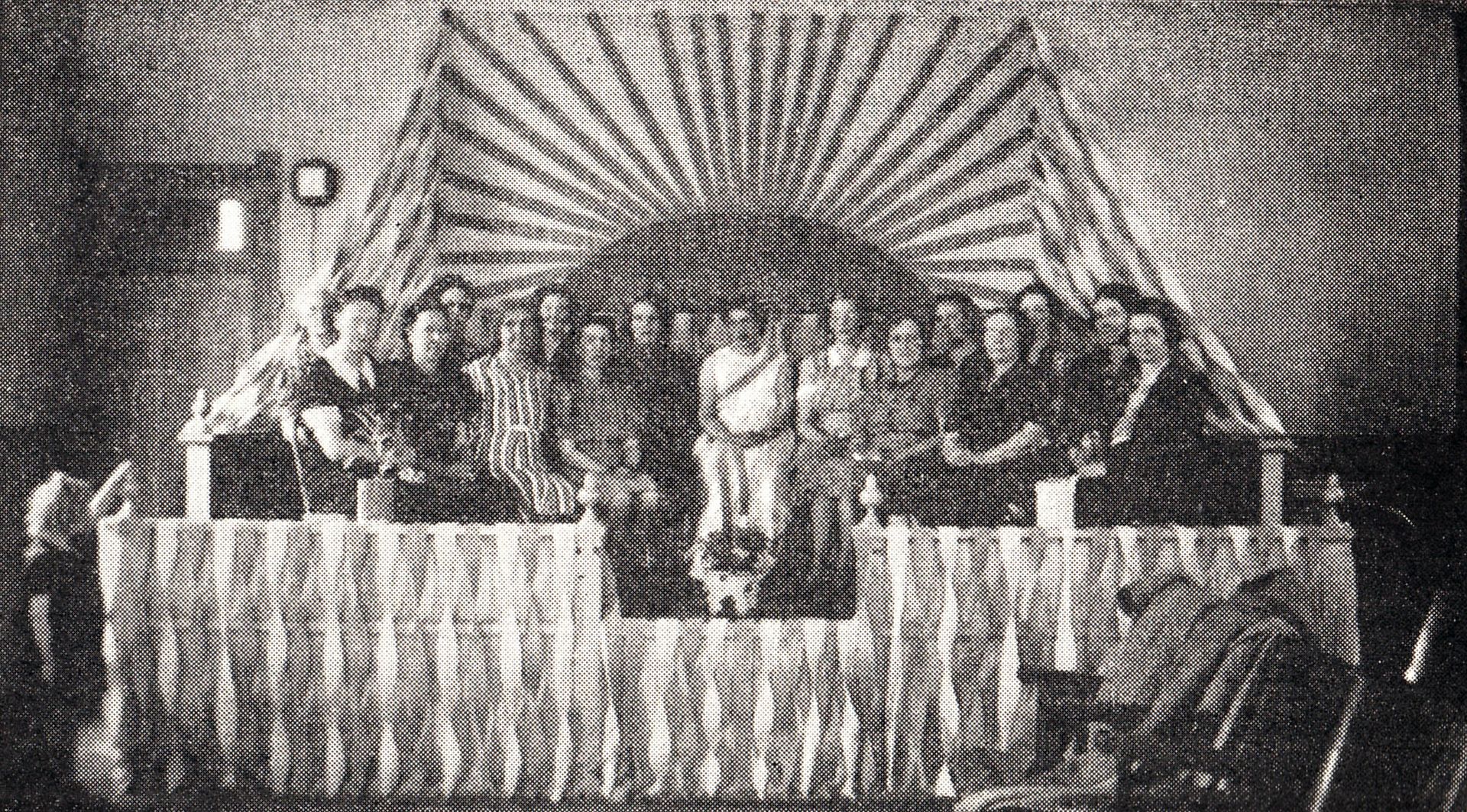 Another page in our family photo album:
.
.
.
Mammoth, Utah
Relief Society 99th Anniversary
.
.
.

.
First Presidency
Heber J. Grant, J. Reuben Clark, David O. McKay
.
Detroit Male Missionary Chorus
(front row, left to right:) George Cox (Pocatello, Idaho), Ray Smith (Logan, Utah), Wayne Anderson (Corinne, Utah), Russell Hansen (Syracuse, Utah), Thomas Lefler (San Francisco, California), Reed Adams (Lehi, Utah), Waldon Johnson (Idaho Falls, Idaho)
(back row:) Lawrence Cooper (Salt Lake City, Utah), Jarvis Petersen(Brigham City, Utah), Edward Lingwall (Salt Lake City, Utah), Martin Koplin (Salt Lake City, Utah), Forest Meservy (St. Anthony, Idaho), Eldon Bitter (Salt Lake City, Utah), Albon Smith (Idaho Falls, Idaho), Ted Tuttle (Manti, Utah), Arnold Bangerter (Bountiful, Utah)
.
Betty Johnston, Miss Fairbanks
Annual Dog Derby and Ice Carnival
.
Pocatello, Idaho
Stake Aaronic Priesthood Chorus
.
El Paso, Texas
Spanish American Mission
Gold and Green Ball
.
Missionaries Leaving the Salt Lake Missionary Home
30 April 1941
(first row, left to right:) Carl Wayne Clements, Ruth Clayton, Jessie Thompson, Joyce Peart, President Don B. Colton, Lois May Gardner, Chelsea Peterson, Jay Olsen
(second row:) Werner Moeller, Henry D. Selin, Donald Cleverly, Merna Kunz, Marie Lund, Doris Nielsen, Mary Astle, John C. Moss, Dean F. Ward
(third row:) Leon Halgren, Delbert G. Harris, Joseph M. Nelson, Thelma Bowen, Ralph C. Kidd, Mildred Hill, Ernest Morris, Raymond J. Shallbetter, A. Chadwick Noel
(fourth row:) Wm. E. Berrett, Wendell Gibby, Dee H. Wilson, Dale L. Gardner, Lee A. Anderson, George B. Poulson, H. Robert Brummett, Elvin George Lyon, Richard R. Twelves
(fifth row:) James Leland Eldredge, Emerson E. Wall, George R. Kerr, Glen W. Flint, R. Douglas Haslam, Wayne W. Hymas, N. Franklin Birtcher, Harold J. Glenn, Barnard Taylor
(sixth row:) Sterling Sparks, Dayle W. Cooper, McCoy Larsen, Eldred C. Olsen, L.L. Duncombe, Sylvester L. Barton, Morris L. Bushman, Roy L. Holman
(seventh row:) Edward Neal Crowther, LeGrand M. Bernards, Marvin J. Fjelsted, Wm. Jay Read, O. Hugo Jenkins, Don Keith White, J. Quentin Andrus, Lincoln R. Eliason, Joel Gold.
(eighth row:) Robert G. Christopherson, R. Glen Brewer, Harold L. Dowdle, William C. Blair, Merrill S. Orme, David C. Tripett, Walter G. Klemm, Jack L. McAffee
(ninth row:) Robert Scott, Clifton Thatcher, David J. Evans, Norman E. Farr, Garth D. Price, Alma M. Argyle, Jr., Fred Wolters, John Dale Evans
(tenth row:) Finn B. Paulsen, Grant E. Burns, Harold R. George
.
Dunsuir, California
Relief Society
.
Cumorah Pageant
.
Berkeley, California
Eagle Scouts
.
Cheyenne Agency, South Dakota
Primary
.
Carson City, Nevada
Relief Society
(left to right:) Elder Jacob DeWaal, Elsie Jepson, Luesybil Sheppard, Evelyn Jensen, Lela Ellertson, Lilieth Lee, Elizabeth Buttler, Elder D. Lyle Wynn, Edith Orr
.
Nipton, California
.
Council Bluffs, Iowa
Primary
.
Champlain District Missionaries
Meeting at Malone, New York
.
Brownsville, Texas
Spanish-American Mission
Before-and-After Beautification Project
.
Bakersfield, California
RS Anniversary Luncheon
.
Canadian Mission
MIA Convention

.