Twice each year, in connection with Conference, the Church History Library welcomes us to view some of the "Treasures of the Collection." Glass-topped display cases replace some of the tables in the main library room, visitors pick up handsome, informative exhibit guides, and thousands of lucky locals and Conference-goers get a close up, sometimes once in a lifetime, look at some precious materials we may only have heard of before, or may not have guessed even existed.
This fall's exhibit was slated to close last night at 9:00 … but if you're close enough to get here in time, you can still see the treasures in a one-day, unannounced extension of the exhibit. After 5:00 tonight, though, while some items will still be on display for an indefinite period, the most important of them, the ones that are ordinarily kept in the vault rather than in routine archival storage, will go back to the vault, and who knows when or where they will next be on view?
The theme of this display is "The Office of Church Historian and Recorder: Record Keeping in the Kingdom" and features documents and other artifacts illustrating the work of those charged by the Lord in 1830 with creating and preserving a record of the Church and its people. Twenty-six men, from Oliver Cowdery to Steven E. Snow, have served as Church Historians (with varying titles).
Think about that theme for a moment. Certainly the Church History Library, created by the historians themselves, is uniquely qualified to tell the story of that office. But if you were charged with creating such a display, which of the untold thousands of items in the collection would best tell the story? And, perhaps a more difficult question, how do you tell a visually interesting story with what is necessarily made up chiefly of black and white documents, whether handwritten, typed or printed?
They did it. I can't guess the hours and discussions and inspiration and labor that went into putting together this display, but they did it. They told the story of the historians and their office, and they did it in a stunningly effective way. Some examples: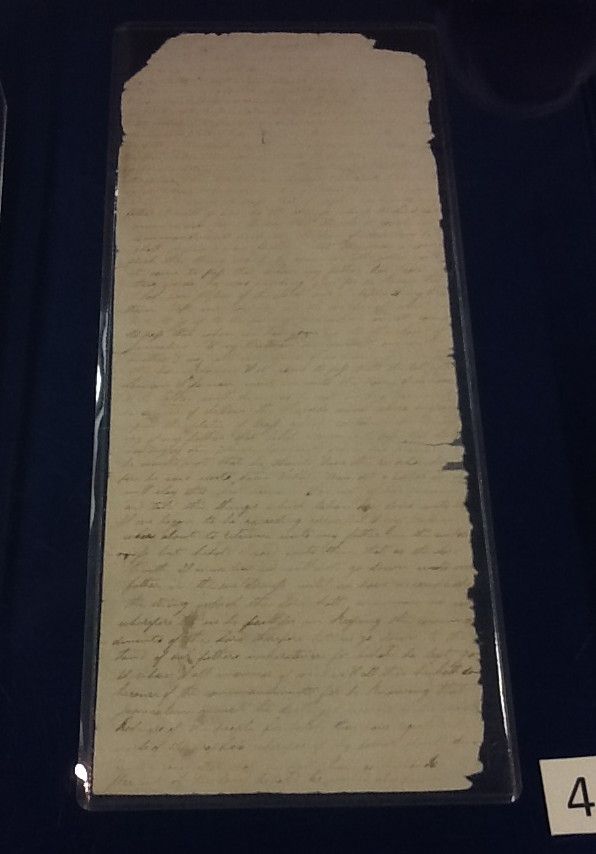 Because he served as Joseph Smith's scribe while Joseph translated the plates and on other key occasions, Oliver Cowdery is considered the first church historian, although he never held that title formally. What better to represent his contributions than a page of the original manuscript of the Book of Mormon? Any page would have been enough to cause a viewer to reflect on the significance of that event – this physical paper was in the presence of the Prophet of the Restoration during a moment of extraordinary significance; that ink marked that page as Joseph dictated the words, the first time those words, that divine message, found English expression. But take a closer look at this particular page… and in the middle of the paragraph, unmarked by verse breaks or numbering, you can make out in the fading, brownish ink, the words "I will go and do the things which the Lord hath commanded …" The first time those words appeared in English. Right there. A few inches away.
And that's the way it goes, through the entire exhibit.
There's an 1833 Book of Commandments, so rare and precious that you may never see another one. That book – the physical pages of that very book – survives today because two young sisters snatched up unbound pages from the wreckage of the looted printshop, and ran with them into a cornfield to hide. And it's not just any copy of the Book, either: this one belonged to President (and one-time Church Historian) Wilford Woodruff.
There's the personal diary of Willard Richards, who served as Church Historian from 1842-1854. But it's no routine diary page that the librarians have chosen to show us. The book lies open to the entry for 27 June 1844 – Elder Richards' eyewitness account of that terrible day in Carthage Jail.
There are copies of published Church books collected by the historian's office. One book might be as good as any other to illustrate the assignment of collecting such things – but the curators made the display doubly interesting by choosing Dan Jones's 1846-1848 publication Prophwyd y jubili, neu, Seren y Saint, a Welsh title, and the first non-English Church publication. Similarly, if you're going to display a library certificate given to a donor, make it the 1934 certificate signed by Church Historian Joseph Fielding Smith, for something that hints at the exotic, and the increasing spread of the gospel: make it the certificate for donation of a Bulgarian translation of the Book of Mormon.
One of my favorite items is the statement of Willard Richards and John Taylor, dated at Carthage Jail, 8:05 p.m., on the day Joseph and Hyrum died there. We've all read the text before, including the line about the fear Carthage citizens expressed about a potential retaliatory Mormon attack: "I promise them no!" wrote Elder Richards. But look at the letter itself, and you see something that cannot be conveyed by a mere publication of the words. Look at the emphasis Elder Richards gives to that "no!" This is one of the times when no transcription, nothing but an original, or at least a detailed image of the original, can tell the whole story.
.
.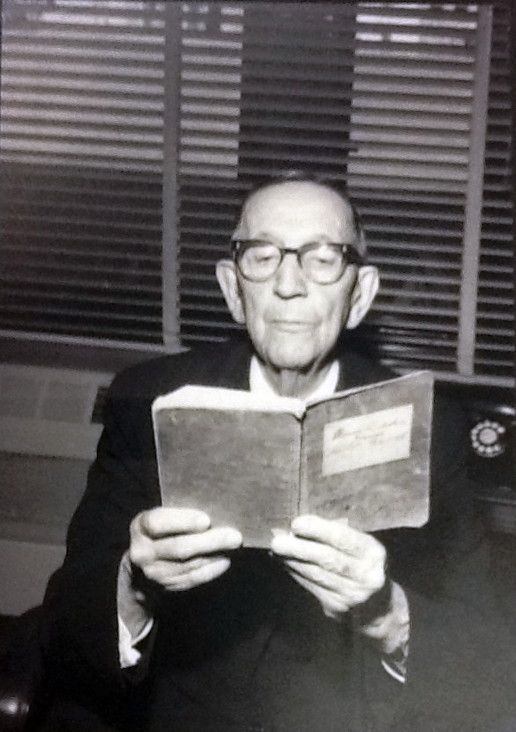 Another item is the diary kept by Thomas Bullock on the pioneer trail in the summer of 1848 (accompanied by a 1965 photograph of Assistant Church Historian A. William Lund, reading that very diary). This item has such personal significance to me that I teared up when I first saw it. It records the death of my convert grandmother, Martha Turner Taylor – the only place I know of where her name appears in contemporary Church records. And there it is, separated from me only by a piece of glass.
Many visitors use the Church History Library in family history research. The exhibit devotes an entire showcase to illustrating how the work of the Church Historian can benefit family historians.  The curators have chosen an almost random member of the Church, Carl Madsen Bradt, a Danish convert, and located records within the collection that document his life: branch membership records, ward and mission histories, a missionary certificate, photographs, and a short autobiography  donated by someone who wanted to be certain that this man was not forgotten by the Church, and that his life story would be preserved for descendants, no matter in what branch of the family. (Do you have similar materials to deposit in the library? Have you mined its collections for treasures of your own family history?)
The exhibit includes archival treasures beyond the written word, beyond photographs. At the back of the reading room, the staff has staged an exhibit of some of the devices that have captured the sounds of Church history, from wax cylinders and wires through magnetic tape and on to digital media. Next to that display is a monitor displaying images of figures from the Church's past … accompanied by the voices of those very people. We hear Wilford Woodruff recording his testimony "into a talking machine." We hear Spencer W. Kimball, speaking as most of us never heard him, before his vocal cords were removed, and we hear the gravelly voice that was miraculously restored to him in later years. We hear J. Golden Kimball's distinctive voice in a funny moment in his only talk known to have been recorded.
And we hear Heber J. Grant singing "Oh, my America…" from "The Flag Without a Stain" – when you've heard the story as often as I have about how he practiced and practiced and practiced to learn to carry a tune, hearing that recording is electrifying.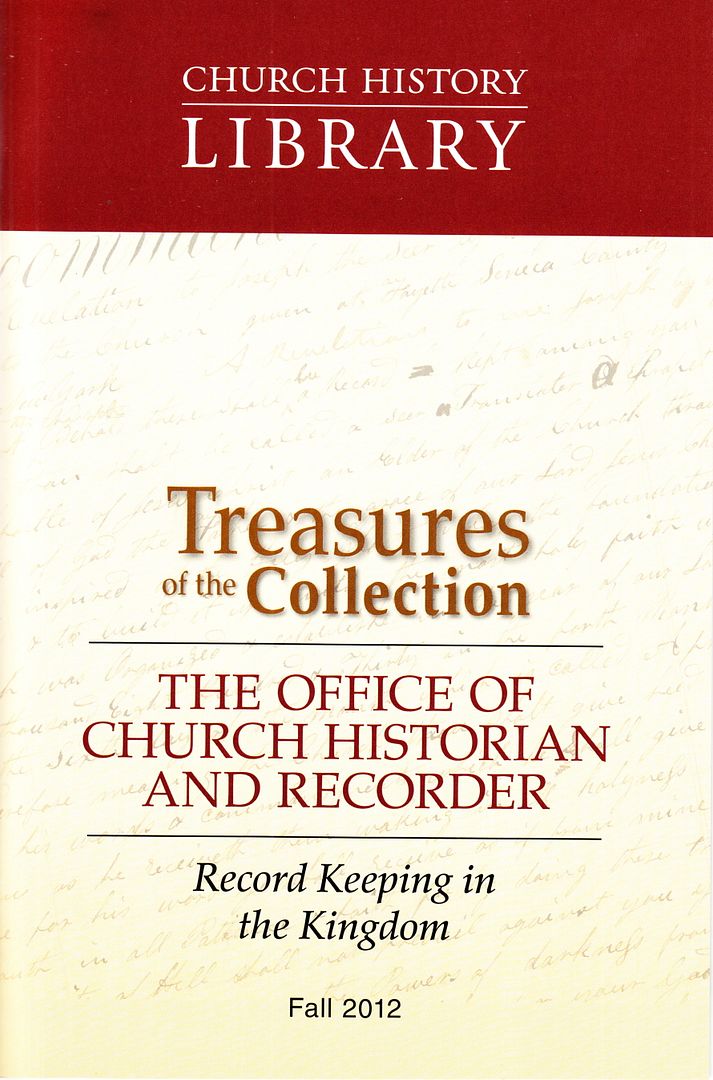 I can't end this review without commenting on the printed guide to the exhibit. It is wonderful, a thing to be preserved in my personal research papers. As you would expect, it provides a descriptive paragraph for each item on display, allowing the visitor to take a self-guided tour and linger as long over each object as she wishes.
But it's not only practical, it's beautiful. There are several black and white, and several color, images of relevant scenes. Along the bottom of most pages runs a timeline, marking selected Church and world events, primarily indicating the tenure of the various Church Historians in this dispensation. It's a very effective visual representation.
.
.
And it's not only practical and beautiful, it's a valuable record: At the back, in page after page (interspersed with photographs of the various buildings that have housed the Church Historian), there is a record of those Historians, with photograph and a brief statement of key official events and achievements, from Oliver Cowdery on through to our recently called Church Historian, Steven E. Snow. This material also clarifies the roles played by men whose callings came with varied titles: In the instance of Leonard J. Arrington, whose status is often, and mistakenly, discussed in the Bloggernacle, he is acknowledged as Historian, and his administrative position in the tangle of archivists, librarians, and managing directors is spelled out.

I know it's last minute, if you haven't heard of this exhibit before now. And I realize it's one more thing that is available in Salt Lake City but denied by distance to those of you who live elsewhere. But if you are near enough, if there's any way you can make time to visit before 5:00 this afternoon, you won't be sorry. You'll be inspired by this exhibit and by your Church's history, and you'll see, up close and with virtually no barrier, some treasures that are worth the effort to come.