Specially written for Pioneer Day 2012, this is the second post in an occasional series, "A Slave in Zion." The first was about Marinda Redd Bankhead, and today's post is about one of the pioneers in the original 1847 Brigham Young Company.
When John Crosby died, four male slaves were named in the settlement of his estate, "Philliman, Osea, Hardy and Hark." [1] One of John's descendants wrote that before Hark was born, his mother, Vilate, heard a poem about "Hark! the Lark." She liked the sound of it so much that she named her son after the poem. [2]
Hark was given to John's daughter Sytha Crosby and her husband William Lay when they married. Sytha joined the Church of Jesus Christ of Latter-day Saints in Mississippi along with most of her extended family, but her husband did not. Despite the fact that William Lay was never baptized a member of the Church, he and Sytha set out to join the Saints and settle the West along with their relatives, the Crosby, Thomas, Brown, and Bankhead families, and their many slaves. [3]
The families planned to cross the plains in 1848. They sent four slaves ahead with Sytha's brother-in-law, John Brown, to prepare a home in the west. The slaves were Hark Lay, Oscar Crosby, Henry, and Jacob. [4] Henry and Jacob died in the bitter conditions of the winter of 1846-1847, leaving just Hark and Oscar to start out with the very first company of Saints to cross the plains under the direction of Brigham Young. Also along on that historic trek was another slave, Green Flake, who would later marry Vilate Crosby's daughter, Martha. Green was a baptized member of the Church. Were Hark and Oscar as well? One source says that Hark was baptized in Mormon Springs near the family home in Mississippi, but no church records seem to exist of either Hark or Oscar joining the Church. [5]
What was Hark like? As one of the advance party, he was probably a large, strong man. William Crosby wrote in 1851, "Hark is a good boy and will do right I Believe." Amasa Lyman, Jr., who was a young boy when he knew Hark, remembered decades later, "Hark Lay belonged to William Lay. Hark was always hard to manage. He died in California." Hark didn't die in California; Oscar did, and Lyman could have been mixing up the slaves. Kate Carter recorded, "[Hark] had a beautiful singing voice, giving freely of his talent. He must have been associated with Brigham Young, for history records he showed great kindness to the President's children." Carter's source for this anecdote could have been confusing Hark with Green Flake. [6]
A handful of anecdotes exist about Hark, Oscar and Green during the trek west. Diaries mention the slaves providing game (a prairie dog in Hark's case), standing guard, and going ahead in Orson Pratt's advance party to help find a road into the Salt Lake Valley. They entered the valley several days before Brigham Young.
The three slaves immediately set to work planting crops and building homes for their owners' arrival the next year. Sometime in the first couple of years the families and slaves moved with the converts from Mississippi to an area called Amasa's Survey, about ten miles from the main pioneer settlement.
The Mississippi Saints hadn't been in the Salt Lake Valley long before they set off on the next adventure, establishing a settlement at San Bernardino, California. In the meantime, Hark had married a slave belonging to one of the Bankhead brothers. [7] Sytha Lay's brother, William Crosby, sent a letter to Brigham Young asking what to do about Hark's wife, since the Lay and Crosby families were going to California, but the Bankheads were remaining in Utah and wanted cash for Hark's wife. William Lay did not have the cash to purchase another slave. In a return letter, Brigham Young suggested that the Lays take Green Flake to California instead and leave Hark with his wife. No solution was found and the Lays took Hark to California. Perhaps the forced separation from his wife is among the reasons that Hark stopped using the name "Lay" and took the name "Wales" instead.
Not much is known about Hark for the next couple of decades. He gained his freedom when he entered California since it was a free state and the Supreme Court had not yet handed down the Dred Scott decision. He remained in California after most of the San Bernardino settlers returned to Utah.
Sometime in the 1870s, Hark returned to Utah. Mining notices in 1875 and 1876 show him working in the canyons above Salt Lake City with Green Flake, Green's son-in-law, George Washington Stevens, Daniel Freeman, and Miles Litzford. [8] The men operated several mining claims in the Big Cottonwood Canyon Mining District: Union Blue Lode, Abraham Lincoln Lode, Wales Lode (named after Hark), O. K. Lode, and Poor Man's Friend Lode.
An 1879 Salt Lake City directory shows Hark Wales living in Union, with his occupation listed as farmer. When the census taker came around in 1880, Hark was boarding with Green Flake's daughter, Lucinda Flake Stevens, and her family. Hark Wales died sometime in the 1880s. [9] He is buried in an unmarked grave in Union Cemetery, row I, grave 12.
.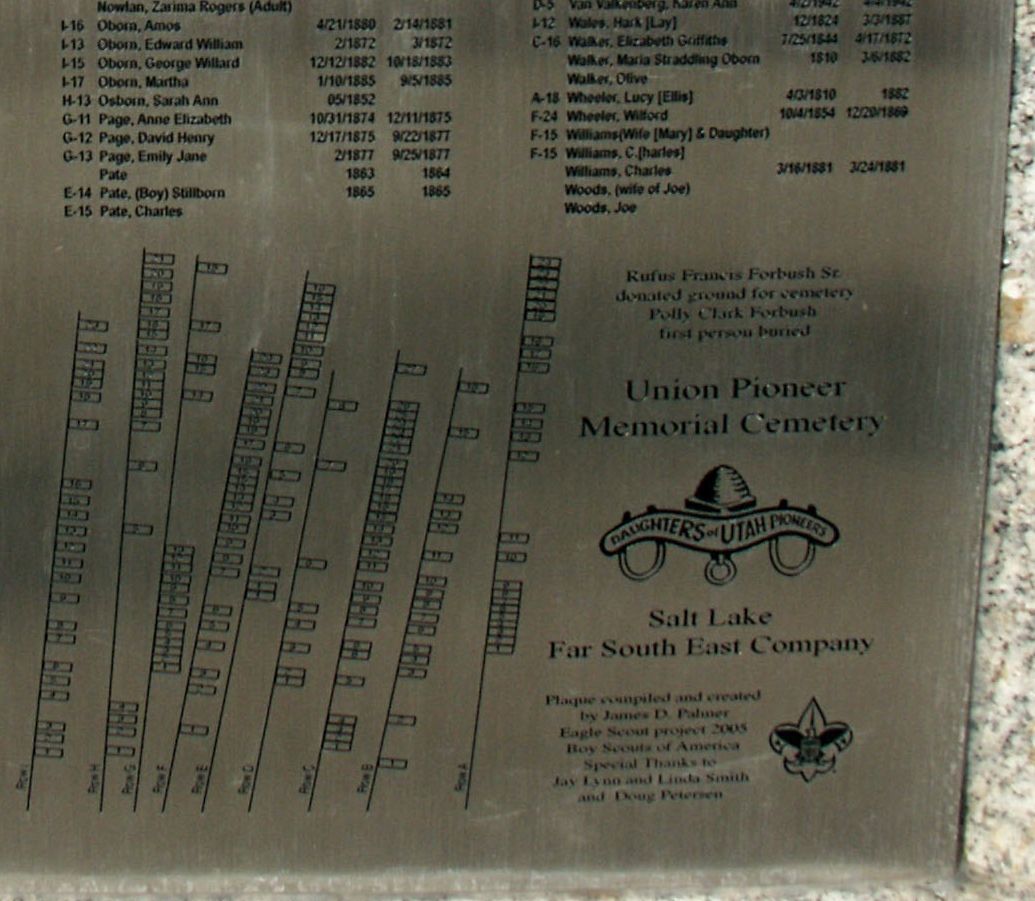 .
__________
[1] The Lay family history, Southern Grace: A Story of the Mississippi Saints (1995), is written in the style of historical fiction and does not have any footnotes, so it's hard to judge the accuracy of the following statement about these four slaves:
John [Crosby] was gifted with independent ways and a spirit of enterprise and soon his plantation produced field crops on 1400 acres of rich Mississippi land. He, also, produced seed for a human crop – he ran a stud service. John was especially proud of his four "bucks," Valued well above the nine-hundred dollars a "regular" slave would bring on the market, the four were of great worth. He was able to charge high stud fees for their use and with the money continually add to his acreage. They were of top quality – tall, well-muscled and intelligent. Granted, they were almost too intelligent, for they sometimes forgot their place, but he kept them under control. He was also proud of the status this gave him in the community, for he was greatly admired by his peers.
[2] First, no source is given for the story about how Hark got his name; it could certainly be true, but the name Hark shows up regularly, if infrequently, throughout the South. Second, the information about Hark being Vilate's son seems to trace back to an interview by Dennis Lythgoe with Lucille Perkins Bankhead in 1966. Could it be possible that she meant Oscar Crosby rather than Hark Lay? The possibility that Hark is not Vilate's son suggests an identity for Hark's unnamed wife as mentioned in the Crosby-Brigham Young correspondence (see footnote seven). Is there any unpublished documentation about the relationships within the Crosby-Bankhead slave families?
[3] The extended Crosby family owned many of the black slaves originally taken into the Great Salt Lake Valley. It is an ongoing challenge to track down the identity of each slave, but here is my current list. Some of the slaves are listed more than once. The widowed mother of the clan, Elizabeth Coleman Crosby owned Edy, Mary, and one other unnamed slave. Oldest son William Crosby and his wife Sarah Harman owned Vilate, Toby, Grief Embers, Oscar Crosby, Nelson, Mary, Henderson, Rose, Nancy, Samuel, George, and Martha [Crosby Flake]. Daughter Ann Crosby and her husband Daniel Thomas owned Philemon, Tennessee, and Toby. Sytha Crosby and William Lay owned Hark, Thompson, Harriett [Embers], Knelt, and Lucy. Daughter Elizabeth Crosby and her husband John Brown owned Betsy and Henry, who died crossing the plains. Nancy Crosby and her husband, John Henderson Bankhead, owned a number of slaves together with John's brother George Bankhead: Sam, Nancy, Alex, Thomas, Nathan, Susan, Miriam, Sam, Rolly, Howard, Dan, George, George Nathan, Rose, Ike Valentine, John Priestly, Dan Freeman (born in Utah), Lewis, and Jacob, who died at Winter Quarters.
[4] The slaves generally took the surname of their owner. If Hark was Vilate's son (see footnote 2), Oscar could have been his brother or half-brother.
[5] Albert Rockwood's diary written during the pioneer trek says that Oscar and Hark were not members, but he noted the same about Green Flake, and Green was definitely a baptized member of the Church.
[6] The Lay family history characterizes Hark as follows:
At twenty-two he was in his prime, tall, straight and muscular. He loved music and could usually be located by following the sound of his clear and mellow voice as he sang while he worked. His feet were quick to dance and his eyes sparkled with love for life. He was sensitive and emotional, as artistically inclined people are prone to be; but he responded well to Billy [William Lay]'s quiet voice and calm demeanor and they enjoyed working together.
How much of this is actual family memory, and how much is extrapolation from the DUP account?
[7] There are three possibilities for the identity of Hark's wife. Hark was listed as 26 years old when the 1850 [1851] census was taken as preparations were being made for the San Bernardino settlement. His wife could have been Nancy, age 27, or Mir[i]am, age 17, listed with the Bankhead family in the same census. There is also a possibility that his wife was Rose. Rose is generally thought to be Vilate's daughter, which could make her the sister or half-sister of Hark, Oscar Crosby, and Martha Crosby, the wife of Green Flake. However, much of the reconstruction of this family seems to be based on memories from about a century later, and perhaps Hark was incorrectly identified as Vilate's son.
Rose crossed the plains with Vilate and the Crosby family, but the DUP publication The Negro Pioneer lists her as a member of the Bankhead family. When the census was taken as the Crosbys and Lays were leaving for California, Rose (age 19) is listed with the Crosby family in Utah County, but she is also listed (age 20) as living with Vilate Crosby and Green Flake in Salt Lake County. I have previously puzzled over why she is listed twice. Extended negotiations over whether the Bankheads would allow her to go to California, and Brigham Young's note about the Lays taking Green Flake to California instead of Hark, could potentially explain why she was listed in two places.
If Rose, listed in Utah County as going to California, was indeed Hark's sister rather than his wife, did she actually go to California? I don't know. I have not been able to find her in the 1852 California census, but there is an illegible entry (row 43) on the same page where Hark is listed, for a black woman, under 21 years old, born in Mississippi:
.
.

If Rose was the wife that Hark had to leave when he went to California, then Dan (Bankhead) Freeman could be Hark's son. If Rose was Hark's sister or half-sister, and his wife was Nancy or Miriam, then Dan Freeman was his nephew. In either case, by the time Hark returned to Utah from California, Rose had married Miles Litchford or Litzford and had a large family.

My personal opinion is that Hark was not Vilate's son. Rose was Vilate's daughter. Hark and Rose were married, and Dan Freeman was their son. I would be happy to see any additional data that could help confirm or disprove this theory. And it is a theory; I would regret having their names submitted for temple work based on these speculations.

[8] Hark was probably related to all these men in some way or another. See footnote seven for a musing about the possible relations.

[9] Various sources such as Andrew Jenson and Utah burial records state that Hark Wales died in 1881, 1887, and 1890, but I haven't found any records about him after the 1880 census, so the earliest date is the most likely.