J. Wilford Booth served three missions to the Turkish Mission (renamed the Armenian Mission, and later the Palestine-Syrian Mission, and still later the Near East Mission). His contemporary accounts of his service there are some of the most fascinating mission reports I've ever read. The one below, written in 1922 is unusual in that he tells the stories of several individual Church members and even provides their photographs. I'm reproducing it here in his words.
Aleppo Sunday School
.
"First of all, we offer thanks unto the Lord that our lives have been spared through the past war and calamities that have taken so many millions of our Father's children away from the earth. We are mostly women and children. Our fathers, husbands and brothers are not all with us today, for many of them have either been killed or died of hunger and suffering, as they were deported down through the hot sands of the Mesopotamia, a few years ago. Ah, some of our mothers and sisters, too, were taken along with that suffering multitude, and only a very few lived to return.
"Some, we fear, are down there yet as slaves in the homes of the cruel Arabs – for the Arabs were more cruel to them there, than were the Turks, who drove them from their homes in Armenia."
That is about what this crowd would tell you if they could speak to you through this picture. But they could tell you a lot more, also. You would fairly shudder and turn sick at heart to listen to some of the stories they tell of the terrible days they have seen.
About twenty-five hundred years ago there was a grand deportation of Jews from their homes in Jerusalem to the Mesopotamia valley. Will you pause right here, now, while you open your Bible and read these passages: II Kings 15:1-7; Daniel 1:1-7; Ezekiel 1:1; Esther 2:4-7; Psalms 137. Now turn to your maps, at the back of your Bible, or to a geography, and look for the map of Mesopotamia. Near the intersection of Long. 40 E. and Lat. 35 N., you will see a little river flowing into the Euphrates. Did you notice what Ezekiel, the prophet, said in his opening verse? "I was among the captives by the river Chebor" (now spelled Khabour). That is the same stream. Daniel was farther down at Babylon, and Esther, a little orphan, at Shushan, away beyond the Tigris river. So you see how they were scattered among their captors. And no wonder "they hung their harps upon the willows" for they were sad and songless, "in a strange land," among a cruel people. Thousands of poor Armenians have recently met a like fate, and among them were several of our Church members. One in particular, who is also in this group, has a most touching story to relate of her three years captivity.
Yeranic
.
Her name is Yeranic. Twenty years ago she was the little black-eyed, four-year-old pride of the Aintab branch; and like Esther of old, she grew up with strong faith in the power of God to save His people when they cry to him for help.
While only a girl-bride of sixteen, Yeranic was taken with the poor unfortunate exiles, east to the great river Euphrates and with hundreds of others slowly rafted down the winding stream for days and weeks to the same uninviting climes, where the Jews had passed their seven decades in bondage under the Babylonians, of which you have read in the verses cited above.
When the latter-day captives reached the famous town of Deir, near the junction of the Khabour and Euphrates, our little heroine was separated from her young husband who was taken with three hundred other Armenians, bound together and forced to march over the hills out of sight of the multitude and there they were all cruelly shot to death. Yeranic was no longer a girl-bride, she was a little orphan-widow, and as she wept in her solitude she was taken across to the banks of the Khabour right where the prophet Ezekiel had spent his days of sadness and there she, too, poured out a flood of tears and longed almost each day for death, so cruel were her masters in their brutal treatment.
For three long years her life was one continuous course of suffering, as she toiled on amid the filthy scenes of Arabian life, knowing no day nor date, for Sunday there was no more sacred than any other day. At last she saw an opening and made her escape. She fled in the early morning hours and was rescued by some friendly Turkish soldiers, and finally landed back in Aintab, her native town, but there was not a near relative left in all the city. Now she has found one brother here and learned of two others still alive.
Elisa
.
Now look at this girl. You can't see the sweetness of her character in the picture else you would love her at once. She makes Turkish rugs and her nimble fingers move over the strings of warp with the dexterity of a skillful harpist. Her name is Elisa. She will not try to deceive you about her age, for she knows that I know when her birthday comes. On Dec. 23, 1899 her father came to the Mission house with the joyful news that a little girl had been born to them that morning, and he invited me to come and have supper that same evening. I went and lo! the mother sat up and ate supper with us. Elisa was more retiring.
It would fill every page to tell you even in brief the story of each of these Sunday School pupils.
Very few people in this country can tell when they were born, so the young ladies can easily conceal their ages. One girl who was fifteen when I came here in 1898 – 23 years last December – says now that she is 28 years old. At that rate she will be thirty in 1925!
Now look again at the group. That tall man straight above the little boy with the paper before him, is Hagop Bezjan. He was with the Turkish army at Ramoth-Gilead beyond Jordan when General Allenby captured that city – now know as Es Salt – about four years ago. The second man to his right is Moses Hindoian. He was a prisoner of war in Egypt for more than a year but he says he was treated well by the British army and was allowed to hold meetings where he preached the Gospel to hundreds of his comrades.
These Saints are mostly from Aintab. Last December there was a great fear and dread of another massacre in that city and surrounding district and in answer to earnest prayer the writer was inspired to take the proper course to rescue the Saints from such a fate. By request, General De La Mathe of the French army issued orders for 53 passports for all the Mormons to come out of Aintab, and also ordered the officials to assist me in getting them to Aleppo.
Lieut. A.P. Guitton
.
Lieutenant A.P. Guitton, in charge of the convoy, with whom I traveled, furnished food, bedding and protection for me and would take no pay at all. He told me much of the horrors of army life.
Convoy to Aintab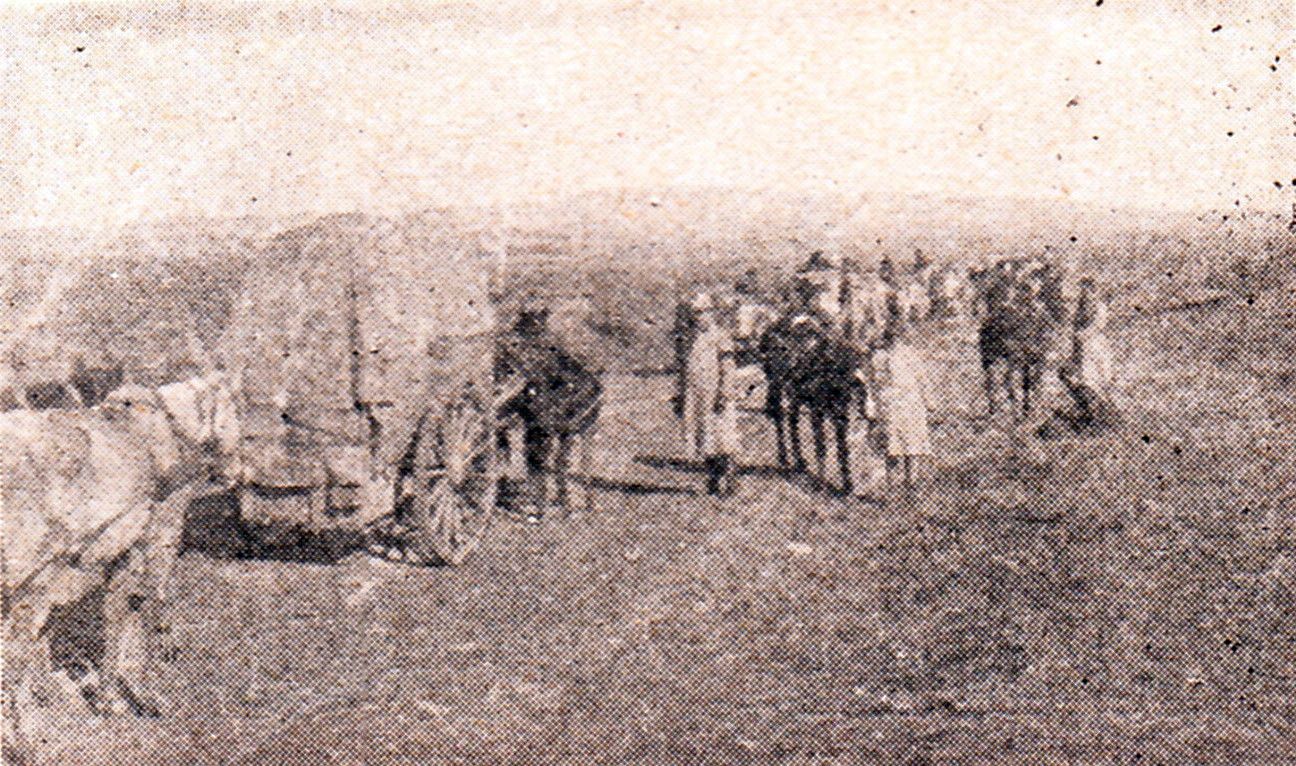 .
The picture shows the convoy on their way to Aintab. The big covered wagon is the one in which I traveled, and slept at night. In a few days we were all safe in Aleppo, as you now see us in the first picture.
Many of these in the group are wearing coats and suits sent to them by the good people of Provo, when the writer left there last September. They wish me to thank them all for those valuable and timely articles; for the cold weather was here just as the clothing was handed to them. There are many suits yet on the way but we expect them here soon.
Herepsima
.
Wages are low. The girl Herepsima works at needle work for 10 cents per day. Good strong men at manual labor can earn only from 30 to 60 cents per day and food is almost as high as it is in America. Meat and potatoes are dearer here than there. Coal is $60 per ton and woo $30, for a small load; so poor people have little fire. Work is very scarce and there is much suffering among the poor.
Gathering Firewood in Aintab
Elders David O. McKay and Hugh J. Cannon at right
.

The Near East Relief workers are doing a great deal of good but they cannot reach all the needy among the starving millions of the world. Almost every day I share my meals with some poor, hungry souls. Our Saints are very grateful to the Americans for what they have done for them. And they are also thankful to the Lord for all His goodness to them in their distress.

J.W. Booth,
Aleppo, Syria