This installment of the 1929-30 manual wraps up the psychology, and outlines how the Vanguard program fits into the organizational map of LDS wards and stakes.
Vanguards and Scouts in the L.D.S. Church
Yes, that same lad who stood so loyally by us through three years of scouting becomes cooled in his fervor for the program that has thrilled him up to this time. We suddenly find that he has not re-registered with the troop and that he is indifferent to our appeal to get him back with us again. He often appears as if he were a stranger to us and had taken on a new love elsewhere. If we study him fairly we shall find that he still has interests and that he is made of the same fine stuff that we recognized so clearly when we knew him at twelve. Ah! there is the answer: He has learned a new language of expression and has become nearer to the man. We remember him only as the boy we first met, and we talk to him in the language of a boy. We are startled at his indignation when he refuses to be 'classed along with the kids any more' or to 'do things that only kids do,' as he expresses it. Scouting has last none of its virtue for the lad of twelve to fifteen; but this lad has used the program of Scouting as a stepping stone, has grown rapidly because of the experiences gained therein, and now craves and demands newer and more vigorous experiences. Let us examine him more closely as he appears at fifteen.
At twelve he looked with awe upon the man who led him; at fifteen he wants to be leader, and he will resent any leadership imposed upon him without his consent. His imagination was at its height when he became twelve; but at fifteen he lives in a world that is real. he wants a real job, a real automobile, a real hike, a snappy suit of clothes; and he cannot imagine things that are not real. At fifteen he is often mistaken for a skeptic because he demands proof for everything, rather than to take it for granted as he did at twelve. He wants to know the reason why in every proposition. for instance, he is told to live the word of wisdom, that the Sabbath should be observed, or that gambling is sinful; but unless he can be shown good reason for either of the requests made, he is likely not to feel obligated to comply. At twelve his conduct was ruled by the group whereas at fifteen his own ideals are taking definite shape, and the power of the group has somewhat lessened. While younger he was interested in things that moved and made a noise. In nature, things that flew, kicked, squealed or stung were his primary interests; but now he wants to know why and how it all happens. Formerly he observed; now he analyzes. Girls have no place in the world of a twelve-year-old boy, for at that age the sexes are antagonistic; but the boy of fifteen will be found asking for the car to take his girl friend for a ride, or attempting awkwardly to make himself attractive to the young lady now beginning to come into his experience. The age of his companions was not of great importance to our younger friend. Today he feels that his pride is offended if he is expected to associate with younger boys now that he has reached the advanced age of fifteen. With the older lad the sense of ownership is keen and he craves things that are all his own. In practically every trait he is divorced from his younger self, and we must give him special treatment if we expect to hold him.
Vanguard – Scout – Quorum Relationships
In like manner, the organization of the younger boys' Priesthood quorums is of such a nature that a new arrangement of activities becomes imperative. Boys become Scouts at the same time, or at least at the same age, that they receive the calling of a Deacon in the Aaronic priesthood. The activities of Scouting and the spiritual duties outlined for the Deacons supplement each other in a remarkable manner. The boy becomes older, is ordained a Teacher, and is immediately privileged to associate with the members of the quorum, all of whom are older. He does not now find it so agreeable to enjoy his activities with Scouts, whoa re only deacons, as he did before his advancement to this higher appointment. He is changed in nature and also in position and he therefore must have an activities program that is distinctive of the group he is with. With these older boys, Scouting must be modified considerably before it can adequately supplement the Teachers' quorum work.
Stake and Ward Overhead Organization
The set-up of organization for the supervision of the Scouting and Vanguard program within the stake and ward is a very simple one and one that is powerfully effective. Perhaps no other institution sponsoring Scouting is so well adapted for efficient work in these fields as is the L.D.S. Church. This is especially true since the Scouting and the Vanguard programs through the M.I.A. organization, have been made the activity program for the Deacons and Teachers, and since the valuable leadership found in these fields has concentrated its efforts on a correlated program. The following type of organization is recommended for adoption since its phenomenal success has been proved in the stakes under the jurisdiction of the Cache, Ogden Gateway, Salt Lake, and Timpanogos Scout Councils in Utah.
Stake Organization
Under the leadership of the stake High Council is a committee of men acting by appointment from the Stake Presidency and known as a committee on Aaronic Priesthood. One member of this group is designated as chairman, and each member of the committee accepts special assignments for priesthood activity, which must be carried on through the Bishopric of the various wards. The members of this stake assigned to groups, function as a committee through a special aaronic priesthood committeeman appointed by the Bishopric of the ward, the chairman of this ward committee to be known as a supervisor of the Aaronic Priesthood within the ward. By this ward committee class leaders are appointed for leadership in the various quorums and with the exception of ordinations, which are always under the direct supervision of the Bishopric, they have full charge of the lessons, activities, and assignments carried on by the quorums. The duties of all the men involved in the quorum programs are specified in the instructions issued from the Presiding Bishop's office in a recent bulletin.
Aaronic Priesthood – Y.M.M.I.A. – Scouting Plan
Showing Inter-relationships of the Aaronic Priesthood,
the Y.M.M.I.A. and the Boy Scouts of America.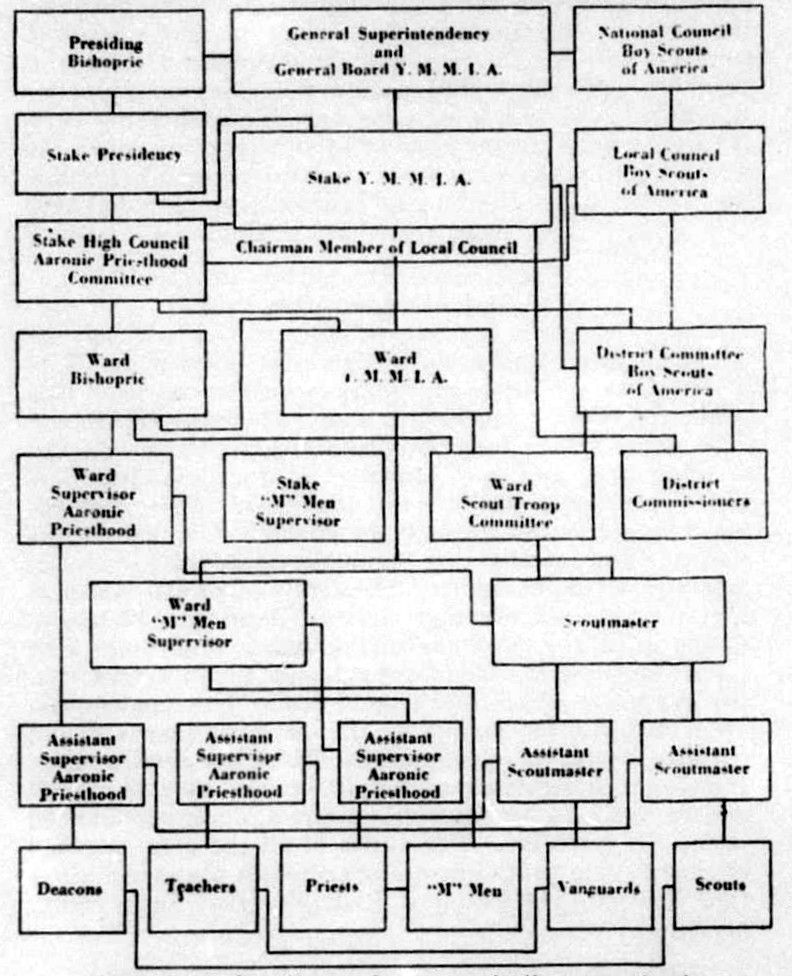 Lines entering boxes from top indicate authority or supervision. Lines entering from the sides indicate association or cooperation of groups or individuals indicated.

District and Troop Organization

All of the Scouting activities within the area served by a Local Council of the Boy Scouts of America come under the direction of that council in co-operation with the local institutions sponsoring troops of scouts. The council is divided into districts for closer supervision and service; and in communities where the L.D.S. troops predominate, these district boundaries correspond to stake lines. A district committee is set up to serve the troops within the district. Each council is distinct in its policy on district organization, but a typical organization may appear as follows:

District Chairman – General supervisor and Member ex-officio of all committees. Member of Council Executive Committee.

Vice Chairman (one or more) – Assigned as advisors to committees.

Secretary – Records minutes, conducts correspondence, etc.

District Scout Commissioner – Is chief scoutmaster of district. Visits troops, conducts scoutmasters' round table, is secretary to Court of Honor and member ex-officio of all committees. He also represents the Scout Executive within the district.

Court of Honor Committee – Appoints and instructs examiners for First Class and Merit badge subjects. Conducts regular monthly Board of Review and Public award meeting. Maintains standards of advancement and personal scout conduct.

Finance and Organization Committee (One member is Chairman) – Raises funds for district and council expenses. Supervises district and troop budgets. Organizes new troops or acts as trouble shooters with old troops. Maintains institutional support wherever troops are being administered.

Camping and Activities Committee (One member is Chairman) – Initiates participation in council and troop camping program and maintains national standards therein. Organizes district field days and rallies. Conducts local contests and rating systems between troops.

The personnel of the District committee is made up of one representative from each of the institutions sponsoring troops within the district plus representative men from the various departments of community life. The function of this group is to provide within the field of their various assignments general service to troops.

The Troop Committee

Each institution or ward sponsoring a troop of Boy Scouts or Vanguards is required by a National ruling to appoint a committee on scouting, to be known as a troop committee composed of three or more men who on behalf of the ward will guarantee the success of the troop. The personnel of this committee will be discussed later, but the following statement of responsibility and assignment of duties will prove invaluable to troop committeemen who take pride in the success of their troop.