So much of the Church was inaccessible to Mormon publications and their photographers this year, and so much of what was accessible was in uniform. But normal life went on, too, on the home front.
.
.
.
Pachuca, Hildalgo, Mexico
.
.
.
Barstow, California
.
Latter-day Saints at West Point
(left to right:) Elder Lew S. Harrison; cadets John L. black, Frank Mehner, M.R. Richards, Mose L. Wright, Amos Jordan, Jr., F.M. Leave, Conway Snider, Churchill Wyeth. Captain Glen A. Lee (instructor); Elder William Wale; Captain Marcus Peterson (instructor). (Seven other cadets were unavailable for the photo.)
.
Phoenix, Arizona
Relief Society
(left to right:) Elder C.W. Clements; Sisters Pulver, Gutierrez, Williams, Checuras, Spencer, Alvidrez; Elder F.R. Christensen; Sisters Perez, Spencer.
.
Sedro-Woolley, Washington
Home Sunday School
.

Texas A&M College
(left to right, front:) Mrs. Grant E. Blake, Hilda Shrader, Mrs. R.T. Erickson, Mrs. Elon V. Smith, Mrs. Jessie Kirkpatrick, Michael Kirkpatrick. (second row:) Dr. Jessie Kirkpatrick, Lynn Gray, Maynard M. Dye, Hugh F. Mills, Elon V. Smith, Leland Larsen. (third row:) A. Marion Smith, Kenneth Palmer, Merel Fairchild, James Shaw, Elder James F. Chandler, Elder Vee J. Koyle, Larry Wilcox. (fourth row:) Robert G. Nunn, J.O. Brockbank, Robert E. Hughes, Elton Dyer, Eugene Ferguson.
.
South Ogden Stake, 28th Ward, baptism temple excursion to Salt Lake
Calvin Hess, J. Bushman, Grant Tingey, Shirley Quist, Marlow Taylor, Reg Arnold, Jan Dame, Dee Jacobs, Glenna Corey, Shirley Dean, Margaret harbertsen, Jesse Lyman, Ethel Vernleuw, Georgia West, Clarlean Crittendon. Ralph E. Simpson, ward chairman.
.
Bountiful 1st Ward, Utah, Choir
.
Melba Ward, Nampa (Idaho) Stake
Beet Harvest
.
Inglewood, California
Stake Missionaries
.
Gleaner Girls from Alberta, Taylor, and Lethbridge Stakes (Alberta)
In Calgary attending school or serving in the Canada Woman's Army Corps
"Camaraderie Night," Calgary Ward Chapel
.
Pleasant Green, Utah
Honor Bees
(left to right:) Lucy Mae Woolley, Betty Lou Shafer, Farrell Slicox, Naleen Pollock, Nola Clark, Leta Wright, Dorothy Spencer, Barbara Nielsen, Beverly Johnson, Alice Johnson
.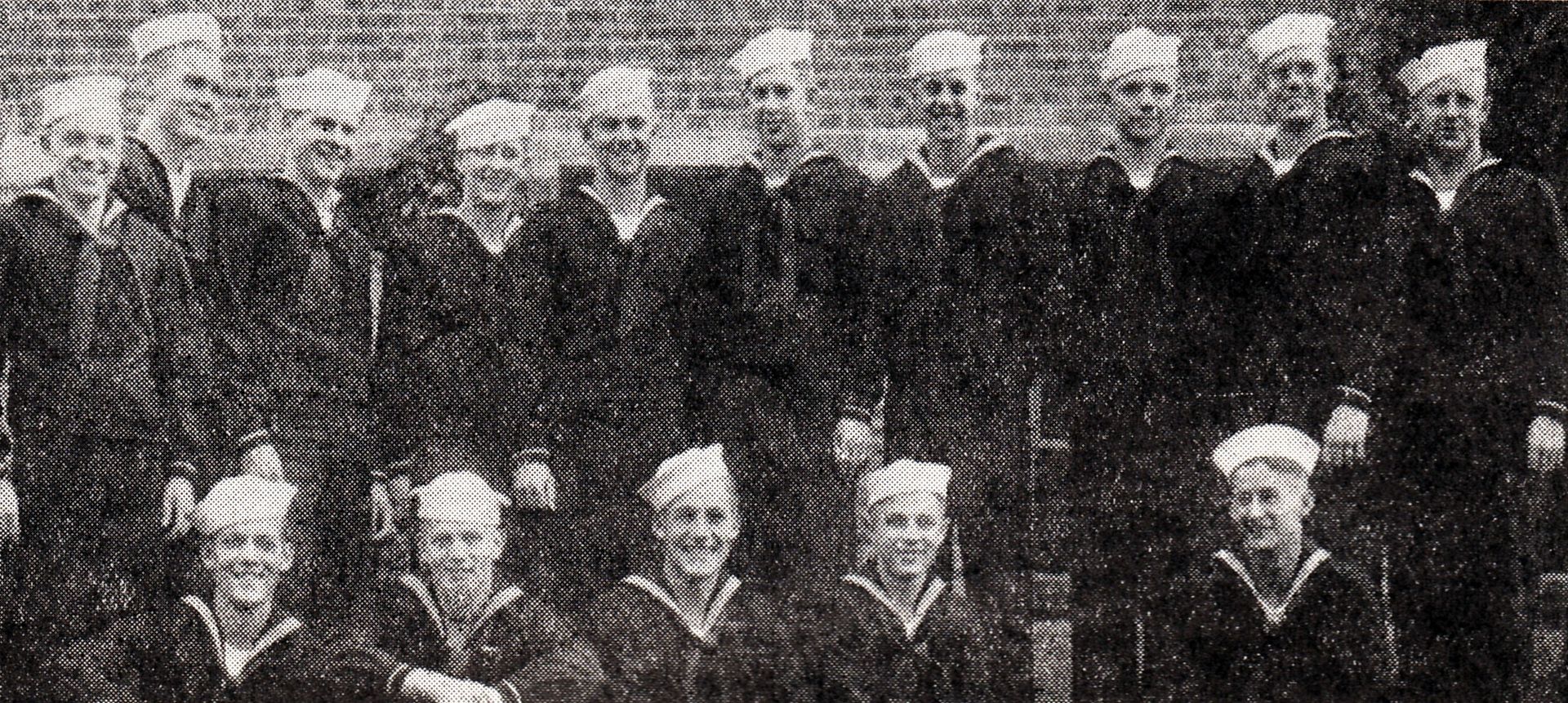 LDS Men of the Naval Reserves, University of Dubuque, Iowa
(left to right, front:) Jack ord, Baker, Oregon; Eric O. Sonnenberg, Chicago, Illinois; W. Reed Brockbank, Warren Rupper, and Rand H. Clark, Provo, Utah. (back row:) H. Holling Lowe, Preston, Idaho; Malcolm Jeppson, Mantua, Utah; Robert de Preston, Logan, Utah; Henry Smith, Price, Utah; George N. Weston, Laketown, Utah; Wilbur Jensen, Franklin, Idaho; Clyde C. DeGraff, Heber, Utah; Wendell Roskelley, Smithfield, Utah; Warren Hardy, Gunnison, Utah; Jack B. Watkins, Brigham City, Utah.
.
Jacksonville, Florida
Sisters Who Completed a Twelve-Weeks' Red Cross Course
(left to right, front row:) Adeline Chase, Mrs. R.J. Rudd, Jr., Isabel W. Bowles, Nellie Dyal, Vella Strickland. (second row:) Mrs. Heber Meeks, Mrs. A.O. Jenkins, Elsie Starling, Mrs. N.S. Sellers, Mrs. R.J. Rudd, Sr. (back row:) Edna Kirland, Thelma Bonham. (Sisters not present at picture time:) Minnie Dills, Lucille Copeland, Mrs. Hammond, Mrs. Kinard, Hazel Jacobs, Mrs. Yorkum, Mrs. Wilson, Ruth Atkin.
.

Camp Howze, Texas
Pioneer Day Celebration

(left to right, front: Dale Blood, Kingston, Utah; Mrs. Blood; Mrs. Velma Sykes, Fairview, Utah; Mrs. Wilma Strasser, Meridian, Idaho; Mrs. Edythe Fairbanks, Burbank, Cal.; Mrs. Gladys Reed, Akron, Ohio; R.F. Pool, Jr., Mrs. R.F. Pool, and Miss Sarah Pool, of Dallas, Texas; Mrs. Milton Young, Emery, Utah; Mrs. Kenneth Reed, Akron Ohio; Mrs. M. Bernstein, Milwaukee, Wisconsin. (second row:) Charles W. Myers, Philadelphia, Pa.; Glendale Mouritser, Draper, Utah; E.S. Munson, Idaho Falls, Idaho; Joseph Kozak, Philadelphia, Penn.; George Gooch, Ogden, Utah; Arnold Durtschi, Driggs, Idaho; Wallace Nielsen, Salt Lake City; Milton Young, Huntington, Utah; Kenneth Reed, Akron, Ohio. (third row:) Glen Stuart, Woodruff, Utah; Diamond Bastion, Loa, Utah; Marvin Hansen, Ogden, Utah; Francis Hulet, Wendell, Idaho; Laurence Henry, Salt Lake City; John Stratling, Mesa, Arizona; Thad Wasden, Scipio, Utah; Merrill Draper, Fremont, Utah. (fourth row:) Martin Bernstein, Milwaukee, Wisconsin; Arthur Nokleby, Salt Lake City; Lynn Hansen, Monroe, Utah; George Strasser, Mesquite, Nevada; Acil Petty, Cedar City, Utah; King Udall, Phoenix, Arizona; Eli Sykes, Fairview, Utah; Charles Henry, Rigby, Idaho; Lee Seibert, Canton, Idaho.

.