Kim and Mary Ann Freeman with their young adult children and their ailing father struggle through family and financial problems in 1960s California.
From the Relief Society Magazine, 1969 –
Heart Room for Home
by Alice Morrey Bailey
Chapter 1
As they neared Los Angeles Mary Ann's mind was racing, trying to encompass this new situation in their lives, to fit the care of Kim's father into an already full schedule – Rosemary's wedding and Tommy's graduation in the spring. Taking care of Dad Freeman would have the direct result of her having to break her contract as home room teacher of the Fourth Grade of the San Gabriel school. The year had barely started when they had been called home to Mayville, Utah, at the removal of Father Freeman from the nursing home after his accident three months before when he had broken his hip. Adjusting him with proper care in his own home, where he had lived alone since Mother Rachel died a year ago last June had proved impossible.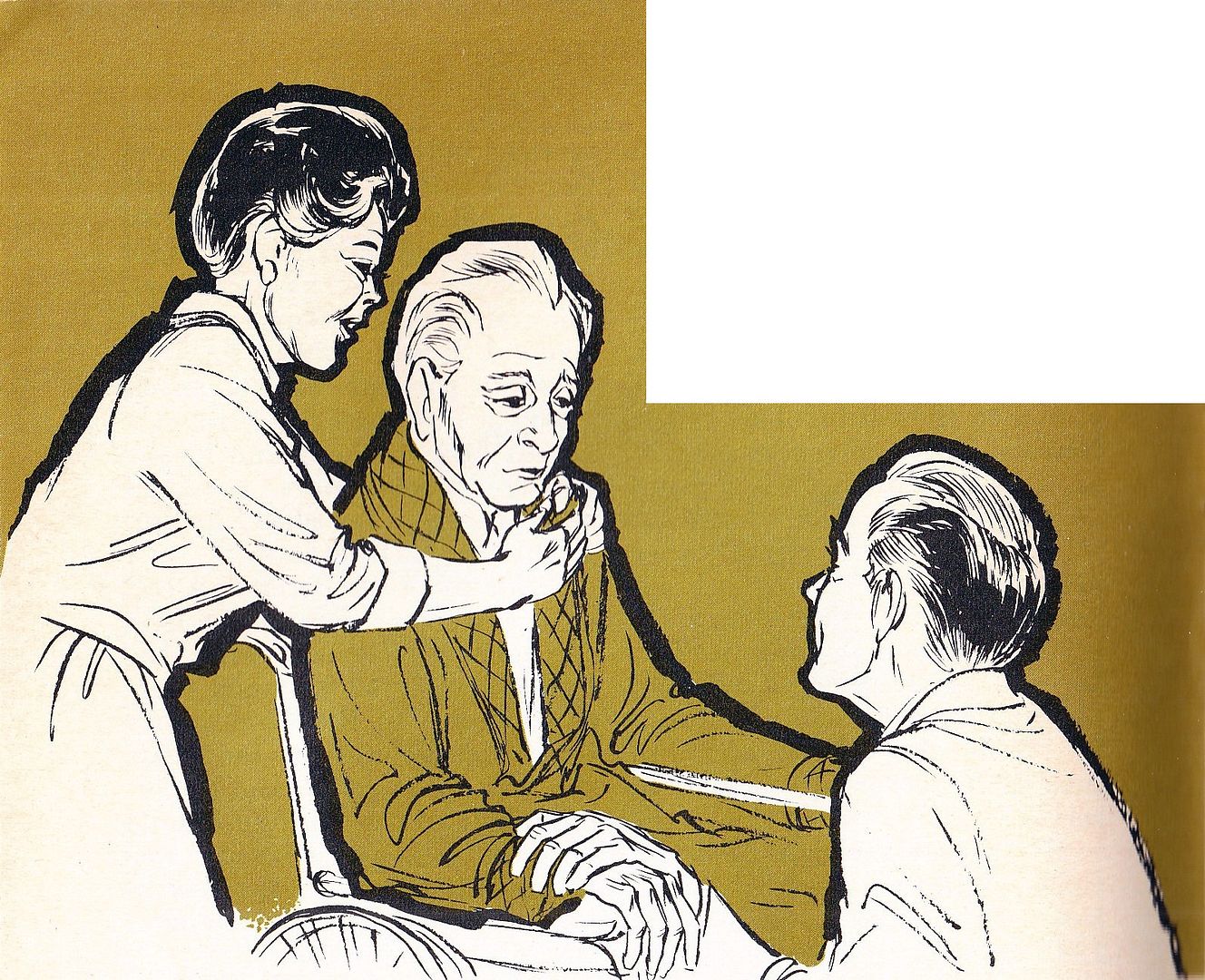 Bolstered by tranquilizers and pain pills he was now asleep in the bed they had made for him in the back of the station wagon. He had been asleep since Las Vegas, and they were free to think of the impact he would make on their pattern of family living. Kim (for Kimberley) seemed remote, the skillful execution of Cajon Pass taking all his ability as they had dropped down into the coast valley through the San Bernardino mountains, but his mind was on the problem, too, as evidenced by his next remark.

"If only it were Jennifer getting married," he said.

"Yes," Mary Ann answered, looking back to confirm that Father Freeman was asleep. He must not know they were worrying already about money.

Jennifer was their unselfish child, never wanting a thing so badly that she would accept sacrifice from others. She had been willing to use Barbara's wedding dress, even though it was out-dated and her sister Barbara was taller than she. Rosemary had already set her mind on a three hundred dollar creation and a reception at the swankiest place in the outer limits of their possibility, bridesmaid dresses that cost at least forty dollars each, and rented tuxedos. She had informed her parents that she expected as a wedding gift at least a new car or a houseful of furniture, they could take their pick.

"You'll have plenty of time to pay it off, since I am the last little bird to leave the nest. Can I help it if I have expensive tastes? By the way, I want sterling silver – not plated, nor stainless steel. I intend to entertain a lot, so I will need service for twelve."

Rosemary was the pretty girl of the family, titian-haired and creamy skinned, with a softness about her that belied the hard little core of her demanding nature. There seemed to be some barrier about her that Mary Ann couldn't break through, though she had thought much about it and tried often.

"I have no intention of working," she had stated flatly, almost belligerently. "I intend to be a homemaker, a full-time mother and wife," and Mary Ann had lauded her for this decision, ignoring the personal thrust of Rosemary's glance.

Mary Ann had started working during the war, when help was scarce and there had been a call for teachers, so many had left to work in munitions plants. Jennifer, who was born in 1935, was in school by then, as were the others, Barbara, ten years older than Jennifer, James and Robert in between. Tommy was not born until 1944 and Rosemary followed soon after, in 1946. When Rosemary was old enough for kindergarten Mary Ann had gone back to teaching to help fill the widening gap between Kim's wages and their family needs. Kim was a highly skilled mechanic in the Metropolitan Garage, but his income would never reach the status of "salary."

Kim sighed heavily without taking his eyes from the freeway, and Mary Ann reached her hand to his knee.

"It's another change, isn't it, Kim? Are you worried? It will split our income right down the middle, you know."

"There's that to think of, too," said Kim. "But it's taking Dad out of his home that I am thinking about."

"Selling it to put him in a nursing home is worse," consoled Mary Ann. "He couldn't stand that."

Selling the family homestead had been the crux of the whole thing. It had been Kim's sisters, Emily Todd and also Francine Grady, who had advocated that drastic move, and the little scene played out in the parlor which had moved her and Kim to take his father.

"I'd take you in a minute, Dad," Emily had said. "But you know how Victor is – never wants me out of his sight a minute. Life would be miserable for you with us."

"I didn't say – I didn't want …" began her father, and Mary Ann had ached with the trembling anguish in his voice. She had been sitting beside the window, ostensibly an in-law aloof from the thinly veiled battle that raged back and forth in the room, with Father Freeman the unhappy subject of this little turgid knot of indecision. Up to them Mary Ann had loved both her two sisters by marriage, but this conversation was bringing out traits which were anything but pretty. Victor Dodd had always seemed to Mary Ann to be a nice, uncomplicated, unselfish man.

"I would, too, Dad, but you know I have my own job," said Francine.

Kim and Mary Ann were overdue back to their own jobs, of course.

"The whole answer is to sell this place," pursued Emily reasonably. "And put Dad into a rest home."

"No! No," protested her father. "I can get along. As soon as I am well, I can …"

"From a broken hip?" asked Francine. "I'm not trying to be cruel, dad, only realistic. I agree with Emily. The place must be sold. There are many good homes with wonderful care, people of your own age as friends, but we'd have to sell the place to keep you there."

"No! No!" Father Freeman was moaning, shaking his head back and forth in negation.

"How can you think of such a thing, France? Emily?" said Kim, echoing the feelings in Mary Ann's heart.

That sweet place! Every red stone of it, every square inch of its building was a product of Father Freeman's loving hands, the lilacs along the rock wall, set there when he had brought his bride to the thick-walled stone house he had built, the weeping willow dipping its long slim fingers in the bright little brook that bubbled from the spring against the hill back of the house, into and out of the pond where even now the ducks were diving in pastoral peace. Dad was more than a little artistic the way he had landscaped the place, with the flagstone walks winding gracefully under the trees and over the arched bridge, by the rustic bench. The stream circled a knoll, with fruit trees, all prize stock, to the garden behind, the corrals out of sight and the acre of lucerne, and the meadow beyond.

It had always been a show place from the first crocuses and violets as early as February, through rose time with its bowers and arches, until the last cushion mum which bordered the walks and bloomed from July to October. The children thought it a fairyland. Sell this place?

There had been a little silence, then, and an apple thudded to the ground. Since they had come this time Kim had picked the main part of the crop of red and yellow delicious apples and stored them in barrels, dug the carrots and parsnips and packed them in cans of sand and picked the winter pears, stored everything in the milk house which his father had chiseled out of sheer rock beside the spring, in perfect coldness for winter eating. Francine and Emily had been happy to assure him that none of them would go to waste.

With modern surgery, a steel pin and bone graft, Kim's father had healed remarkably for his eighty-five years from his fracture, and was now up in a wheelchair, even able to get about by use of a walker, but he could in no way do for himself, or be left alone. A moment of unbalance, an attempt at something too far beyond his reach, and all the good work would be undone.

"With care, you will be able to walk again," the doctor had said.

"By spring?" Father Freeman asked.

"Maybe by spring – with good care."

But where was the good care coming from? Had they not just taken it for granted Emily would take her father? She lived less than a mile away, on a part of the old farm sliced off for her and Victor as their wedding gift. Or perhaps had they just neglected to think it through, knowing there was no good solution, dreading to come to grips with it, so settled were they in their family and work patterns, the necessity of earning their daily bread.

To be sure, they were both past sixty – Kim was sixty-four to his father's eighty-five, Mary Ann was sixty-one, but they were still youthfully healthy and were valued as employees in their respective jobs. With Rosemary getting married in June and Tommy getting his degree in sociology from the University of Southern California at the same time, it would take their combined efforts to see the children through their respective high points. Rosemary's fiance was Cary Marks, a young lawyer.

The other four children were married, Barbara, James, Robert, and Jennifer, and launched in their lives, but could Mary Ann condemn Emily and Francine for their inability to care for their father in his old age?

Was there just no place for old people in the family of today's living? Unless the children could honor their parents enough to make a place for them, how much better than savages were they? "Honour thy father and thy mother, that thy days may be long upon the land," hit Mary Ann with a particular force. Abraham and Isaac and Jacob, only a few grandfathers back, had held high places in their families in the times of the Old Testament, but were not today's children bound by the same commandment? And were the earlier patriarchs any more deserving of honor than Father Freeman, who had filled a two-year mission to Scandinavia in his youth, worked his faithful way up through the priesthood, been a bishop, a high councilman, a stake president, and a patriarch in his stake?

"Something has to be decided," Emily had pronounced. "Right today."

Before you leave for Los Angeles," Francine put in.

"You can see that Dad can't take care of himself," Emily went on. "And I have stated my position. It isn't the way I want it. I would like nothing better than to take him home and care for him, but Victor …"

"You can see my position," echoed Francine. "I work. I have to work with Melanie's whole family there. Her husband is good, and doing his best to get a place for them, but it fills the house up, and now Melanie's baby is due. Besides, Jack's not well. He keeps on his job, but he is the one who needs special care."

"I don't want to be a bother," said Dad weakly. "When I get well …"

"The place has to be sold," said Emily firmly.

Looking at it without sentiment, Emily was right. Even if Dad did walk again, as the doctor had promised, there was too much work there for him ever to do again. He had stayed doggedly on after his beloved wife passed away suddenly of a heart attack, milking his one cow, tending a few chickens and puttering in his garden, living off the proceeds of an earlier farm which he had sold, and cooking his own simple meals, with the girls fussing over him, keeping the house clean, bottling his fruit and bringing him treats from their own tables. How could it be looked on without sentiment? As long as he had this place he had her, her crochet work and her dishes, her braided rugs and the quilts she had made.

"She would have wanted it this way," he had told them. He always spoke of Mother Freeman only as "she." "She planted that cherry tree; she grew those roses from the corsages the boys brought Emily and Francine." He honored her as Jacob honored Rachel; the spring was a Jacob's well at which he wept for his lost companion as Jacob wept for Rachel. And Rachel was her name. A warm woman, full of compassion, outgoing in her love. This home was her shrine.

There was more than sentimentality involved here now. There was obligation, deep obligation. This home had been a mother island from which their little boats cast off to ride the storms of their independence, returning on every tide – not only Mary Ann's and Kim's, but his sisters, too – until they were strong enough to cope with the seas of their new responsibilities, always bolstered, of course, with help from home, their cars loaded with vegetables and fruit, the nudge of a little check when vacation money ran out, or a new home called for a down payment.

"Dory Works would pay ten thousand cash for this place right today," Francine had said.

"Dory Works," Dad said impotently, in despair. "Dory Works would strip this place of every item of beauty in short order, and have the front yard filled with broken down cars."

"I'll tell you, Dad," said Kim, turning his back on his sisters and kneeling beside his father's wheel chair, "this place won't be sold. Never, not while you live, and not while I live. Come home with Mary Ann and me. Just for now."

A surge of pride in Kim had swept Mary Ann. Instantly she was on the other side of the wheelchair, her arms around Kim's father.

"Yes, Dad. Come home with us – just for now!"

"You have your work, too," objected Francine in the background.

"I'll quit my job," said Mary Ann recklessly.

"How can you, with Rosemary getting married – Tommy graduating? You said …"

"We'll work it out," said Kim.

"But I can't let you …" Father Freeman had begun.

"I don't like my job anyway," said Mary Ann, trying to make it easy for Father Freeman. "You don't know how I've longed to stay at home, be a decent homemaker for a change."

Kim's hand had found hers, and he pressed it, the objections of his sisters rumbling away in the far distance like subsiding thunder. "The crops are in, Dad. There's nothing much to do here in winter, and by spring …"

"By spring I can come home!" his father had said gratefully.

Kim had not promised, Mary Ann remembered, and neither had she. How could they? They had told each other in the night hours that maybe they could wean him away from his home, make him really enjoy California living, but both knew this hope for what it was, a palliative to their own conscience. Now the full force of their emotional commitment and spoken promise hit them, as Kim jostled for position to exit from the freeway onto their own boulevard.

"Where are we?" asked Father Freeman, rousing from the back of the station wagon. "My, what a long sleep I had!"

"Almost home, Dad," said Kim cheerfully. The tranquilizers and the pain pills had served his father well.

Mary Ann braced herself to meet Tommy and Rosemary as they turned into their own driveway. Tommy, grinning his welcome, leaped to help with his Grandfather and the wheelchair. "Gramps! Why didn't you make these characters fly you down?" His flip words covered an instant concern, and Mary Ann loved him for it.

"Grandfather! Who knew you were coming!" asked Rosemary, after the slightest of hesitations. If she was shocked she covered it admirably. "What a surprise! Now I know why I got such a special dinner ready. Dad, why didn't you call from San Bernardino and I would have put another spoonful of grease in the gravy," she went on, reviving an old family cliche when unexpected company was on the doorstep.

Maybe only her mother saw the unanswered questions chasing back of her eyes, noticed the little frown which fleetingly creased her brows and sensed the gathering storm.