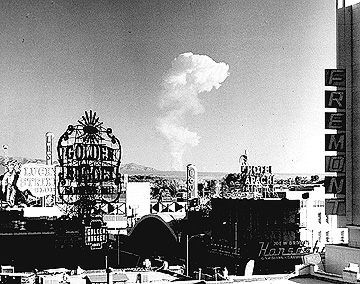 Between 1951 and 1962, the Nevada Test Site northwest of Las Vegas was the location of exactly 100 above-ground nuclear blasts and hundreds more below-ground tests. The atmospheric tests were the fun ones, of course, you could sit in your hotel room in Las Vegas and marvel at the mushroom clouds some 65 miles away. If you were in the military, you might have an even closer view. These were awesome glimpses of unimaginable power – but not to worry, you were safe: Tests were conducted only when the desert breezes blew away from Las Vegas and the heavily populated Southern California regions beyond. To show you exactly how safe it all was, the federal government even drove carloads of ranchers out to see the Test Site after some blasts (giving the dust a couple of hours to settle safely first, of course).
If the wind was blowing away from Las Vegas and Southern California, it was still blowing … somewhere. Across the deserts of central Nevada … and southern Utah … and northern Arizona. But that was okay, wasn't it? There weren't many people there, were there? And anyway, the government promised the few people who were there that it was all safe, and necessary, and patriotic. Even when tens of thousands of sheep died or aborted their malformed lambs, the tests were proclaimed safe.

But in the 1960s and '70s, when childhood leukemia, and thyroid cancer, and esophageal cancer – and so many cases of breast cancer that the locals began referring to their "tribe of one-breasted women" – too-few-people-to-worry-about began to question. And complain. Loudly. The "Downwinder" movement was born. It took years of gathering statistical evidence, and lawsuits, and lobbying Congress, but in 1990 Pres. George H.W. Bush signed the Radiation Exposure Compensation Act funding reparations – a minimum of $50,000 each – to cancer victims, or their survivors, who could demonstrate that they had lived in the affected areas for two years during 1951-1958, or during July 1962, a month of unprecedented testing and poisonous fallout.

-oOo-

But assume you are the surviving child of a parent who lived in the affected area and died of one of the identified cancers. How are you going to prove that your mother was there? You know she was – you listened to her stories of life on the ranch near Cedar City, and you can prove she graduated from Cedar City High School in 1966 because her picture is in the yearbook – but how do you prove, how do you document to the satisfaction of a government bureaucrat, that enough of her childhood was spent in Iron County during the mid- to late-1950s for her to qualify for Downwinder compensation? Oh, you may think it's easy enough – "just get her elementary school records," you might say – but do you know where to find them, or who to call, or if they still exist? The money is there, and it might pay the last of those lingering medical bills, or send your kids to the college you couldn't attend because your dying mother needed you … but how do you prove your eligibility?

-oOo-

In 1990, Sheron R. Walker of Kaysville, Utah, was volunteering a few hours a week as a service missionary helping the Church locate members it had lost touch with, when the mission office asked if she'd be willing to tackle a brand new program. She agreed, and later that year, upon his retirement, her husband Norlan G. Walker joined her. Except for a two-year full-time mission in Sydney, Australia, the Walkers have been serving in that "new program" ever since. Ten or twelve other couples have assisted them from time to time, but for these past 20 years, Elder and Sister Walker have labored steadily on.

Their project turned out to be a service to help the Downwinders document their presence in the affected areas during the time of the nuclear blasts. People who believe they are eligible fill out an application providing information on the places they lived and the dates they lived there, and other helpful information, and the Walkers turn to the records of the Church to search for documentation.

Typically they first evaluate the applicant's residence to be sure that he or she lived within the covered area. That area has changed from time to time as the government added or subtracted counties, but the Walkers have long since learned every tiny inhabited place in the affected area and no longer need to consult their maps.

Then they check the church census – that survey of Church membership that was taken in 1914, 1920, 1925, 1930, and so on regularly (with the exception of war-disrupted 1945) through 1950 and 1960. Oh, and 1962. Perhaps someone somewhere knows why the Church took a census in 1962 when it had just completed one in 1960, but I don't. If, however, the applicant appears on the Church census in the affected area in two of those censuses – or even in 1962 alone – that pretty well nails an applicant's residence eligibility for compensation.

If more confirming evidence is needed, the Walkers then turn to ward records. Was the applicant a visiting teacher? Did the applicant's family accept visits from the home teachers? Was the applicant named on a Sunday School roll, or did he teach the Teachers' Quorum, or was she the secretary of the Relief Society? If so, the Walkers take notes on the evidence and compile the documentation for the government.

The Walkers sat across a small table from me on a recent afternoon describing the work they have engaged in at least one day a week, or more when a backlog of applications requires it, month after month, year after year – and now, it can legitimately be said – decade after decade. Like all Church Service Missionaries, this work is performed on a voluntary basis. In the Walkers' case it isn't only the contribution of their time: gasoline for the 40-mile round trip each week should be counted as a significant monetary donation.

By now they must have helped thousands of cancer victims or their survivors demonstrate their eligibility. They beamed as they mentioned a few of those whom they have helped, including one friend, the widow of a cancer patient, who used her compensation to finance a mission of her own. They regret the times they have been unable to help – when people were not members of the Church, or were so inactive that they refused home and visiting teachers, their names simply won't appear in the records available to the Walkers. They told me about one case of a child who lived far away from the fallout area during the school year, but who visited her grandmother in the affected area every summer; because she was a visitor, her name wasn't listed on the Primary rolls. But they have been able to help uncounted others, and they are proud of their high accuracy rates reflected in periodic federal audits of their research.

You wouldn't know from looking at them that the Walkers are 78 and 79 years old – "We were young when we started this!" laughed Sister Walker – because they radiate that happiness and goodness that seems to fill the souls of the Annas and Simeons who devote their senior years to service. Elder Walker has had some serious health scares, but reports that he has just received the "all clear" signal from the last scare, so there is no slowing down in his future.

Very few of the many they have helped know their names – but that's not why they serve.

If someone you know may be eligible for coverage under the Radiation Exposure Compensation Act but needs help documenting residence, contact RECA Research, Global Service Center, 120 North 200 West, Salt Lake City, UT 84103-1514, 1-801-240-3500 and ask for a research application. I'm told that many bishops in the affected zone have applications in their offices, as well.

It might be fun to discuss the politics or environmental issues at large, but please, let's have discussion here focus on the service of the Walkers and others like them who are Church Service Missionaries.