Back at the end of 2008, I wrote about The Loveliest Missionary Tract Ever Published, consisting of explanatory text and the images of a 1909 color brochure. If you don't remember that, take a look – it's worth it. We'll wait.
Earlier this week I was notified by a one-time client that that post had been plagiarized at [a given URL]. Note the significance that it was a client who discovered it: He was Googling terms of interest to him, relating to the very topic he had paid me to research. Had he not already been familiar with my work, enough to realize this material had been stolen from Keepa, he might have used this source rather than me for his work, and I would have lost a paying customer. Plagiarism is theft, people, not only of intellectual property, but of dollars and cents.
It didn't take me long to realize that the plagiarist had not copied my images to his own server, but had merely linked to my Photobucket.com account, where I store the images that appear on Keepa. As one Keepa'ninny who follows Keepa on Facebook noted, this meant the plagiarist was also stealing from me by using my bandwidth: if I were not already paying for a professional, unlimited-bandwidth Photobucket account – if my bandwidth usage were being monitored as is the case with some accounts – he could conceivably have bumped my bandwidth usage up a notch where I would have been paying for his use.
I wrote to the site owner demanding he remove the stolen material, and received a very unsatisfactory reply: He blamed me for his theft, saying I had not included a copyright notice on my original post (FYI, current copyright law is that copyright exists from the instant a work is created, regardless of publication or formal copyright notice); he said he had never heard of Keepa before so he couldn't have plagiarized my material there; he probably got it from some unnamed university site, so he wasn't stealing from me, he was stealing from them; and I ought to investigate this here Photobucket site, since they appeared to have stolen my material. (!) He did say he would try to get around to doing something about it, but he wasn't sure when that would happen, and he didn't know how to delete it anyway, and … and … and … pretty much he said everything except "I'm sorry."
So I decided to give him some incentive to remove his material. He now calls it a "hack" and says his hosting company is investigating me. I laugh at his technological incompetence.
Since he was linking directly to *my* images in *my* Photobucket account, I edited those images (after first reloading them to new URLs so that the old Keepa post would remain unchanged). I deleted half the images in an artistic pattern, and over the remaining images I added some text. Screen shots:
.
(showing the image sources: links to my personal Photobucket account)
.
.
.
.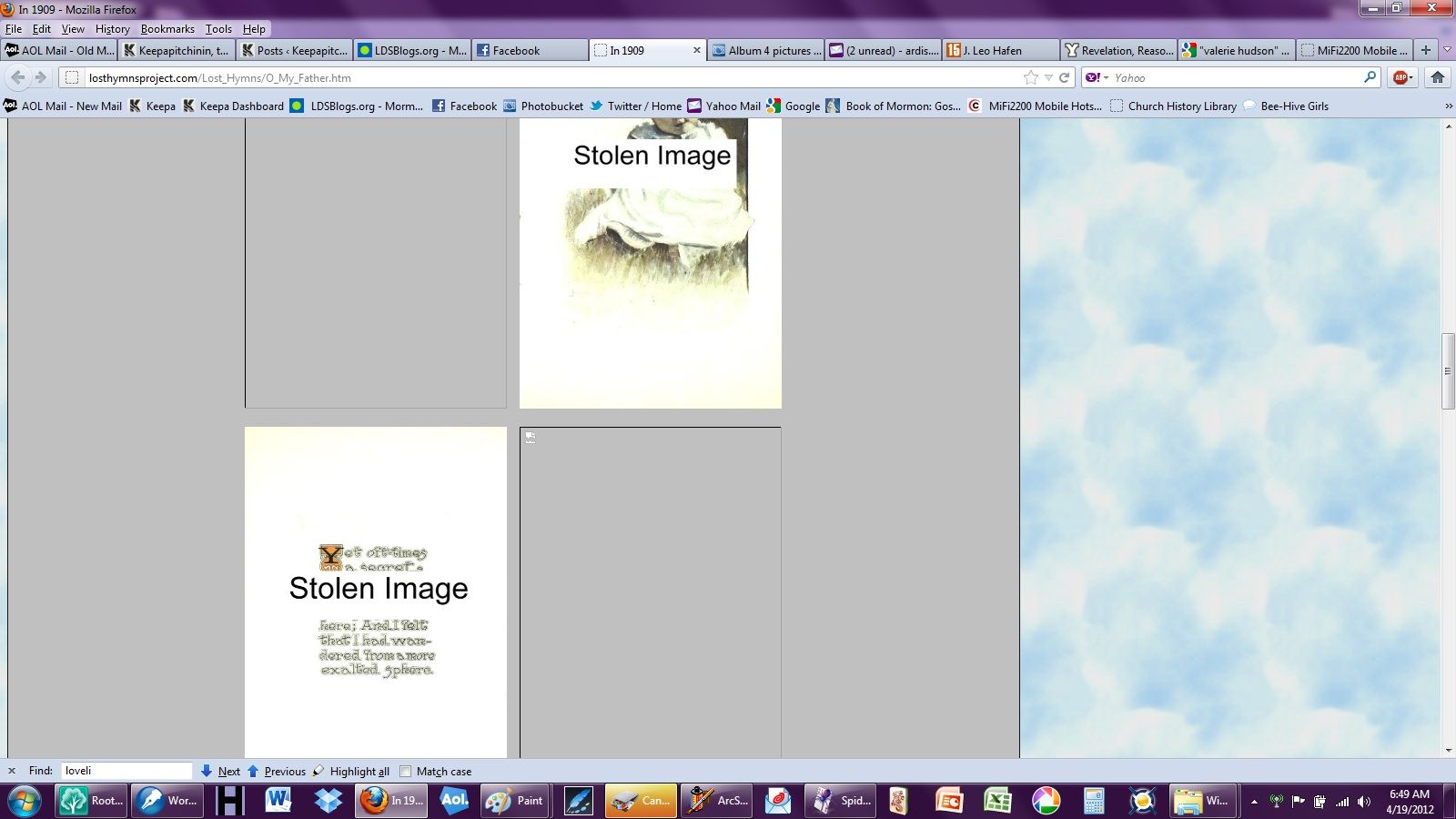 .
.

… and so on.

Please don't steal from Keepa. Link to anything you want. Ask me any questions you want – although I don't cite my sources in most cases, to prevent my work from melting invisibly into other people's publications, I'm perfectly willing – eager – to negotiate an inexpensive sale of most sources; it's what I do for a living. And as Keepa'ninnies know, I freely send copies of pictures in my Latter-day Saints Images posts when readers have a family or other personal connection to the picture. I'm reasonable, if you just ask rather than taking.

Thank you for your honesty.