From the Children's Friend, February 1945 –
Mollie's Mistake: A Valentine Story
By Alice Whitson Norton
For three weeks Mollie Tate had stopped daily to admire the beautiful valentines on display in Liggett's Drug Store window, and with each look one particular valentine seemed to grow lovelier and lovelier, while the price, the one thing she had hoped would change, remained the same.
Two dollars, Mollie knew without even asking her parents, was more than she could afford for a valentine, and yet never in her whole young life had she ever wanted any one thing so much.
Not for herself – oh, no! Mollie was thinking of Jessica Owens. Jessica was her best friend, and nothing was too good for one's best friend, according to Mollie's mind, especially when the friend was such a wonderful girl as Jessica.
Mollie was sure there'd be a lovely valentine on her desk on the fourteenth, consequently, one must go back to the giver as lovely as any she might send.
Twelve days went by in rapid succession and each twenty-four hours Mollie had stopped, hoping each time there would be a reduction in price. However, on the twelfth day when Mollie stopped to admire the beautiful creation of gleaming satin with embroidery on one side and lovely stamped sentiment on the other, she had a strange reaction in her heart.
"The idea!" she murmured under her breath, "me waiting and hoping this one valentine would be reduced in price when I could reproduce it myself for fifty cents."
To think, with Mollie, was to act, and that night in the privacy of her own attic, she fashioned the duplicate of the lovely valentine she had admired so much in the drug store window.
Because she took plenty of time and labored tirelessly on it, the outcome was perfectly beautiful, and Mollie went to bed feeling she had done something for her friend that would surely prove her love.
The next day Mollie went about with a broad smile wreathing her face, and on the way home she went into the drug store and purchased freely of the cheaper valentines, those she expected to exchange with the friends whom she knew would remember her. These, however, were not like the one she had made for Jessica. Oh, no! These were valentines calling attention to the short-comings and failures of her classmates.
Back in her room that night, Mollie realized the valentine for Jessica was so much larger than the others, somebody would be liable to criticize the act, and Mollie did not relish criticism. Suddenly she had a bright idea.
Carefully she packed the valentine for Jessica, then carelessly she dropped two smaller ones into boxes of the same size, and stuffed the boxes with heavy paper to make them of one weight. This would be a fooler and make everyone laugh.
As carefully as she had packed the box containing Jessica's valentine, she placed it on a table apart from the others and ran downstairs for a spool of red ribbon. On the way down she heard the telephone ring and ran to answer it. Then brother Tom came in and asked her to bind up a bruised finger, and before that job was finished her older sister asked her to return a book to the library and Mother asked her to do an errand for her while she was out.
In each instance Mollie wished she could say no, but doing things for each other was a policy everybody observed in the Tate home, hence Mollie felt she could not be the one to break the rule. Skipping along the street she remembered the boxes upstairs and joy filled her heart at the thought of the fun in store for the class room through the boxes she intended to deliver. Tying them up was really such a little thing that she decided to enjoy the trip to the library. Consequently it was quite late when she reached home again. The minute dinner was over, however, Mollie went racing upstairs to add the finishing touches to her group of valentines.
Just as she had left them she found the boxes waiting on her return, and immediately the one apart from the others was decorated with a bright red bow and addressed to Jessica. The other three followed in rapid succession, and Mollie went downstairs pleased beyond words with the results she had achieved.
Then a strange thing happened. Just as she reached the bottom step the doorbell rang and in walked Jessica, her best friend, and Lula, who lived next door, and behind them came Jack Price, a friend of her brother's, all with their books under their arms.
"Well," Jessica said, when the group came in, "we just couldn't study at our house tonight so decided to come over here and have a pre-valentine swapping."
Then it was that Mollie noticed small packages well hidden under the books her friends carried, and she chuckled inwardly. "Suits me," she said pleasantly, "I'll run and get mine."
All the way upstairs Mollie kept thinking how glad she was she had put her valentines for Jack and Lula in boxes just as she had placed Jessica's. Of course she didn't love Jack and Lula as she did Jessica, but they were good neighbors and she wouldn't want to hurt their feelings. She was glad, too, she had put the funny valentine she had chosen for Jack in a box. He'd never suspect it was a joke until he opened it in the living room. With a polite bow, Mollie presented her friends with the boxes bearing their names, and waited for them to return the favor.
Then suddenly Jessica was on her feet.
"I'm for calling this thing off right now, Mollie," she exclaimed pleasantly. It's too much like opening a Christmas gift the day before Christmas. I shall save mine until morning."
"So will I," agreed Lula pleasantly.
"Not me," exclaimed Jack, "I'm dying with curiosity to see what sort of a valentine could be in a box of this size. I'm opening mine right now."
While Jack removed the paper from the neatly tied box, the visitors placed their boxes with their coats and rushed back to watch Jack. Jack was a new boy in the town and as yet hadn't made many friends; but Mollie's brother liked him and she had bought a comic valentine for him because she felt her brother would like her to. Besides, he was a very poor speller.
Mollie remembered with flushed cheeks the catty little verse she had selected for Tom's friend.
With eager hands Jack opened the box and for a full minute stood gazing into the box, then lifted the valentine for his friends to see. Mollie's heart suddenly skipped a beat and sank right down into the toes of her small shoes.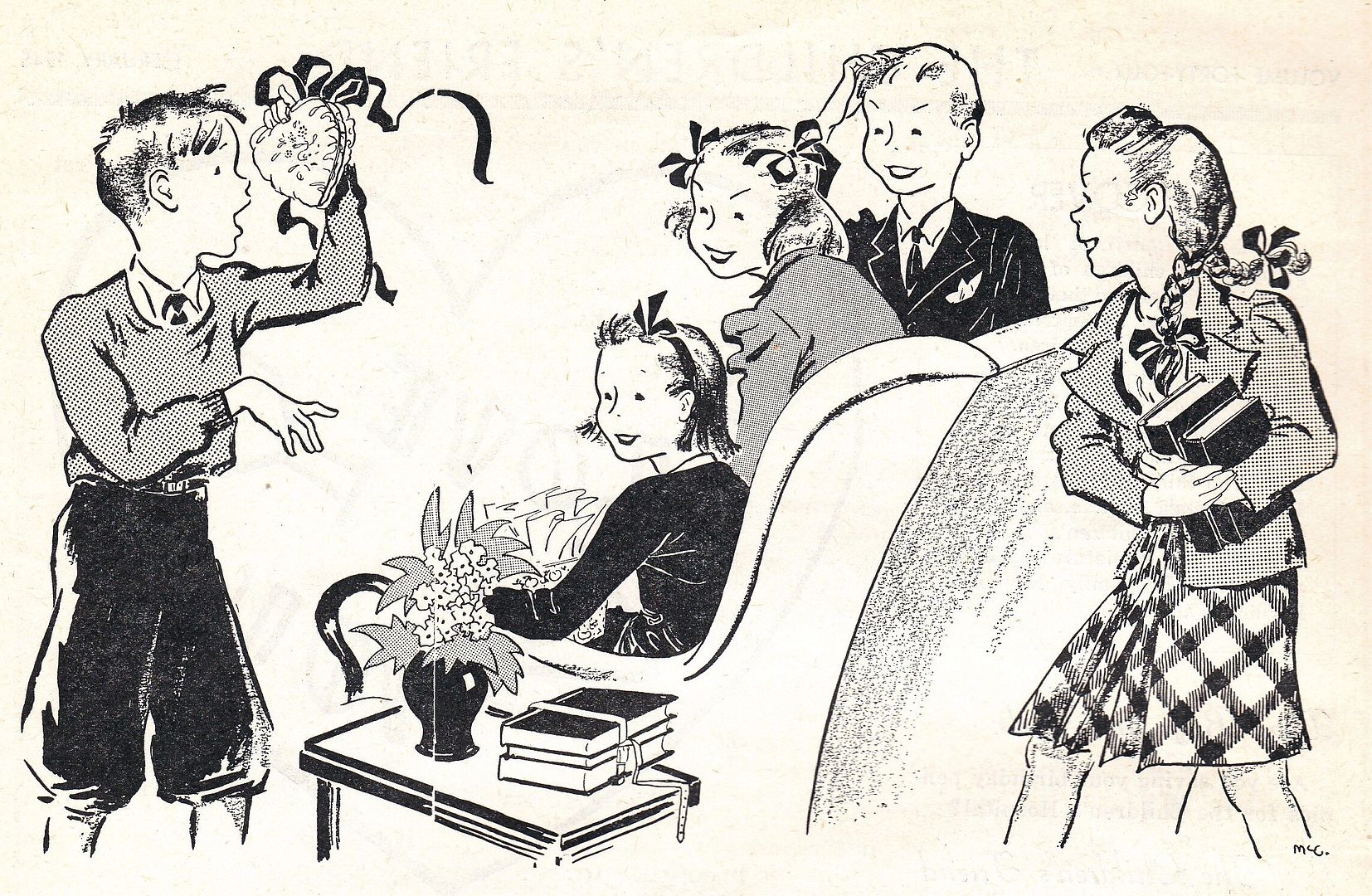 "Isn't that the most glorious thing you ever saw?" he exclaimed, holding up the creation of embroidered satin that Mollie's hands had fashioned. "I am not worthy of the effort it took to make this." Then suddenly his eyes sought Mollie's. "It was lovely of you, Mollie," he said softly, "to make a thing like this for me and I honestly appreciate it; but would you mind very much if – if I carried it to my little crippled sister, with love from you?"

Mollie thought fast. Her first impulse was to cry out that there had been a mistake, a terrible mistake! The lovely thing in his hand was made especially for her best friend, Jessica. But somehow she felt powerless to utter the words rising in her throat.

"You don't mind if I carry it to my crippled sister, do you, Mollie?" Jack repeated eagerly.

"I – I didn't know you had a crippled sister," Mollie stammered weakly.

"Few people in this town know about Janette yet," Jack answered, 'because, you see, Janette isn't going to be a cripple always; but until her broken leg is well enough to run around and play like the rest of us, she decided she would just remain in the background. But she is a real girl, and loads of fun! And since you've made this lovely thing for me – I – think I'll invite all of you to come along with me and meet her right now."

Mollie suddenly remembered the catty verses in the other boxes and a strange sensation filled her soul – one of these would be opened by Jessica the following morning. She couldn't stand that; something had to be done about it, and that in a hurry.

For a moment Mollie sat staring blankly at the excited group, then her brain began to work properly.

"Listen, folks," she exclaimed merrily, "since everybody except Jack has refused to open their valentine tonight, I make special request that the valentines I have delivered to you be returned to me that I may present them at our class room party in the morning."

"That's only fair," Jessica answered, "since we are not delivering yours tonight."

Mollie tried to accept the returned boxes calmly, but somehow she felt her fingers tightening on them the instant they reached her hands. With the excuse of getting a handkerchief, she left the room carrying the boxes with her. But when she reached her own room Mollie realized Jessica was right behind her.

"I can't understand, Mollie," Jessica whispered, "why you made such beautiful valentines for everybody. I – I only made one – and it – it was for you."

Mollie faced her friend and presently a twinkle came into her eyes.

"I – I only made one lovely valentine, too, Jessica," she said softly. "It – it was for you. In tying them up," she added thoughtfully, "I must have made a mistake, yet I would have staked my life on the box set apart from the others being yours."

"Did anybody help you?" Jessica asked.

'No," Mollie answered, and suddenly burst into a hearty laugh. "Perhaps I am mistaken about that, too, Jessica," she said softly. "I suddenly remember Baby Ruth was in the attic when I returned to tie up the boxes. That might account for the mistake."

"Let's go call on Jack's sister," Jessica said. "Maybe, after all, this beautiful valentine going out to a newcomer in this town, as well as a cripple, will not prove a mistake."

And to the delight of both girls, it didn't. For in Jack's crippled sister both Jessica and Mollie found a delightful friend, and Mollie had no cause to regret the mistake she had made.

But nobody to this day knows that Mollie Tate spent most of the night of February 13th in the attic making a score of valentines as lovely as the one Jack received by mistake because she had discovered, in a flash, that there was far more satisfaction in giving pleasure than in giving pain.