BHodges has a great post at BCC, Thinking about Mormonism and "critical thinking", opening with a survey of the current crop of "highly caricatured pieces of polemic" about Mormonism. Nate Oman addresses the ongoing parade of hysterical claims that "Romney is the tool of Mormon theocracy" in today's New York Daily News. I'm grateful to BHodges and Nate Oman and the many others who are willing to tackle these pieces head-on; I don't have the stomach for it – their claims are so ridiculous and so at variance from the church and people I know that I can seldom get beyond the point of rolling my eyes, and wondering why any news organization thinks these caricatures are newsworthy, much less truthful.
People have been warning each other about us from our earliest days, in the same over-the-top, breathless panic. Elders on the first mission to England, for instance, described the fury of several preachers in 1841:
… About the time that Mr. Matthews rejected the truth in Bedford, his son (as Mr. Matthews called him), the Rev. Robert Aitken, commenced his attack on the principles of righteousness in Preston, and while furiously pounding his pulpit with the Book of Mormon, and warning his people to beware of the Latter-Day Saints and their doctrines, saying that they and their record came from hell; called upon his people to use all their efforts to put down the work of God, or stop the progress of the Latter-Day Saints; and if it could not be put down without, praying that God would smite the leaders …
About 1915, the people of London were warned about the "Mormon Propaganda," including the moral danger to English "Girls and boys and young children" who attended Mormon Sunday schools – yes, they capped and bolded the "Girls" part (and, as a side question, is there some segment of English childhood that is not encompassed in the terms "girls" and "boys" and requires a third category of "young children" to sweep everyone in?):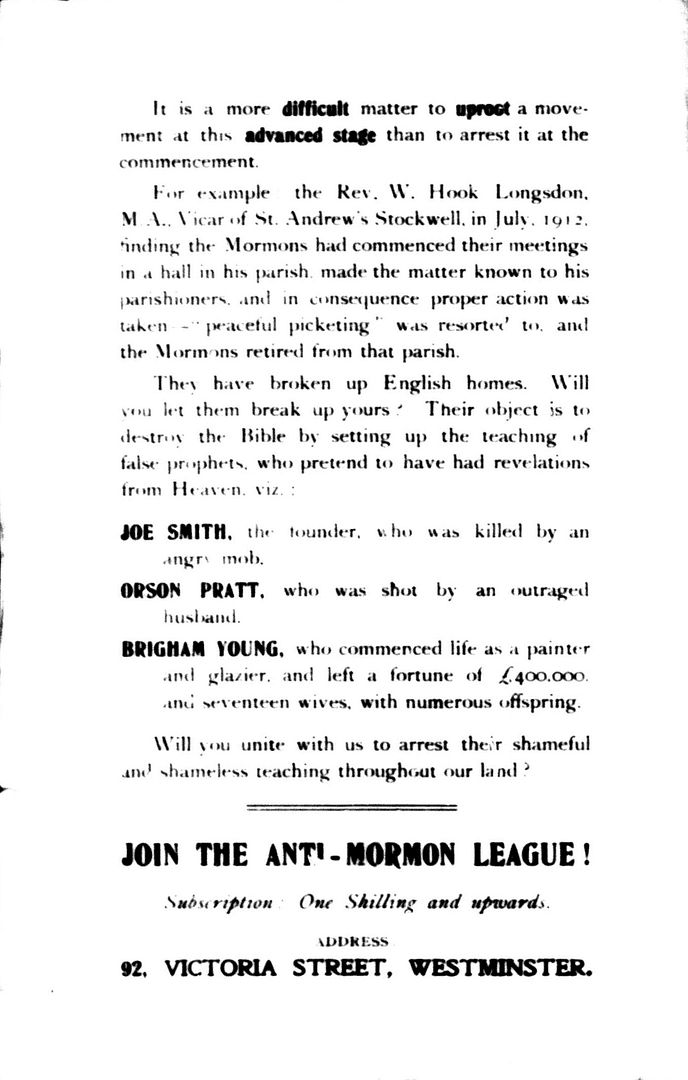 (A transcription, in case the scan isn't clear enough to read:
The Spread of Mormonism in London constitutes a grave danger to the community though it is unknown to the general public. Published statistics state that there are 1,178 Mormons engaged in Missionary work in England! Mormon Elders at their London Headquarters admit that there are 300 Mormon Missionaries in London only! These men come from Utah – Salt Lake City and are entirely engaged in Mormon Propaganda. Their meeting places are established in various localities. They are negotiating for the purchase of land in South London to Build a Mormon Temple! The Mormon Sunday Schools are doing their work among the Children of this city. A serious menace to the welfare of the rising generation is the teaching of Girls and boys and young children in the Mormon Sunday Schools, where the Mormon tenets are carefully planted in their innocent minds. The Sanctity of the Home is in Danger of their influence. The emissaries of the Mormons make their House to House calls during the day when the Head of the Family is away from Home. In this way they secure an interview with the women, with whom they leave leaflets, and thus introduce the Poisonous Doctrines of the Mormons, or Latter Day Saints. A young married woman in Brixton quite recently came under the influence of the Mormon missionaries and left All to go to Utah. her husband sold the home for a mere song – sadly said Goody-bye to his friends and went also. The Confusion caused in the minds of the unwary by the Insidious mixing of the Holy Scriptures with the Book of Mormon, a so-called revelation to their leaders Joseph Smith and Brigham Young, is a very grave danger. The Result of Mormon Activity when Unopposed is shown by comparing the Recent Experiences in Tottenham and in Stockwell, proving that there is a serious need to be on the alert and guard against the spread of this evil. Five years ago Mormon Elders or Latter Day Saints hired two rooms in Tottenham, and began to preach and deliver papers. they have succeeded to such an extent that they have now purchased the freehold of the large building situated in Tottenham High Road, called "Deseret" after Salt Lake. it contains commodious house accommodation, handsome entrance and large assembly hall, containing organ and piano with seating accommodation for about one thousand people. It is a more difficult matter to uproot a movement at this advanced stage than to arrest it at the commencement. For example, the Rev. W. Hook Longsdon, M.A., Vicar of St. Andrew's Stockwell, in July 1912, finding the Mormons had commenced their meetings in a hall in his parish, made the matter known to his parishioners, and in consequence proper action was taken – "peaceful picketing" was resorted to, and the Mormons retired from that parish. They have broken up English homes. Will you let them break up yours? Their object is to destroy the Bible by setting up the teaching of false prophets, who pretend to have had revelations from Heaven, viz.: Joe Smith, the founder, who was killed by an angry mob. Orson Pratt, who was shot by an outraged husband. Brigham Young, who commenced life as a painter and glazier, and left a fortune of £400,000 and seventeen wives, with numerous offspring. Will you unite with us to arrest their shameful and shameless teaching throughout our land?)
And now in 2012, as in previous generations, our aim is world domination, doncha know. Shiver in your boots, world, and beware the Latter-day Saints!

-oOo-

A reminder of Keepa's comment policy: Keepa is a forum for believing Latter-day Saints and those others who have some affection or respect for us. Anti- and ex-Mormon comments about how dreadfully horribly awfully scary we are will not be posted – unless, of course, you write something so comical that it's worth posting for the fun of mocking you.