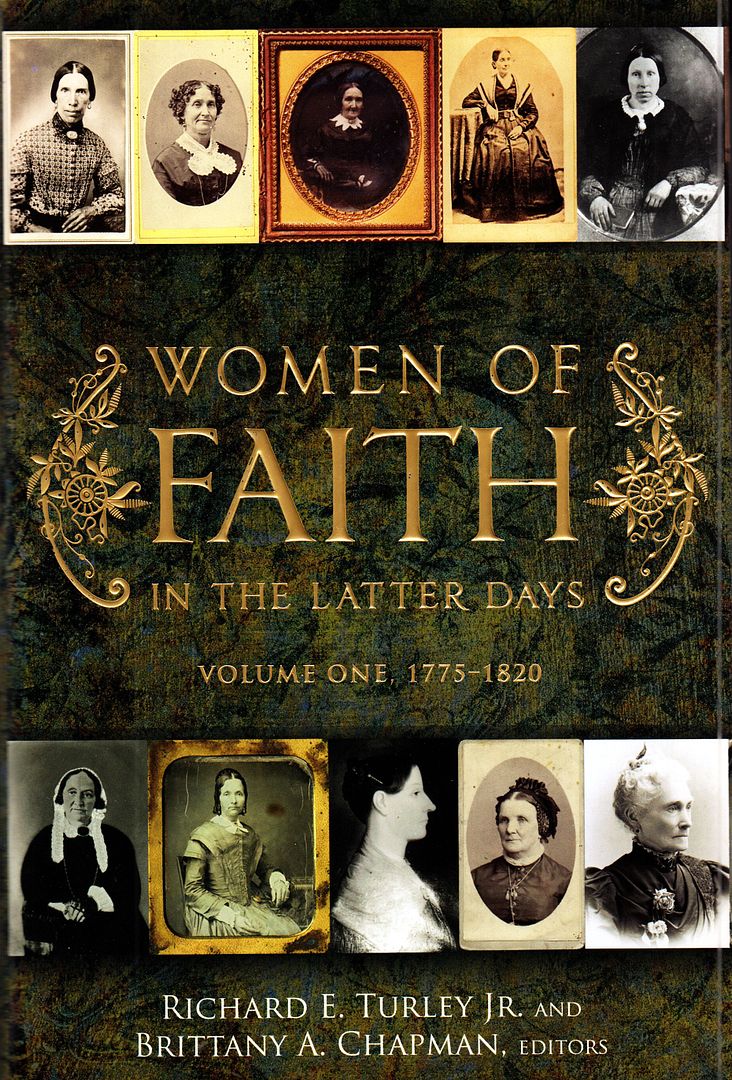 Richard E. Turley Jr. and Brittany A. Chapman, eds., Women of Faith in the Latter Days, Vol. 1. Salt Lake City: Deseret Book, 2011. 501 p. Index. $34.99.

The dedication of this volume reads: "To the Women upon Whose Shoulders We Stand." That is an appropriate tribute– you will finish your first reading of this book with a bone-deep awareness that the Church and whatever we have become as a people rests as much on the lives of these women of our first generation as upon the lives and better-known careers of modern-day prophets and apostles. These are the women who responded to the gospel message without the example of family or social tradition, knowing in many cases that it would turn their lives inside out and rip them from every familiar anchor, who remained "valiant in the testimony of Jesus" in the beginning of this dispensation.

Collective biographies sometimes create a sense of people as a mass – prophets, scientists, baseball players – leaving readers without a clear sense of the individual members of that class. Women of Faith escapes that limitation, leaving the reader not with a vague sense of "Mormon women" but with the sense of knowing 35 individual women whose lives had key elements in common but who were distinct, well-defined personalities. That sense of uniqueness is due in part to the arrangement of each chapter: Each opens with a photograph, or, in the case a picture is not known, with a sample of the woman's handwriting, as personal, perhaps, as the variations in facial features. Then follows a short biography which, in nearly every case, is filled with specific details of the subject's life – there is none of the vapory generality that plagues so many collections of Mormon women's biography, none of the "she passed through all the trials and vicissitudes incident to pioneer living" nonsense. Instead, contributors treat us to the distinctive facts of the woman's life and service: her joining the Church, her participation in specific historical events, her service in the Relief Society or other positions, her marriages and abandonments and divorces and the circumstances under which she wrote the letters or autobiography or journal or other life writings that constitute the bulk of each chapter.

And it's those life writings – the voice of each woman herself – that allows us as readers to meet each woman and distinguish her particular life from those of her sisters. Their voices are funny and poignant and relaxed and self-conscious and cultivated and spontaneous by turns. They are authentic voices of real women, not, say, the hagiographic raptures of descendants (who nevertheless are in some cases the contributors) or the ideological constructs of academics (who are also contributors).

Some of the sisters included are the essential ones nearly all of us are familiar with: Emma Smith, Lucy Mack Smith, Eliza R. Snow. Some are women whose stories are familiar to historians and heavy readers of history, but who are likely unfamiliar to the general reader who will constitute much of the audience for this series: Eliza Maria Partridge Lyman, Belinda Marden Pratt, Martha Spence Heywood. And some are brand new discoveries, women whom I at least had never heard of previously: Melissa Morgan Dodge, Mary Bathgate Shelley, Nancy Naomi Alexander Tracy. The contributors are likewise a mix of familiar favorites and newcomers to published history. The complete list of subjects and contributors is:

Abigail Smith Abbott / Kathleen Halvorson Hadfield
Ann Marsh Abbott / Janiece Johnson
Melissa Morgan Dodge / Janiece Johnson
Eliza Dana Gibbs / Andrea Ventilla
Elizabeth Harrison Goddard / Madelyn Silver Palmer
Drusilla Dorris Hendricks / Susan Easton Black
Martha Spence Heywood / Alice Johnson Ellsworth
Mary Isabella Hales Horne / Andrea G. Radke-Moss
Julia Hills Johnson / Kerri Robinson and Marcie Gallacher
Sarah Melissa Granger Kimball / Virginia H. Pearce
Vilate Murray Kimball / Kiersten Olson
Lydia Goldthwaite Knight / Nicholas J. Frederick
Sarah Sturtevant Leavitt / Andrea Ventilla
Eliza Maria Partridge Lyman / Sherilyn Farnes
Cyrena Dustin Merrill / Joann Follett Mortensen
Laura Farnsworth Owen / Janiece Johnson
Patience Delila Pierce Palmer / Eileen Palmer Smith
Maria Jackson Normington Parker / Wayne K. Hinton
Belinda Marden Pratt / Taunalyn Ford Rutherford
Louisa Barnes Pratt / Alisha Erin Hillam
Mary Ann Brown Pulsipher / Rhonda Seamons
Sarah De Armon Pea Rich / Guinevere Thomas Woolstenhulme
Jennetta Richards Richards / Susan Evans McCloud
Patty Bartlett Sessions / Donna Toland Smart
Mary Bathgate Shelley / Jay G. Burrup
Amanda Barnes Smith / Alexander L. Baugh
Emma Hale Smith / Mark L. Staker
Lucy Mack Smith / Andrea H. Maxfield
Mary Fielding Smith / Jay A. Parry
Eliza Roxcy Snow / Jill Mulvay Derr
Leonora Cannon Taylor / Mary Jane Woodger
Mercy Rachel Fielding Thompson / Jennifer Reeder
Nancy Naomi Alexander Tracy / Eleanor C. Jensen and Rachael G. Christensen
Phebe Whittemore Carter Woodruff / Laurel Thatcher Ulrich
Desideria Quintanar de Yañez / Clinton D. Christensen

I want to do some further reviews on individual chapters in this book (without spoilers – they will only whet your appetite for reading the real thing) rather than skipping as lightly over their stories as would be required to refer to individual chapters in a single review. For just one sample, though, of the gems in this volume, consider the story of Mary Bathgate Shelley, who accepted the gospel in Scotland, a woman whose early life makes any Dickens character a model of stability and ease by contrast. At almost 60 years of age she walked across the Plains; old enough to be excused from the work of pulling a handcart, she, with the other "footmen" both old and young, marched out each morning an hour before the handcart company moved, so that they could get a head start and not delay the younger, stronger members of the company by their shorter strides or feebler steps. It was on one of these unescorted early morning marches that the dramatic incident at the heart of her chapter occurred. And that incident inspired her life "writing" – actually a poem recorded in the hand of a fellow traveler – that is like no other Mormon literary artifact I know. "It is particularly noteworthy," writes Mary's biographer Jay Burrup, "that poetry of a nineteenth-century semiliterate female coal miner has survived the ages." Her poem allows us as readers to hear Mary's voice, to feel "the buoyant faith she mustered and exercised to overcome her unanticipated adversity." You won't soon forget her.

Nearly all of the women featured in this volume crossed the Plains as pioneers. Don't let that make you think you know their stories because you've heard so many tales of pioneers. These are distinct and personal stories. Most Latter-day Saint women born between 1775 and 1820 (the volumes in this series are sorted by the women's birth years) who remained faithful, were able to gather with the Saints, and survived into the 1850s or '60s crossed the Plains. That was simply a factor of their era. Later volumes will no doubt highlight other common experiences of later generations.

Often compilations of many contributors have an uneven quality – some scholars stress this and others stress that; some authors are professional and others distinctly not; some subjects lend themselves to detailed analysis while little is known about others. Women of Faith somehow escapes that unevenness. I can't imagine that was due to luck – it betrays a carefully guiding hand by one or both of the series editors. The biographical sections are equivalent in length, detail, and documentation; the editing of the life writings (which appear in standard scholarly reproductions of each author's idiosyncratic style, with just enough bracketed corrections to make them readable for those who aren't experienced in reading non-standard spelling, punctuation, and capitalization) is consistent and helpful. The writing of newly minted historians appears as readable as that of the most seasoned.

I am told that the ebook version of Women of Faith will be available by the first of February, if not sooner, through Deseret Book (not as yet for Kindle). The ebook will have bonus chapters that were prepared for this book but could not be included in the paper edition for lack of space. That's a powerful incentive to buy the ebook edition – Women of Faith is, however, a book you will want on paper, on your shelf, to refer to long after you've read it from cover to cover, and convenient for your daughters and sons to discover.

If your children or grandchildren are too young now to appreciate biography and life writings, I sincerely recommend you buy a copy or two to put away for their later libraries. Who knows how quickly the hardback edition will disappear to be replaced by Deseret Book's notoriously thin paper covers? You'll want Volume 1 to match the volumes still to come, and you'll want a book that will hold up under repeated readings. It's that good.