John Madison Chidester and his wife Mary Parker were early converts to the church and were both members of Zion's Camp, making the two thousand mile trek through early America. During the difficult times in Missouri:
[a]ccording to family tradition John [M. Chidester] stood by the side of Joseph [Smith] … as a body guard and … he was with Joseph when he was betrayed by Colonel [George M.] Hinkle….

[Thirty years later, on] October 10, 1864 a reunion for the members of Zion's Camp was held at the Social Hall in Salt Lake City…. Three years later to the day in 1867, John married his third wife, Anna Charlotte Eldredge [sic]. They were married in the Endowment House by Wilford Woodruff and were witnessed by W.W. Phelps and D. McFarland. Anna was the wife of George Hinkle, the Mormon Militia commander that had turn[ed] Joseph Smith over to the mobs. When he was excommunicated from the Church he refused to let any of their large family go with Ann[a] and she had been without a family until this time. Source
The story of John Chidester's third marriage has all the elements of a great tale: heroes and villains, conflict, betrayal, irony, friendship, forgiveness, redemption.
But like many family traditions, the story is an intriguing blend of fact and fiction. In other words, the story is not true. Chidester did not marry a former wife of George M. Hinkle.
However, there is enough truth in the story that it helped identify what really happened.
Anna Charlotte Eldridge was born in Stokes County, North Carolina, in 1808. Her family belonged to the Moravian Church. In 1828 Anna's mother, Elizabeth Ann Hauser Eldridge, left her husband, Fredrick William Eldridge, in North Carolina and moved to Indiana with some of her children, including her youngest daughter, Anna Charlotte.
While living in Indiana, Anna Charlotte and her family met the missionaries and Anna and her brother, John Eldridge, joined the Church of Jesus Christ of Latter-day Saints.
That same month, Anna married William W. Hinkle. None of the records mention whether he was also baptized into the church. He was from Kentucky, like Colonel George M. Hinkle, but they were not brothers. It is possible that they were cousins but the Hinkle/Henckel family association could not find a connection between the two men.
Anna and William had at least four children: George, William, Eliza, and Harriet. They may have had more, including John, Milton, and Ellen.
The Eldridge family spread throughout the region. Anna's mother died in 1840 in Martin County, Indiana. Anna's widowed sister Pauline Eldridge Worth didn't seem to join the church, but she died in Nauvoo, Illinois, in 1847, leaving five orphaned children who were split up among family members. One of them, Mary, later wrote a touching letter about their destitute circumstances.
Anna and William Hinkle lived in Missouri for a while, and in 1850 they lived in Sny Island, Illinois, south of Quincy.
Before they separated, Anna and William may have moved back to Missouri, along with Anna's brother Emanuel and his family and two of their sister Pauline's orphaned children. William Hinkle and Emanuel Eldridge and their families remained in Linn County, Missouri, for decades.
No family records remain to tell how Anna came to leave her family. The separation, however and whenever it occurred, must have been bitterly difficult.
Meanwhile, Anna's brother John Eldridge had traveled to Utah in 1852 with his family. Two years later, his wife, Cynthia Howlett, died. He remarried Margaret Mitchell, the widow of Benjamin Lillywhite. The marriage did not last, and she remarried another man. About the time John's second marriage was breaking up, the Mormon Pioneer Overland Travel database shows an otherwise unidentified John and Annie Eldredge traveling as members of the James Wareham Company in 1862. Could John have traveled back to Missouri to bring Anna to Utah? None of the other John Eldredges (or Eldridges) in Utah could have traveled in this company.
John Eldridge had lived for several years in the same small Utah Valley community as John Madison Chidester and his family. Then John Eldridge moved down to Millard County and the Chidesters moved back to Salt Lake City and then went south to settle Dixie. They helped found the small community of Washington, northeast of St. George, Utah, and returned from time to time to Salt Lake City as mentioned earlier, and on one of those trips John Chidester married Anna Charlotte, who was otherwise almost alone in the world.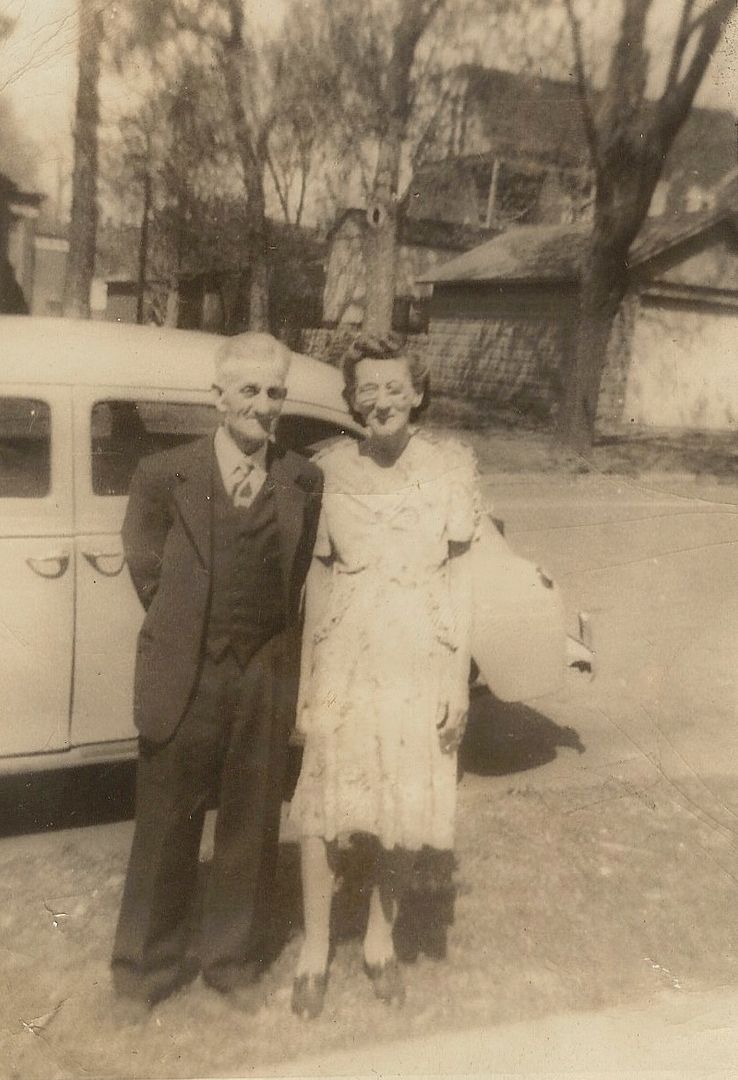 There does not seem to be any way of knowing if Anna kept in touch with her children. Did she know that two of her sons and a son-in-law fought in the Civil War? George served in the Missouri Volunteers 49th Regiment, William served in the 19th Iowa Infantry, and son-in-law Edward Dance served in the 69th Regiment Enrolled Missouri Militia, all three fighting for the Union.
Did Anna know when her children married and had children? She has descendants still living in Missouri. Here is a picture of her grandson William Hinkle, born in 1886, and his wife.
When the St. George Temple was built, Annie, as she was known, did the temple work for her mother and sister. She also helped do the temple work for two of Wilford Woodruff's Eminent Women.
Anna lived with the Chidesters for decades. John's first wife Mary died in 1879. John and Anna lived in Washington until John's death in 1892.
At some point before 1900, Annie probably developed dementia due to old age, and perhaps needed more care than her family members could provide. Someone—we don't know who—took her on the long drive through Provo, past the swamp and past the town dump, to the Utah Insane Asylum, where she would have spent her last years in the crowded and noisy wards of that institution.
She died in 1902 and is buried in an unmarked grave in the Provo City Cemetery.
* * *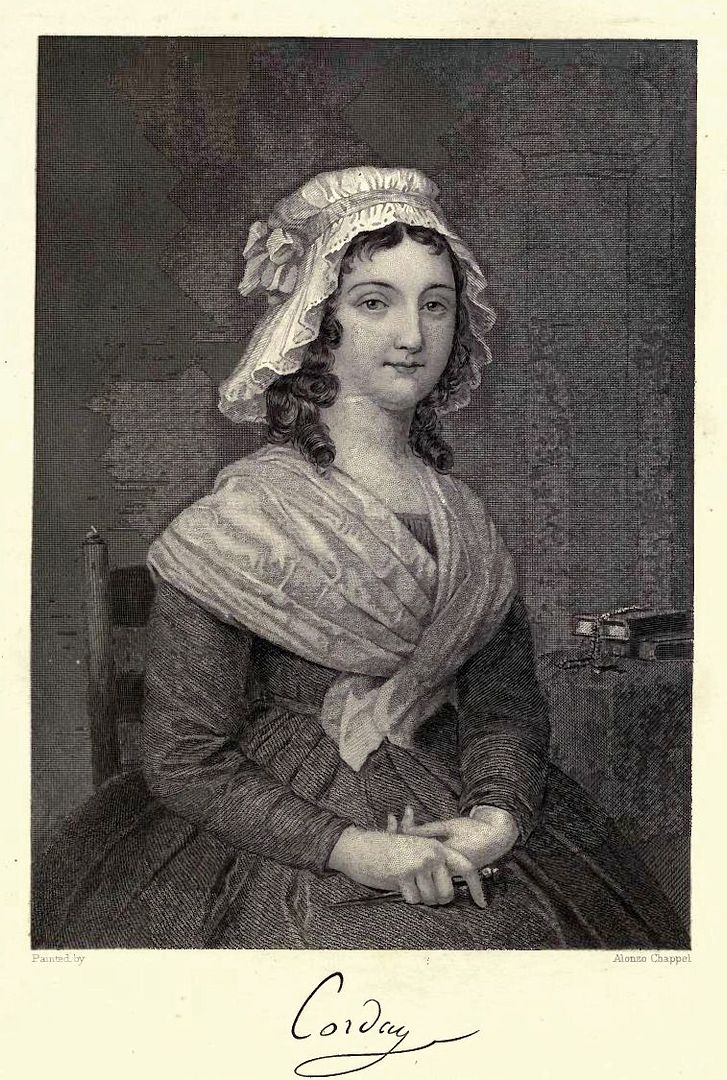 Anna Charlotte did the endowment for Charlotte Corday when the men and women of St. George did the temple work for the Founding Fathers and other Eminent Men and Women of the world.

* * *

Charlotte Corday was a member of the minor gentry in France. In her youth she became enamored with the writings of Plutarch, Rousseau, and Voltaire, and took a great dislike to Jean-Paul Marat, one of the more strident voices of the French Revolution, a member of the Jacobin faction and a prominent journalist. So 24-year-old Charlotte planned and carried out his assassination, stabbing him in his bath. She was tried and convicted and guillotined.

The author de Lamartine called her "the angel of assassination." She viewed herself as another Jael. For a romantic telling of her story, see the chapter in this link.