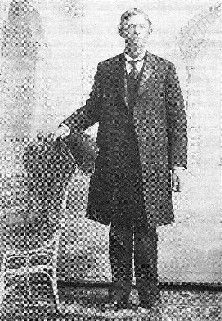 Happy New Year! Today we begin a series that will run every Sunday through most of 2012: the mission diary of Willard Larson Jones (1879-1958). Elder Jones was 20 years old when he was called from his native southern Nevada to serve a mission of undetermined length in the Southwestern States Mission; he would be assigned to east Texas. He began his diary on the day he left home and maintained it on a daily basis until he returned home.

Your first impression of the diary may be that it is monotonous and lacks enough details to be a page-turner. Give it a chance for a few weeks – you'll soon appreciate the rhythm of his work. There are surprises every once in a while, flashes of humor and drama. Mostly, you'll come to appreciate what it meant to serve "without purse or scrip." I thought I understood – elders had to go without dinner once in a while, or sleep in haystacks. That's only the beginning, though, I learned as I transcribed this. I know how glad my Alabama family was to host the missionaries during these same years; now, though, I understand how glad the elders must have been to know they would find a warm welcome at the Hall home whenever they were in the neighborhood. Follow Elder Jones's travels, and you'll almost certainly develop a strong respect, even awe, for the thousands of elders who brought the gospel to earlier generations under these conditions.

In this introductory installment, Elder Jones leaves home, travels first to Salt Lake City and then to St. Johns, Kansas (mission headquarters), and finally reaches his first assignment at Athens, Texas.

-oOo-

Friday, October 20, 1899

I, being called to the Southwestern States to fulfil a mission, left my home on the 20th of October. With somewhat of a sad feeling I bid my friends and relatives goodbye, leaving them with tears in their eyes. We passed down through the Valley to St. Thomas where I met some other friends, giving them a handshake. Then, loading up some salt, we started on again traveling up the Virgin River about three miles, then we stopped for noon. After dinner we traveled on up the Virgin about 15 miles where we camped for the night.

Saturday, October 21, 1899

We began our travel again at just a little before sunrise. With good luck we passed up the river, arriving at Bunkerville about 3 o'clock in the afternoon. At 6 o'clock in the evening we were all invited over to my sister's for supper, after which my Father set me apart as an Elder. After chatting together for an hour or two, we retired to rest.

Sunday, October 22, 1899

We left Bunkerville, Nevada early in the morning, traveling up the Virgin River to Beaver Dams where we stopped at Steven Bunker's for the night.

Monday, October 23, 1899

After having a good night's rest we began to travel again, leaving the Virgin and traveling over the mountains to the Clara Creek (Santa Clara, Utah) where we made camp about an hour after dark.

Tuesday, October 24, 1899

We traveled down the Clara Creek to Santa Clara and from there over to St. George, where we stopped and did a little trading. Then leaving there we went over to Washington, where we stopped with one of my uncles.

Wednesday, October 25, 1899

Bright and early my Father and I went over to St. George to go through the temple. It opened at 10 o'clock when we began to receive instruction, getting through at 2 o'clock. We went back to Washington where we stopped again for the night.

Thursday, October 26, 1899

We left Washington, traveling north, passing through Harrisburg, Leeds, Grapevine Springs, Bellvue, camping just above the Black Ridge where we had to take our horses about a mile to water. About 10 o'clock we retired to rest.

Friday, October 27, 1899

We got up early in the morning and after having a bite of breakfast, we began travel again, reaching Kannara at 11 o'clock, where we stayed with my sister Emma the rest of the day and night.

Saturday, October 28, 1899

We left Kannara traveling up through Hamilton's Fort to Cedar, where we stopped for noon. After dinner we hooked up again driving down through town to the store where we unloaded our load and went on over to Rush Lake where we stopped for the night.

Sunday, October 29, 1899

We began travel about sunup, passing over the mountains to Minersville, reaching there between sundown and dark, where we camped at Bro. McKnight's.

Monday, October 30, 1899

We left Minersville quite early in the morning, traveling over to Milford, reaching there at 11 o'clock. After laying around there all day, at 8:30 in the evening I bid my father and some friends goodbye and, getting on to the railroad cars, I began to travel a little faster toward Salt Lake.

Tuesday, October 31, 1899

After passing a very dreary night away, I reached Juab just before sunup. From there we began to travel a little faster, arriving at Salt Lake at 9 o'clock. I spent the rest of the day in preparing to leave for the States.

Wednesday, November 1, 1899

At 10 o'clock Elder Huntsman and myself reported at the Pres. office and we were told to meet at the temple at 2 o'clock in the afternoon to be set apart as missionaries to the South-Western States. Brother Joseph W. McMurrin set me apart. After this had been done, we were instructed to lay aside all bad habits that we had been used to. We were told not to baptize any woman without the consent of her husband and not to baptize children under eight years without the consent of their parents, but if there were any babies brought to us, we were told to bless them.

Thursday, November 2, 1899

We spent the day wandering about the city looking at the sights. At 2 o'clock I visited through the temple and I found it to be very beautiful. At 8 o'clock in the evening six of us left the city for the States.

Friday, November 3, 1899

Early in the morning we reached Grand Junction. Changing cars, we began travel again and at 6:30 in the evening we reached Colorado Springs, a distance of 640 miles from Salt Lake. We found that we had to lay over here 3 hours and at 9:40 we took the Santa Fe for St. Johns, Kansas.

Saturday, November 4, 1899

We left Colorado Springs at ;9:40, traveling on all night, reaching Kingley at half past 7 in the morning. Laying over there all day until half past 4 in the evening we took the train again, arriving at St. Johns at half past 6. We then started for the President's office and, on our way, we met two elders who were coming to meet us. We reached the place and after talking for a short time, Elder Huntsman and I were taken to Bro. Baker's where we spent a very nice evening.

Sunday, November 5, 1899

At 10 o'clock I went to Sunday School and had a very nice time with the people and at 12 o'clock they took up Fast Meeting and I felt a great deal of the spirit of the Lord resting upon us. I arose and bore my testimony with the rest of the Saints. At 3 o'clock we held Priesthood Meeting in which we received instructions pertaining to our labors and also had the privilege of speaking. At 7 we held another meeting, in which Elder Cora and Elder Larson talked to us on the principles of the gospel, after which Elder Huntsman and myself were invited out to Bro. Baker's to spend the evening.

Monday, November 6, 1899

I took breakfast with Bro. Baker and after we were through, we bid them goodby, returning again to the office where we got our books and also had our money taken away from us. At 12 o'clock we walked out about a mile and took dinner with Bro. Miller. After dinner all of us went into the gallery and had our pictures taken in a group. At 6 Elder Hyer and I went to Bro. Baker's for supper, after which we bid them goodbye, leaving them for the depot, leaving St. Johns at 10 o'clock and arriving at Newton at 12 o'clock, staying there until 7:15 in the morning.

Tuesday, November 7, 1899

At 7:15 we left Newton, traveling across the beautiful plains of Kansas and Oklahoma, Indian Territory, and into Texas, leaving Elder Keyler and Brown at Ft. Worth, then coming on down to Malene Jn. Where Elder Anderson and myself left Elder Huntsman and Rencher.

Wednesday, November 8, 1899

Elder Anderson and myself reaching Malene Jn. at 5 o'clock found that we had to lay around there until 5:40 in the afternoon. After spending a very dreary day we took the train at 5:45 in the evening changing cars at Troup and then going on to Tyler where we had to change again and from there we went on to Athens.