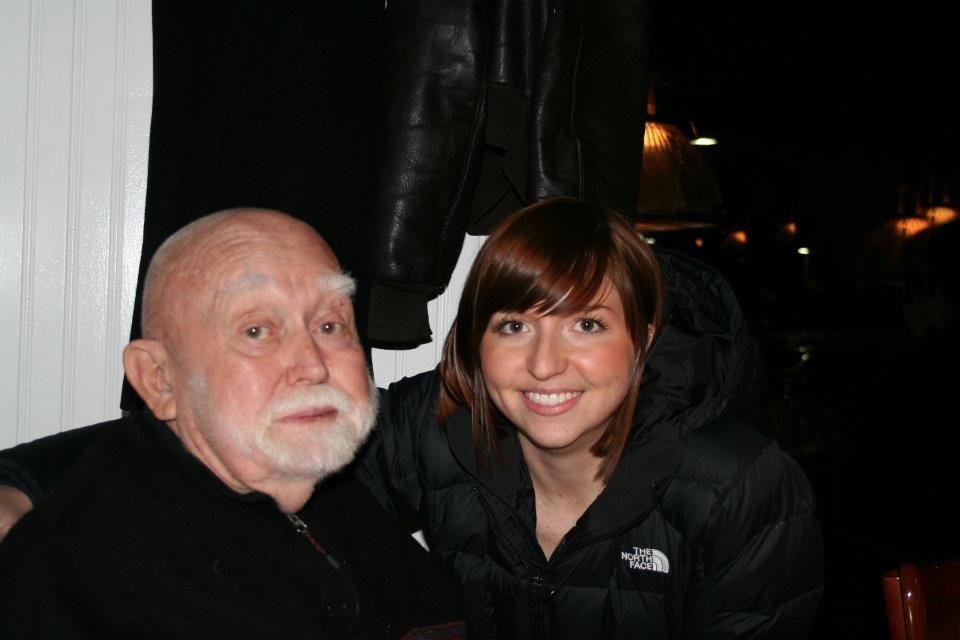 "I, Tom Turkey, hope to be cooked by a woman of integrity." This was the caption below a wonderfully-dressed turkey, sketched shortly before Thanksgiving on the back of a Sacrament meeting program dedicated to the 'Women of Integrity' in our ward. Sitting with my father in church was never dull; he generally produced two or three slightly irreverent cartoons per meeting, often featuring the bishopric or other ward members (apologies, brethren). And while his satire was deeply appreciated by those of us in the back row of the Yale Ward chapel, my dad, Dale Kilbourn, is more widely known for producing some of the most enduring and loved images in LDS church art.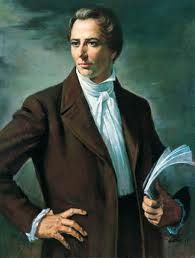 Dale (Harold Tyndale) Kilbourn was born in Salt Lake City in 1929. He attended Uintah Elementary, Roosevelt Jr. High, and East High school. His fellow leopards included "Tommy" Monson and other future church dignitaries (who, it turns out, were also goofy teenagers—go figure). He met my mom, Patricia Webb at East, and they dated while both were attending the University of Utah. He studied there under Alvin Gittins (best known to the church for this Joseph Smith portrait) and LeConte Stewart, whose work is currently on display at the Utah Museum of Fine Arts. Just recently Dad told my brother "LeConte hated my work, and I only graduated because Alvin Gittins did me a favor." I like to think that Gittins saw something more than someone who needed a favor. Dad graduated with a degree in Fine Art, and he and my mom were married in September of 1950.
Dad went to work as an illustrator for David W. Evans, Inc. He worked on dozens of advertising campaigns, including the Utah Dairy Council, U&I Sugar, and the National Turkey Federation (hence his ability to draw a great turkey on command). As Ardis mentioned, Mr. Evans recommended that Dad be brought in to do the illustrations for the new (1956) "Be Honest With Yourself" campaign the church was developing for the youth. This marked the beginning of Dad's affiliation with the church, which would last almost 50 years. His body of church art includes three well-known paintings of Joseph Smith, many portraits of general authorities and church presidents (including President Monson), and hundreds of illustrations that have appeared in every church publication and magazine.
In recent years I have met many people who are familiar with my dad's work. But what most people don't know is that Dad did not become a member of the church until 1988, some thirty years after the first BHWY card went to press. So how did someone who was not raised in the church, had never read The Book of Mormon or the Testimony of Joseph Smith, create images that radiate the spirit of their subjects? I think it has a lot to do with the character of the artist. Please forgive my self-indulgence here, but I think my dad is one of the most selfless, truehearted people I have ever met, not to mention one of the most gifted.
My parents had seven children, and eventually settled in a house on Salt Lake's Harvard Avenue, just down the street from where my dad was raised. In my memory there was always a lot of humor and joie de vivre in our house, and a certain disregard for societal "norms". Dad painted full-wall murals of George Booth cartoons from the New Yorker in our back hallway. He had a fondness for sports cars, and was wont to drive home unannounced with a new one now and then. If a restaurant had paper placemats, he entertained us with sketches of the waitress. Halloween was a blast, complete with world-class jack-o'lanterns and creepy face painting (including his own). And having an artist for a dad was a great advantage when preparing your Valentine box, science project poster or pep club notebook, as long as no one questioned why those Kilbourn kids all seemed to be really great artists (wink, wink)!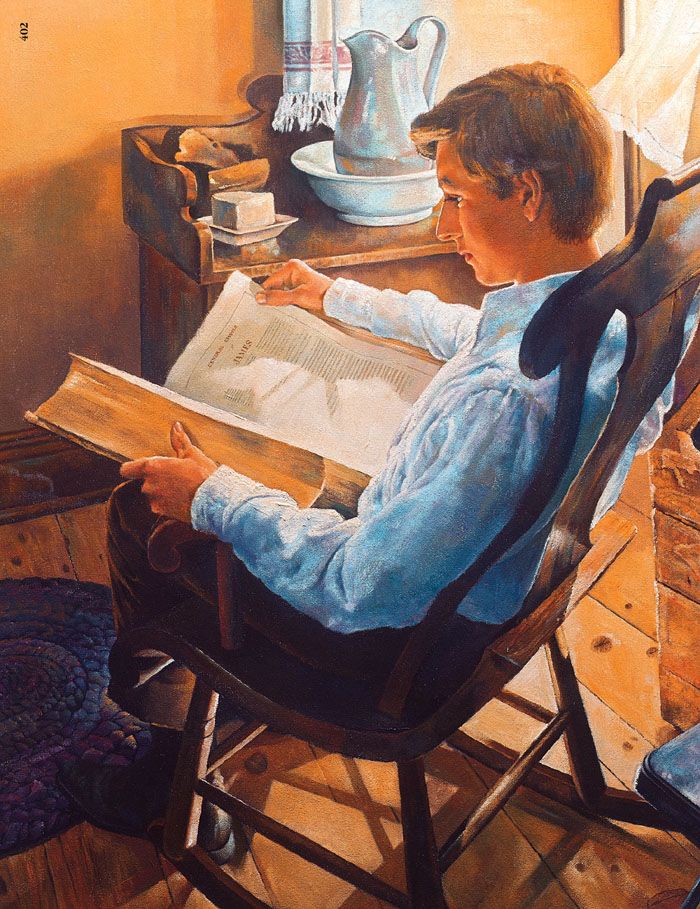 With seven faces (eight if you count my mom), Dad had no shortage of models, and we did a lot of posing while he took pictures with his old Polaroid. All seven of us have appeared in ad illustrations; most of the children pictured in the BHWY cards are my older brothers and sisters. The model for "Joseph Smith Seeks Wisdom …" was my oldest brother, Peter, posed in the Lion House in Salt Lake. Sometimes Dad just needed a shot of a particular body part or pose – I remember standing for what seemed like ages pretending to hold up a lantern for a pioneer drawing. On the upside, we got to eat a beautiful turkey dinner once the photos were finished, and my sister and I got to spend an entire afternoon eating ice cream cones during a shoot for Meadow Gold.
So, we were definitely an interesting family, and particularly an interesting part-member family. Both my parents made sure we were at church every Sunday, even though they mostly attended (at least while I was growing up) only when there was a Primary program or missionary farewell. Yet my Dad was good friends with many church authorities, some of whom I'm sure invited him to join over the years. He tells one story of (I think it was) Mark E. Peterson sitting in his office and saying, "Dale, when are you going to sign up?" I guess the timing just had to be right.
In 1971, a year after my youngest brother was born, my mother was diagnosed with advanced stage stomach and pancreatic cancer. The case seemed hopeless, but she underwent a number of surgeries, and miraculously survived. Her health was very poor for the rest of her life, and much of the responsibility for raising the seven of us fell to Dad. It was during these years that I saw, through him, what love, selflessness, and dedication really mean. He was always at my mom's side when he could be, and he was always there for us. Between him and the wonderful people in the Yale 2nd ward, we made if through many hard times.

My mother died unexpectedly after surgery in 1985. Dad was devastated. He grieved so much for her. I can only guess that maybe that was a turning point for him, a time when everything he had experienced through his association with the church began to take on real meaning, and offer real hope. My brother-in-law was taking the missionary discussions and invited Dad to join him. They were baptized a week apart in 1988. True to form, Dad sent out illustrated invitations to his baptism, which he dubbed "The Kilbourn Dipping". My little brother baptized him, witnessed by family and many friends.

Dad has since spoken at a few firesides where he has talked about his work for the church. The question always comes up: "Did it feel any different to you when you were painting church subjects, particularly Joseph Smith?" Dad has acknowledged that there was a unique feeling that came to him while working on some of these subjects, but he didn't really know what it was. People also ask, "Who is your favorite among the church leaders you have painted?" The answer is Brigham Young. To quote my dad (speaking to my Gospel Doctrine class), "Joseph Smith started the church, but Brigham Young saved it."

Dad is retired from professional work, but still does a few projects for family and friends. He lives with my sister and her family in Salt Lake. He has 15 grandchildren, and recently welcomed his third great-grandchild.

So now you know more about the interesting, funny, and gifted man whose contributions, I believe, will always be a part of the artistic heritage of the church. Thanks to Ardis for letting me toot his horn – think he deserves it! To see more of his work, check out the Dale Kilbourn fan page on Facebook.

Please note: The small image of Joseph Smith in the second paragraph is by Alvin Gittins, not Dale Kilbourn — Diana indicates that in her post, but we want to state that explicitly to be sure there is no confusion.