"Would Washington have been commander of the revolutionary army or the president of the United States, if he had not married the rich widow of Mr. Custis?"
That question, posed by John Adams and probably many others before and since, recognizes Martha Dandridge Custis Washington's importance in the history of the United States, but her contributions to the early history of the nation were much more complex than just the contribution of her fortune.
Martha Dandridge was born in 1731 on a small plantation in rural Virginia. Her parents, John and Frances Jones Dandridge, were respectable if minor members of the local gentry. They raised Martha as a hard worker, skilled in the arts and sciences of running a household and directing the work of slaves.
When she was eighteen, Martha married Daniel Parke Custis, one of the wealthiest men in Virginia. He died a few years later, leaving 26-year-old Martha with two living children and control of a vast estate.
About a year and a half after she was widowed, Martha married George Washington. He had made a name for himself in the French and Indian War, and although he was from a notable Virginia family, his marriage increased his social standing and fortune.
George and Martha enjoyed a long, happy, affectionate marriage. Here's a bit about Martha by a biographer, Ron Chernow:
Martha never craved wealth or status, perhaps because she already had it; nor did she feed her husband's ambitions…. [S]he faithfully supported George's plans and bowed to the exorbitant demands of his career… Abigail Adams captured Martha Washington perfectly when she said, "Her manners are modest and unassuming, dignified and feminine, not a tincture of hauteur about her."
George and Martha never had children together, but they raised the two children from Martha's first marriage, John Parke Custis and Martha Parke Custis, and then later two of John's children, Eleanor Parke Custis, and George Washington Parke Custis. Both Martha and George were devoted parents, and Martha was always particularly careful with her children's health, perhaps due to the death of her first two children from her first marriage.
During the Revolutionary War, Martha Washington left the comforts of Mount Vernon to spend each winter with her husband, thus being a witness to some of the grimmest scenes of the war, including the winter encampment at Valley Forge.
Martha fulfilled her duties as First Lady of the United States with great skill and served as a pattern for First Ladies after her, but she was happy to return to Mount Vernon when her husband finished his second term as president. She wrote to a friend, "The General and I feel like children just released from school…"
After George Washington died in 1799, Martha burned their entire correspondence. Only a handful of loving messages between the two remain.
Martha died at Mount Vernon in 1802.
* * *
When Wilford Woodruff did the temple work for the Founding Fathers and eminent men and women in St. George, he may have been aware that many of these people including George and Martha Washington had had baptisms done for them in the Endowment House in Salt Lake City, since John D. T. McAllister and members of the Haden Wells Church family participated in both sets of ordinances.
Nevertheless, it was very important to Wilford Woodruff to do the temple ordinances for these men and women in the newly dedicated St. George Temple and the event has served as an inspiring experience for generations of church members.
In a gesture that recognized the importance of George Washington in American and Mormon culture, Wilford Woodruff and others also did the work for some of Washington's male relatives and for "Martha Washington and her family." "Her family" consisted of the women in George Washington's life, including his mother, several generations of grandmothers on his father's side, the wife of his beloved older brother Lawrence, Martha's daughter and daughter-in-law, and one of Washington's early female friends.
Lucy Bigelow Young, a woman who could be called the First Lady of the St. George Temple, had the honor of doing the temple work for the first First Lady of the United States.
* * *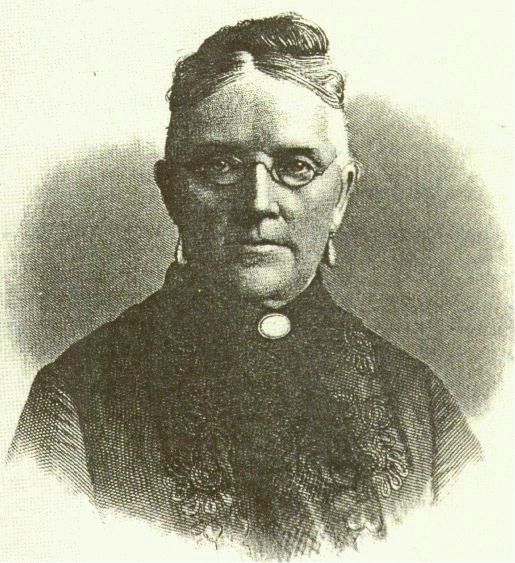 Lucy Bigelow was born in 1830 in Coles County, Illinois, to Nahum and Mary Foster Gibbs Bigelow. Her family joined the Church of Jesus Christ of Latter-day Saints and moved to western Illinois, then to Nauvoo and Winter Quarters.

At Winter Quarters, a Brother Wicks tried to get Lucy and her older sister Mary to become his polygamous wives. The Bigelow family, and Lucy in particular, were not happy about this, and when Nahum Bigelow went to Brigham Young for advice, Brigham Young thought it over and asked for the hand of the two sisters in marriage. Much of what we know about Lucy Bigelow Young and her experiences comes from a biography written by her daughter Susa Young Gates. Susa noted that "When the Spirit of the Lord whispered to [Brigham Young] that he should seek such and such a one for a wife, he did so in a quiet, manly, grave way, never with any spirit of co-ercion on his part, and always leaving as he so often expressed it: 'the sparking to come after.' 'Marry first and spark after,' was a favorite aphorism of his, and he carried it out in his own life."

Susa noted that Lucy did not want to be a polygamous wife, but when asked directly by Brigham Young, she agreed to marry him, "and her fate was sealed forever, thank God!" Susa also notes that Brigham and Lucy did not live together until after they were settled in the Salt Lake Valley and had been sealed in the Council House. Lucy's sister Mary, who had married Brigham Young at the same time, was later divorced by Brigham Young and reportedly never lived with him as his wife.

Life in the Salt Lake Valley was very busy as the settlers worked to gain a foothold and survive in the desert climate. Lucy was a very hard worker. For a while she was in charge of the family dairy, and early on, that meant she was actually milking. Later, it meant she supervised the work.

Lucy's first daughter, Eudora Lovina, was born in 1852. Lucy moved into the newly built Lion House just before her second daughter, Susa Amelia, was born in 1856. The family spent some time in Utah County in 1858, but returned to the Salt Lake Valley when the conflict with the United States government was resolved.

During these child-bearing years, Susa notes that Lucy had "many premature birth-mishaps." That terminology does not show up in any literature, medical or otherwise, so it might mean either miscarriages or premature births with the baby not surviving. Regardless of the actual details, Lucy gave birth to her third and last daughter Rhoda Mabel in 1863. Lucy also adopted the granddaughter of a convert from East India.

In 1870, Lucy Bigelow Young moved 300 miles south to St. George and lived in a home that is no longer standing. (Some sources state that she moved south sooner, but the 1870 census shows her still living in Salt Lake City.)

Lucy participated in the dedication and early operation of the St. George, Manti, Logan, and Salt Lake Temples.

In her later years, Lucy traveled around the United States and around the world and finally built a home for herself in Salt Lake City. She died in 1905 at the age of 75.

* * *

Lucy Bigelow Young did the proxy endowments for two other Eminent Women, so she will be featured twice more in this series. These upcoming posts will deal with her temple work and healing and with her cultural life and legacy.