I've recently been reading both the biographies of Joseph F. Smith and portions of his personal journals for a project I am working on, and have come to appreciate him in a different light. In the past, having read some of his sermons and writings in such works as Gospel Doctrine: Selections from the Sermons and Writings of Joseph F. Smith, I have had a perception of him as strict, doctrinaire, and very stern. However, reading the journals and some letters to his adopted son, Edward Arthur Smith, I've seen the depth of feelings towards family, tenderness with those he loved, and more emotional undercurrents than his very formal public persona would seem to indicate.
Nowhere do those feelings show up more than in notes he made in his journal while serving as President of the European Mission and learning that his cousin and close friend, George A. Smith had died.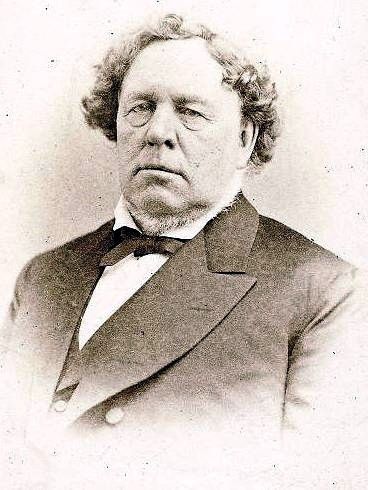 George A., the first cousin of Joseph and Hyrum Smith, was one of several close relatives that helped to look after Joseph F. after his mother died in 1852, leaving Joseph an orphan at age 13. George A. ordained Joseph an elder prior to the young 15-year-old's departure on a four-year mission to Hawaii. After a second short mission to Hawaii, George hired Joseph to work with him at the Church Historian's office adjacent to George A.'s home. There, Joseph became acquainted with young Julina Lambson, the niece of George's wife Bathseba. After receiving a charge from Brigham Young to take a second wife, Joseph and Julina were married in 1866, further strengthening the ties between Joseph F. and George A. Smith, who had become almost a second father to Joseph.
In 1875, Joseph F. Smith had been in residence at the European Mission Headquarters in Liverpool for several months, dutifully recording the comings and goings of missionaries, booking passage for returning missionaries and immigrants, and administering the affairs of the church in Great Britain the continent beyond, when word came in a telegram from emigration agent W. C. Staines on September 2nd of the death of George A. Smith the day before. I leave it to Joseph to share his feelings as recorded them in his journal over the next few days.
Wednesday Sept 1, 1875

[presumably added later at the very bottom of the page:]

President George A. Smith died today. God knows best!

Sept 2, 1875 Thursday

This evening I received a cable dispatch from Elder W. C. Staines – saying "Pres. Geo. A. Smith died yesterday."

I cannot tell with what terrible weight this melancholy intelligence fell upon my soul. But for the forewarnings and fears – akin to dread, I have had, it would have seemed impossible. My heart tells me it is a terrible reality.

On no other man in the Church did greater responsibility rest. President Youngs feeble health and exhausted vigor, made the necessity. President Smith was regarded his mainstay, and the hopes of the people were centered on him, in the event of President Youngs death, he being a younger man, only 58 the 26 of last June. The people loved him as they did President Young or as they did the Prophet Joseph Smith. No man ever possessed more supremely the love and confidence of the entire Church. He never preached a false doctrine, nor to my knowledge ever made a mistake in his whole public career, neither religiously nor politically. His whole great soul was centered in the Kingdom of God, and his most valuable life was spent in the interests of the people. He scarcely thought of himself or saught the interest of his family except as a part of the whole.

I cannot however satisfy my feelings, nor do justice to him in a diary. The world has lost a bright light and an honest man the Saints a wise and faithful counselor, a prophet, seer and revelator, and as true a friend as Christ the Lord. As for myself, I feel as if he were my own father, and my greatest earthly benefactor.

May God bless and comfort his family and preserve his children in the paths of righteousness and truth forever.

Friday, September 3, 1875

My heart is filled with grief & sorrow for the loss of President George A. Smith. O! what a loss in this trying hour to President Young and the Church! Now when it would seem as though all hell was let loose to war against the Priesthood!

How much longer O! Lord wilt thou suffer the wicked to rage and the heathen to imagine a vain thing! They were as ravening wolves after the blood of thine anointed and as fierce lions after their prey!

Truly God is more long suffering and merciful than man.

Saturday September 4, 1875

[Joseph lists several letters of condolence he has written to several individuals, then makes this entry:]

I tried to write an editorial for the Star, but my soul was so bowed down with sorrow and my feelings so wraught up, that I could not write. I dare not trust myself. I therefore prepared only a few lines on the "Demise of President George. A. Smith". My whole being seems oppressed with a sense of loneliness. I cannot see him in my mind, only in that better sphere beyond this mortal life — beyond our reach in this world, and he will come to us no more!

His home looks empty. The councils of the Priesthood deserted! O! how I loved him! how I honor his memory!
Within a few short weeks, Joseph F. Smith wrapped up his mission responsibilities and returned to Utah. For a man so firmly in control of his emotions in the public sphere, these brief entries open up the intense personal feelings which Joseph F. held for family and friends, and exhibit a much deeper sense of love and emotion than I previously had experienced. For those of us who have known him as a bastion of orthodoxy in the church, I've found these journal entries and letters to show a more personable, caring, and compassionate man than I had otherwise known.