Do you remember Yentl, the 1983 movie with Barbra Streisand as the Eastern European Jewish girl of the early 20th century, who so craves the bookish education that is forbidden to her that she cuts her hair and masquerades as a boy in order to register in a distant yeshiva? While she is still at home in her shtetl, keeping house for her rabbi father, she crosses through a marketplace just as a bookseller cries his wares: "Holy texts for men … Story books for women! Sacred books for men, lovely picture books for women!"
I've thought of that scene so many times in the past few weeks as I've tried to come to grips with the new Relief Society history, Daughters in My Kingdom. It is a lovely book, indeed, and it is indeed filled with pictures. Not only are there photographs and paintings on virtually every page, there are pull quotes, scrolled embellishments over some pictures (all of which are edged in gold), curlicues around page numbers, and an ornamental "This Book Belongs to …" bookplate on the flyleaf. The edges of all pages are decorated with faint floral or geometric prints, which extend under the pull quotes and in many cases extend into the text columns so that text is printed on colored, patterned backgrounds.
I think that there is some text in the book, too – there's a pattern of black shapes in rows that serves to frame and separate the pictures – but I keep being distracted by the shiny pictures and haven't yet been able to read the text.
It is a lovely, lovely picture book.
This is perhaps my sixth attempt to review Daughters in My Kingdom. Earlier attempts have failed in part because I have truthfully not yet been able to read the text.  I have in fact been so continuously distracted by the page design and illustrations that I can't concentrate on the text. So in this attempt I'm going to surrender and review only the illustrations. Then I'll download Daughters in My Kingdom from the website, strip out all images and formatting down to the bare bones text, and see if I can't finally concentrate on the text itself.
This review is limited to the images in Daughters in My Kingdom – this lovely, lovely picture book for women.
There are basically three kinds of illustrations in this book, not counting the curlicues and page textures and other incidental embellishments.
First and most effective are the illustrations that convey real historical content. Those I enjoy most are, perhaps not surprisingly, those like this one from p. 52 which show women engaged in iconic Mormon women's activities (here, picking silkworm cocoons during the years of Mormon sericulture).
.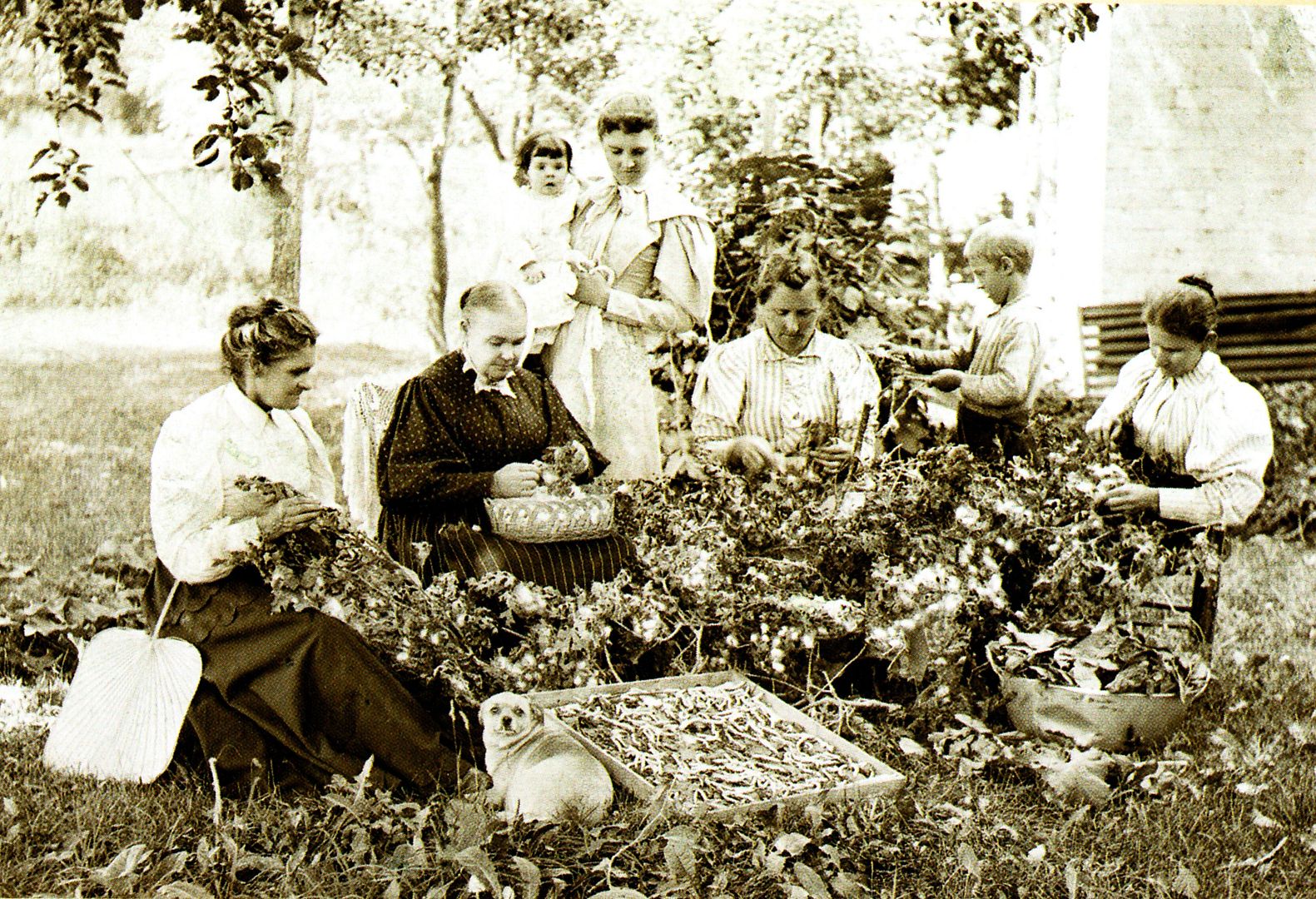 .
More general ones, like this one from p. 72 showing California women engaged in canning food are also effective – they feel genuine, tied to a specific time and place, documenting real Mormon women engaged in real Relief Society activities.
.
.
Even a few of the more generic illustrations, like this one from p. 100 with the caption "Charity is felt in the invitation 'Come–sit by us'," feels authentic – although I don't know where or when it was taken, or what the occasion or activity was, the spontaneous emotions and the sheer number of women with their individual styles of clothing and grooming seems to be a real photograph of a real moment in time, unstaged.
.
.
The book contains many images of paintings, too, of events that could not have been photographed (events from the scriptures, or the founding of Relief Society in 1842 or its early years in the Salt Lake Valley). Although these images are less immediate than a photographic witness, they do still convey information and a sense of time and place.
A second class of illustration is, in my opinion, much less successful and more distracting, and in terms of the sheer number they almost become an annoyance. These are photographs which convey no sense of time or space but are merely generic images – stock images, if you will, that could be used to illustrate any number of concepts, and which go no deeper emotionally nor informationally than the surface. This one from p. 121, for example:
.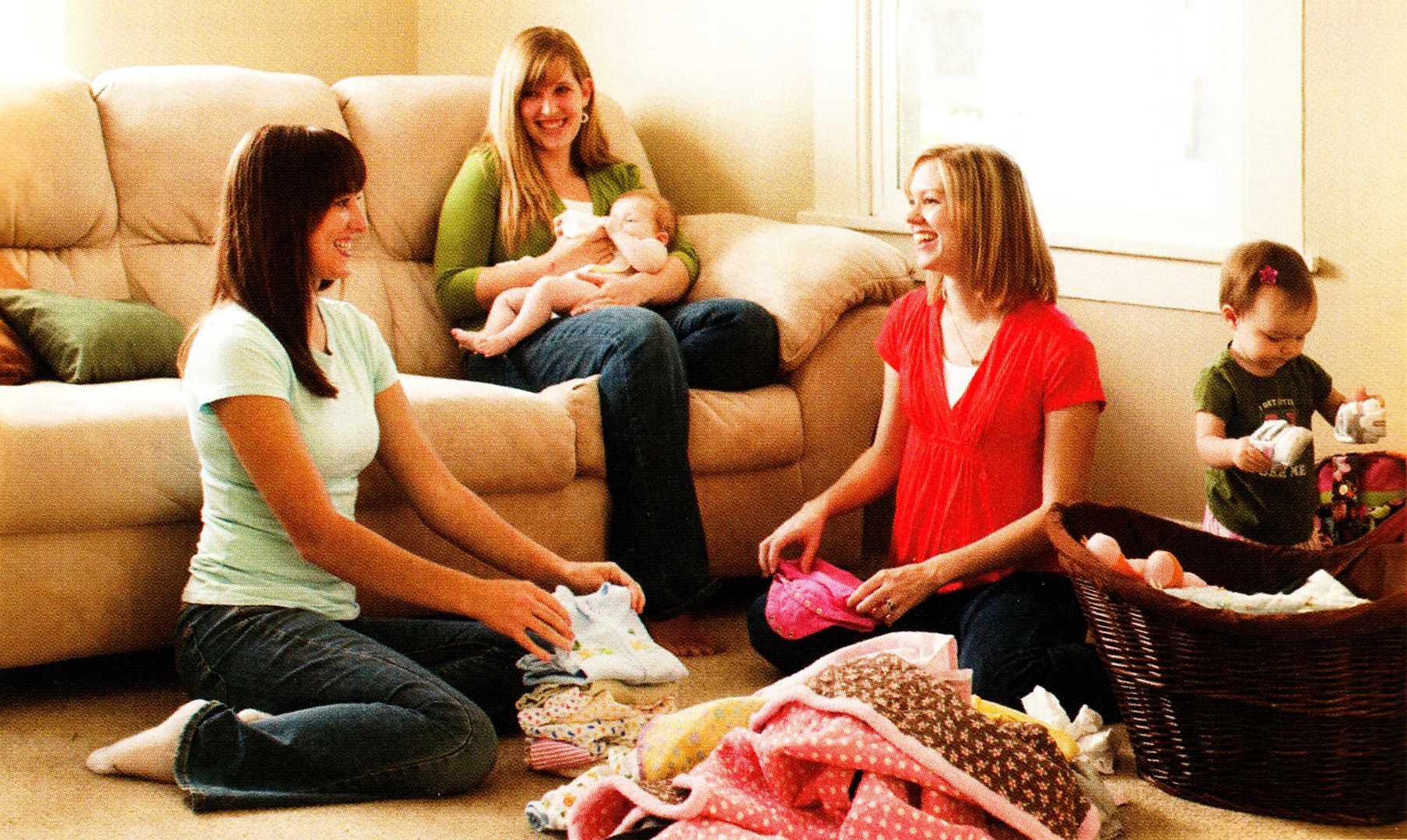 .
It illustrates visiting teaching in this book; in other Church material it might illustrate motherhood, or a support group for student wives. It is generic enough to be used in other contexts to advertise jeans, or fabric softener, or shampoo, or stain-resistant carpeting. It feels artificial and posed, staged for the camera, as does this photograph from p. 117:
.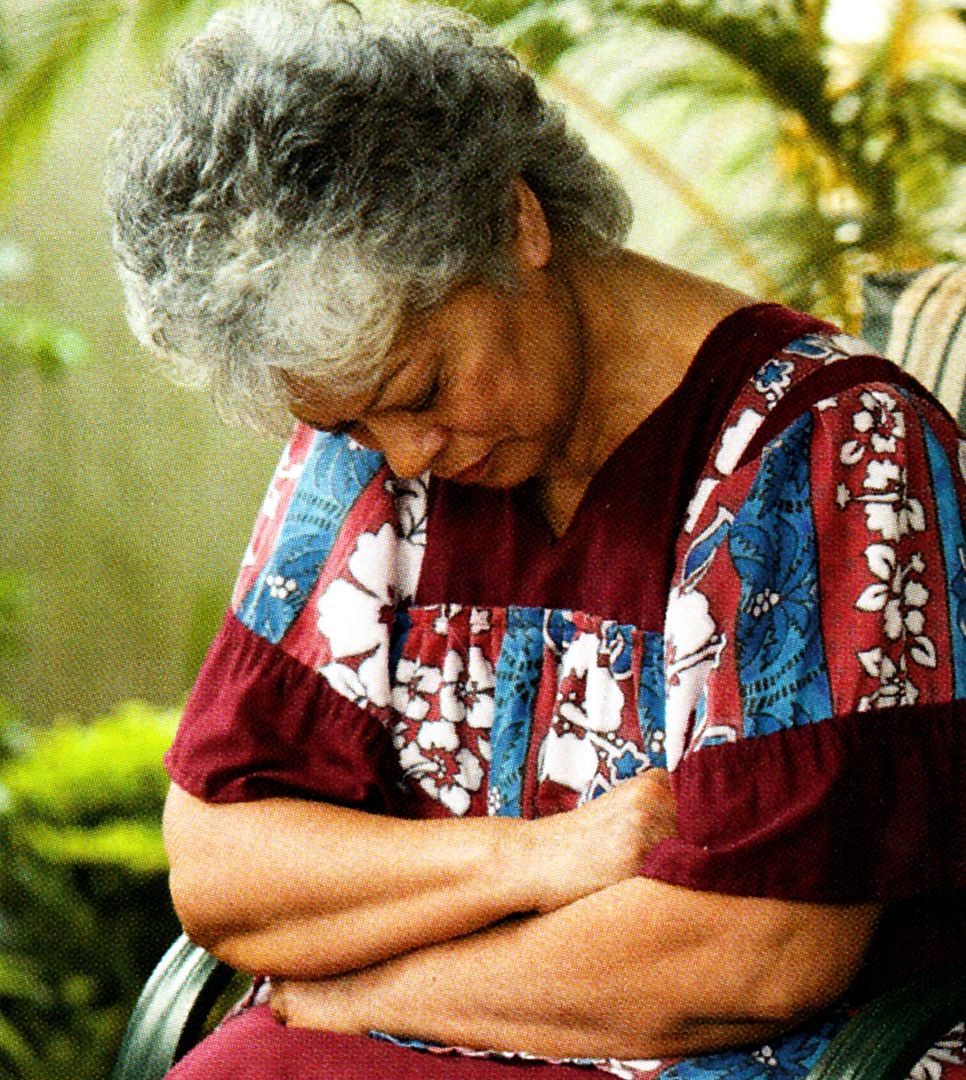 .
or this one with obvious mugging directly to the camera, from p. 99
.
.
For me, these images, because there are so very many of them conveying so little information, distract from the message and detract from the book as a history, in my opinion.
On the other hand, they do serve at least one valid and worthwhile purpose: Because the pictures are deliberately staged for propaganda purposes (using "propaganda" in its purest form and without pejorative intent), care has been taken to use models from almost every imaginable racial and cultural background and age. Every woman in the Church ought to find some picture among this group that depicts someone more or less like her physically – being inclusive, reassuring a woman that she is not alone in the Church no matter how alone she may be as a Church member in her family or community, showing that she, too, is a daughter of God and has a place in Relief Society, is definitely a worthwhile motive for a book like this one.
The third general class of illustrations, however, contributes neither to history nor to inclusiveness, but serves merely as cotton candy for the eye. These illustrations are images of paintings or other creative works, are brightly colored, and are highly romanticized, idealized Valentines more reminiscent of saccharine Wasatch Front scrapbooking than carriers of history or doctrine.
For examples, see p. 49,
.
.
p. 173,
.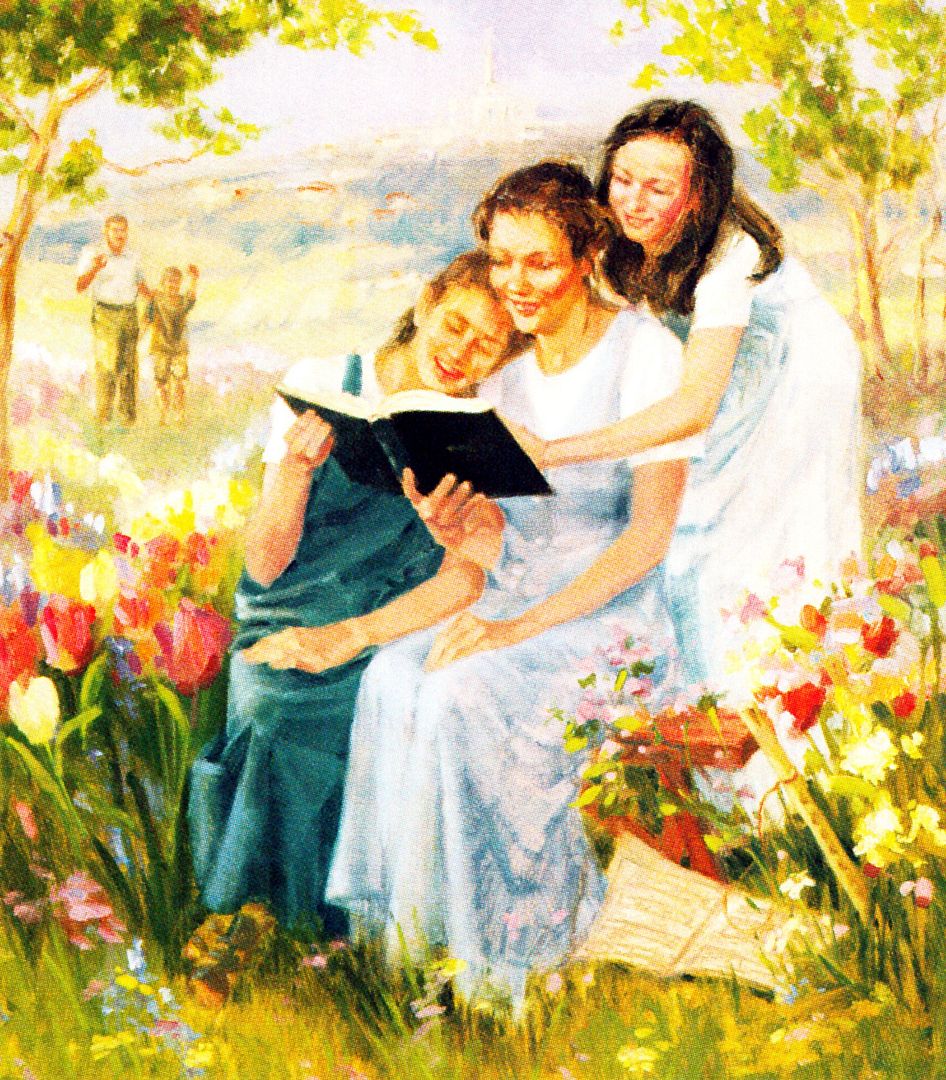 .
and p. 150:
.
.

These images seem to have been inserted for no reason but the desire of a page designer to break up a block of text. More than any others they bring to mind the contrast between "Holy books for men" and "Lovely picture books for women." I find myself staring at them, wondering what the no nonsense women I knew as a missionary in France, or the cultured women of my mother's generation, would make of them.

There. Maybe I've got it out of my system. I'd really like to read this book through and get a clearer sense of what must be more important than appearances. Having disposed of the distracting glitter, maybe I can get now to the intended message.

Caution: Rant Ahead.

Please do not respond to this by telling me, "Now, sister, you need to remember that this book is intended for women all over the world, in many different circumstances." I. Know. That. I have acknowledged that fact before, and am on record as saying that if this history can't meet all the needs of all the women in the Church, it is far more important that it meet the needs of other women who do not have my opportunities for learning about the history of Relief Society through other channels.

But frankly, I am sick to death of being told with every varying degree of condescension that this book is aimed toward other women, or that I ought not to be so haughty and that what is good enough for those other women should be good enough for me. That is no more relevant to my needs than telling me to remember that they speak English in Australia. I am not marginally literate; I am not a new convert; I don't live in some remote corner of the world where I haven't seen Relief Society fully functioning; I don't suffer from non-awareness of my status as a daughter of God; I'm not a novice to women's history in the Church. I am, however, a woman in this Church, a member of Relief Society, who is expected to open the gift, as Sister Beck puts it, and I should be free to evaluate that gift in terms of its utility to me. Just as Sister Beck isn't obligated to squeeze herself into the child's apron of her video, but is free to pass the gift to someone more appropriate (her granddaughters), I am not obligated to squeeze my needs and taste into the limits of a book whose format is intended for some other woman. I'll pass that part of the gift along to those who can use it without pretending that it fits me.

Just don't you dare tell me that I need to be that other woman in order to be genuinely and sincerely a woman in the kingdom. Just don't.

End of rant.