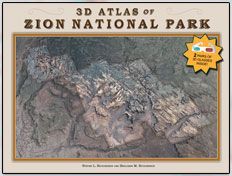 Steven L. Richardson and Benjamin M. Richardson, 3D Atlas of Zion National Park, 2011. Book includes two pairs of 3D glasses. Available through the authors' 2i3D Stereo Imaging website.

Three or four years ago,  my friend Steve Richardson told me about his work with anaglyphs – stereoscopy – the technique (both art and science) of printing images to trick the eye into believing it is seeing in three dimensions when it is actually looking at a flat surface. Turns out there is a whole lot more to its practical application than some of the gimmicky summer movies.

Steve's earliest 3D project involves Mormon history, which is my excuse for reviewing his current work – but since that project has not yet reached the market I'm not about to betray his clever idea for someone else to jump on. Sorry. You'll love it, though, when it is available.

About the same time, he brought in one of those poster-size USGS maps – you know the kind, with the wavy lines indicating the contours of the land, as well as all the usual labels and latitude/longitude indications. This one looked kind of funny, though, out of focus, somehow. Grinning, Steve handed me a pair of those funny paper 3D glasses with the cyan and red film lenses. I put them on and looked again. Whoa! This map included the section where the old Kennecott mining pit is, and involuntarily my hand reached over and I poked my finger into the deep, deep hole that was so obviously there, surrounded by sharp mountains and rolling hills and a flatter plain.

We left that map spread out on a library table that day, with several pairs of glasses lying near it. This was in the days when patrons, staff, and missionaries were all still wedged tightly together in the old Church History Library. Almost everyone who passed by stopped to put on the glasses, and almost everyone had the same involuntary reaction I had had. I swear, so many fingers had attempted to find the bottom of the Kennecott pit that there was a hole there by the end of the day – a hole in the paper.

It wasn't long before Steve and his son had begun marketing posters and then books taking advantage of the techniques he had developed for producing these incredible 3D geographic images. This atlas of Zion National Park, like their earlier atlas of the hiking/biking/driving scenic area near Salt Lake known as the Tri-Canyon area, reveal Utah's incredible topography in a way no other atlas ever has. Facing pages cover the same ground: on the left-hand side is a satellite image – but printed in 3D – showing the topography of a small region (maps are on the scale of 1:24000); on the right-hand side is a map – again in 3D – reminiscent of the USGS maps, with all the contour lines, geographic labels, named roads, and so on that you'd need to find your way through the wilderness pictured.

And what's the point, besides an amusing way to pass a few minutes?

Suppose you were a biker, wondering whether you were really up to the terrain of your scheduled ride? Or a hiker, wondering if your family should really tackle that hillside? Or an explorer plotting your route through a region of steep canyons, little water, and no roads? Or a skier planning a cross-country trip? Or a returning vacationer, trying to get your friends at home to understand your achievement in hiking or biking through one of these areas? Or a school teacher hoping to help your fourth graders understand what it was like for Jedediah Smith or Father Escalante or some other explorer to pass through this region? Or a student of history trying to solve the puzzle of how a band of Indians who had been here on one day was suddenly there on the next? Or any other casual or professional user who wanted a visceral understanding of geography?

If you like maps – Ken Jennings and BCC's readers, I'm looking at you – or if you're an outdoorsman, or just like novelties, it's worth visiting Steve's website (you'll need a pair of 3D glasses for the full effect) and checking out his books. I don't know for certain, but I also wouldn't be at all surprised if Steve could fill custom orders for posters when there's an area you're especially interested in.