Lots of Saints in the military, and lots of Saints carrying on at home, in our family photo album from 1943 —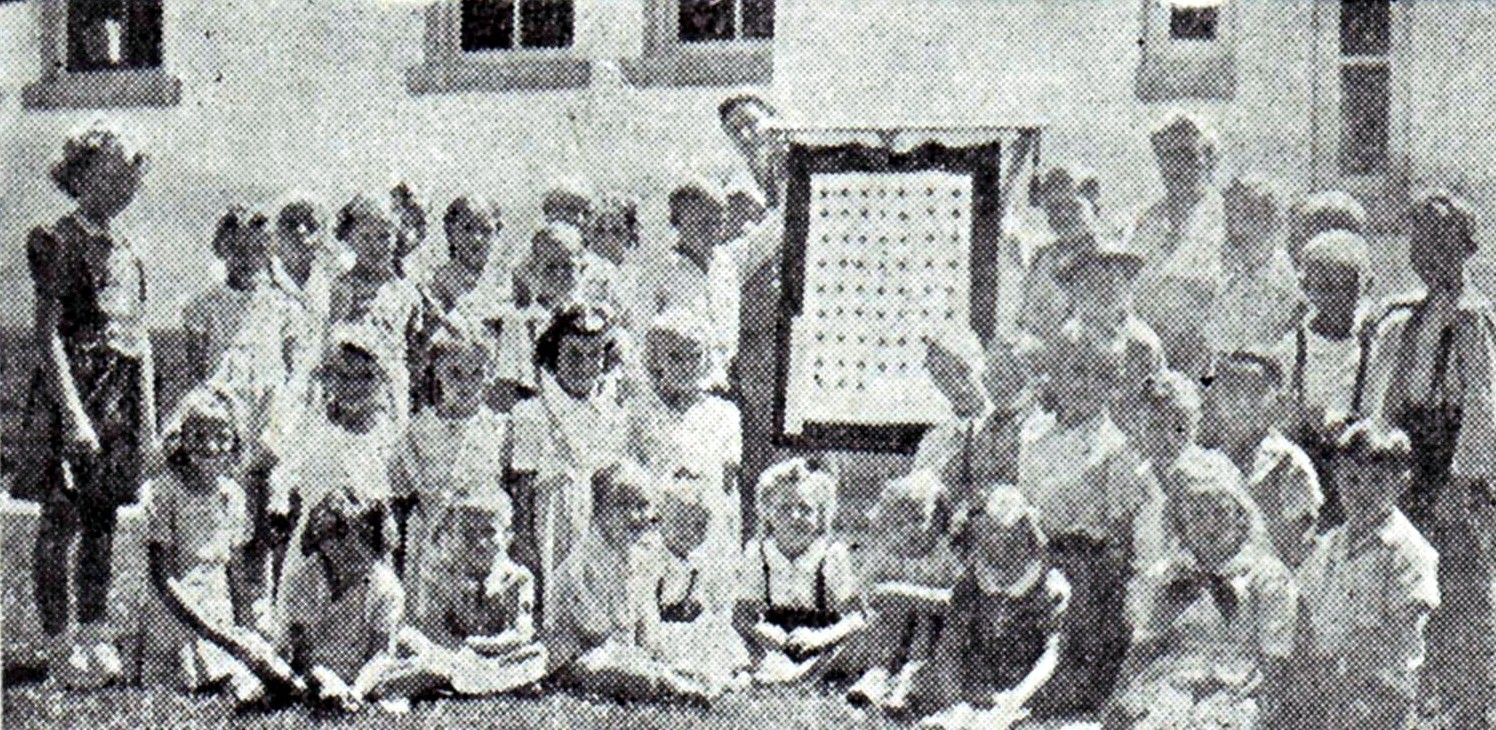 .
.
.
.
.
.
Richfield, Utah . . .
Flag Exercises . . .
.
.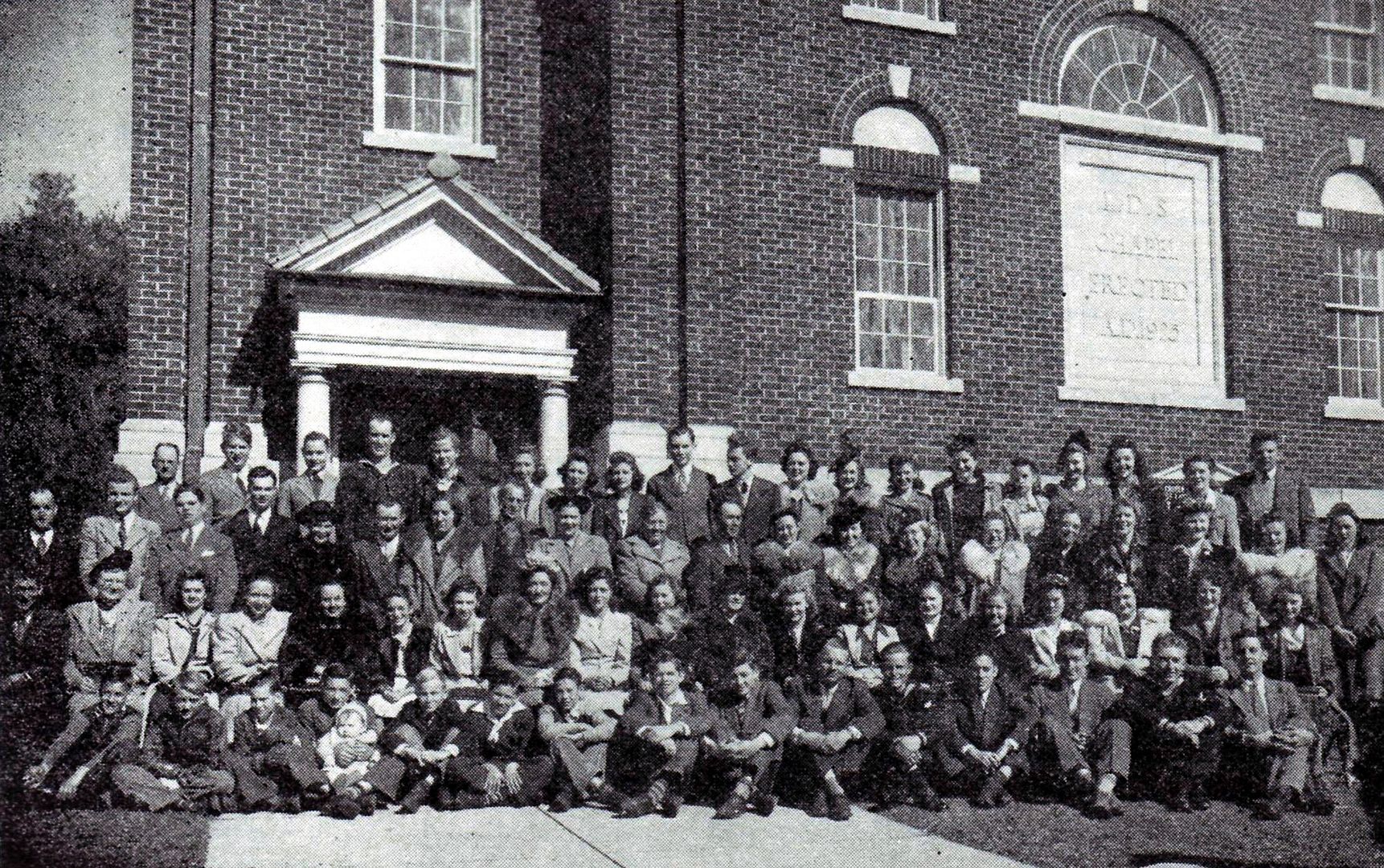 Jacksonville, Florida
.
Star Valley, Wyoming
Stake Missionaries
(left to right, front row:) King Cranney, Alden Putnum, Lloyd Pead, Emil von Almon, Gilbert Allred, Lenard Robinson, Con Millward, John D. Kingston (2nd row:) Carl Robinson, Royle S. Papworth, Ralph J. Hyer, Ray Walton, Robert Lancaster, Ralph Astle, Lee Preston, Charles Ranzenberger, Roland Johnson. (third row:) Ivan Gardner, Mrs. King Cranney, Mrs. Wilford Haderlie, Mrs. Emil Von Almon, Mrs. Alden Putnum, Mrs. Leora Griffeth, Mrs. Gilbert Allred, Mrs. Roland Johnson, Bonita Gardner, Lavere Johns. (back row:)( Marvin Hepworth, Thomas Simpson, Harold Jensen.
(And I'm very sorry that so many of the women are identified only as Mrs. Husband's Name.)
.
Cincinnati, Ohio
Sunday School
.
McNeil, Mississippi
.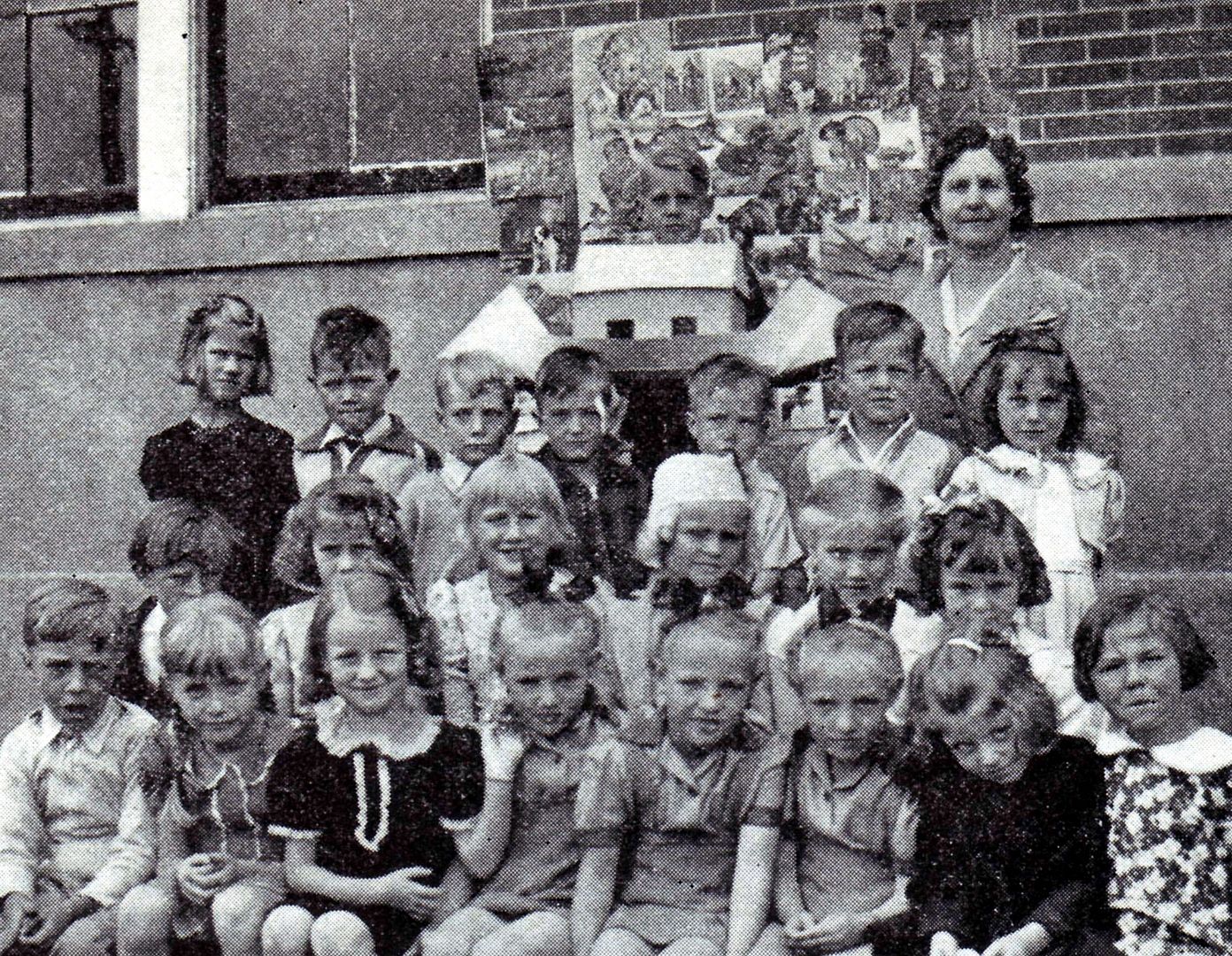 Hibbard Ward, Rexburg Stake, Idaho
Sunday School Class
.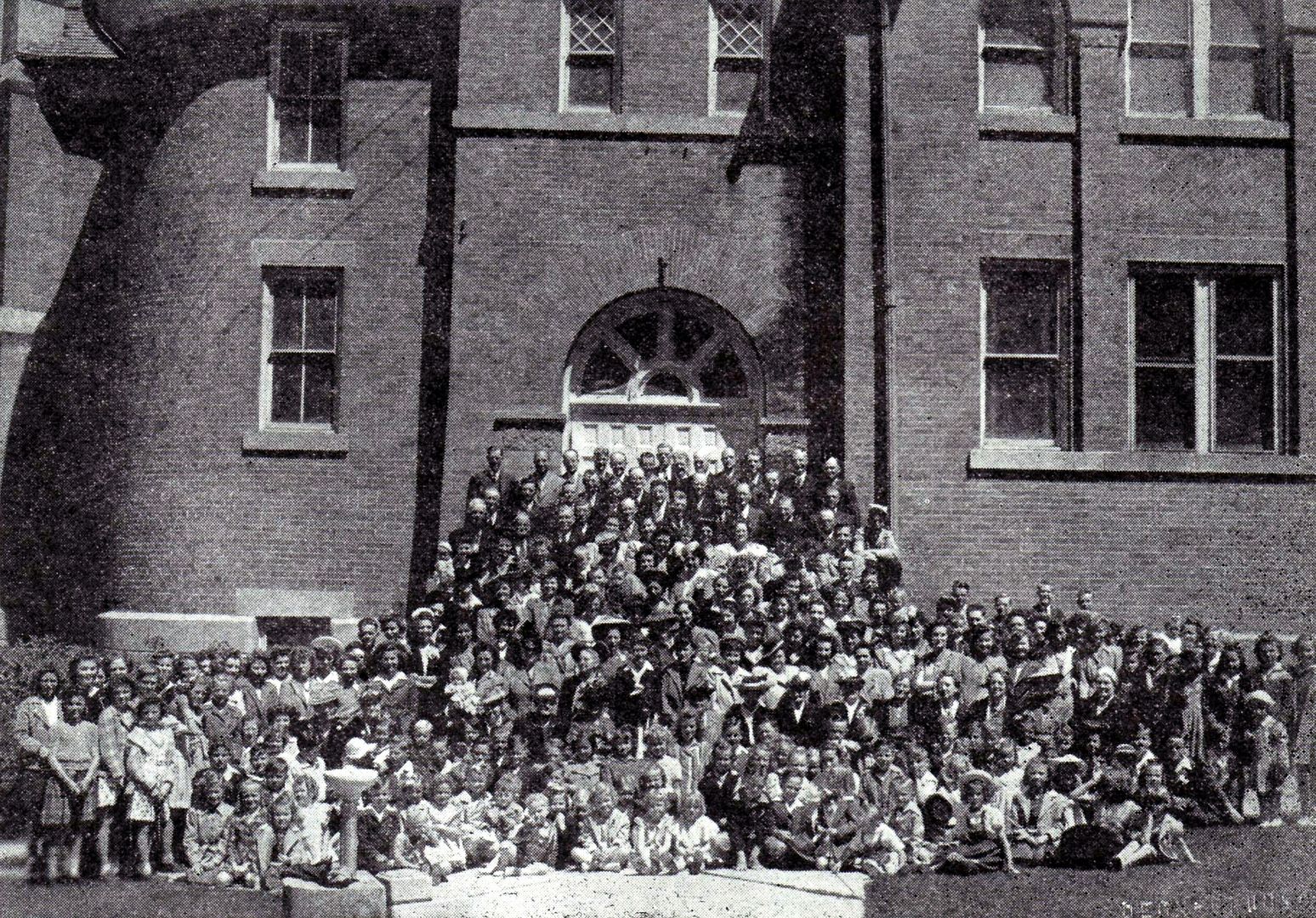 Hyrum 3rd Ward, Utah
.
LDS Servicemen, Luke Field, Phoenix
(left to right, first row:) Chaplain Sprague, Clyde M. Lunneford, John E. Janke, Vaughn K. Lauritzen, James B. Manwaring, Harold Y. Anderson, Werner L. Verhaaren. (second row:) Vee L. Taylor, V.C. Later, Frank D. Roberts, Bob L. Roberts, Leo H. Richens, John L. Neilson, Robert D. Shurtliff, Dean L. Zenger. (third row:) Byron H. West, John D. Spuler, Karl R. Preece, Lorin R. Burningham, Dewaine Buck, Max E. Smith, Oriel Tracy. (fourth row:) Vernon L. Blamires, Merlin R. Miskin, Ernest R. Oliphant, Darrell H. Waters, O. Woodrow Parsons, Ned Miles, Robert L. Matson, Melvin A. Larkin. (fifth row:) Dean W. Crowther, Leonard D. Sylvester, Donald H. Tolman, Bill Naylor, Harley R. Moulton, Russell C. Christensen, Lawrence D. Dansie. (sixth row:) Gale Moon, T. Quentin Beatty, Thomas F. Larkin, Keith D. Bringhurst, Jay L. Love, Fay W. Bryner, Ralph T. Cannon, (seventh row:) Grant L. Probst, Joseph R. Smith, J.R. Anderson, Lendell S. Perry.
.
Milo Ward, Idaho Falls Stake
Sunday School Genealogical Class
.
Japanese Mission Choir, Honolulu, Hawaii
Youth Conference
.
Millegeville, Georgia
.
Bennion, Utah
.
Pleasant View Ward, Sharon Stake, Utah
Sunday School
.
La Libertad Branch, Pueblo, Mexico
.
LDS Civilian Construction Workers on a Military Project in Alaska
(left to right, front:) D. Bergen, L. Machem, J. McKee, S. Robertshaw. (second row:) Brothers Call, Baldridge, Freckelton, Sgt. W. Humphrey, G. Anderson, C. Smith, D. Kershaw, A. Harris, N. Shearer. (standing:) D. Magelby, R. Fairbourn, M. Duke. A. Bell, M. Bell, J. Christopherson, M. Romney, G. Judd, B. Sanford.
.
Vernal, Utah, 2nd Ward
.
North Hollywood, California
M-Men Basketball Team, Tinner of Sportsmanship Trophy at MIA All-Church Tournament
(left to right, back row:) Royal Jensen, Roscoe Hunt, Levi Hunt. (front row:) Lyman Pinkton, Lee Hess, Jimmy Pratt, Hugh Smith.
.
Star Valley, Wyoming
Seminary Officers
(Darrell Hoopes, Dale Call, Delworth Gardner, Dawna Pringle, Phyllis Chadwick, Jeanne Stock)
.
LDS Men of Camp Polk, Louisiana
(left to right, front:) William Smith, David F. Burnett, Randell M. Seamons, Marlin V. Sandes, Lloyd Nyman, Cluff H. Petty, James O. Adams, David D. Millet, Constant W. Thueson, Leland K. Carlson, Cleveland E. Cook. (center:) LaVoy Udy, Roy Nilsson, Victor A. Slade, Homer J. Cox, Jr., Maurier A. Blair, John M. Luke, Wayne E. Call, Glenn B. Greenwood, Geert Hulshoff. (back:) Alvin L. Armstrong, William H. Smith, George E. Neilson, Wendell M. Crosby, Seymour K. Liechty, Darnel P. Larsen, J. Don Poulson, David L. Madsen.
(Seymour Liechty was my bishop; he passed away last year.  He was highly decorated — six bronze stars, a silver star, two purple hearts. I didn't realize he had earned all of those in the last half of the war.)
.
Aaronic Priesthood Choir
Tooele Stake, Utah
.
.
Missionaries of the Mexico Mission

(left to right, first row:) Oscar Leath Cluff, Mack Bluth, Phoebe Sevey Hall, Arwell L. Pierce, Mary Done Pierce, M. Alvin Romney. (second row:) Gustavo S. Brown, Carlos B. Monroy, Blanca Rosa Navarro, Helena Wall, Sabina Estrada, Edna Martineau, Bert Skousen, Librado Hernandez. (third row:) Clyde Allred, Joel F. LeBaron, Ervil M. LeBaron, Leland C. Robinson, Jr., Adelbert R. Taylor, L. La Selle Taylor, Delmar Wagner. (fourth row:) Francisco de los Rios, Dean Farnsworth, Erma Farnsworth, Maurine Lunt, Alleen Memmott, Albert I. Jarvis, Reed G. Romney, Isidro A. Bautista, Jr., Augustin Haro.