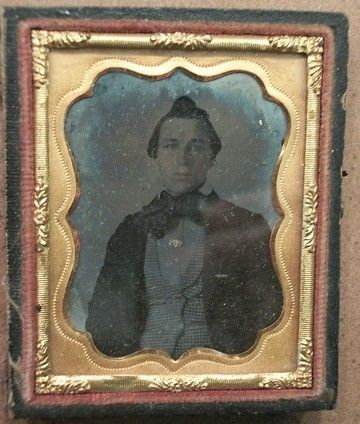 It's been a while since we've had a good ol' sighting of Joseph Smith in a photograph "identified" on the "strength" of a superficial resemblance to some painting or sketch, supported by an unhealthy dose of wishful thinking. For a flock of past sightings and some discussion of why such identifications are utterly unreliable, see here and here and here and here.
There's another such "identification" on a current eBay listing, described as follows:
This is an ESTATE FIND, 1/6th plate Ambrotype photo, purported to be of Founder of the Mormon Religion, Joseph Smith. I have not been able to confirm the photographer, or the subject, but it bears a striking resemblance to the paintings and drawings of the early LDS Church Founder.
A hopeful eBayer had the good sense to temper his hopefulness before it turned into gullibility, by asking for an opinion from experienced New York Mormon documents dealer Rick Grunder. Rick [purportedly] sent this response:
Thanks for the link to the eBay item. You ask, "Is it truly an ambrotype of Joseph Smith?"

Yes. You can tell for sure that it is Joseph Smith in several different ways:

1) The guy is wearing old fashioned clothes.

2) The guy has a weird hairdo like Joseph Smith.

3) The guy has a big nose like Joseph Smith.

What particularly excites me is that this is an ambrotype, a kind of photograph which first came into use in the 1850s. This proves our theory that Joseph Smith was not really killed in 1844, but lived on, underwent plastic surgery (by Dr. John C. Bennett) and later became Brigham Young.

Rick Grunder