Obedience
"Oh, Georgie, Georgie!" exclaimed a fond mother when she saw her small boy considerably battered and dirty. "You have been fighting again! How often have I told you that you shouldn't fight?"
"Well," said he, "what are you going to do when a fellow hits you?"
"Why, keep out of his way," said the mother.
"I'll bet," said the youngster, "he'll keep out of mine after this."
He Knew It
In honor of a visit paid to his plant by the governor of the state, an automobile manufacturer once had a complete car assembled in something like seven minutes.
Some weeks after this feat was heralded in the daily papers, the 'phone at the factory rang vigorously.
"Is it true that you assembled a car in seven minutes at your factory?" the voice asked.
"Yes," came the reply. "Why?"
"Oh, nothing," said the calm inquirer, "only I've got the car!"
Resentment
"Was it your craving for drink that brought you here?" asked the sympathetic visitor at the jail.
"Great scott, ma'am! Do I look so stupid as to mistake this place for a saloon?"
The Perfect Boy
Willie was doing penance in the corner. Presently he thought aloud pensively:
"I can't help it if I'm not perfect," he sighed. "I never heard of but one perfect boy, anyway."
"Who was that?" asked his mother, thinking to point a moral.
"Papa," came the silencing reply, "when he was little."
Current Talk
Teacher: "In French, money is feminine. Can any one tell me why?"
Pupil: "Yes, ma'am: because it talks."
War Talk
Waiter:"And will you take macaroni au gratin, sir?"
Captain of Artillery: "No macaroni – by gad. It's too difficult to mobilize."
For Business Reasons
Askitt: "Do you believe in the survival of the fittest?"
Digwell: "I don't believe in the survival of anybody. I am an undertaker."
A Welcome Animal
Tommy's aunt had washed his ears prior to his departure for the circus and her method aroused him to anger. That aunt was a trial to him anyway.
Arrived at the menagerie he became interested in a strange animal with an immensely long nose.
"What animal is that, mama?" he asked.
"It is called an ant-eater, Tommy."
A long silence followed.
"Mama, can't we bring Aunt Mary down here soon?"
A Medical Test
It was several days after arriving home from the front that the soldier with two broken ribs was sitting up when the doctor came in.
"Well, how are you feeling now?" asked the latter.
"I've had a stitch in my side all day," replied the wounded soldier.
"That's all right," said the doctor. "It shows that the bones are knitting."
The Real Sucker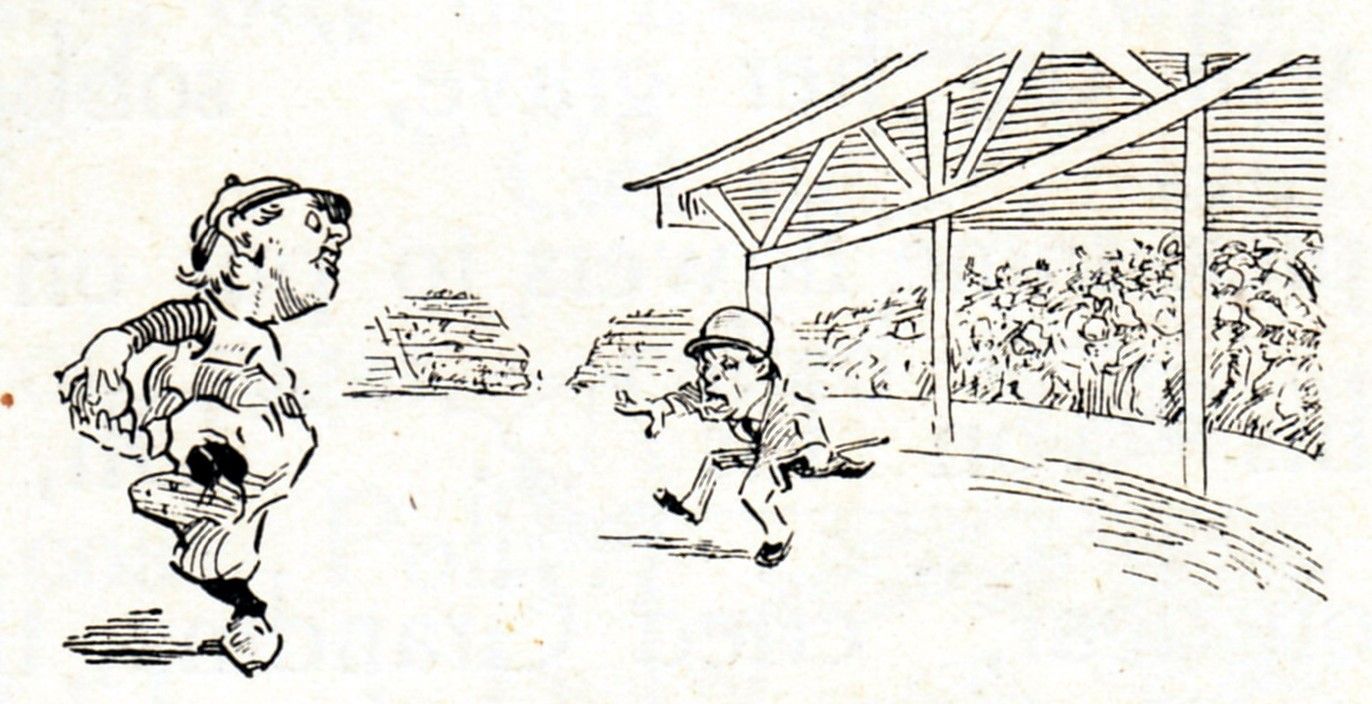 When the ball players are down south in the spring, the old boys do not take any chances with their pitching arms, letting the youngsters prove their energies instead. One day at Little Rock, where the Detroit team was playing in an exhibition, old Red Donahue, who in his day was the sharpest tongued man in baseball, was tossing them over and letting the Little Rock batters hit him at will, to the great delight of the spectators.

"Oh, Red, you're easy, easy, easy," shrieked one very wild fan who was getting on Red's nerves.

"I'm not half as easy as you are," retorted Red. "You paid fifty cents to see me do it."

Enough!

Willie: "Paw, what is the difference between genius and talent?"

Paw: "Talent gets paid every Saturday, my son."

Good Proof

Daddy: "No, yer mother never drest the way you girls do today to catch a husband."

Daughter: "Yes, but look at what she got."

Naturally

"Do you know where little boys go who don't go to Sunday School?"

"Yes, ma'am; they go fishin'."

Unanswered Yet

One night when her grandmother was putting her in bed, three-year-old Olive said, "Grandma, every night when I go to bed, I ask God to make brother Fred a good boy."

"That is right," said her grandmother.

"But He hasn't done it yet," replied Olive soberly.

Cause of the Chill

"But, Captain Hawley," said the handsome Miss Plute coquettishly, "will you love me when I grow old and ugly?"

"My dear Miss Plute," answered the Captain gallantly, "you may grow older, but you will never grow uglier."

And he wondered why their friendship ceased so suddenly.

The Cook Book Said So

"Do you know, my dear," asked the young husband, "there's something wrong with the cake? It doesn't taste right."

"That is all your imagination," answered the bride, triumphantly, "for it says in the cook book that it is delicious."

High Praise

Kate Douglas Wiggin's choicest possession, she says, is a letter which she once received from the superintendent of a home for the feeble-minded. He spoke in glowing terms of the pleasure with which the "inmates" had read her little book, "Marm Lisa," and ended thus superbly:

"In fact, madam, I think I may safely say that you are the favorite author of the feeble-minded!"

A Youthful Critic

Nat Goodwin, the well-known actor, once told of an experience he had with a juvenile deadhead in a Western town. Standing outside the theatre a little time before the performance was due to begin, he observed a small boy with an anxious, forlorn look on his face and a weedy looking pup in his arms.

Goodwin inquired what was the matter, and was told that the boy wished to sell the dog so as to raise the price of a seat in the gallery. The actor suspected at once a dodge to secure a pass on the "sympathy racket," but, allowing himself to be taken in, he gave the boy a pass. The dog was deposited in a safe place and the boy was able to watch Goodwin as the Gilded Fool from a good seat in the gallery. Next day Goodwin saw the boy again near the theatre, so he asked:

"Well, sonny, how did you like the show?"

"I'm glad I didn't sell my dog," was the reply.

Preparedness

"My spring hat will be of battleship gray."

"How about the armament, my dear?"

"I think three hat pins plenty."