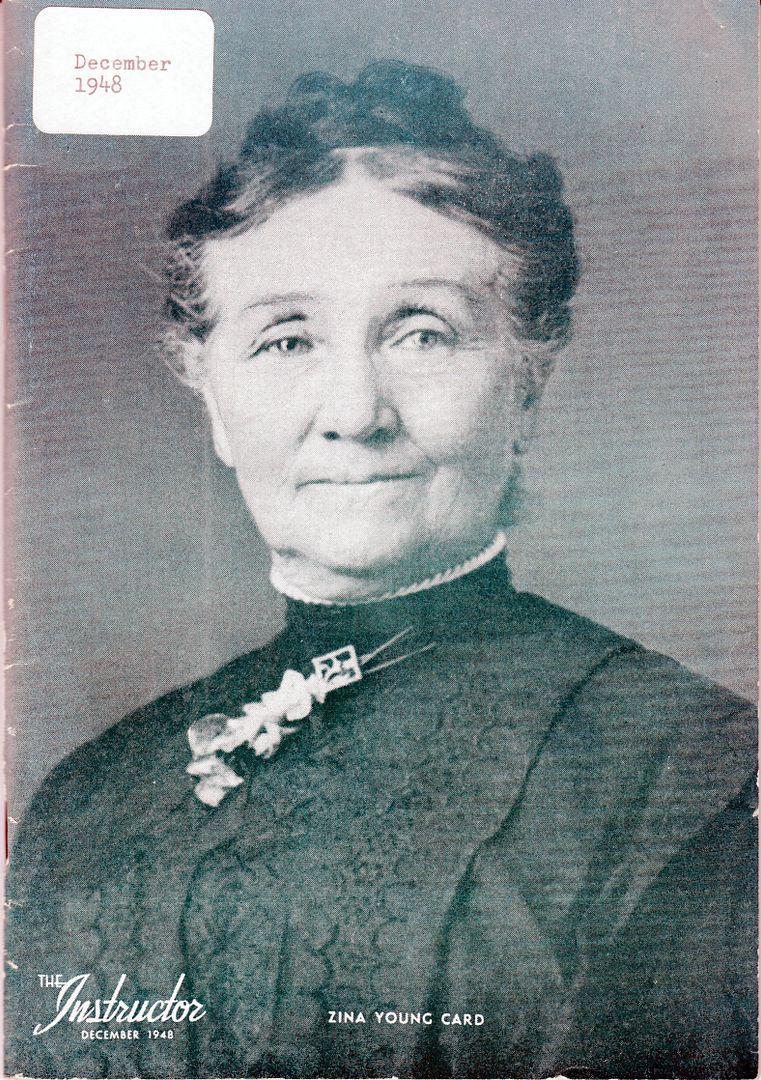 .
Most of the covers for The Instructor in 1948 carried the portraits of pioneer women of the Church, the wives or mothers of early Church leaders. Because these women are generally less familiar to us than their famous sons and husbands, I have included the idealized biographies of these women that appeared as an "On Our Cover" feature in each issue of the magazine. (I assume readers are familiar with John Taylor, third president of the Church, and Thomas L. Kane, the (non-Mormon) Pennsylvania lawyer  who befriended the Church at Winter Quarters, during the Utah War, and, indeed, most of his adult life.
.
.
January
.

February
.

March
While residing on a farm in old Virginia, Bathsheba W. Bigler, then in her teens, and her family became converts and in August of 1837 joined the recently established Church of Jesus Christ of Latter-day Saints. Shortly afterwards, the youthful George A. Smith, as a missionary in this region, became acquainted with the family and was especially well impressed with Bathsheba. In February, 1838, while doing missionary work elsewhere, he wrote to Bathsheba asking her consent to become his bride in about three years or as soon thereafter as circumstances would permit. She replied by quoting from the Book of Ruth, chapter 1, verse 16: "Whither thou goest, I will go; and where thou lodgest, I will lodge: thy people shall be my people, and thy God my God." thus began a romance growing out of mutual admiration and a common and very sincere religious faith.
The marriage took place in Nauvoo in July, 1841. Through the more than three years of waiting George A. Smith was engaged chiefly in missionary work in America and in the British Isles where he was associated with other members of the Quorum of the Twelve Apostles, including Brigham Young, Heber C. Kimball, Wilford Woodruff, and Willard Richards.
The married life of George A. and Bathsheba began under most humble circumstances – the first month they spent with relatives, then set up housekeeping in a small, mostly unfurnished cabin. The romance, however, was a never-0ending one under the everlasting covenant and a most exalted religious purpose.
To them were born in Nauvoo in 1842 George Albert and in 1844 Bathsheba; later in Winter quarters a second son was born who died in infancy. George Albert was killed by Indians in 1861 while he was laboring as a missionary under the leadership of Jacob Hamblin. The daughter, Bathsheba, became the mother of a large family.
George A. died in 1876, and Bathsheba was a widow for nearly 35 years. During this time she had an important part in the rearing of several of her grandchildren, including Alice Merrill Horne, Mrs. David R. Allen, and Mrs. Stephen  Richards. She was highly respected and trusted by all of her husband's large family, and was intensely interested in the educational and religious development of all of his children and his grandchildren. She was especially concerned with the educational work of her own grandchildren and joined some of them in their home studies while they were students in the University of Deseret (now University of Utah).
During her lifetime she spent much time as an ordinance worker in the Nauvoo Temple, the Salt Lake Endowment House, the Salt Lake Temple and the Logan Temple.
She became a member of the presidency of the L.D.S. Relief Societies of the Church in 1892; she became president in October, 1901. This office she held until her death in September, 1910. – M.B.
.

April
Mary Louisa Woolley was born during the trek of Brigham Young's pioneer company to Salt Lake City in 1848. It was on the evening of July 5, soon after the company had stopped for the night at Goose Creek (now Keith County, Nebraska), that she began life, in the rather rough and inhospitable surroundings of a camp on the plains. The next morning mother and newborn babe had to continue the journey without pause for rest, for the company must not be delayed.
To the courageous mother of this baby girl difficulties were nothing new. As the young bride of Edwin D. Woolley, Mary Wickersham had had to take over the responsibility of his home and care of his younger brothers and sisters, left motherless by their mother's death a few years before. While living in Chester County, Pennsylvania, where she was born and raised in Quaker surroundings, she had met Edwin D. Woolley and a mutual liking had developed. They continued their courtship by letter after Mary moved with her family to Ohio. Finally, in March, 1831, Edwin made the journey, on horseback, over the Alleghany Mountains to East Rochester, Ohio, where they were married. Mary returned with him to Pennsylvania, riding in front of him on the horse.
After the death of Edwin's father, they moved back to East Rochester and there heard the gospel. Mary was baptized into the Church on July 1, 1837, some six months before her husband. They moved to Nauvoo in the spring of 1840 to gather with the Saints, and rented a small log house – one room sixteen feet square, with a loft. Edwin had to build on two small additions in order to accommodate his family, for Mary now had two sons and a daughter of her own. Three more children were born to them while they lived in Nauvoo. He owned a smalls tore and later they were able to buy a lot and build a frame house. Only about three years were they to occupy it, for when the mob persecutions became too great they moved to Winter quarters in the summer of 1846.
Edwin D. had four wagons to make the journey west in 1848. Mary's was a spring wagon which he fitted up as comfortably as possible with a bed and a small rocking chair. He drove it himself. Here the baby girl, Mary Louisa, was born.
They arrived in Salt lake City in September and Edwin D. proceeded to build an adobe dwelling. Their eighth child was born to them here in 1854. Mary died in 1859 after an illness of two years. Edwin D. lived until 1881. During that time he served in many different ways – in both Church and territorial affairs. For 28 years he was bishop of the 13th Ward in Salt Lake City.
Mary Louisa Woolley grew to womanhood, was married to Joshua Reuben Clark, and had a fine family of seven sons and three daughters. The eldest of these children is now a member of the First Presidency, President J. Reuben Clark, Jr. – L.C.
.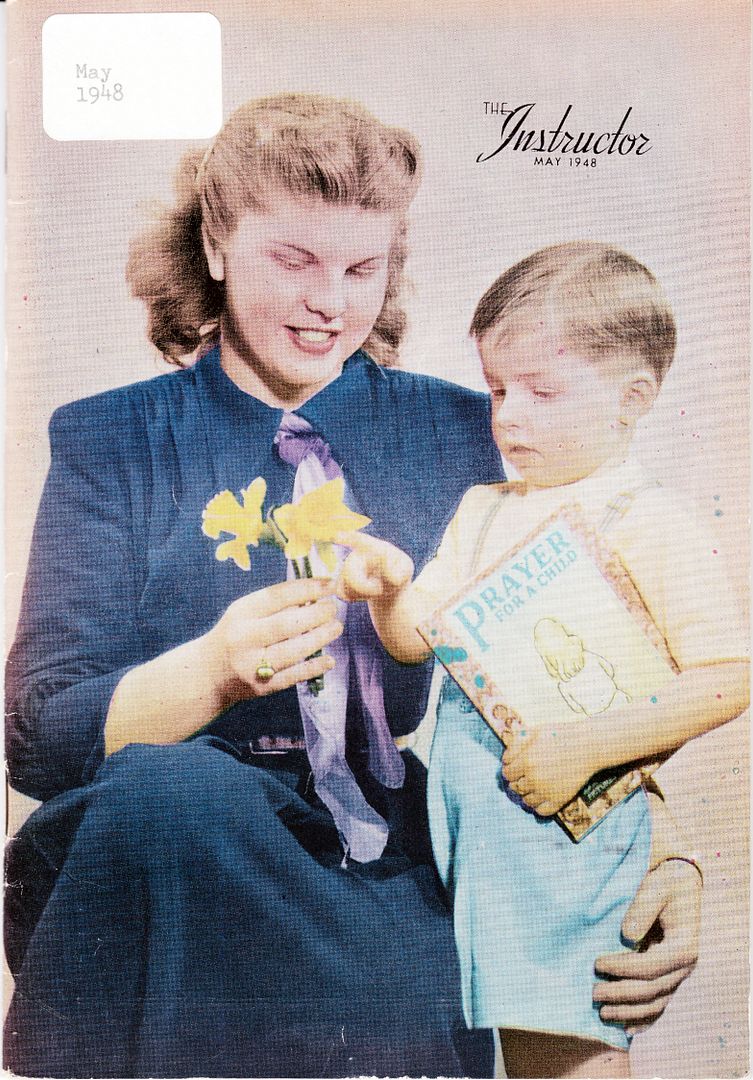 May
.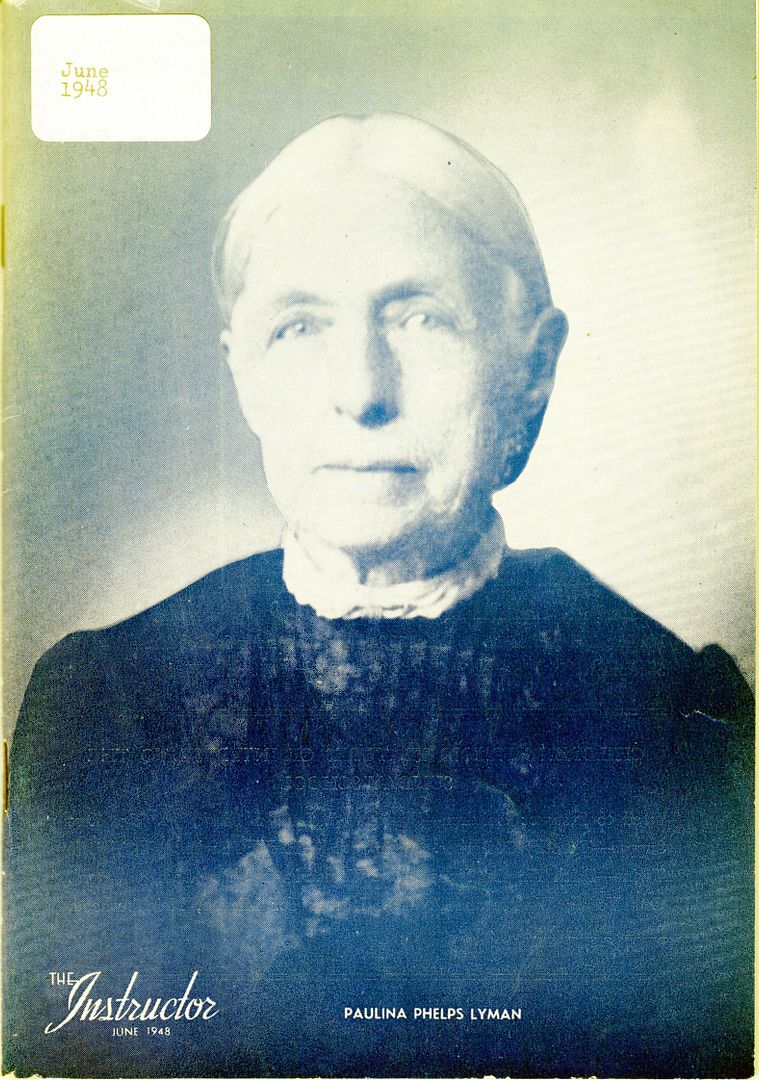 June
The pioneer West has vanished with the Indian and the buffalo. The stout souls who built our communities have all but disappeared. But the memory of their magnificent worth is as real as today.
This is about a woman – a lone woman who served as doctor, nurse and midwife at Parowan for fifty years, who delivered 500 babies, and who at well beyond fifty went back to school to add to her medical skill.
You might have seen her then as a tall, slender, dignified woman, with bright blue eyes and hair parted severely in the middle. High on the seat of a rancher's wagon, black, bag in hand, she was a familiar figure, hurrying to set a broken bone or sew up a severe cut from an axe.
"Aunt Paulina" Phelps Lyman was southern Utah's only doctor for more than a generation. An inner urge drove her to sympathetic care and help for others. At Nauvoo, just out of childhood, she had cared for the sick and helped the unfortunate.
She was born at Lawrence, Illinois, in 1827 into the home of Morris Phelps and Laura Clark Phelps, converts to the Church. As an infant she was blessed in a dungeon at Richmond, Missouri, by Parley P. Pratt. Later Joseph Smith blessed her and promised her that she would be one of the children to complete the long trek to the Rocky Mountains.
After the death of her mother, young Paulina, now fourteen, assumed the complete care of her home and family. Besides shouldering this responsibility, Paulina was doing nursing in the homes of friends and neighbors. While she was caring for the sick in the home of Sydney Tanner, she met Apostle Amasa M. Lyman, whom she later married in the Nauvoo temple. to him she gave her devotion and loyalty as long as he lived.
Her first son was born during the tragic period at Winter Quarters. When the baby was only a few months old, she began the long journey across the plains in a covered wagon which she drove herself. When the journey was completed, she settled in Salt Lake where she lived in the Old Fort. At this time food was scarce; flour cost $1.00 per pound. During the next nine years Aunt Paulina had four children, one of whom died.
Shortly afterwards she was called to Parowan where she made her own way, establishing a home for her own children, now six in number, and two others who were left to her by Cornelia Lyman. Amasa Lyman died in 1877, leaving her with this family of eight to rear and care for.
Besides caring for the sick, she worked long hours weaving and tailoring. Two of her beautifully hand woven bed spreads are now in museums, one in New York and one in Salt lake City.
This strong, confident woman, now well past fifty, came to Salt Lake and took a course in obstetrics under Dr. Shipp. Being interested in this field and feeling a necessity for such knowledge, she studied and passed the course with honors.
Now there opened for her a new career, and the most useful years of her life were ahead. Over 500 babies were delivered by Aunt Paulina with a mortality loss that compared favorably with that of our best hospitals and specialized doctors. The careful records she kept of each birth have proved invaluable in obtaining birth certificates.
Forward looking, she read widely and deeply. She was the first doctor in Parowan to use disinfectants, carbolic acid and iodiform being two she relied upon. When smallpox swept the western country, she obtained vaccine from Salt Lake and vaccinated everyone in the town. In her career of medicine, she set broken bones and cared for all of the ills of a pioneer community.
With her medical skill went the assurance of a strong personality, giving confidence and cheer. Faith and prayer went hand in hand with her doctoring. Said she, "The Lord gives intelligence so we can work along with our faith."
She died in 1912 in Parowan, Utah. – LaMar Lyman Whitaker
.

July
Jennette Evans McKay was born in Cofn-coed, near Merthyr Tydfil, Glamorganshire, Wales, on August 23, 1850. In May of the same year, her parents, Thomas and Margaret Powell Evans, with their older children, became members of the Church of Jesus Christ of Latter-day Saints. her father was the only member of his family to join the Church, and he was disinherited. this did not cool his ardor, however, as he was soon engaged in missionary work and was made president of the conference.
The Evans family owned a comfortable home and several other rented houses which were all sold at a fraction of their value when the family left Wales. On May 22, 1856 they embarked at Liverpool on the packet ship "Horizon."
Years afterward, when Jennette's eldest son, David O., was doing missionary work in Europe, he visited the old home in Wales, wrote a letter from the room in which his mother was born, and enclosed a flower from the garden.
When the Evans family arrived in Iowa July 8, 1856, they heard of the tragedies that had overtaken many of the Saints who had attempted to cross the plains during the years immediately preceding this time. Father Evans decided to wait until his family could be fully prepared for the long journey. In 1859 they left Iowa in the private company of Captain Philipp H. Buzzard, outfitted with good wagons, excellent horses, and a cow that furnished them with fresh milk and butter.
They arrived in Salt lake City August 18, 1859, where they remained for two weeks, going from there to Ogden where they purchased a small farm and built a home. Jennette attended the school taught by Mrs. Harriet Brown and Aunt Rose Canfield, and later she and her sister taught school themselves.
She was married to David McKay April 19, 1867, by Apostle Wilford Woodruff. her husband always delighted to tell how he saw her first, sitting on the tongue of the wagon, the day they arrived in Ogden, when she was nine and he was fifteen. he said he never forgot the large brown eyes that looked at him from under a pink sun bonnet, and he kept his eye on her until he had saved sufficient of his earnings to give him courage to court her, and later to propose to her.
After their marriage they went to live in Huntsville. David was very proud of his beautiful wife who had been one of the belles of the small city where they had grown up together. Even during their years of careful saving, he had insisted upon her having help in the house and had refused to permit her to assist with the farm work as many women of the village did, and her beautiful white hands and clear complexion were a source of general admiration.
Since their marriage, thirteen years before, they had been practicing the strictest economy in order to make the yearly payments on their farm and small home, and at last their place was clear of debt and they were supremely happy. The day the last note was taken up, David came home earlier than usual as though he could not wait to show it to her, and together they threw it into the open fireplace and watched it burn to ashes. While they were planning for what looked like a bright future, their two sons, David O. and Thomas, entered with the mail. As the father read one of the letters, Jennette noticed that all the joy went out of his being, and she asked if it were bad news. he handed her the letter without replying, and watched her carefully as she read it. The color left her face, her lips quivered, and her hands trembled while she was reading it. The boys, surmising that the letter contained something of an unusual nature, asked about it, and their mother replied, "It is a call from the president of the Church for papa to go across the ocean to do missionary work."
The boys were excited. "But, Papa, will you go and leave us?"
To their astonishment, two replies came simultaneously – The father's "Of course I cannot leave you just now" and the mother's "Certainly Papa is going."
The following weeks were trying. David thought perhaps he should wait a year; by that time they would have more money saved and he could be with Jennette when her baby was born. Neighbors and relatives came to say what they thought about the matter, most of them agreeing that he should wait. But Jennette was firm in her feeling that he should go now. The sheriff, a brother-in-law, John W. Grow, familiarly known as "Uncle John," said in his blustering, hearty manner, "Well, David, if Jennette has made up her mind that you are to go, you might as well pack your valise and be on your way. I am not here much of the time, but I shall be glad to help her all I can while you are away." And he kept his word.
It was with a heavy heart that David McKay started on his missionary journey April 19, 1881. Baby Ann, the fifth child, was born ten days later. There were now three children to care for (two others had died in infancy).
Realizing the condition of her finances, Jennette had assumed the household duties herself, and now that the additional responsibility of the farmyard had fallen upon her shoulders, all her courage was required to keep things going. For the first time she realized the drudgery and discouragements of country life. The baby girl arrived in the early spring time, and before the mother's strength had returned, it was time for the crops to be planted. This was done with the help of Uncle John and members of the absent husband's Priesthood Quorum.
The harvesting was done in much the same way, except that it was necessary to hire help occasionally with the understanding that they be recompensed later. The hay brought a good price, but grain was down, and Uncle John advised keeping it until spring if Jennette could possibly get along. So the skimping and saving continued, but always there went to the absent one cheerful news of the boys' progress in school, of the perfect development of the new baby and of the kindness of friends and neighbors.
That spring, the price of grain soared to the highest point it had reached in years. Jennette was so happy she could hardly refrain from writing the good news to David, but she decided to have a surprise for his home-coming.
The second year she hired farmers, though she retained management of the place herself and worked early and late. Her crops were the finest the land had ever produced and prices were still up. before David's return Jennette was able to begin the realization of some of their dreams of enlarging their home and re-furnishing it.
It was Uncle John who came to take the family to the station. Tears were rolling down the returned missionary's face as he took his wife and beautiful new daughter into his arms, and they felt that this reunion was worth all the heartaches both had suffered during their long separation.
That evening with his family grouped closely around him, he related some of his wonderful experiences, and when his second son asked him if he had seen a miracle, he replied, gently drawing Jennette's head against his breast, "Your mother is the greatest miracle I have ever witnessed."
Her eldest son performed three missions, her second son two, and the other two sons and two daughters each fulfilled an honorable mission for their church.
All of her eight children completed their public school work and attended college. Two sons have been prominent Sunday School workers. President David O. McKay was ordained a member of the Quorum of Twelve and appointed a member of the Sunday school board in 1906. He was appointed a member of the general superintendency in 1907. He served as general superintendent from 1918 until his appointment as a member of the First Presidency in 1934. Dr. William M. McKay was a member of the board from 1939 until his death in 1947.
The mother died January 5, 1905, and the Salt Lake Tribune said of her, "Few women in Weber County were more widely known or more universally loved than Mrs. David McKay, and the announcement of her death has caused a gloom of sorrow not only throughout Ogden City and Weber County but over the entire state."
She was the mother of ten children, eight of whom survived her, and there have been added to the [last few lines of text missing, sorry]
.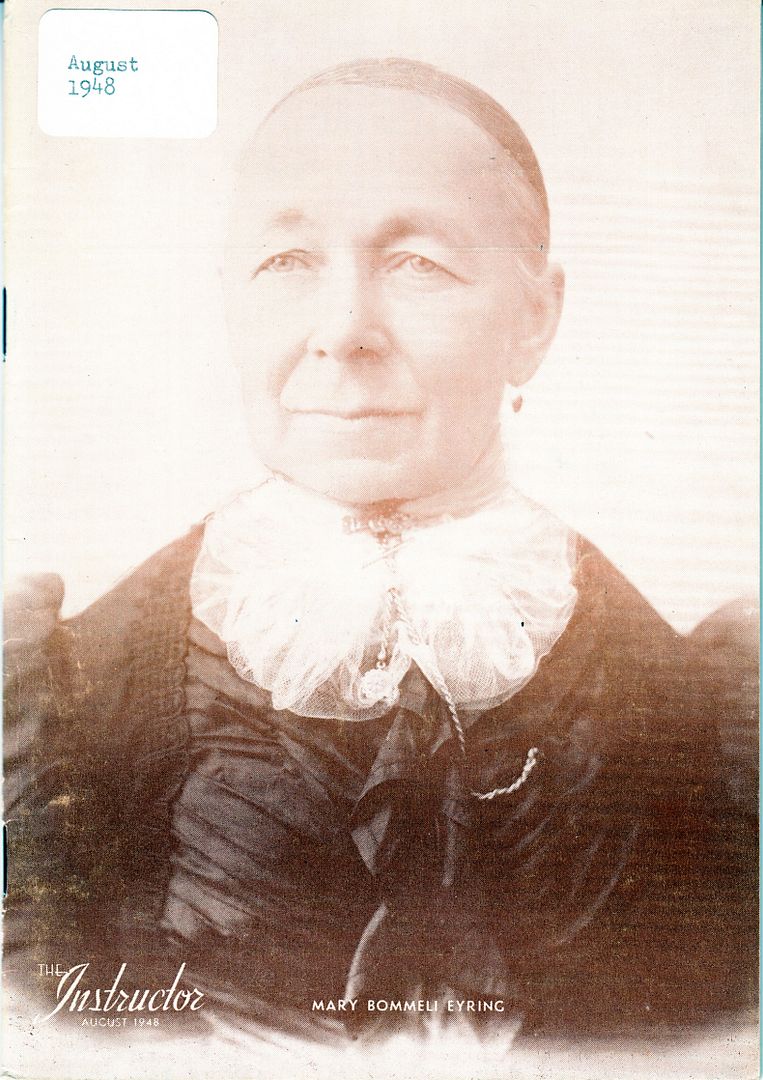 August
In the entire history of the Church of Jesus Christ of Latter-day Saints no woman is more entitled to bear the designation "Pioneer Woman" than Mary Bommeli Eyring, of German extraction.
She was born in Weingarten, Canton Thurgau, Switzerland, march 20, 1831. She received baptism and confirmation at the hands of the Mormon Elders in November 1854 in Zurich. typical of the early converts to Mormonism, Mary got the spirit of gathering but her parents and three sisters were also desirous of going to Utah. Not all could emigrate at the same time and Mary, being of an altruistic nature, gave her savings for the transportation of her relatives and remained behind until she could earn sufficient funds for her passage to Zion.
Fortunately she had learned the weaving trade for it enabled her to accumulate sufficient means to get her overseas more quickly than would otherwise have been possible. After five long years had passed the happy day arrived and in 1859, in company with a group of Swiss Saints, she set out for America.
The journey overland to the Great Basin was generally a pleasing experience for the young woman since in Nebraska she met a young man, Henry Eyring by name, on his way to Utah from a mission to the Indian Territory. He, too, was German and therefore they had much in common. They loved to be together and it was but a short time until they had serious intentions. Frequently they would walk ahead of the wagon train and then sit in the shade of a tree romancing until overtaken by the company. Upon arriving in Utah they were married and went to Saint George to make their home.
While on his mission, Elder Eyring had contracted malaria fever which permanently weakened his body, making it necessary for his companion to ply her trade to help make the living. To this couple were born six children: four girls and two boys, all of whom were faithful members of the Church.
Soon after their arrival in Saint George, Sister Eyring was made a member of the presidency of the First Ward Relief Society, and for thirteen years she was an officiator in the Temple.
On May 1st, 1890, she went to Old Mexico to join her husband who had gone the preceding year with his plural family to establish a home. When these colonies were organized into the "Mexican Mission," Sister Eyring was appointed to preside over all of the Relief societies in that southland, and later with the organization of a stake, she continued in that position for sixteen years.
At the time of the exodus of the Mormon colonists from Mexico she was robbed of the money she had saved for her journey. A Mexican bandit forced his way into her home and took the money from her suitcase just as she was preparing to leave. She left behind a beautiful brick home and a lovely vineyard laden with precious fruit which she was destined never to see again.
The last days of her life were spent principally with a daughter in Ephraim, Utah, where she labored diligently in the Manti Temple. She died Jan. 19, 1947. – Thomas C. Romney
.

September
The inhabitants of Honeydon, a small village about nine miles north of Bedford, Bedfordshire, England, went about their usual labors on July 21, 1801. Some stopped at the home of John and Rachel fielding to ask concerning the welfare of the mother and the little baby girl who was born that day. Not one of them had any idea that this little girl, later named Mary, would become the wife of one of the great men of the earth, Hyrum Smith, and the mother of Joseph F. Smith, who became the prophet and president of the Church of Jesus Christ of latter-day Saints.
Mary Fielding was reared in a home of piety, intellectuality and culture. She was taught the art of good home making, music and the love of literature. Early in her life she showed sweetness of disposition, splendid self-control, strength of mind and a power for making decisions. These traits of character are among those that made her such a good mother who was full of love, self-reliance and resourcefulness.
Glowing reports of the promising conditions in Canada led Joseph Fielding and his sisters Mercy and Mary to decide upon going there. This they did in the early 1830s, Mary coming in 1834, a short time after her brother and sister. Toronto was their home and here they met John Taylor, an educated Methodist. he gathered around him a congregation of independent religious worshipers, among whom were Joseph, Mercy and Mary Fielding. Elder Parley P. Pratt, a missionary, arrived in Toronto in 1837 and met this group to whom he preached the gospel of Jesus Christ. Mary Fielding was among those who accepted his teachings and became a member of the Church of Jesus Christ of latter-day Saints and removed to Kirtland, Ohio. Here, in November of 1837, she married Hyrum Smith, who alter became a member of the First Presidency and later Patriarch to the Church.
Mary was very well fitted to mother five children who had just lost their mother. She willingly and bravely faced trials and tribulations with her husband and the Saints. In a letter to her brother, Joseph Fielding, who was a missionary in England, she relates some of these trails. She tells of how her husband was forcibly taken from her and his home; how her son Joseph F. Smith was born just following the arrest of her husband; how she took a severe chill and fever and for four months was unable to take care of her baby; while thus so ill she had to be removed a distance of 200 miles for fear of the mob, and how the Saints suffered in being bereft of their possessions. In this letter, after detailing much of her suffering, she writes the following, which shows the depth of her love for God and for His Gospel:
"We are now living in Commerce, on the bank of the great Mississippi river. The situation is very pleasant; you would be much pleased to see it. How long we may be permitted to enjoy it I know not; but the Lord knows best what is best for us. I feel but little concerned about where I am, if I can but keep my mind staid upon God; for, you know in this there is perfect peace. I believe the Lord is overruling all things for our good. …
"I have a hope that our brothers and sisters will also embrace the fulness of the gospel, and come into the new and everlasting covenant; I trust that their prejudices will give way to the power of truth. I would gladly have them with us here, even though they might have to endure all kind of tribulation and affliction with us and the rest of the children of God, in these last days, so that they might share in the glories of the celestial kingdom. As to myself, I can truly say, that I would not give up the prospect of the latter-day glory for all that glitters in this world. O! my dear brother, I must tell you, for your comfort, that my hope is full, and it is a glorious hope. … I do not feel the least discouraged: no, though my sister and I are here together in a strange land, we have been enabled to rejoice, in the midst of our privations and persecutions, that we were counted worthy to suffer these things, so that we may, with the ancient saints who suffered in like manner, inherit the same glorious reward. if it had not been for this hope, I should have sunk before this; but, blessed be the God and Rock of my salvation, here I am, and am perfectly satisfied and happy, having not the smallest desire to go one step backward."
Following the cruel martyrdom of the Prophet and the Patriarch, her beloved husband, Mary Fielding Smith prepared to go west with the Saints. She, with her brother Joseph, went to Missouri, where they purchased food and two teams. After much hardship she and her family arrived at Winter Quarters, where they spent the winter of 1847-1848. After enduring the trials met in crossing the plains, she and her family arrived in Salt lake City Sept.23, 1848. The next day being Sunday she and her family attended the meeting in the bowery.
Mary Fielding Smith began as soon as possible to secure a home for her family. Through her splendid self-reliance and resourcefulness, she soon had a farm and settled her family there and made a comfortable home. By her honesty, thrift, industry and love she won the hearts of all who knew her. This sweet, true and noble woman departed this life on Sept. 21, 1852.
May I close this very brief sketch of a very great Latter-day Saint by quoting part of a tribute given to her by Elder Ben E. Rich.
"She also took the other children of her husband, by his deceased wife, and nurtured faith int heir hearts. She went through all the trials that the other pioneers went through, and was always faithful with her tithes and offerings. This woman planted the faith of the gospel so deep in the hearts of her children that all hell has not been able to root it out of a single one of them. Through the faithfulness of that woman, her children and grandchildren stand where they do today." – A. William Lund
.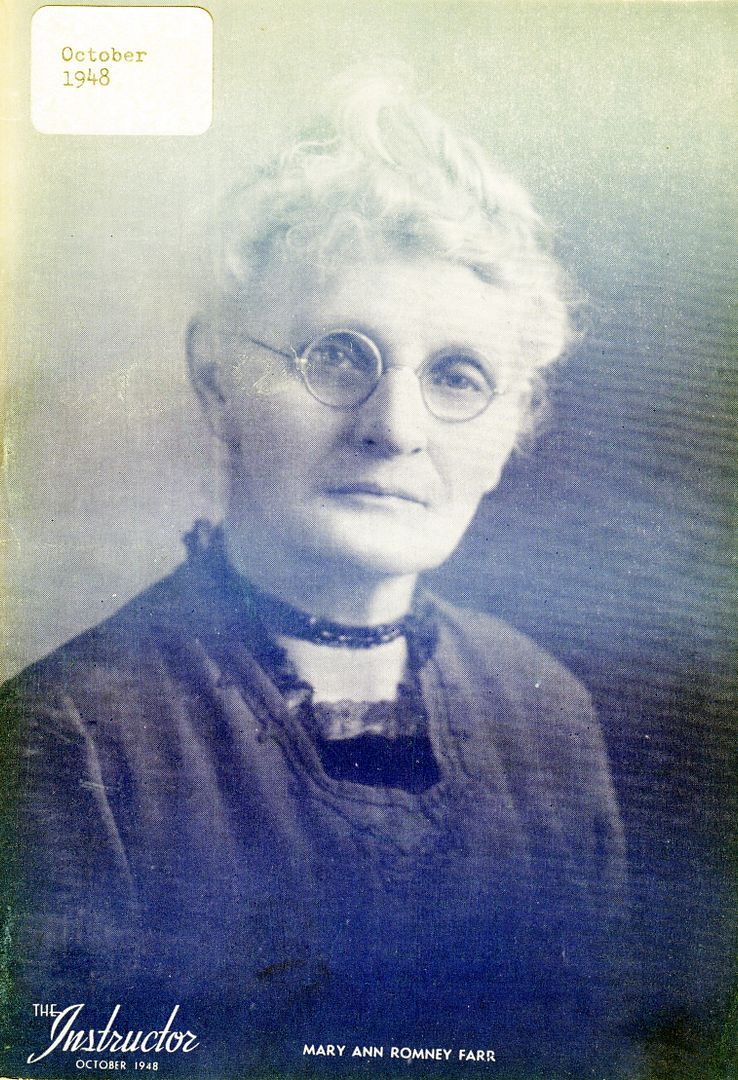 October
Mary Ann Romney Farr, the daughter of Miles and Hannah Hill Romney, was born in Saint George, Utah, January 31, 1868, and at the usual age for children, was baptized a member of the Church of Jesus Christ of Latter-day Saints. In the year 1881 she moved with the family to St. Johns, Apache County, Arizona to make her home. The hardships encountered in establishing a home at this place on the Little Colorado rivaled those of the pioneers who came to the Great Basin area to establish homes. The land lying along the stream was filled with alkali and the best portions of the country had been taken by the Mexicans and Gentiles who had preceded the Mormons into that territory.
Mary Ann, although a child, met these discouragements with fortitude and always showed a willingness to turn her hand at any kind of work required toward the support of the family. When her father became the editor of the local weekly paper, the Orion Era, Mary Ann was employed in the office as a typesetter, at which she became quite proficient and which served her in good stead years later when she was given employment with the Parry magazine Company in Salt Lake City. the paper was later known as the "Contributor."
Mary Ann became the wife of Willard Farr, a son of Lorin Farr, one of the founders of Ogden, their marriage taking place in the Logan Temple in the year 1886. to this couple were born ten children, seven of whom are still living and have families of their own. alla re faithful members of the Church of Jesus Christ of latter-day Saints, a great credit to their mother upon whom the chief responsibility rested in their training and in providing them with the necessities of life until old enough to support themselves.
The home of the Farrs through the years has been at St. Johns, Arizona and during the turbulent period when the Saints were being hounded by United States Marshals for their practice of plural marriage, Mary Ann, being a plural wife, was in almost constant hiding. Under the most adverse conditions she gave birth to children, at times with no decent shelter over her head, making it necessary for one of the good Relief Society sisters to stand over her bedside with an open umbrella to protect her from the drops of rain coming through the roof while the prospective mother was in the throes of childbirth.
"Minnie," as she is affectionately known, has always been devoutly religious, but entirely free from fanaticism. Her sense of justice and her keen insight to duty have made her a valuable asset to the Church and have greatly endeared her to all who have come within the circle of her influence. For fifty years she has been an active member of the Relief Society and during the greater portion of that time she has ministered among her sisters as a teacher, bringing comfort and cheer to them when depressed.
She is of a retiring nature and objects to undue publicity, but her many friends rejoice that she was selected during the Centennial year (1947) as the "representative mother" of Apache County, Arizona, and that the editor of The Instructor, the organ of the Sunday Schools of the church, has considered her worthy to be chosen as the typical Mormon pioneer woman of the State of Arizona. Of these honors she is worthy in every respect, and may her years in mortality be extended until she is satisfied with life. – Thomas C. Romney
.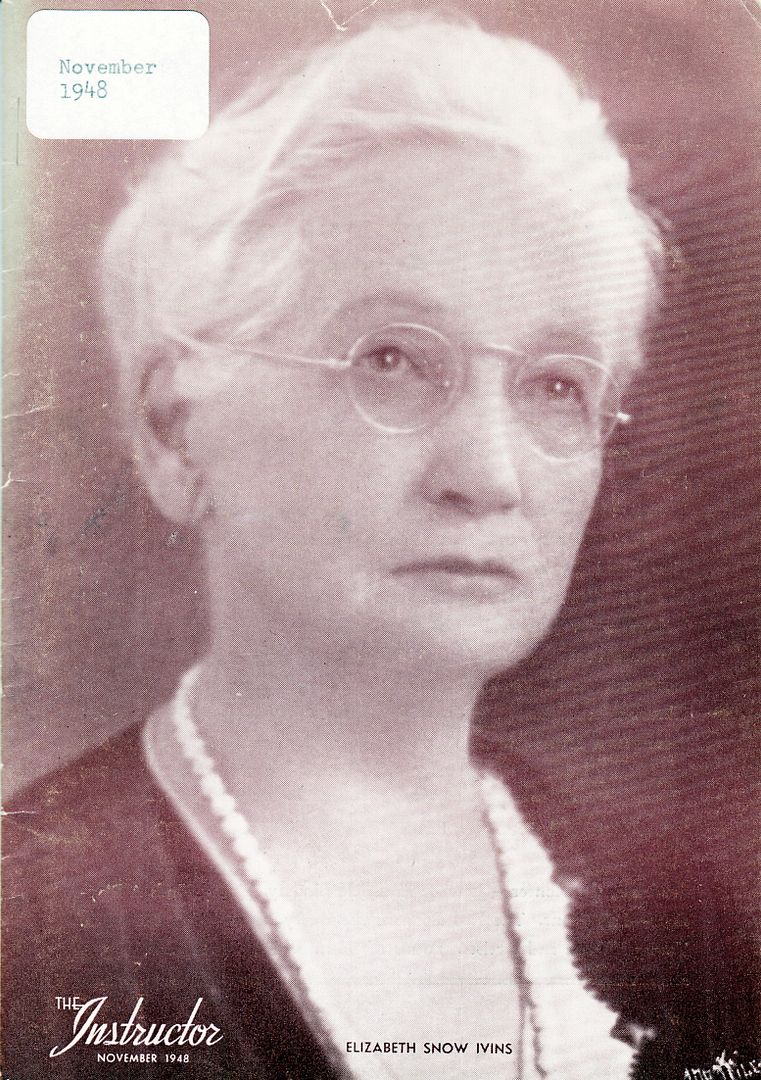 November
Few women in the history of the Church of Jesus Christ of Latter-day Saints have left as great a record of service as has Elizabeth Ivins, the wife of our late beloved President Anthony W. Ivins.
To her family and friends she was affectionately known as "Libbie." She was the daughter of the great apostle, Erastus Snow, and Elizabeth Ashby Snow, and from her parents she inherited those noble qualities which so eminently fitted her for the arduous duties incident to a life on the frontiers and in settlements requiring faith, courage and nobility of character to found and develop into prosperous communities.
Her pioneering began when her father was called by President Young to leave his home in Salt Lake City, to preside over the "Dixie Mission" in southern Utah. This was in the year 1861, when Libbie was but seven years of age, but well she remembered that journey in a lumber wagon, which required a month's time from Salt Lake City to what is now Saint George, more than three hundred miles to the south. It was an eventful trip for Libbie, for in the company was her future husband, a lad of nine, with whom she became acquainted. they were to be close friends and companions as they developed into manhood and womanhood, when they embarked upon the sea of matrimony, a voyage which was to last throughout time and eternity.
Libbie relates that while on their journey southward, her mother cut off her long black curls because of the great amount of work required in caring for them, and left them hanging on a bush to be scattered by the wind.
In after years, Libbie gave her impressions of conditions at the end of their long and tedious journey: "As we drove onto the camp site outside of St. George, the first persons I saw were two women looking over their new home. I thought they were the tallest women I had ever seen. They were my husband's mother and sister, whom I had never seen before, although I had met him on the trip down. I have often wondered since what those two women must have been thinking as they looked over the barren, uninviting country that was to be their home."
The first winter was lived in tents, and when spring came the Snows moved to the townsite which had been selected by Erastus Snow and surveyed by Israel Ivins, the father of Anthony. For two years their only shelter was a tent, and in such a habitation a sister of Libbie was born. Libbie remembers waking one night and seeing from her trundle bed her mother standing in the middle of the tent holding the pole upright while her father drove into the ground the anchor stakes that had been torn up by the wind.
President Young spent considerable time in St. George during the winters and frequently he was a guest at the home of Erastus Snow. Of these occurrences Sister Ivins said: "I have often thought since then that he (Pres. Young) must have felt a special care for these people he had sent into such a forbidding country. My acquaintance with Pres. Young dated from this time and I learned to think of him as the greatest man I knew."
Time brought great changes to St. George. From a tented village it grew to be a city of fine homes. Erastus Snow built the 'big house" for his wife Elizabeth and her family, and at this place prominent people were frequently entertained. Among them was Col. Thomas L. Kane, a friend and benefactor of the Latter-day Saints. He and his wife and two children shared the hospitality of the Snow family during the greater part of a winter. The mother of Libbie gave up her bedroom for them and cooked their meals, and Libbie remained from school to help about the house.
Years passed and Libbie had grown from girlhood to womanhood, and her dreams of wifehood were realized when Anthony Woodward Ivins took her to the altar to be his wife for time and eternity. their marriage was a happy one and from that union have come eight splendid children, the eldest son, Antoine, being one of the General Authorities of the Church. The Ivins family had gathered around them many comforts; the husband and father had been honored with responsible positions in the Church, and the prospects bid fair to his becoming the chief executive of his state, when the voice of the Lord, through his prophet, called him to Old Mexico to preside over a stake soon to be organized in that far-off country.
The call came as a shock to both of them but courageously they responded to the voice of the priesthood, and what a blessing it was to the Saints in Mexico. For twelve years President Ivins presided over the Juarez Stake of Zion, ably assisted by his charming and intelligent wife. During that time the Mormon colonies developed by leaps and bounds in things of a material and spiritual character.
Finally the same authority that called President Ivins and his wife and children to old Mexico released them to return to their native soil, President Ivins to serve as a member of the Quorum of Twelve, and later as a counselor to the president of the Church. In these positions, as in all others held by this servant of the Lord, Sister ivins stood loyally and faithfully by him, giving him all the support that lay within her power. She was a woman whose love and devotion for her husband and children knew no bounds and to them and the work of the Lord she dedicated her life.
One of the finest tributes that could be paid a woman came to Sister Ivins from the husbands of her daughters who testified that she had never interfered in any way with their marital relations, and that she had been to them all that a mother could be.
Sister Ivins passed away in death March 21, 1936 at Salt Lake City. High tribute was paid her at the funeral by President Heber J. Grant, Levi Edgar Young and Amy Brown Lyman, all of whom bore testimony to her unwavering faith in the gospel and to her tireless activity in the Church. Sister Lyman declared that she was one of the greatest and beset women the Church had produced. – Thomas C. Romney
.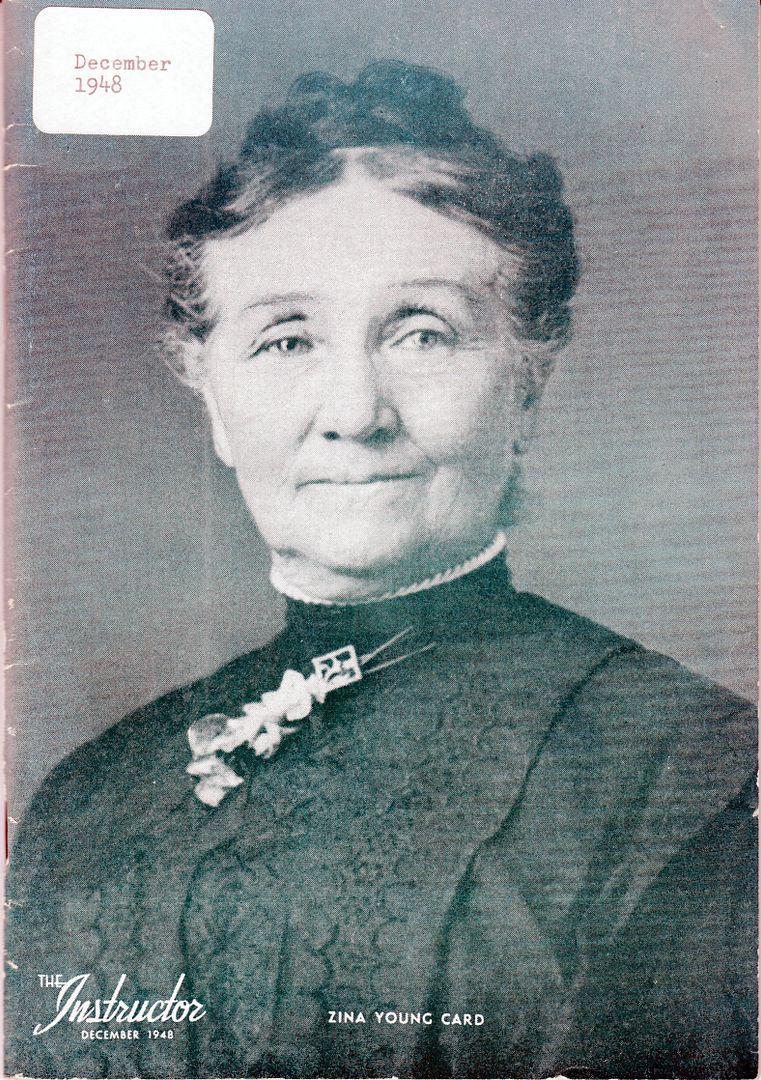 December

Zina Young Williams Card was born in Salt Lake City, Utah, April 3, 1850 in the "Old Log Row." She was the daughter of President Brigham Young and Zina Huntington Young. When she was a girl of seven her family moved to the Lion House where her life in that great household was rich and eventful. She was one of "The Big Ten," as President Young called his ten eldest daughters.

Zina played on the stage of the old Salt Lake Theatre from the age of thirteen until she was married, at eighteen, to Thomas Williams. When her father organized the Retrenchment Association, later known as the Young Ladies mutual Improvement Association, Zina was appointed its first secretary.

At twenty-four she was left a widow with two small sons, Sterling, recorder in the Alberta temple since its dedication, and Thomas, deceased. In 1878 she, at the suggestion of her beloved sister, Susan Y. Gates, who was at the time teaching music at the B.Y. Academy, moved with her sons to Provo to attend the Academy. At the close of that first year Dr. Karl G. Maeser appointed her matron of the young girls of the school. This position, the care of her sons, and mothering many other young people who came to live in her home, filled her days with loving service.

In June, 1879 she and Sister Emmeline B. Wells were set apart by President John Taylor to go as delegates from the Relief Society to the first congress of Suffragettes which was held in Washington, D.C. Here they were treated with every courtesy by such noted women as Susan B. Anthony, Elizabeth Cady Stanton, Julia Ward Howe, and others. Both Sister Wells and Sister Williams were speakers at this Congress.

In 1884 she became the second wife of Charles Ora Card, who was president of the Cache Stake. She moved to Logan that autumn and it was here that her son, Joseph Y. Card, was born. Her mother and Eliza R. Snow lived with her much of the time she was in Logan where they were engaged in temple work.

President Card was called by President john Taylor to explore and locate a site for an L.D.s. settlement in Canada. After traveling through parts of British Columbia and Alberta he selected the present site of Cardston. in 1887 Sister Card, being called by President Taylor to join her husband in Canada, left in a covered wagon with her sons, Sterling and Joseph. She traveled in company with John A. Woolf and his wife "Aunt Mary" and their seven children. Six other families joined them on the way. Upon arrival in Cardston they lived for a time in tents and later moved into log cabins which the men of the new settlement had built.

It was in her first little log cabin that her only daughter, Zina, and her youngest son, Orson Rega, were born. Aunt Zina, as she was lovingly known, made this little cabin into an attractive and, in the eyes of her children, a beautiful home. president Card, because of its richly colored, canton lined walls, called it her Canton Flannel Palace.

This home became the social center for those Canadian pioneers and around it center the fondest memories of her children to this day. The home-evenings were filled with music and good conversation. Aunt Zina played the old reed organ and lifted her sweet alto voice with the others. Here they planned the season's dramatic efforts, arranged for outings and socials and here they prayed together. In some of the cottage meetings held in this little home the Saints were blessed with the gift of tongues in both speech and song and they had many rich spiritual experiences.

The same atmosphere pervaded her big brick home which was built in 1900 and here as in the log house the doors opened upon a hospitable welcome. In both houses the children of president Card's other families were often added to the family circle.

Though Aunt Zina worked in all the auxiliaries her heart was ever with the youth of the Church. Sixteen of her seventeen years in Canada she served as president of the Y.L.M.I.A.

Not only the Saints partook of the hospitality of the Card home. Titled English officials, lonely "Mounties," the sick, the sinner, the people in and out of the Church knew of its warm welcome and wholesome influence – all were welcome. There was no talk of racial equality, religious tolerance, class distinction; there was no need of it, for these principles were lived in that home. Even the Indians mourned her passing.

One of our Church officials, who traveled extensively, said that "Aunt Zina's" name was known and revered by people in every Province of the Dominion of Canada.

President and Sister Card returned to Logan in 1903 as his health was failing due to a long and strenuous life of pioneering and leadership in the Church. After a prolonged illness he passed away in 1906. Again a widow, Sister Card moved with her children to Salt Lake City where she became matron of the L.D.S. University, and continued with other Church activities.

She served as a member of the general board of the Primary for fifteen years and was set apart as a temple worker by President Anthon H. Lund. She was given charge of the brides, to whom she gave beautiful and inspiring talks. She was also active in the organizations of the Daughters of the Utah Pioneers, and the Daughters of the Grand Army of the Republic, serving a term as president of each.

Of her life volumes could be written. She loved all God's children regardless of creed or color. Her beautiful soul, her valiant spirit, her buoyant faith live on in the hearts of her loved ones. She rejoiced in the knowledge that her children were all staunch in the faith and actively engaged in Church work.

After a prolonged illness she passed from this life on January 31, 1931 on her adored mother's natal day. Thus closed the life of one of the noble women of the Church. She is still remembered throughout both her native land and her adopted country for her devoted and selfless service to family, church, and state. Her fluent and forceful speaking, her inspired word to the youth of Zion, her courage born of faith, all mark her as worthy of the Noble heritage that was hers. – Zina Y.C. Brown
.