Some months ago I picked up two pictures from the collection of my brother Patrick. They were different poses of the same 60+ year old woman done in a nice portrait style. Crisp and clear, they seemed to be taken in about 1920 and were each labeled with the handwritten notation "Aunt Lizzie Baker." I did not recognize the name or the face as anyone I knew, but I did recognize the distinctive Palmer style handwriting as that of my aunt Gae Ogden Smith, born in 1910 and died in 2001. Gae was the older sister of my father and a family expert of the peoples and characters in Richfield, Utah. This was a "slam dunk" identification job; all I had to do was find an aunt of Gae's named Lizzie and into the books the pictures would go.
If only life were this easy. Sure enough I found an Elizabeth Baker, married to William "Tom" Ogden, my grandfather Josh's oldest half brother. Elizabeth was born in 1875 and died in 1941. She met the requirements of being an "aunt" and also living in the time period, so I connected the dots with confidence and went on to other things. When I proudly showed the pictures to Jeff Johnson, grandson of William and Elizabeth Baker Ogden, he offered a one-line, rather terse reply; "That's NOT my grandmother!" Oh bother, I thought, and proceeded to think of ways to convince him otherwise. But the far reaches of my mind (which I seldom admit to listening to) was telling me he was right. Why would my aunt Gae use Elizabeth's maiden name of Baker? She would have grown up knowing Tom's wife to be an Ogden and would no doubt refer to her as such. Back to the archives I trudged, a duster in hand, four sharp pencils in my pocket, and not a clue where to look.
My initial search showed there to be no shortage of "Lizzies" of this era, but none of them seemed able to fill the void that had just been created. So I started posthumous interviews of all the Elizabeths that I could find that might be called an aunt or a great-aunt on the Ogden or Ramsay lines. And when she finally beckoned to me and caught my eye, I knew I had found her at last. There she was, as plain as day; Elizabeth B. Ramsay Fraser Bartlett. They say that every life has a story, and I am able to now to tell her story, at least from the available records, and together perhaps we can come to an opinion of her character and personality.
This story starts with some history of Ralph Ramsay and his wife Elizabeth Burns, who pulled their handcart into the Salt Lake Valley on September 26, 1856. They were part of the Daniel McArthur Company, the second company to use the new handcart concept, and were about 6 weeks ahead of the Willie and Martin companies. Upon entering the valley, Ramsay and his group were met by Brigham Young and the First Presidency, a brass band, and a wagon load of fresh watermelons. The Willie and Martin group had an entirely different experience.
Ramsay was a woodcarver and artist by trade, and once he was established in Salt Lake City he began to make a name for himself by carving such landmarks as the Eagle Gate, an early entrance to the Brigham Young estate, and the woodwork of the Tabernacle organ and pipes. Even the nearly full sized oxen, upon whose backs the baptismal font of the temple rests, were his artistic creations.
The only two children of Ralph and Elizabeth up to that time died at very young ages on that handcart journey to Utah, and a third child born in Salt Lake City also did not live long. Their fourth child, born July 20, 1857, proved to a healthy, robust, girl, and they named her Elizabeth after her mother. Three other children followed in successive two year intervals; Ralph Burns, James Burns, and finally Hannah Burns in 1863. Also in 1863 Ramsay married another wife, Elizabeth Stokes, and if that wasn't trouble enough, he married a third, Mary Ann Cheshire in January of 1866.
In 1872 Ralph announced he was weary of life in Salt Lake City. At this time his family with Elizabeth Burns consisted of daughter Elizabeth, now about 15 years old, and her younger siblings; 13, 11, and 9 respectively. The second wife Elizabeth Stokes had no children, nor would she ever bear children of her own. Wife number three, Mary Cheshire, had borne a daughter, Miriam, in 1871, who died at two months, and now had an infant son, John Cheshire Ramsay born in 1872. One can see that the families were distinctly separated by an age buffer of nine years.
.
.
.
The reason for the desire to change venues is not really known. Ramsay's third wife, Mary Ann Cheshire, records that he was discouraged with Salt Lake, and another historian says he was "called" to settle Richfield. In any event, Ralph packed up and proceeded to move his three wives, five children, and a large half-carved, unfinished, poster bed to Richfield, Utah, a community just being re-constituted with people after the famous Blackhawk Indian conflict.
Not long after they arrived in their new hometown in 1872, the United Order of Richfield was organized at the suggestion of President Young, and the Ramsays faithfully joined up. Ralph was named one of the directors of that cooperative effort. He was also called to serve on the Stake High Council.
For a place of permanent residence Ramsay commenced to build his dream house, a large 10-room adobe structure, one-half block off Main Street on 2nd North. The house was spacious in design and planned in such a way as to accommodate the several wives and families all under one roof. It was completed in 1874. A small room in the northwest corner of the house was designated as an office and herb-remedy dispensary for his wife Elizabeth Burns who served as a doctor, nurse, and midwife in the community. Someone wrote that if things didn't work out on the ground floor, Ramsay's second-story workshop was not only a furniture workshop, but a place where he kept an inventory of many "pine box coffins" either made to order, or built for sale in various sizes and stored in another room.
With that background now told, we can return to the story of Lizzie. Two years after arriving in Richfield, a young man by the name of George Fraser came to the Ramsay home to court Elizabeth, who was then 18 years old. Soon he proposed marriage. Records show he also simultaneously courted and proposed marriage to one of Lizzie's classmates and friends, Ruth Bardell Hunt. He married both girls on February 15, 1875 in accordance with the current practice of plural marriage. The marriages were solemnized in the Endowment House in Salt Lake and Elizabeth and Ruth became what we now call "sister wives." With George as the husband and provider, they took up residence in Richfield.
At this time in rural America few things were more hazardous in the life of a young woman than childbirth. It is estimated that one out of 70 women reaching childbearing age could expect to die as a result of pregnancy and one out of five would never bear a child. Ruth and Lizzie managed to fit both of these statistics. Ruth became pregnant and bore a son on January 30, 1876, naming him Alexander Hunt Fraser. The birth was mostly likely attended by Elizabeth Burns Ramsay, who was an accomplished midwife in town. But Ruth did not fare well and weakened as a result of the birth, and she died a number of weeks later, reportedly of measles. Lizzie assumed the role of new mother to Alex in what was to him, at three months, a fairly seamless transaction. This also proved to be a blessing to Lizzie, for her own fate was to be the one in five that would never give birth to children of her own.
In the later part of the year 1880, Ralph Ramsay again received a call to leave town, this time to Arizona for short spell, and then on to the Mormon colonies in Mexico. This "call" might have been a dignified way to hide from the increasing pressure of federal marshals. But neither Mexico nor its food seemed to appeal to Ramsay, and after two years he returned to settle for good in Snowflake, Arizona. He deeded the beautiful house in Richfield to son James who lived there with his family his entire life. It is a bit unclear whether the first two wives of Ralph even left Richfield for the Mexico venture, but in any event they did not stay long, for they were back to Richfield and settled in by the year 1900, leaving Ralph and Mary Ann to remain in Arizona for the rest of their lives.
Elizabeth Burns Ramsay Fraser and her husband George had 18 years together in Richfield before he died in 1894 at the relatively young age of 44. Four years later Lizzie married Henry Bartlett, a Tennessee gentleman now residing in Richfield who was 17 years her senior. They were together seven years before he died, leaving Lizzie a two-time widow and only 48 years old.
Looking at events in the life of Lizzie during the five years before and after Henry's death show some difficult times. Here is a sampling of the trying events she experienced:
Her mother and mentor, Elizabeth Burns, died in 1901.
Ralph Ramsay, her father, died in 1905.
Her husband George Bartlett also died in 1905.
Her step-son Alex Fraser decided in 1906 to take his little family and leave Richfield to join the saints who were migrating to Cardston Canada. He had married Sarah Goold in 1891 and they had three children at the time. Canada was a world away and Lizzie would miss them all greatly.
Her "second" mother Elizabeth Stokes died in 1908.
The energetic Lizzie, now left pretty much alone, did not have to wait long to know what to do with herself. About the time that Bartlett died, her younger sister Hannah, married to Henry Baker and living in Wayne County, Utah, suffered a stroke causing her serious incapacity and requiring nursing care and help. It was a terrible blow to the family and left them in desperate need of assistance.
The Bakers had three sons; Charles born in 1885, William in 1887, and Ralph Ramsay in 1889. They lived near Boulder, where they had a developed a cattle ranch, fruit trees, and were becoming well established, Hannah serving as postmistress in the town.
Her medical condition was described as "paralysis with great pain and suffering" and to receive the care she needed Henry was forced to sell their ranch and move the family into Richfield. Lizzie, trained by her midwife mother and skilled in caring for the sick, was perfectly suited to step in and provide care for her sister, as well as helping with the boys and running the household. The Richfield Reaper later said: "like her own mother she spent a great deal of time nursing and administering to the sick." To have Lizzie available to help was a blessing to the Baker family. She became "Aunt Lizzie" to the boys and eventually to many others in the community.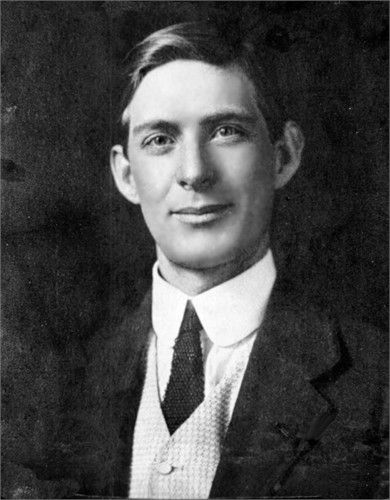 In 1909 Lizzie took a break from her duties to accompany Charles, the oldest of the boys, on a genealogical research trip to England. While they were planning the trip, Charles received a mission call to serve in the same area that they planned to visit. He was able to work things so that he and Lizzie could have their planned trip after which he would stay and begin his missionary work.
They had barely arrived in England and settled in when news arrived that Hannah's condition had worsened. Lizzie immediately turned around and headed back to Utah to help. Arriving in Salt Lake City she was told the sad news that Hannah had died at home on October 31, 1909. Back in England, Charles was deeply sadden by the news of his mother's death, but remained to serve an honorable mission.
Hannah continued to live in the Baker home in Richfield. It is interesting to note that the following year, on May 9, 1910, the census taker arrived at the Bakers' and recorded the only residents as Henry Baker and his housekeeper Elizabeth Bartlett. The situation probably was just as indicated; head of house and housekeeper. We might conclude that the next logical thing would be for Henry, the widower, to marry his twice widowed sister-in-law Lizzie, but such was not the case. Henry instead married another widowed sister-in-law, Carrie Jensen, four years younger, with two young sons; Orval, 13 and Guy, 11. She had been married to Henry's half-brother Lars Baker, who had died nearly seven years previous.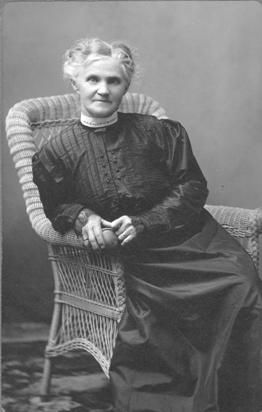 Aunt Lizzie once again saw where she was needed and continued in what she had done many times before; she served this family, "nursing and administering" and doing duty as the housekeeper. She helped with the two boys, and then with Dorothy, born in 1912, the only child born to Henry and Carrie. Ten years later in 1920, when the census taker arrived, she was once again listed as "housekeeper" reflecting her continuing service to the Baker household.

And so, having spent nearly all her life in service to others, Elizabeth Burns Ramsay Fraser Bartlett died on April 8, 1924 at the age of 66, having no posterity of her own but loved and remembered by many nieces, nephews, and others who always thought of her as Aunt Lizzie. It is not hard to see why with so many years as part of the Baker household, some would think and call her "Aunt Lizzie Baker."

So this project, originally started as a quest to "name that picture," turned into much more. I have discovered a forgotten ancestor with a remarkable life that I knew nothing about and have found in that life a wonderful example of service that should be remembered. They say that every life has a story and I believe that this is the story of Lizzie Ramsay.

As for the picture, I suppose it is only my opinion of why I think this picture is Lizzie Ramsay, for to take it further would require the confirmation of someone living that knew her and they have mostly fled this life for the promised land of the great hereafter.

For now, a picture, a notation, and a timeframe, coupled with known relationships and events, and a few suppositions, are the best I can offer in finding this picture a home. But most important, and on top of everything else, the far reaches of my mind seem to now be at peace, leaving me alone, at least for the time being.

Notes of general interest:

Henry Baker's younger sister, Elizabeth Baker, married William "Tom" Ogden in early 1902. Tom was the oldest son of Thomas Ogden and Ann Marsh.

A historical note regarding this journey is that on Monday August 25th, Col Almon W. Babbitt, Secretary of Utah Territory, was also traveling west with some wagons and carriages, when they were attacked and killed by Cheyenne Indians just east of Fort Laramie Wyoming. The McArthur Company and Babbitt group had to have been traveling fairly close to one another at about this time. Some 25 years later Babbitt's daughter Julia, and Ramsay's son James, would marry and raise their family in Richfield.

Guy Baker, one of the two boys of Carrie Jensen, worked as a barber in Richfield and at one time was a partner with Josh Ogden (my grandfather) in his barbershop.

Alex Fraser, who was raised by Lizzie as her son, arrived with his family in Alberta Canada in 1907. Ten years later, in the summer of 1917, he was struck by lightning and killed. He left a wife and four sons.