A slight acquaintance, into whose mass-email-forwarding address book I have had the misfortune to fall, regularly sends me … stuff. Political stuff. Religious stuff. Sometimes stuff that combines the two in ways I find ludicrous, or offensive, or awash in sentimentality.
Much of this stuff is military-related.
It started with the general theme of "We Support Our Troops." Fine. I do, too. If we're going to send them out there, regardless of whether we support the specific political agenda that sent them, we should make sure they have what they need, where and when they need it.
It progressed to "We Love Our Troops." Okay. I do, too. When men and women put their lives on hold to answer the call of their country, and as long as they act legally and honorably and morally in their individual conduct, they deserve respect – love is an alternate term for that.
But now it has reached the point of "We Worship Our Troops." No. This is where I draw the line.
The last email began with some xenophobic anti-immigrant bad taste. The kicker, though, was this:
"Remember, only two defining forces have ever offered to die for you:
Jesus Christ, and the American Soldier."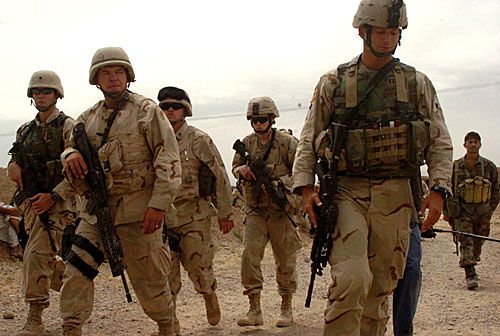 .

.

.

.

.

.

.

.

.

.

.

.

This is not true, for starters.

My mother offered to die for me when she went through the valley of the shadow of death to bring me into this world.

My father offered to die for me when he stepped between me and a snarling dog that threatened to attack.

If I were ever trapped in a burning building or under an earthquake-flattened one, or were caught in a flood, or fell over a ledge while hiking, I am 100% certain that there are men and women in my community who would offer to give their lives in the attempt to save mine. I worked for the Clark County [Nev.] Fire Department for a couple of years  — it's the only job I've ever had where my starry-eyed admiration for heroes grew stronger instead of fading through familiarity. Those men (they were all men in the '70s) would help a stranger with no questions asked, at the risk of their own lives. That's what I think of whenever I hear a siren in the distance: Someone is in trouble, and someone else is rushing to help.

The epidemiologists who lock themselves into sealed rooms with deadly viruses and toxins in the quest to understand and conquer them are offering to die for me. The storm chasers and volcanologists who deliberately head into the most dangerous spots on earth in the pursuit of knowledge that will protect future generations are offering to die for me. The drug enforcement agents who investigate reports of marijuana fields in our national parks are offering to die for me. The highway patrolman who stands unprotected next to speeding traffic while he checks out a suspected drunk driver is offering to die for me.

And yes, the soldier is offering to die for me.

None of those people wants to die. They may be willing, they may have made the offer, they may eventually pay the price, but they don't expect or hope to die in the line of their vocations. Every one of them would rather go home safely at the end of the day, to play with their kids or throw a football around or take that class in New Testament Greek or do whatever else is meaningful in their lives.

Jesus Christ, on the other hand, was born with the explicit anticipation that he would die, that he must die, for all and every soul on earth. He didn't expect to avoid it; he didn't hope to make it through his tour of duty and eventually retire to a villa on the Sea of Galilee. Whereas mere mortals, like law enforcers and firefighters and chemists – and soldiers – count it a success when they aren't hurt on the job, the mission of Jesus Christ would have been a failure – indeed, all of Creation would have been a failure – had he not only been willing to die, but in fact died, in the way and at the time and for the purpose that was necessary to bring about the Atonement.

I am grateful to soldiers – and teachers and doctors and search-and-rescue teams – who are willing to put themselves at risk in the service of others. But I don't worship them as I do my Heavenly Father and his son Jesus Christ. It bothers me that misplaced patriotic hyperbole confuses deity with unselfish mortal service. Stop it. Just stop.