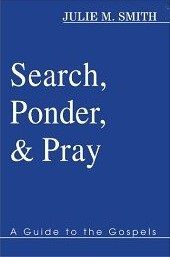 Julie M. Smith, Search, Ponder, and Pray: A Guide to the Gospels. New York: Universe, Inc., 2003.
This maybe doesn't count as a review, even a teeny, tiny one. Mostly it's an appreciation for an insight found while preparing for tomorrow's Sunday School lesson (#10: "Take My Yoke Upon You, and Learn of Me") (my ward might be behind yours; we've already had both ward and stake conferences this year) (and I don't get to teach any more, but I can still prepare, can't I?) (and is this a record for serial parentheticals?).
Julie Smith – yes, Julie Smith of Times and Seasons – uses questions to engage a reader with the content of the New Testament Gospels. She offers no answers, just a list of questions to accompany each story or sermon in the Gospels. It's impossible to read any page of Search, Ponder, & Pray with your mind on autopilot, because unless you take a stab at answering the questions yourself, there is really no point in reading.
The questions are most emphatically not the typical questions of the lesson manuals. There are no "and what happened next?" questions, and no "and how can we apply this in our own lives?" questions, either. Instead, she asks you, the reader, to explain the scriptures to yourself. "Is this verse talking about X, or about Y? Does it change your understanding of the passage if you think it's X instead of Y?" "Compare this verse with Verse Z. How are they different? What does that difference mean?" Using this book has made me a better teacher by causing me to ask better questions during class discussions. It's made me a better reader of the scriptures by training me to ask similar questions as I study.
Once in a while, Julie offers an insight from her reading of non-scriptural books, and asks the reader whether she agrees or not, and why. It's one of those insights that I never would have come across on my own that provoked this shout-out.
Our Sunday School Lesson #10 covers Luke 7:36-50. That passage begins,
And one of the Pharisees desired him that he would eat with him. And he went into the Pharisee's house, and sat down to meat. And, behold, a woman in the city, which was a sinner, when she knew that Jesus sat at meat in the Pharisee's house, brought an alabaster box of ointment …
The woman, who is never named, anoints Jesus' feet with that ointment, wets his feet with her tears and dries his feet with her hair. Jesus uses the occasion to teach the Pharisee and his company about forgiveness, and asserts his own right to forgive sins.
Then Julie quotes Barbara E. Reid, Choosing the Better Part?: Women in the Gospel of Luke (Collegeville, Minnesota: The Liturgical Press, 1996):
It is curious that although the text does not say what sort of sins the woman had committed, much attention is given to speculation on the nature of her sinful past. By contrast, commentators never discuss what might be the type of sins Simon Peter has committed when he says he is a "sinful man" in the story of his call.
That call is in Luke 5:8:
When Simon Peter saw it, he fell down at Jesus' knees, saying, Depart from me; for I am a sinful man, O Lord.
Hunh, I thought. Never thought of that. But she's right. I know exactly what everybody assumes is the past of the unnamed woman, yet it never occurred to me to think that Peter had been a tomcat in his pre-disciple days, or wonder at all about the nature of his sins.
I have a row of books that I check, one after another, when I'm preparing a block of scripture for a lesson. I don't check them in any particular order, and they don't always go back on the shelf in the same order. But I was glad that Julie's Search, Ponder, & Pray happened to be at the end of the row this time.
The next volume I picked up was Bruce R. McConkie's Doctrinal New Testament Commentary. I don't find it very useful as a matter of course, because he doesn't really explicate the scriptures. He merely uses some phrase or idea in a scriptural story to launch into a sermon that may or may not really be based on the story (in this case, most of his commentary is about how the unnamed woman must have been baptized by one of Jesus's disciples, because baptism, of course, is a prerequisite to the forgiveness granted by Jesus. Okay, whatever.) but I'm in the habit, still, of checking that book just to see what he says. His relevant note reads:
A woman] Not Mary Magdalene and not Mary of Bethany [scripture citations for similar anointings of Jesus by named women omitted], both of whom were righteous women of good character. A sinner] Presumably an unvirtuous woman.
Next on the shelf was James E. Talmage's Jesus the Christ. Talmage comments on the story under question:
The name of the woman who thus came to Christ, and whose repentance was so sincere as to bring to her grateful and contrite soul the assurance of remission, is not recorded. There is no evidence that she figures in any other incident recorded in scripture. By certain writers she has been represented as the Mary of Bethany who, shortly before Christ's betrayal, anointed the head of Jesus with spikenard; but the assumption of identity is wholly unfounded, and constitutes an unjustifiable reflection upon the earlier life of Mary, the devoted and loving sister of Martha and Lazarus. Equally wrong is the attempt made by others to identify this repentant and forgiven sinner with Mary Magdalene, no period of whose life was marked by the sin of unchastity so far as the scriptures aver.
Next on the shelf was Daniel H. Ludlow's A Companion to Your Study of the New Testament. His only commentary on this passage is … to quote both Bruce R. McConkie and James E. Talmage.

So, yeah. If my mind hadn't already been pointed toward unchastity as the unnamed sinfulness, pointed there by years of assumptions in other Sunday and seminary and institute classes, it certainly would have gone that way after checking the only LDS commentaries I have. Not that the gentile commentaries are any better – the first one I picked up, The IVP Bible Background Commentary, heads this section of its discussion with "The Pharisee and the Loose Woman."

After laying all that out, I still can't tell you why I appreciated so much the observation – very obvious, in hind sight – that the scripture doesn't identify the nature of her sins. Is it the novelty of a new idea? a new understanding of a familiar story? an appreciation of fairness for an unknown, long-dead sister whose reputation remains sullied by "an unjustifiable reflection"? a lively bit of cynicism over the confirmation that men, even men in the scriptures, are spared the assumptions and judgments that women have to be so careful to guard against where our own reputations are concerned?

Whatever is the exact source of my appreciation, this was worth the purchase price. But then, I say that almost every time I use Julie's book. It's a gem.