Frequent temple attendance has received increasing emphasis in recent years. In 2009, Elder Richard G. Scott offered advice on ways "to gain more benefit from temple attendance." His bullet list included eleven items (the best remembered of which, perhaps, is "Remove your watch when you enter a house of the Lord"). Ten of those items focused on the individual attending the temple and the benefits of temple worship to that patron; only one item ("Be mindful of the individual for whom you are performing the vicarious ordinance") reminded patrons that there is a purpose to repeated temple visits that doesn't put benefits to the patron foremost.
Benefit to the temple patron is not an entirely new idea, of course – John A. Widtsoe promised as much in October 1920, speaking to the Genealogical Society of Utah:
I believe that the busy person on the farm, in the shop, in the office, or in the household, who has his worries and troubles, can solve his problems better and more quickly in the house of the Lord than anywhere else. If he will leave his problems behind and do the temple work for himself and for the dead, he will confer a mighty blessing upon those who have gone before and quite as large a blessing will come to him; for at the most unexpected moments, in or out of the temple, will come to him, as a revelation, the solution of the problems that vex his life. That is the gift that comes to those who enter the temple properly, because it is a place where revelations may be expected.
Still, in the early decades of this dispensation, repeated temple attendance was a rarity. You went to the temple for your own ordinances, but you may have returned to the temple seldom, if ever. Thomas G. Alexander notes:
Prior to the 1920s regular temple attendance had generally not been expected. Indeed, Reed Smoot testified in 1905 that he had not been back to the temple to do endowment work since his marriage. President Heber J. Grant, who had been quite infrequent in his temple attendance before the 1920s, began to go regularly.
The greatest exception to that once-in-a-lifetime temple attendance pattern was those who became heavily involved in genealogical work, who took their duty to their ancestors as a heavy responsibility. Your dead were your responsibility, nobody else's. You did the work yourself, or you arranged for your relatives to do it, or your friends might assist you at your request, but if you didn't get involved, the work for your dead was not done.
Temple attendance also required a heavy commitment of time – no dashing home from the office or the beet field for an evening date at the temple with your spouse. Rather, an endowment was a full day affair, requiring as much as nine hours to accomplish. Who could or would contribute that much time to the unrelated dead?!
Yet there were people who, because of age or distance from a temple or because of widowhood and a lack of male family members to assist, or because they were so dedicated to redeeming their dead that they had identified hundreds of deceased relatives, could not do the actual temple work themselves. There were others who lived and died in the missions without hope of ever reaching a temple for their own ordinances.
There were also people, usually the elderly, who had the time and desire to do more temple work than their own genealogical research could supply.
All of these factors came together in a system that developed around the turn of the 20th century: A member with the time and desire but no identified dead of his own could assist another member who could not personally do the work he was responsible for. The one responsible for having the work done paid a small amount of money to the one who did the actual work. The one responsible could find his own proxy, but more often he asked the temple staff to find one for him. A small fee for each endowment (I've seen reports of 50c for women and 75c for men – reflecting the assumption in the commercial sphere that men's work was always more valuable than women's work – but do not know whether those amounts fluctuated over time) was paid by the responsible member to the proxy, to compensate him for the time he was giving to help the member meet his responsibilities.
This system not only helped members complete the work for their own dead, it also assisted elderly or infirm members with a small income for providing a service to others. Members who had no work of their own to do, but who were moved to assist the work in general, could contribute funds to a general account without designating that it be used for such-and-such a family's work. This became especially important after April 1926, when the First Presidency asked mission presidents to send in the names of faithful members who had died without the opportunity to go to the temple in life; the church then provided proxies to do the ordinances for those deceased members, paying the proxies out of general donations to the program.
So far as I am aware, this system was used only in the Salt Lake Temple and in St. George after 1926 (St. George was specifically designated as the temple for the deceased missionfield member work).
Readers may remember when, a few weeks ago, Keepa'ninny Jim mentioned that he had a 1926 receipt from the Salt Lake Temple for funds donated to make these small payments to temple proxies. Several of us expressed interest in seeing the receipt, and Jim has generously sent me scans, front and back.
The receipt, dated 17 November 1926 and in the amount of $4,798.25, is made out to "Annie D. Watson estate." That seems like an incredible amount for a donation – but Annie Davis Watson (1844-1926), widow of businessman Joseph M. Watson, a convert from England, without children but with a great love of temple work (she performed, or caused to be performed, 15,000 ordinances according to report), apparently made the church a chief beneficiary of her estate.
Thank you, Jim, for sharing this illustration of a piece of Mormon history and, incidentally, a tribute to a faithful Latter-day Saint.
.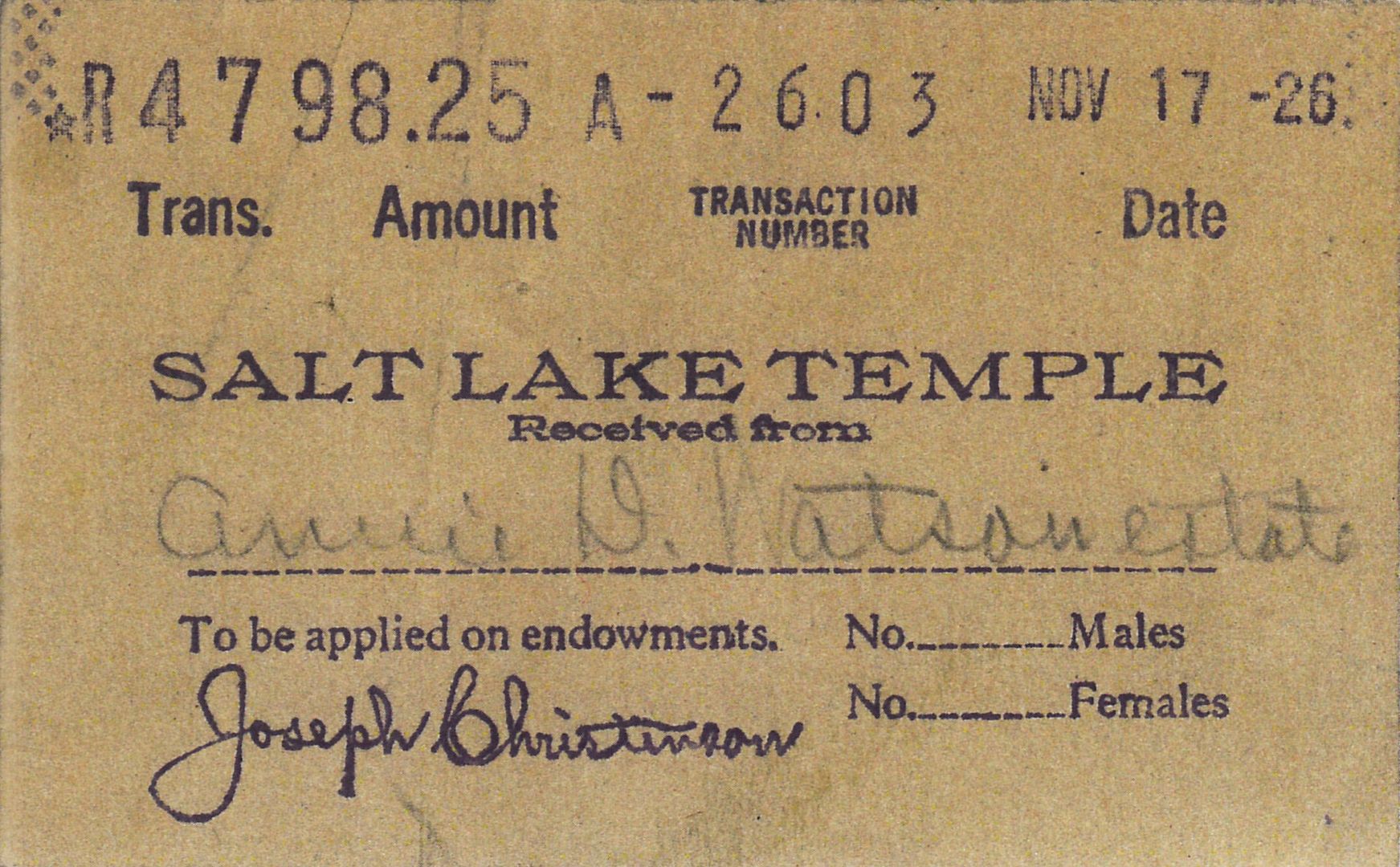 .